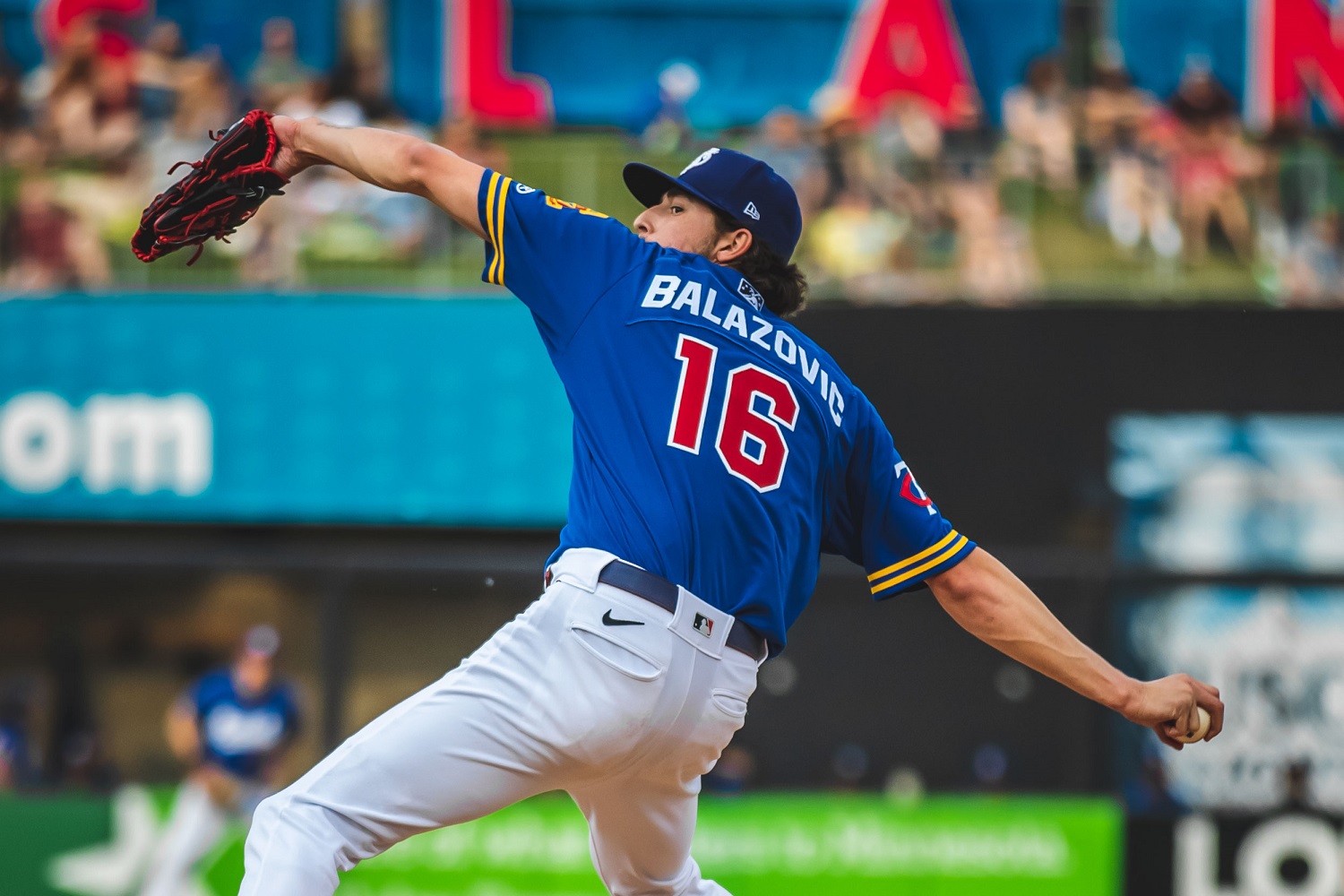 Image courtesy of Rob Thompson, St. Paul Saints
Last season, three notable names returned from injury at the top of the Twins' prospect rankings. Royce Lewis was returning from a torn ACL, while Matt Canterino and Jhoan Duran were recovering from strained elbows. Lewis had a tremendous season before tearing his ACL for the second straight season. Canterino was limited to 37 innings before requiring Tommy John surgery. Thankfully, during his rookie campaign, Jhoan Duran became one of baseball's most dominant relievers. Entering the 2023 season, the Twins hope these three prospects can get back on track to prove they are healthy. 

Royce Lewis, SS
2022 Injury: Torn ACL
Lewis didn't want to be on this list in two consecutive off-seasons. However, he has already proven that he can return from this injury and not lose a beat. There was some question last year if Lewis would need time to adjust to the Triple-A level after not appearing in a competitive game since 2019. It certainly didn't look like he missed a beat. He posted a .993 OPS in 24 games before being called up for his big-league debut.
Then Lewis went 12-for-39 (.308) with six extra-base hits in his first 11 MLB games with the Twins. With Carlos Correa signed, Lewis doesn't need to be rushed back in 2023. He can take his time to prove he is healthy again at Triple-A before being being called up. Still, the Twins need Lewis to become a player that impacts both sides of the ball for the next decade. 

Emmanuel Rodriguez, OF
2022 Injury: Torn Meniscus
Last season, Rodriguez showed why the Twins were so high on him when they signed him in July 2019. He was considered a top-10 international prospect in the class. Unfortunately, the pandemic postponed his professional debut to 2021, where he hit .214/.346/.524 (.870) with five doubles, two triples, and ten home runs.
Rodriguez spent the 2022 season in Fort Myers, where he was over two years younger than the average age of the competition. In 47 games, he hit .272/.493/.552 (1.044) with more walks (57) than strikeouts (52). His season ended in June after he tore his meniscus and needed surgery. Minnesota can start Rodriguez in Fort Myers while the weather is colder, but he should spend most of the season in Cedar Rapids. He's out to prove that his breakout season wasn't a fluke. 
Jordan Balazovic, SP
2022 Injury: Left Knee Strain
Balazovic's 2022 season was delayed until mid-May due to a left knee strain, and he went on to have the worst season of his professional career. In 72 2/3 innings, he posted a 7.68 ERA with a 1.97 WHIP with a 77-to-37 strikeout-to-walk ratio. Lucas wrote extensively on ways to fix Jordan Balazovic, saying, "It's possible that the lingering pain caused him to diminish his knee extension after foot plant, impacting his velocity and command."
The Twins don't need to rush Balazovic to the big leagues with other pitchers ahead of him on the team's depth chart, including Louie Varland and Simeon Woods Richardson. Balazovic can spend the beginning of the season proving he is healthy at Triple-A before a potential mid-season call-up.

Which has the most to prove this season? Can all three stay healthy? Leave a COMMENT and start the discussion.