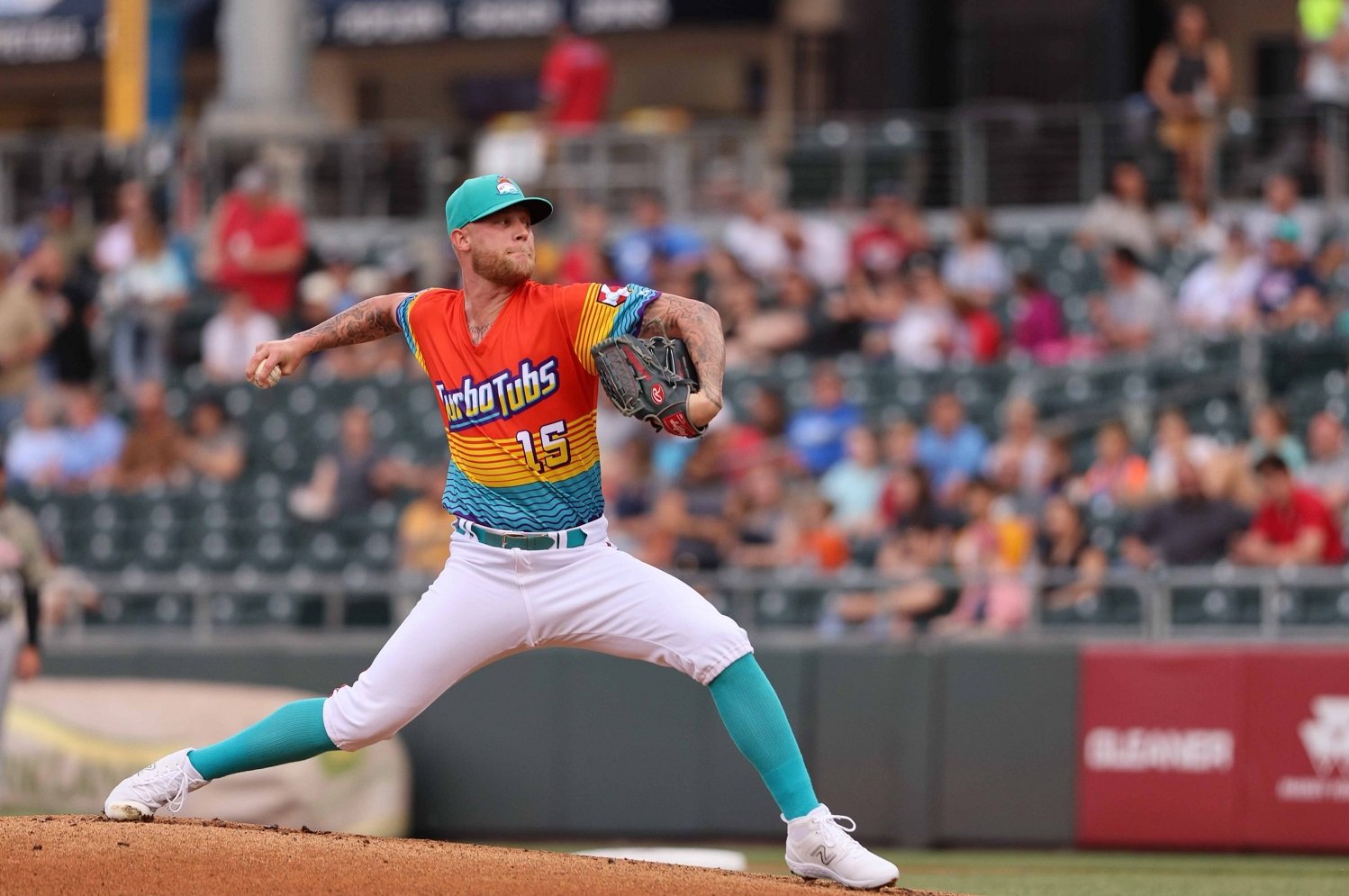 Image courtesy of Ed Bailey, Wichita Wind Surge (photo of Blayne Enlow)
TRANSACTIONS
SAINTS SENTINEL 
Columbus 2, St. Paul 1
Box Score
Brent Headrick took the ball tonight for the Saints, and having gotten work for the Twins already this season, his goal was to hold serve and show he belonged. Working six innings of two-run baseball, Headrick did just that. He gave up only four hits while walking none and striking out seven on the evening. Ronny Henriquez, who was recently optioned following a rehab assignment, worked two hitless innings with four strikeouts and didn't allow a walk.
After getting behind on a second inning double, the Saints answered with a Hernan Perez sac fly that drove in Andrew Stevenson. Making it a 2-1 game, that's as close as the good guys would get.

Rehabbing Royce Lewis went 0-for-3 with a strikeout on the evening. Only Edouard Julien was able to pick up a pair of hits. With Kyle Garlick kept off of the lineup card, it stands to reason he'll be called up for Minnesota in place on Nick Gordon on Friday.
WIND SURGE WISDOM
Wichita 6, Arkansas 2
Box Score
Making another start for the Wind Surge, Blayne Enlow was again dominant. Lasting 5 1/3 innings, the right-hander allowed only a single run on six hits while punching out ten. The run came on a solo blast and he dropped his ERA to 3.28 in the process.
Anthony Prato put Wichita on the board in the third inning with a two run blast that scored Will Holland. Robbie Tenerowicz made things interesting in the 4th inning with a solo blast, but from there the Wind Surge ran and hid.
David Banuelos blasted his third homer of the season in the fifth inning to make it 3-1, and then he drew a bases loaded walk in the sixth inning to plate Alex Isola and make it 4-1. Jake Rucker lifted a seventh-inning sacrifice fly to make it 5-1 and Wichita was able to weather an eighth inning solo blast by Jonatan Clase.
Banuelos was again involved in run production when his eight-inning double play pushed DaShawn Keirsey Jr. across the plate. Not necessarily needing the breathing room, it was 6-2 Wichita.
Yunior Severino grabbed a pair of hits on the evening and his lone multi-hit effort was enough to get it done.
KERNELS NUGGETS
Cedar Rapids 6, Peoria 4
Box Score
The Kernels turned to Jaylen Nowlin tonight and he gave them six innings of solid work. Allowing just three runs on six hits, the Cedar Rapids starter issued no free passes while punching out four.
All of the Peoria runs off of Nowling came in the first inning. Getting behind 3-0 in the opening frame, he had work to do. Buckling down, Nowlin allowed the offense to pick him up.
In the bottom of the second inning Jose Salas singled in Kala'i Rosario to get on the scoreboard. Then Willie Joe Garry Jr. plated Noah Miller on a groundout before Jeferson Morales singled in Salas to bring Cedar Rapids even.
Having scuffled since being activated from the injured list, Emmanuel Rodriguez made his presence known with a solo blast that put the good guys ahead. An inning later, in the bottom of the fourth inning, Tanner Schobel singled to drive in Morales and make it a 5-3 lead. Ben Ross scored on a sixth inning wild pitch, and while Cedar Rapids gave a run back in the seventh inning, they still led by enough to make this one predictable.
Rodriguez grabbed a pair of hits on the evening and he was joined by Rosario in that column.
MUSSEL MATTERS
Fort Myers 2, Lakeland 1
Box Score
C.J. Culpepper started tonight's game for the Mighty Mussels but he went just a single inning while allowing no baserunners and punching out one. Ricky Mineo then came in and pitched 2 2/3 innings while allowing just a single run on four hits. He struck out three and the one run came on a solo shot from Lakeland's Mike Rothenberg.
It took a bit for the Mighty Mussels to answer but Mikey Perez singled in Alec Sayre in the sixth inning to even things up. Perez then showed up again in the eighth inning with a sacrifice fly that plated Maddux Houghton and Fort Myers found themselves ahead.
TWINS DAILY MINOR LEAGUE PLAYERS OF THE DAY
Pitcher of the Day – Blayne Enlow (Wichita) - 5.1 IP, 6 H, 1 R, 1 ER, 0 BB, 10 K
Hitter of the Day – Emmanuel Rodriguez (Cedar Rapids) - 2-4, R, RBI, HR(4), BB
PROSPECT SUMMARY
We will again keep tabs on the Twins top prospects. You'll probably read about them in the team sections, but if they aren't there, you'll see how they did here. 
Here's a look at how the current Twins Daily Top 20 performed:
#1 - Brooks Lee (Wichita) - 0-3, BB, K
#2 - Royce Lewis (St. Paul) - 0-3, K 
#3 - Emmanuel Rodriguez (Cedar Rapids) - 2-4, R, RBI, HR(4), BB
#5 - Edouard Julien (St. Paul) - 2-4, 2B, 2 K
#8 - Jose Salas (Cedar Rapids) - 1-4, R, RBI, K
#11 - Matt Wallner (St. Paul) - 3-4, K
#14 - Noah Miller (Cedar Rapids) - 1-4, R, K
#17 - Ronny Henriquez (St. Paul) - 2.0 IP, 4 K
#18 - Tanner Schobel (Cedar Rapids) - 1-3, RBI, BB
FRIDAY'S PROBABLE STARTERS
St. Paul @ Columbus (6:05PM CST) - RHP Aaron Sanchez
Arkansas @ Wichita (7:05PM CST) - RHP David Festa
Peoria @ Cedar Rapids (6:35PM CST) - RHP Marco Raya
Fort Myers @ Lakeland (5:30PM CST) - TBD
Please feel free to ask questions and discuss Thursday's games!