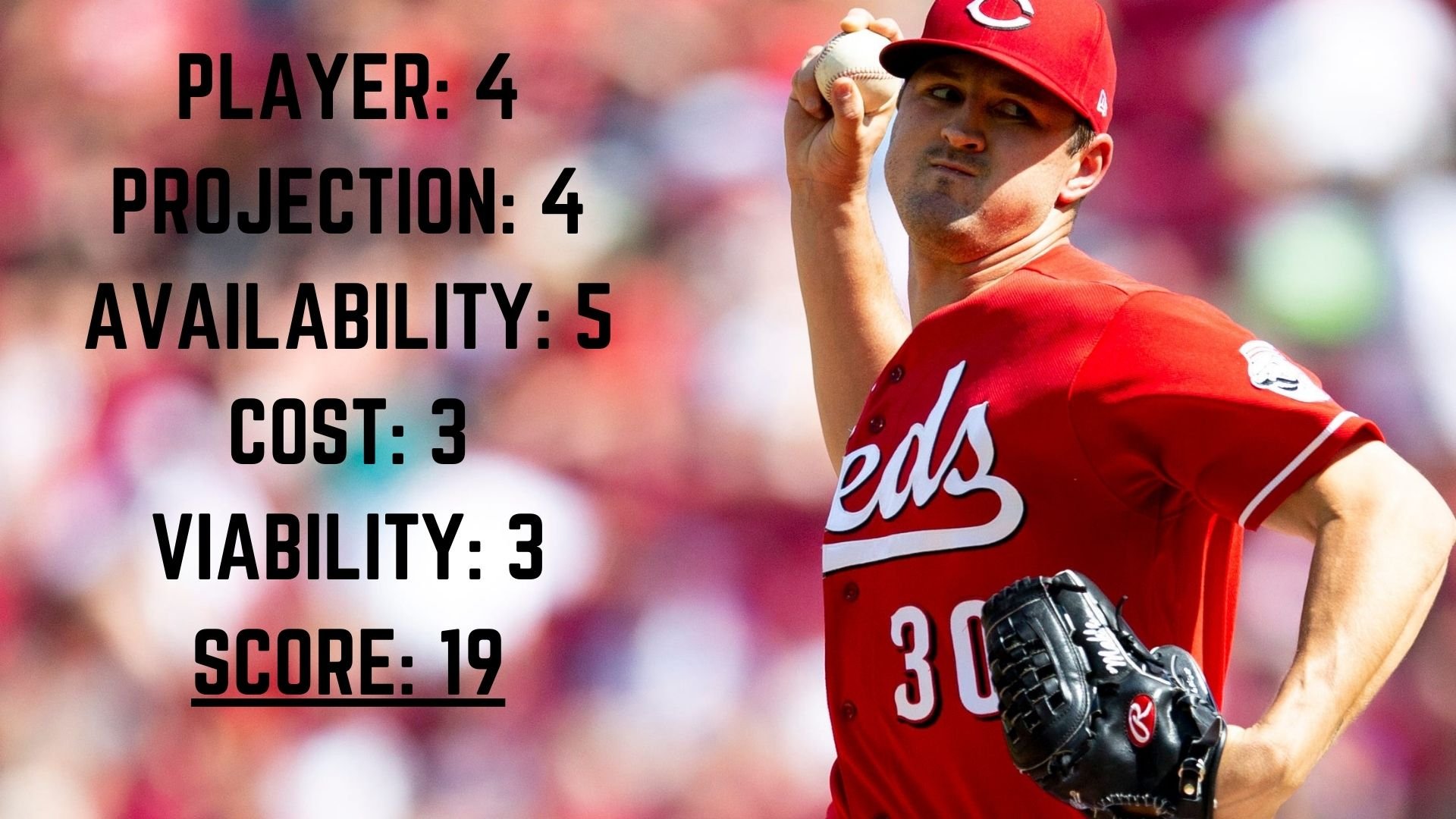 Image courtesy of Albert Cesare / The Enquirer / USA TODAY NETWORK
This five-point scoring system runs on five factors: player, projection, availability, expected cost, and viability: a higher score = a better target for the Twins.
THE FIVE FACTORS:
PLAYER: How has the player performed? How much of a difference would they make for the Twins?
PROJECTION: Is there an upside with this player? Is there team control beyond this year? Are there injury concerns?
AVAILABILITY: Is the player actually on the trade block?
EXPECTED COST: What will it take to acquire this player, in prospect capital and dollars?
VIABILITY: What's the leaguewide desire for this player? Would the Twins have a chance in a bidding war?
Next up in our series is Reds' starter Tyler Mahle, an intriguing option. 
PLAYER
Flying under the radar because of his electric rotation mate Luis Castillo, Mahle has quietly posted similar numbers over his last three seasons. Mahle, 27, owns a 3.94 ERA and 3.74 FIP in 320 innings since 2020. He's struck out 372 batters during that span, tied for the 12th most in baseball. Mahle coughed up 33 runs in his first 47 innings this season, but his ERA is 2.58 in seven starts since then. 
Mahle gets swings and misses with a mid-90s fastball and a hard, high-spin slider. Mahle consistently spots his fastball up in the zone, producing whiffs and setting up his slider and splitter, a good pitch he's thrown more often in 2022. Mahle is a flyball pitcher, which has undoubtedly hurt him at the hitter-friendly Great American Ballpark. 
Mahle has a 2.30 road ERA since 2020, giving up just five homers in over 100 innings. Mahle has a 5.63 ERA at home in that same span, allowing 19 homers in 78 ⅓ innings. He's a prime candidate to break out with a change of scenery. 
PLAYER SCORE: 4
PROJECTION
Unfortunately for Mahle and the Reds, he recently went on the injured list for a shoulder strain in early July. An MRI showed no structural damage, and Mahle expects to return right after the All-Star break. Still, shoulder problems are always scary, and it's a key consideration for any team looking to trade for Mahle. 
Mahle has shockingly stark platoon splits over the last three seasons, with lefties posting a .573 OPS compared to an .835 OPS for righties. Unsurprisingly, righties have slugged .578 against Mahle at home during that span, with a .334 mark on the road. 
How would Mahle fare pitching his home games at the pitcher-friendly Target Field? Well, his expected ERA of 3.20 could be part of the answer. Any evaluation of Mahle (or Castillo, for that matter) has to include the impacts of The Great American Bandbox. 
PROJECTION SCORE: 4
AVAILABILITY
The Reds have some crucial decisions to make. They already dealt Sonny Gray to the Twins this offseason and hold the keys to two of the best starting pitchers on the trade market. Castillo and Mahle have 1.5 years of team control, meaning any acquiring club would also have them under contract for 2023. 
It could benefit the Reds to allow Mahle to showcase his health in the second half, then deal him this offseason. It hasn't been a particularly great season for him, yet his 3.55 FIP shows that bad luck has been a significant factor. It isn't easy to envision a team giving up *more* for Mahle in the winter unless he has a crazy-good second half. 
It's very likely the Reds will deal both their frontline starters in different deals, loading up their system and looking toward the future. 
AVAILABILITY SCORE: 5
EXPECTED COST
Mahle should cost less than Castillo, but don't assume it'll be drastic. The Reds know Mahle's underlying numbers are solid, and this is once again a seller's market on the starting pitching front. Any deal for Mahle likely includes at least one top-100 prospect. 
MLB Trade Simulator pegs Mahle at a median value of 21.2, well below Castillo (41.2). An example package that would suffice the tool is Austin Martin, Matt Wallner, and Simeon Woods Richardson. It takes value to get value, and the Twins would have to feel more confident in Mahle's metrics than his surface numbers in 2022. 
Is that a price you're willing to pay?
EXPECTED COST: 3
VIABILITY
Given the Dodgers (and Yankees) known interest in Castillo, he's probably a far-fetched get for the Twins. Mahle feels much more viable. He would presumably join Kenta Maeda, Joe Ryan, Bailey Ober, and his former teammate Sonny Gray in the 2023 rotation while helping the Twins down the stretch this summer and into the fall. 
The Twins have yet to make a blockbuster move at the trade deadline under the Derek Falvey/Thad Levine regime. Mahle wouldn't quite qualify as that, but he'd hopefully provide stability to a rotation in need. Acquiring Mahle may also give the Twins more flexibility in a different deal, knowing they wouldn't trade the entire farm for Castillo. 
VIABILITY SCORE: 3
I believe Mahle fits the Twins. He's a good mix between talent and cost, with enough risk to hurt but also enough upside to impact. What do you think about Tyler Mahle? Comment below!
FINAL SCORE: 19