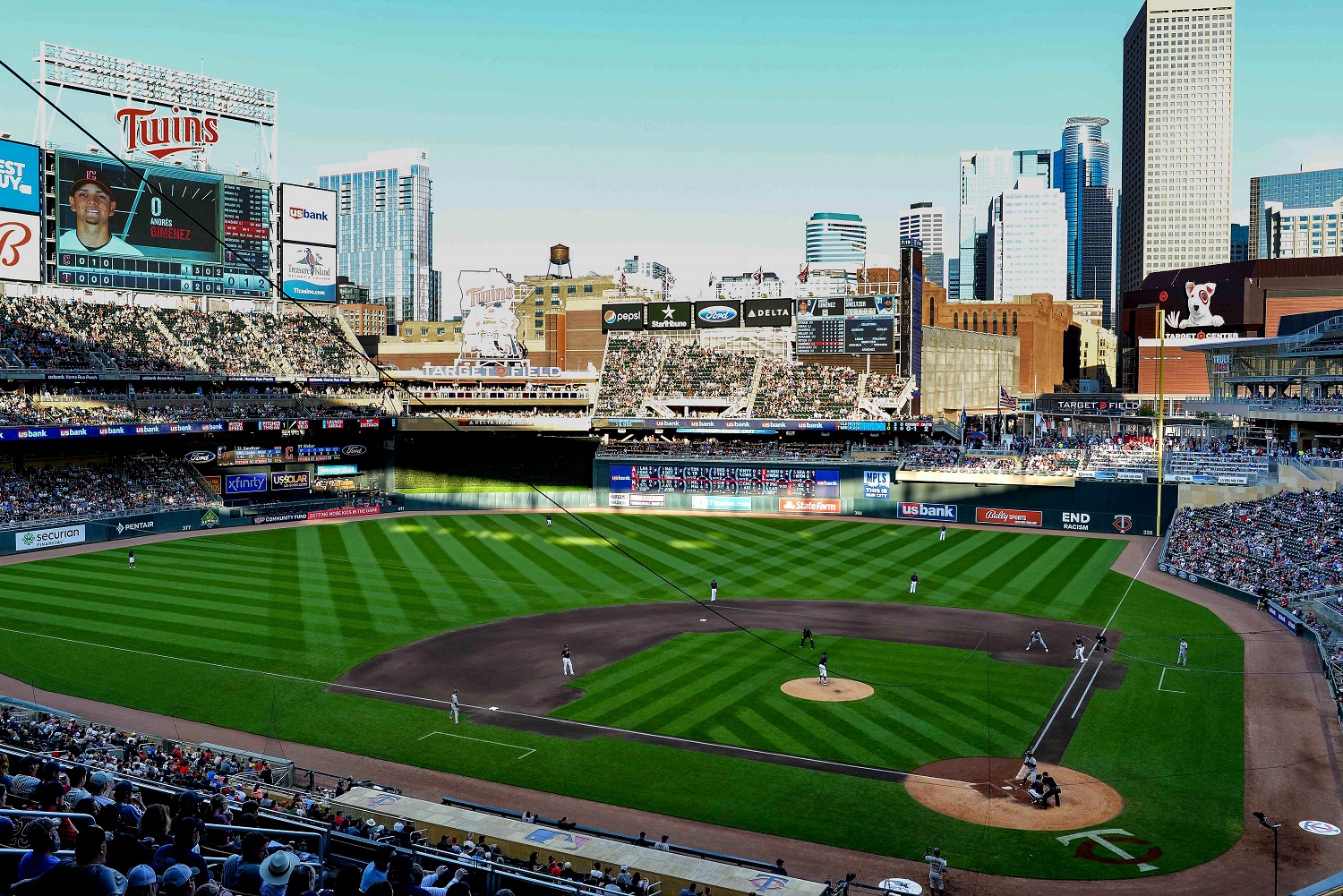 Image courtesy of Jeffrey Becker-USA TODAY Sports
From a baseline perspective, the win total is a point of contention each year. While not predictive of standings in the vein that Baseball Prospectus' PECOTA attempts, over/under win totals attempt to place a value on a team's overall ability. This season Bovada has the Minnesota Twins checking in at 83.5 wins while giving them equal odds (+150) to finish either first or second in the AL Central.
Ending with the win total, here are some thoughts on Twins over/under lines being offered for the 2023 season:
Byron Buxton HR Total - 27.5
Despite his speed, Byron Buxton's best swing has always looked like it would produce more of a power hitter than someone that needed to steal bases. We have seen that play out in recent seasons, and despite playing just 92 games last year, he blasted 28 home runs. On a per-game basis, Buxton's power is in line with Mike Trout and some of the best sluggers across all of baseball.
Minnesota would probably like to see Buck reign it in a bit more at the plate, leaning into a higher level of discipline. He will still run into his fair share of long balls, which comes down to the number of games he can remain healthy for. Hoping that this is the season for the fluky injuries to stop; Buxton playing anything north of 100 games should allow him to cruise by his home run total. It's a risk betting on his health, but give me the over here.
Carlos Correa Batting Average - .280
Batting average is not the indication of results that it was once viewed as, but there is still plenty of value to be placed on it. Last season the Twins star shortstop hit .291 across 136 games. That included a significant slump during the middle of the season. He is a .279 career hitter and has hit over .280 just twice in his eight-year career.
I don't think I'd touch this line, but I could certainly see an argument for the over. With the lack of a shift, Correa could see a few more hits fall, and he gets the benefit of a normal Spring Training where he can settle into his new home. Overall, I think Correa's slash line trends more towards on-base and slugging, so while his OPS should rise, the batting average may fall. Give me the under on this one.
Pablo Lopez/Joe Ryan Wins - 10.5
Pitcher wins have very little value in and of themselves, but they will forever remain a tracked statistic. Last year, Rocco Baldelli was hamstrung with regard to how deep his starters could go in a game. That shouldn't be the case, given the depth he has this year, and that should benefit the pitching staff as a whole. Joe Ryan led the club with 13 wins last year and shows up in this space for 2023.
Lopez was reason enough to trade Luis Arraez, and he is coming off a 10-win season of his own. In the Minnesota rotation, both players should be expected to have plenty of offensive backing, and a better bullpen should protect their leads. Eleven wins is a substantial number, but a good Minnesota team should have a couple of double-digit winners. I'm not sure these are the exact two, but I think at least one should get there. I'll take the over on Lopez and let it be.
Minnesota Twins Wins - 83.5
Looking at the division, I think it's fair to suggest that Minnesota is right there at the top. Cleveland didn't do much to get better this offseason, and while they are the reigning champs, it may have been more to do with taking advantage of a situation. Chicago still strikes me as the roster to look out for, and while Pedro Grifol is better in charge than Tony La Russa, that may not be enough to vault them up.
Even if the Twins can't grab the AL Central title again, and I wouldn't bet against that, they should surpass 84 wins. This looks like a group that can fly past 90 and even a disastrous finish, as the walking wounded saw them win 78 last season. The pitching depth is there, and while the lineup looks different, this team is constructed to compete. I'm taking the over.
What are your favorite bets or over/under tallies for the 2023 Twins?