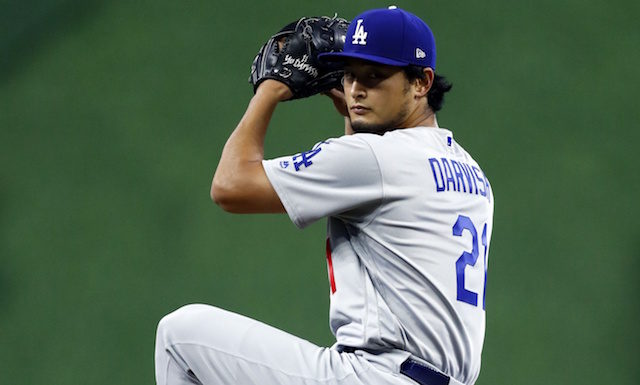 This offseason has been nothing short of unprecedented. It started with the 23-year-old sensation Shohei Ohtani deciding to leave Japan for the MLB, two years before he was eligible to sign without the International Free Agency restrictions. Then it was followed up with two months of absolute standstill for many of the top free agents. So, how could this season's free agent market potentially cause Yu Darvish to sign for a lot less money than the six years and $160MM that MLB Trade Rumors had originally predicted? Let's take a look.
In years past, the available marquee free agents were almost exclusively signed by the richest teams in baseball. In fact, 9 of the 20 richest contracts in MLB history were signed by either the Yankees, Dodgers or Red Sox. However, as MLB front offices are starting to get smarter, they are starting to learn that these big time free agent contracts are almost never worth it in the long run. As a result, teams are starting to shift their focus towards lower tier free agents that they can sign to short term, and more reasonably priced contracts, like relievers.
Another factor that will cause Darvish's value to drop is the luxury-tax system. While MLB does not have salary cap like many other U.S. sports leagues do, they do have a luxury-tax that disincentivizes teams from spending frivolous amounts of money on free agents. As teams go further and further above the luxury-tax threshold, and as the number of years they spend above the threshold increases, so to does the amount that the teams are taxed. This is causing many of the top spending teams, who have spent the last few years above the luxury-tax threshold, to want to cut back on spending and get below it in 2018. As a result, these teams are choosing to take a pass on players like Darvish.
Major League Baseball has seen a stretch of extreme parity over the past half-decade, with 26 of the 30 teams having made a playoff appearance since 2011, along with traditional bottom dwellers, like the Royals, becoming World Series contenders. However, over the past year or two, the MLB has seen a real shift from a league filled with parity, to apparent "super teams" atop each division. The reasons for this are many, and I won't go into details why in this post. So how does all of this impact Yu Darvish? Well, I have already touched on why many of the teams at the top aren't looking to add Darvish, but now with this power separation, many teams are opting to go with a rebuilding strategy as opposed to signing free agents. This takes even more teams out of the running, that might have otherwise made a run at competing in 2018, and thus looking to sign Darvish.
So, who does this all leave that would be interested in signing Darvish? Well, it was reported that Yu Darvish has narrowed his list of teams down to six. These teams are the Rangers, Cubs, Dodgers, Astros, Yankees and of course the Twins.
Let's look at the five other teams remaining that are competing with the Twins for Yu Darvish's services. Saturday night, the Astros made a trade to acquire Pirates starter Gerrit Cole. With this move, it all but fills out the Astros' rotation with Dallas Keuchel, Justin Verlander, Gerrit Cole and Lance McCullers Jr. as their 1-4, followed by quality starters in Brad Peacock, Charlie Morton and Collin McHugh competing for the 5th spot. This all but takes them out of the running for Yu Darvish.
Additionally, the Dodgers and Yankees are teams that are looking to stay below the $197MM luxury-tax threshold in 2018. As it stands, their projected 2018 salaries are $191MM and $172MM respectively. This means that signing Darvish will put the Dodgers well beyond the luxury-tax, and limits the Yankees to less than $25MM in average annual value (AAV) on Darvish's contract in order to stay below. Doing so would leave the Yankees with no margin to play with if they need to sign or trade for another player throughout the season, which means they are probably out unless his value drops down below $20MM in AAV. The Rangers are also a team that have said that they are looking to cut payroll in 2018. While their motives to do so might not be luxury-tax related, their desire to do so makes it hard to see Darvish making a reunion with the team that originally signed him out of Japan in 2012.
This just leaves the Chicago Cubs, who are looking to replace 2015 NL Cy Young Award winner Jake Arrieta. The Cubs have also expressed an interest in staying below the luxury-tax, but given their roughly $30MM in space to work with, and the fact that they were below the luxury-tax in 2017, their incentives to stay below aren't as great as the Dodgers and Yankees are. This most likely makes the Cubs the greatest competition that the Twins have for Darvish. While the Cubs could easily get into a bidding war with the Twins, and push his salary closer to the $30MM AAV range, I don't see them doing so for a couple of reasons. The first is this would leave them with little to no room to work with in 2018 for any other additions if they wish to stay below the luxury-tax. The second, is they have shown interest in a potential reunion with Arrieta. If the price for Darvish gets too high, they could easily put their focus on bringing back Arrieta.
With all of that being said, this is great news for the Twins. Not only does it increase their chances of actually signing Yu Darvish, but they might be able to do so without having to break the bank. There is also a slight chance that they might be able to land Darvish on a five-year deal as opposed to a six or seven-year deal. This would be great for the Twins, as he would come off of the Twins books after his age 35 season. In the end, I see Darvish signing either a five or six-year deal, in the $115MM-$135MM range, a far cry from the six years and $160MM that was originally projected.