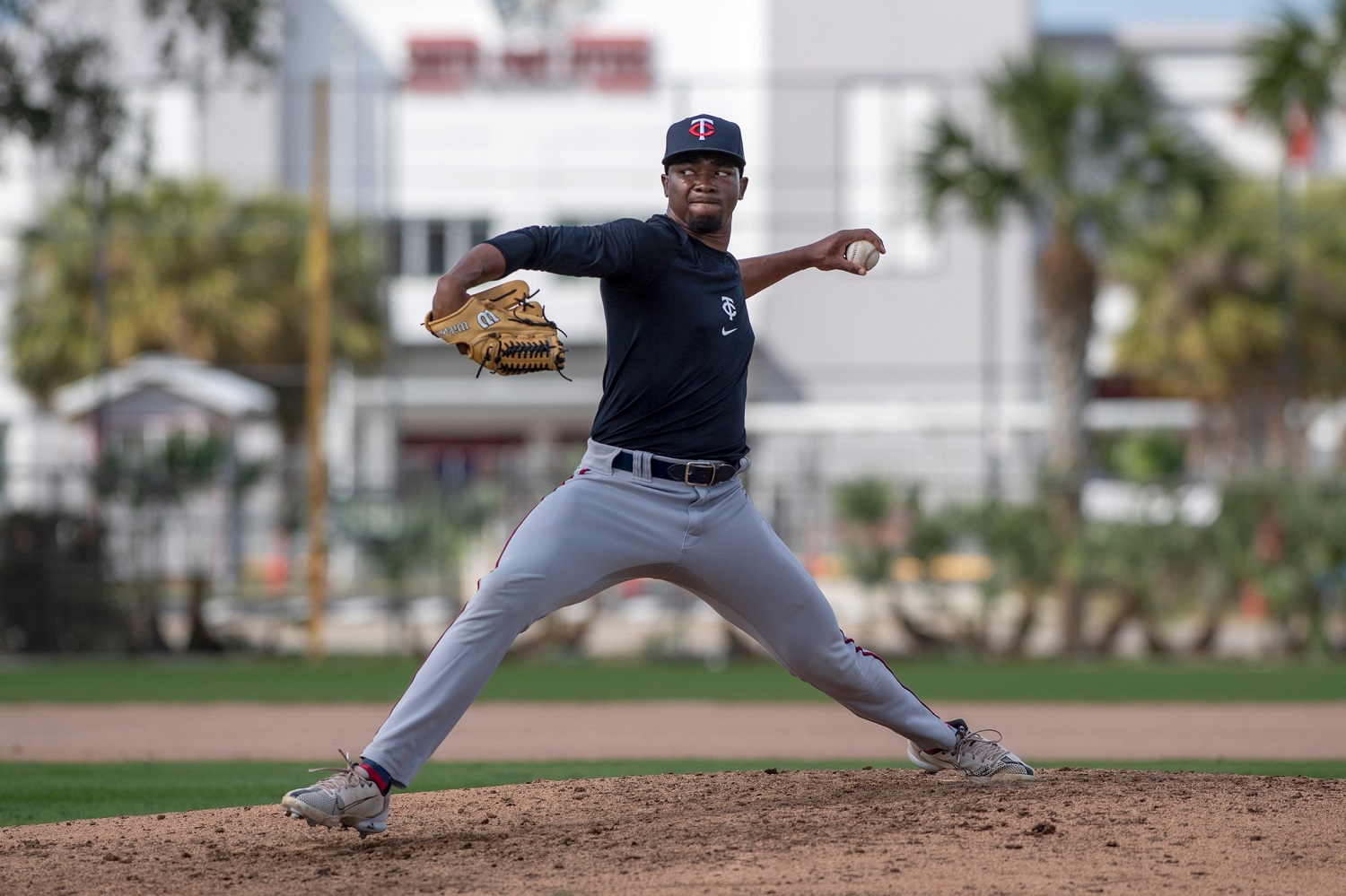 Image courtesy of William Parmeter
Jaylen Nowlin grew up in Atlanta, Georgia. His parents encouraged him to play many sports and keep busy, so he did, and in doing so developed some great friendships. Once he reached high school, his focus turned solely toward baseball. That decision appears to be the right one for the talented lefty. 
At Westlake High School, he teamed with Lawrence Butler, one of the top prospects in the Oakland A's organization. He had committed to West Virginia, but the A's selected him in the sixth round of the 2018 draft. He had a solid season in the High-A Midwest League in 2022 and a strong showing in the Arizona Fall League. Butler was added to the 40-man roster last November and has a chance to debut in 2022. Through seven spring training games, he is 8-for-14 (.571) with three doubles, a triple, and a home run. 
With a few players who are now pros and several who played in college, how good was their team? Nowlin admitted, "Shockingly, not that good. We had the talent, but we definitely lacked the discipline. We had a lot of fun, but discipline was probably our weakest point." 
In the summers, Nowlin and Butler played on a local team in regional and national Perfect Game tournaments and did very well. Former Atlanta Braves outfielder Marquis Grissom led the team. His son, Marquis Grissom, Jr., was on the team. He went to Georgia Tech and was drafted by the Nationals in 2021. Also on the team was 2022 National League Rookie of the Year, Atlanta Braves outfielder Michael Harris. Harris was called up to Atlanta from Double-A at the end of May, and he went on to use an incredible toolset to hit for average, showed his power, and showed great speed on the bases and in center field.  
Marvin Freeman spent parts of 10 seasons in the big leagues. He was the pitching coach on the team. Along with Grissom, they provided some much-needed mentorship. "Those two have really pushed my career along since I was like 14 years old. Marvin Freeman is the best pitching coach I could ever ask for. He is just a guru with it. He knows how to make everything make sense, help out, and have all the cues. Without him, I would be a different pitcher right now." 
Nowlin recalls, "There was a lot of competition on the team and a lot of competition that we placed against." He later said, "We did some damage in those Perfect Game tournaments. We were a deep team, pretty much an all black team. A deep team too. We had a lot of talent." 
Jaylen Nowlin has been around excellent players for a long time. He was putting up a quality resume in his own right. He had committed in high school to Jackson State but instead went to Chipola College in Florida, one of the best junior colleges nationally every year. In 2021, Nowlin pitched in 16 games and 42 innings. He walked too many (24), but he struck out an incredible 59 batters (44% of batters faced). 
Nowlin said of the experience, "That's where my development really took off. I struggled early on, but the pitching coach got to me, and that's when we started hammering down on just  throwing strikes." 
He committed to pitching at the University of Alabama-Birmingham in 2022. But then came the draft. He was at home with his parents and a few friends. It took awhile, but finally, in the 19th round, he heard his name called as the pick of the Minnesota Twins. 
He quickly signed and got to work. He pitched in just one FCL game during the season. It was during Instructs that Nowlin started to make his name known. Reports were that the lefty was hitting 97 with his fastball and showing a sharp slider. 
The southpaw started his first full minor-league season in Fort Myers. He pitched in 19 games, including 11 starts. He was part of one of the two Mighty Mussels no-hitters. 
David Festa started it. Nowlin pitched in the middle, and Hunter McMahon finished it off. "Once I came in, I just came in and threw. I had no idea that they had no hits at that point until I came out and Hunter came in. I was just going in there, doing my job, like normal. Once we finished the game and they started throwing the water everywhere, I was still pretty much confused."
 He ended the season with three starts for Cedar Rapids before their playoff run. "I was happy to be able to make that step, just to reach another level. I just want to be able to continue to progress every year, get better as much as I can, and move up as fast as I can. So moving up to Cedar Rapids was a great experience for me, and I was very appreciative of it." 
Nowlin has a three-pitch mix primarily. His fastball sits in the mid-90s but has reached 97 at times. He's got a good, sharp slider, and he also throws a changeup. He says he also likes to throw a two-seamer every once in a while too. Along with stuff, Nowlin thinks he's got the right mentality. "It's me throwing every single pitch I have with conviction. It's just trying to let everything eat, throw it down the middle, and see if they can hit it. I like to test batters to see if they can hit it. I try not to do too much. Keep everything simple. Shove it right down the middle and see if they can beat me." 
Combined, he threw 71 innings and had a remarkable 111 strikeouts (14.1 K/9). He also had 36 walks, which is more than he would want and something to focus on in the offseason. Lowering that walk rate is just one of his goals heading into the 2023 season. 
And in the offseason, he spends a lot of time with his friends. "We're a tight group. Me, Mike, Marquis, Lawrence. We're a tight group. We work out together in the offseason. We're always with each other, playing a game together, working out, or just chilling at each other's houses." 
Nowlin says he is 'definitely a goal guy, highly goal oriented. Keep progressing. Get to Double-A as fast as I can. Move up as much as I can this year. Get better every day." 
Jaylen Nowlin has been in Fort Myers preparing for the season since mid-January. His strikeout rate and stuff have him entering most Top 30 Twins prospect rankings. He and fellow 2021 Day 3 draft pick David Festa are two Twins pitching prospects to move up most in 2022. Can Nowlin take another big step forward in 2023?
For more Jaylen Nowlin content on Twins Daily, click here.