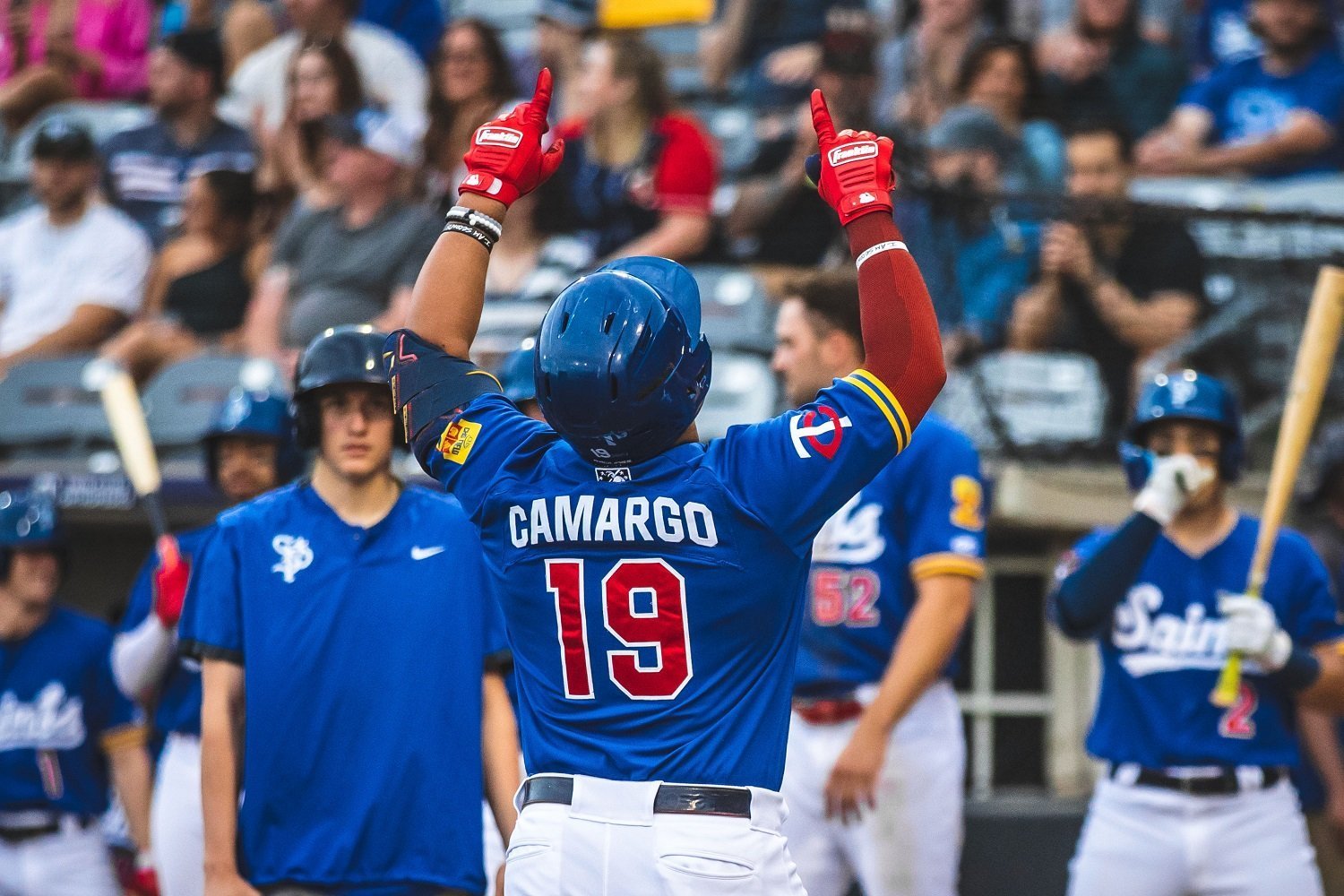 Image courtesy of Rob Thompson, St. Paul Saints
SAINTS SENTINEL 
Iowa 9, St. Paul 2 
Box Score
The Saints played a matinee on Thursday, with Randy Dobnak taking the mound. He worked 5 2/3 innings but allowed six runs on nine hits. Dobnak walked just two while striking out four but did allow a home run. The additional strikeouts helped to set the Saints single-season strikeout record. His 107 strikeouts took the lead from teammate Ronny Henriquez.
With St. Paul and Iowa battling for playoff position, Matt Mervis started things off with his 20th home run of the year. The two-run shot gave Iowa a 2-0 lead in the first inning. Jair Camargo answered with a home run of his own, a solo shot, to make it 2-1 in the second inning.
Unfortunately, the Cubs kept adding, and by the seventh inning, they held a 6-1 lead. Brooks Lee looked to keep the Saints close with a double that plated Michael Helman and brought them within a grand slam. However, a tough seventh inning saw three runs score, and Iowa was up by a comfortable 9-2 margin.
Chris Williams stepped in with the bases loaded and just one out in the eighth. Unable to get the big hit, he put up a sacrifice fly that brought Camargo home and made it a six-run game. Carlos Luna finished the game on the mound, working 1 1/3 innings after his recent transfer from Double-A.
Lee led off the ninth inning with his second double of the day, but an Austin Martin groundout and Yunior Severino strikeout didn't bring him in. Kyle Garlick went down looking at that's how this one ended.
Camargo had three hits Thursday afternoon, with Lee adding his two doubles.
WIND SURGE WISDOM
Wichita 5, Midland 4
Box Score
Travis Adams took the pill Thursday night for Wichita and worked 4 1/3 innings, allowing four runs on seven hits. He was cruising until a four-run fifth inning did him in. Adams didn't walk anyone and struck out five on the evening.
The good guys got on the board when David Banuelos homered for the 10th time. His solo shot made it a 1-0 game in the second inning. In the third inning, Alerick Soularie did his best impression of Banuelos, launching his own solo home run.
Midland got a run back in the fifth inning to halve the lead and keep Wichita on their toes. Adams faced serious damage during the inning, with runners on first and second still having no outs. Instead of getting a double play ball, William Simoneit launched a three-run blast to take the lead 4-2.
Working for the comeback, Jake Rucker singled home both Dalton Shuffield and Banuelos in the sixth inning to tie things up before Will Holland drove in Ben Ross for the lead. Ahead 5-4, Wichita needed the pitching to hold it down. Curtis Taylor did just that throwing 2 2/3 inning of scoreless relief before Francis Peguero grabbed the last out, with the Wind Surge emerged victorious.
Both Soularie and Rucker recorded a pair of hits on the evening. Rucker also added a pair of RBI for himself.
KERNELS NUGGETS
Cedar Rapids 9, Peoria 4
Box Score
Needing a win to extend their season, the Kernels sent Cory Lewis to the mound. He turned in a strong performance going four innings, allowing just a single run. He scattered four hits and didn't allow a run while striking out four.
While Cedar Rapids was already up against a 1-0 deficit in the series, their bodies were also up against it.
Despite playing against some internal adversity, the Kernels showed up in a big way. After giving up a run in the third inning, Cedar Rapids answered with four of their own during the fourth inning. Scoring all four runs before recording an out was a strong response. Jose Salas scored Luke Keaschal to tie the game, and then Jeferson Morales went ya-ya, scoring Noah Cardenas and Salas in the process.
Still without Peoria recording an out, Noah Miller launched a two-run shot, scoring Carson McCusker and making it a 6-1 game. Malik Barrington took over for Lewis and ran into trouble during the sixth inning. He gave up a run and had two runners on before recording the third out of the inning.
Jorel Ortega put himself on the board with a seventh-inning solo blast, and the home run made it a 7-2 game for Cedar Rapids. McCusker added some additional insurance with a double that scored both Cardenas and Morales.
Both Miller and McCusker had two hits on the night with both adding a pair of RBI. Morales drove in three runs on his own as well.
TWINS DAILY MINOR LEAGUE PLAYERS OF THE DAY
Pitcher of the Day – Cory Lewis (Cedar Rapids) - 4.0 IP, 4 H, 1 R, 1 ER, 0 BB, 4 K
Hitter of the Day – Jair Camargo (St. Paul) - 3-4, 2 R, RBI, HR(19), K
PROSPECT SUMMARY
We will again keep tabs on the Twins top prospects. You'll probably read about them in the team sections, but if they aren't there, you'll see how they did here. 
Here's a look at how the current Twins Daily Top 20 performed:
#1 - Brooks Lee (St. Paul) - 2-5, RBI
#3 - Emmanuel Rodriguez (Cedar Rapids) - 0-4, 2 K
#7 - Austin Martin (St. Paul) - 1-2, 3 BB
#8 - Tanner Schobel (Wichita) - 1-4, K
#10 - Luke Keaschall (Cedar Rapids) - 1-4, R ,K
#13 - Kala'i Rosario (Cedar Rapids) - 1-4, BB, 3 K
#14 - Yunior Severino (St. Paul) - 0-5, 4 K
#19 - Cory Lewis (Cedar Rapids) - 4.0 IP, 4 H, 1 R, 1 ER, 0 BB, 4 K
FRIDAY'S PROBABLE STARTERS
St. Paul @ Iowa (7:08PM CST) - LHP Blayne Enlow
Midland @ Wichita (7:05PM CST) - RHP Marco Raya
Peoria @ Cedar Rapids (6:35 CST) - RHP C.J. Culpepper
Please feel free to ask questions and discuss Thursday's games!