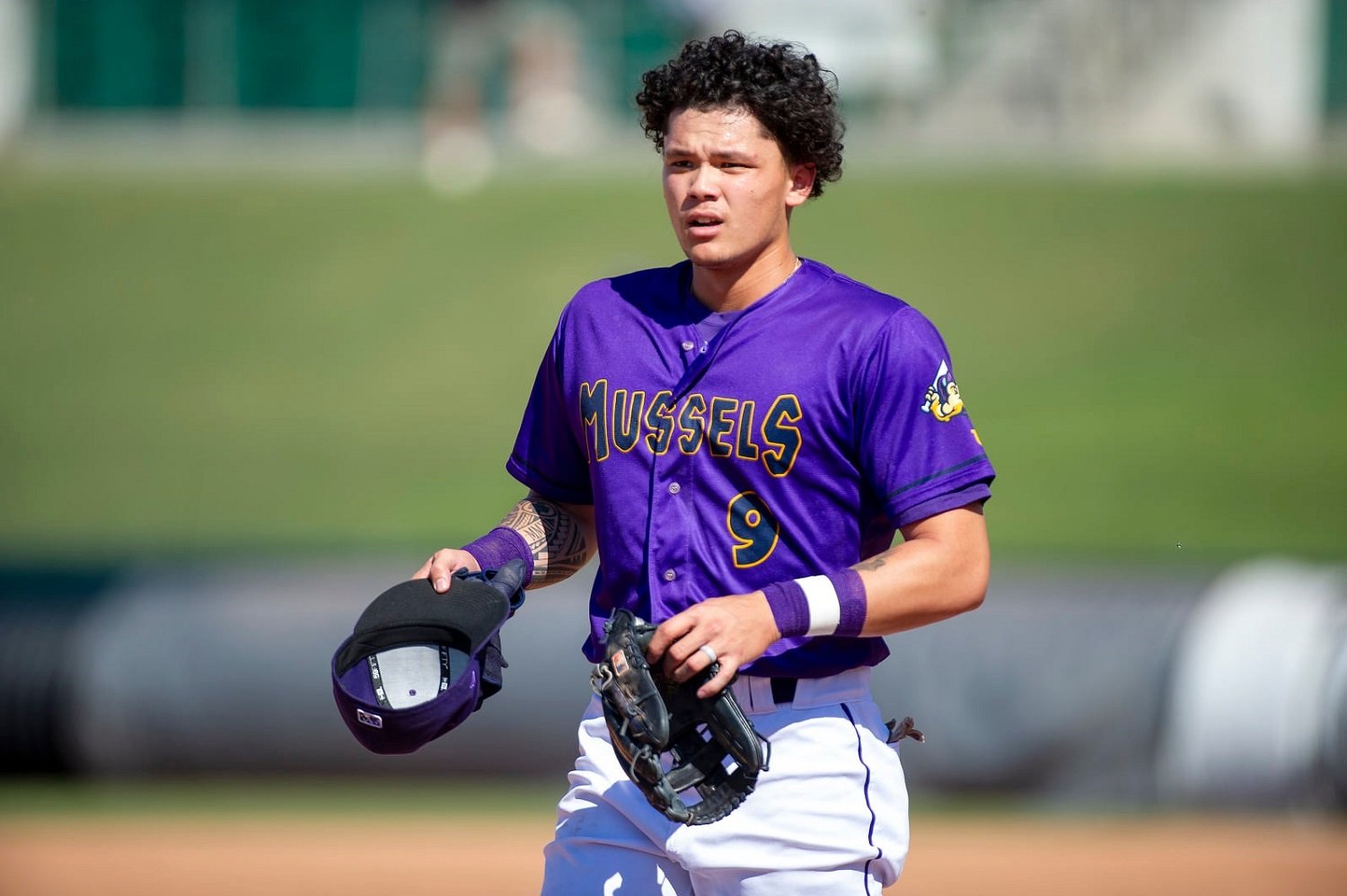 Image courtesy of William Parmeter / Mighty Mussels
Let's get to the report. As always, please feel free to discuss and ask questions. 
TRANSACTIONS
RHP Joe Ryan was placed on the Covid-IL on Wednesday. LHP Devin Smeltzer was recalled from St. Paul to take his spot. 
RHP Chris Vallimont was claimed by the Baltimore Orioles. The Twins had placed him on waivers over the weekend. 
SAINTS SENTINEL 
Game 1 - St. Paul 10, Indianapolis 16 
Box Score
Game 2 - St. Paul 5, Indianapolis 3 
Box Score
Fair to say that Game 1 did not go as the Saints would have wanted. Jordan Balazovic started and had his struggles again. That said, he gave up just one run over the first three innings. Then came a forgettable fourth frame. Balazovic was charged with four more runs. Tyler Viza came on in relief and allowed two inherited runners to score and four of his own and only got one out. Daniel Gossett got out of that inning, but then he gave up seven runs on seven hits over the final three innings as well. 
Jermaine Palacios led the Game 1 offense. He went 2-for-4 with his sixth double and four RBI. Cole Sturgeon drove in three runs as well as the Saints tried to come back but were just too far behind. Spencer Steer went 1-for-2 with a walk and was hit by a pitch. 
Game 2 was a lot cleaner, and through four-and-a-half innings, it was a 1-1 ballgame. Royce Lewis's fifth Saints homer gave the Saints a 2-1 lead in the bottom of the fifth frame. Indianapolis took a 3-2 lead in the top of the sixth inning. In the bottom of the sixth, Jermaine Palacios and David Banuelos each homered and the Sanits had a 5-3 lead that they held onto. 
Lewis led the offense, going 3-for-4 with the home run. Mark Contreras went 2-for-3. 
Chi Chi Gonzalez made the start. He gave up three runs (2 earned) on six hits and a walk in 5 1/3 innings. He struck out seven batters. Wladimir Pinto came on and walked two batters and giving up the tying run before getting an out. Jharel Cotton got the final four outs for the Saints. 
WIND SURGE WISDOM
Wichita 3, Corpus Christi 4 
Box Score

The Wind Surge made the incredibly long, 16-hour bus ride to Corpus Christi, but when the game started, they were ready to go. Matt Wallner crushed a three-run homer in the first inning to start things out well. Unfortunately, that was about it for the Surge offense. 
Simeon Woods Richardson started the game and threw two zeroes on the board before giving up four runs in the third inning. He gave up four runs on six hits and four walks in four innings. He struck out six batters. Ben Gross walked two over 1 1/3 scoreless relief innings. Osiris German got the next five batters out. Alex Scherff struck out two in the final innings. 
Wind Surge manager Ramon Borrego was ejected for the first time in a game since he's been with Wichita. 
KERNELS NUGGETS
Cedar Rapids 1, Wisconsin 5 
Box Score

The Kernels took Game 1 of this series on Tuesday night. On Wednesday afternoon, the Timber Rattlers evened the series and returned to just one game back of the Kernels in the divsion. 
Cade Povich started and worked the first five innings. He gave up a single run in the fifth inning on a Carlos Rodriguez homer. He came back out for the sixth inning but with two runners on, he was replaced by Cody Laweryson who gave up doubles to Wes Clarke and Carlos Rodriguez and Wisconsin had a 5-0 lead. Andrew Cabezas, Ryan Shreve, and Orlando Rodriguez each pitched a scoreless inning. 
Seth Gray hit a solo home run in the ninth inning to avoid the shutout, but overall, Justin Jarvis and the Timber Rattler pitching staff were in control of this game. The Kernels had just four hits total. In his first at-bat with the Kernels, Patrick Winkel hit a double.   
MUSSEL MATTERS
Fort Myers 10, Bradenton 2
Box Score

Things have not gone smoothly for Keoni Cavaco early in his career, but on Wednesday, he had a terrific game for the Mussels. In the first inning, he hit a two-run double. Then in the fifth inning, he launched a grand slam. Overall, he went 3-for-4 with his eighth double, first home run and six RBI. 
Noah Miller went 2-for-3 with a walk and his 11th stolen base. He scored three runs. Emmanuel Rodriguez went 1-for-3 with a walk and a two-run homer, his sixth of the season, in the third inning. 
By the way, thank you to the Bradenton Marauders who are the only team in the Florida Sate League on milb dot tv! 
Mike Paredes made the start. He gave up two runs on three hits over five innings. He struck out seven batters without a walk. Samuel Perez came on and walked two but struck out three batters over the final two innings before lightning ended the game early. 
TWINS DAILY MINOR LEAGUE PLAYERS OF THE DAY
Pitcher of the Day – Mike Paredes (Ft. Myers) - 5 IP, 3 H, 2 R, 0 BB, 7 K
Hitter of the Day – Keoni Cavaco (Ft. Myers) - 3-4, 2B, HR/GS, 6 RBI, 1 R. 
PROSPECT SUMMARY

Here's a look at how the current Twins Daily Top 20 performed:
#1 - Royce Lewis (Minnesota) - 1-for-4, R (Game 1, played SS)
#1 - Royce Lewis (Minnesota) - 4-for-4, HR (5), R, RBI. (Game 2, DHd) 
#2 - Austin Martin (Wichita) - 0-for-4 (played SS)
#4 - Jose Miranda (Minnesota) -  0-for-0 
#5 - Jordan Balazovic (St. Paul) - 3.1 IP, 3 H, 5 R, 3 ER, 3 BB, 3 K (73 pitches, 44 strikes)
#6 - Simeon Woods Richardson (Wichita) - 4 IP, 6 H, 4 ER, 4 BB, 6 K (87 pitches, 52 strikes)
#8 - Jhoan Duran (Minnesota) - Did Not Pitch
#10 - Emmanuel Rodriguez (Ft. Myers) - 1-for-3, BB, HR(6), 2 R, 2 RBI, 2 K
#11 - Noah Miller (Ft. Myers) - 2-3, BB, 3 R, SB (11) 
#16 - Spencer Steer (St. Paul ) - 1-for-2, BB HBP, 2 R (Game 1, played 2B)
#16 - Spencer Steer (St. Paul ) - 1-for-3 (Game 2, played 3B)
#17 - Cade Povich (Cedar Rapids) - 5 IP, 3 H, 3 ER, 2 BB, 9 K (89 pitches, 55 strikes)
#18 - Christian Encarnacion-Strand (Cedar Rapids) - 1-for-4, K
#19 - Edouard Julien (Wichita) - IL
THURSDAY'S PROBABLE STARTERS
Indianapolis @ St. Paul (7:07 PM CST) - RHP Mario Sanchez (2-1, 4.63 ERA) 
Wichita @ Corpus Christi (6:35 PM CST) - RHP Blayne Enlow (0-0, 4.70 ERA)
Wisconsin @ Cedar Rapids (6:35 PM CST) - RHP Sawyer Gipson-Long (2-2, 2.56 ERA) 
Fort Myers @ Bradenton (5:30 PM CST) - TBD 
Please feel free to ask questions and discuss Wednesday's games!