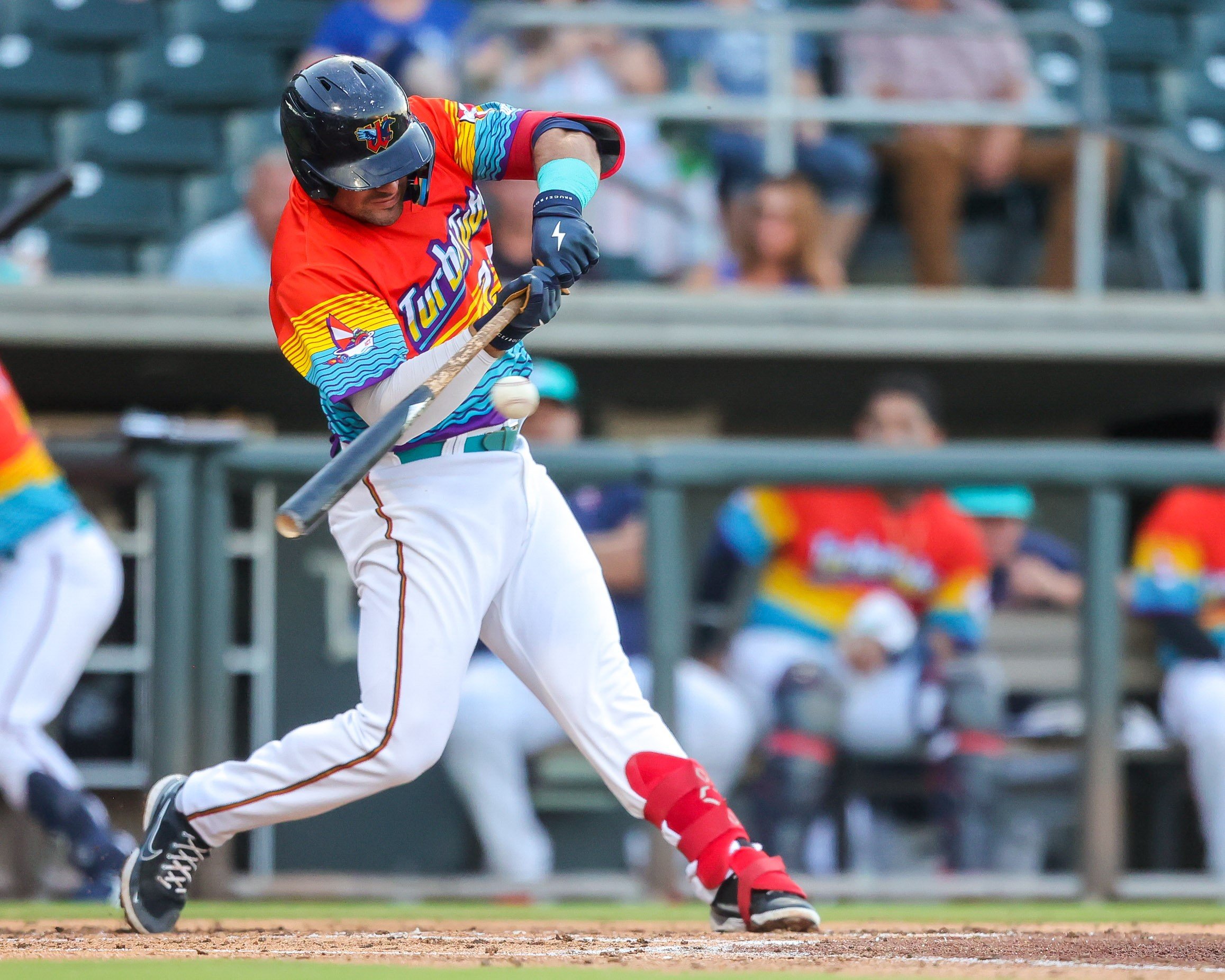 Image courtesy of Tim Grubbs, Wichita Wind Surge (photo of Aaron Sabato)
Game Results:
Monday, 10/23 | Glendale 9, Scottsdale 4
Wednesday, 10/25 | Salt River 7, Glendale 2
Thursday, 10/26 | Mesa 3, Glendale 2
Friday, 10/27 | Mesa 8, Glendale 2
Saturday, 10/28 | Salt River 5, Glendale 4 (7 innings)
After pulling themselves out of the cellar of the Arizona Fall League standings with an undefeated effort last week, the Desert Dogs found themselves on the short end of the stick again in week four as a team. They were able to win their seventh game in a row, before losing the next four to head into week five with a 9-14 overall record, tied for last in the AFL standings. It was again their inability to hit with runners in scoring position that was to blame, as a 5-for-40 effort in that category (.125 average) isn't going to help you win many games. So how did all your Minnesota Twins prospects fare on the week?
C Andrew Cossetti
Week: 0-for-2, 2 BB, K (1 game)
Overall: .091/.310/.227 (.537 OPS)
The 23-year old catching prospect saw action in just one game on the week, starting at catcher in Friday's game with Mesa. He batted seventh in the lineup and drew a pair of walks to reach base in half of his plate appearances. He struck out in the second inning, and flew out to center in the fourth before drawing a walk in each of the sixth and ninth frames.
After his free pass in the sixth he swiped his first base of the AFL season, but would be stranded on second base. His walk in the ninth came leading off the inning but was quickly erased on a double-play ball from the next batter. 
It appears the three catchers on Glendale's roster are all splitting playing time pretty evenly, but with just five games this week Cossetti was the odd man out.
OF Kala'i Rosario
Week: 4-for-15, 3 R, 2 HR (6), 4 RBI, BB, 7 K, SB (4 games)
Overall: .185/.284/.477 (.761 OPS)
Rosario had a big week three, crushing three home runs in five games, and continued that trend with two more in four games this time. The prospect out of Hawaii continues his ascension and talked about the importance of representing that background for him to MLB.com's Jesús Cano.
In Monday's 9-4 win over Scottsdale, Rosario came up to bat in the seventh with his team leading 6-4, and he added some insurance with a two-run shot to left field. Teammate Tyler McDonough added a back-to-back shot for the final of 9-4.
He also scored the tying run in a two-run fourth inning for the Desert Dogs, after drawing the second consecutive walk to start the inning.
In Saturday's loss to Salt River his solo shot in the fourth inning put Glendale in front 4-0, and gave him the AFL lead in home runs on the season, but the Rafters came storming back late to steal a win. Rosario added a single in the sixth and then was caught stealing second to end the frame.
In between those blasts Rosario singled in Friday's game and stole his first base of the season. He also was 0-for-4 with three strikeouts in Tuesday's 3-2 loss to Mesa, but picked up an RBI on a fielder's choice in the second inning for that game's first run.
1B Aaron Sabato
Week: 4-for-11, 3 R, 2 HR (5), 2 RBI, BB, 2 K (3 games)
Overall: .200/.304/.500 (.804 OPS)
Sabato got two starts at first base, and one as the designated hitter in the middle of the week's games, again batting at various spots in the middle of the lineup for the Desert Dogs.
On Wednesday he was 0-for-4 with a walk and a strikeout, before ending his week with two multi-hit games on Thursday and Friday. Those each included a home run, giving him five on the season to trail only Rosario in that category.
On Thursday he was 2-for-4 and scored both of his teams two runs in the game against Mesa, including the home run, which came in the sixth inning and pulled his team within one.
In Friday's rematch against Mesa his blast put Glendale on the scoreboard in the sixth inning, and two batters later Damon Keith sent one out to even the game at two. He added a two-out single in the third. 
LHP Jordan Carr
Week: 3 IP, 2 H, 1 ER, 0 BB, 1 K (1 appearance)
Overall: 1-0, 1.80 ERA, 0.80 WHIP, .208 BAA, 1 BB, 8 K (15 IP)
Carr didn't get a starting nod this week, but continued his excellent performance on the season thus far in Wednesday's loss to the Rafters.
He came on to start the fourth inning with the game still scoreless, and went the next three innings, keeping the game tied until the top of the sixth, when Detroit Tigers top prospect Jace Jung caught him for a solo homer.
He went one-two-three in the fourth, worked around a hit batter and a single in the fifth with a big strikeout to end the inning, and retired the other three hitters besides Jung in the sixth.
He again pounded the strike zone and was efficient, needing just 41 pitches to complete his three innings, with 28 going for strikes (68%). He currently is tied for the team lead in innings pitched with 15, and ranks second among "qualified" pitchers in the AFL in ERA (1.80) and WHIP (0.80).
RHP Malik Barrington
Week: 1 IP, 0 H, 0 R, 0 BB, 0 K (1 appearance)
Overall: 0-0, 10.38 ERA, 1.38 WHIP, .133 BAA, 4 BB, 7 K (4 1/3 IP)
The big right-hander made his lone appearance of the week in Friday's loss, coming in as the first reliever for his team in the fifth inning, with the score 1-0 Mesa.
He faced just three hitters, getting a pair of flyouts and some help from an opposing baserunner, who tried to stretch a ground ball that was misplayed by the shortstop into an extra base, and ended up thrown out at second for his efforts. 
Ignoring the ERA due to one bad outing, Barrington has strong numbers in the strikeout and batting average against categories, and scoreless outings in four of five appearances thus far.
RHP A.J. Labas
Week: Did not pitch
Overall: 0-0, 0.00 ERA, 1.75 WHIP, .214 BAA, 4 BB, 5 K (4 IP)
Labas did not see the mound during a week with one less game, which hopefully means he's due for a pair of appearances in week 5!
RHP Ben Ethridge
Week: 1 IP, 2 H, 2 ER, 1 BB, 0K (1 appearance)
Overall: 1-0, 11.57 ERA, 1.50 WHIP, .300 BAA, 1 BB, 2 K (4 2/3 IP)
Ethridge came on for the eighth inning in Friday's matchup with Mesa, who was leading the game by three runs at the time. A leadoff walk was followed by a double to put runners on second and third before he got a pop out to Sabato at first for the inning's first out. The next batter delivered a two-run single to make it 7-2 Solar Sox, before retiring the final two hitters of his outing.
LHP Zach Veen
Week: 1 IP, 0 H, 0 ER, 0 BB, 1 K (1 appearance)
Overall: 0-0, 6.00 ERA, 1.50 WHIP, .308 BAA, 1 BB, 5 K (6 IP)
The resident lefty for Twins bullpen prospects saw action in Wednesday's loss to Salt River, but that outcome didn't have anything to do with him. With his team down 1-0, he set the Rafters down in order, including a strikeout, and in the bottom half the Glendale lineup took the lead to put him in line for a win. Unfortunately, the next two men up for the Desert Dogs bullpen gave up six runs in the top of the eighth, and they'd go on to lose 7-2.
Please feel free to ask questions and discuss the prospects playing in the AFL this week!