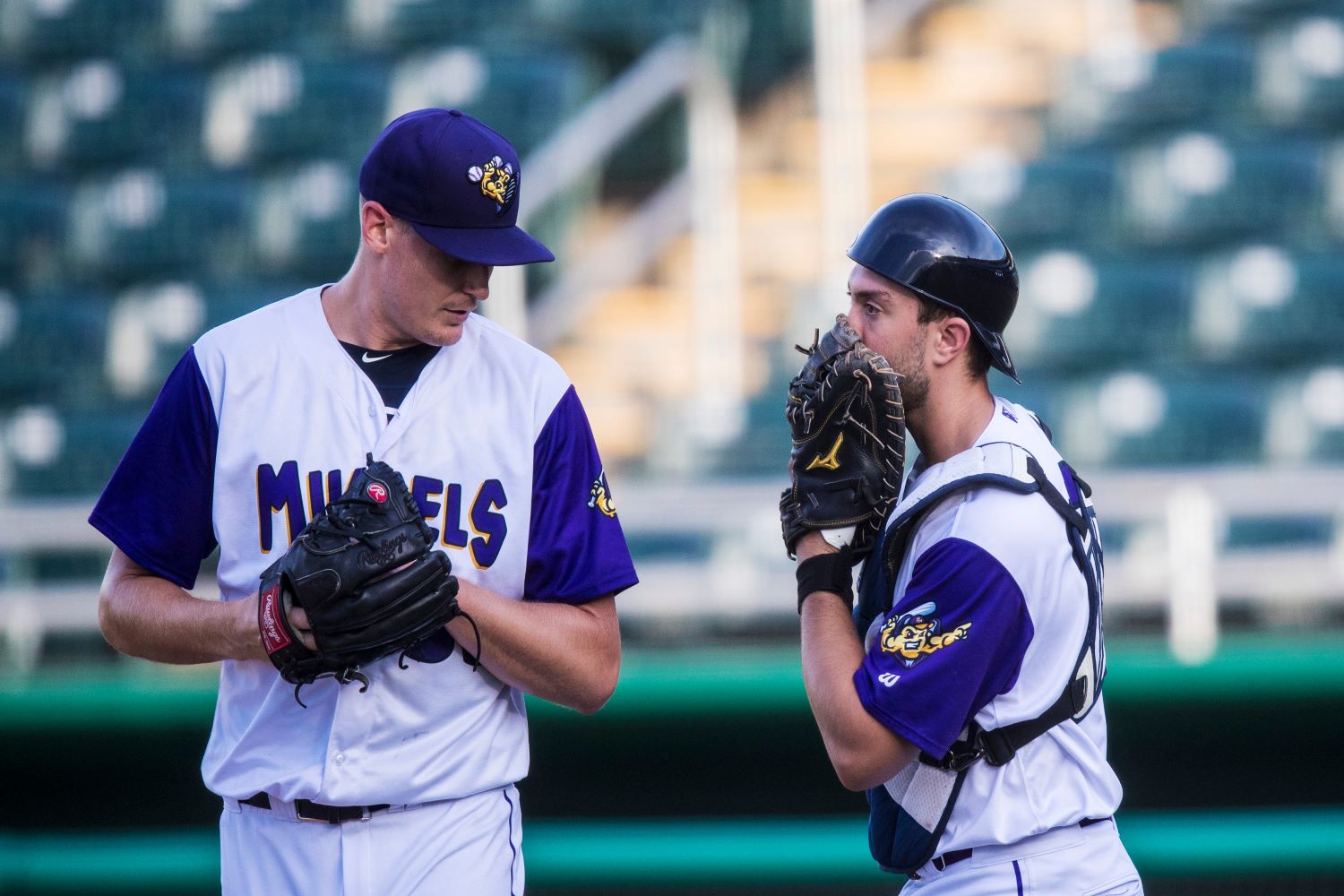 Image courtesy of Andrew West/The News-Press via Imagn Content Services, LLC
Noah Cardenas

For my life, I can't figure out why Noah Cardenas isn't well-regarded as a prospect. Catchers who can hit are rare; catchers who can hit and field well are unique, and Cardenas might be that kind of player. Let's start with the bat: his .302/.407/.426 line at UCLA has translated well to a .261/.421/.413 one over his first full season in professional ball, 99 games with the Fort Myers Mighty Mussels. Despite a hitting environment that favors pitchers, Cardenas rode his excellent feel for the plate to an 18.2% walk rate, good for 3rd in the Florida League; his .421 OBP placed him 4th.
Fielding is more difficult to analyze—even major league stats remain shaky these days—but Eric Longenhagen and Tess Taruskin refer to him as a "glove-driven" catcher, and the Pac-12 honored Cardenas with an honorable mention on their All-Defensive Team in 2019. 
He's a touch older than your typical A-ball player—he celebrated his 23rd birthday on September 10th—but Cardenas should remain firmly on your radar over the next few years.
Cody Laweryson

"Fun" is seldom a word that describes a prospect, but the word fits Cody Laweryson's bill perfectly. A 14th-round pick out of Maine in 2019, Laweryson shocked with a monstrous 15-strikeout performance to end his time in rookie ball but entered a hiatus thanks to the canceled minor league season in 2020. His 2021 season was forgettable, but he returned with a dominating 2022 campaign. Laweryson silenced bats with a 1.62 ERA, flipping between starting and relief, striking out 30.2% of hitters while walking just 7.2%. He even stepped up his game at AA, holding a 1.06 ERA over 59 ⅔ innings in a hitter-friendly environment.
Laweryson's secret sauce is deception, a crane-like delivery with slanted arms and raised elbows that would fit perfectly next to Michael Jackson in the Thriller music video. Hitters can barely see the ball as a barrage of limbs fly toward the plate, masking Laweryson's pitches until too late. The Twins chose not to protect Laweryson in the upcoming Rule 5 draft, opening up the chance for another team to poach him.
Brent Headrick

In May, Matthew Lenz told us we should start noticing Brent Headrick. He was on to something.
After struggling with command in 2021, Headrick shifted into high gear in 2022, punching out batters at an elite rate—31%, to be exact—while limiting walks with Joe Musgrove-esque control. Even a promotion into a hitters' lion's den—the Texas League—couldn't slow down Headrick's reign; his K-BB% barely budged after joining the Wind Surge. While not a velocity expert, Headrick works with a deceptive delivery, placing pitches in their proper location before punching out the batter with a high fastball or a diving breaking ball.
The Twins agree that Headrick is fascinating; the team chose to protect him in the upcoming Rule 5 draft, perhaps paving a path for the Illinois State product to pitch for the major league club in 2023. 
Others

Prospect evaluation is far from perfect, but one can often parse through the noise, instead focusing on the statistical freak shows who have become major league stars in recent seasons. Steven Kwan rode an elite contact profile to a 4.4 fWAR season; our own Luis Arraez broke out and won a silver slugger in 2022; Cristian Javier's absurd minor league K numbers have translated to a career 30.9% K rate in the majors. These players were dinged for other drawbacks, but their outlier abilities have carried them to major league success. Here are a few guys in the Twins organization who stick out:
Jaylen Nowlin

Jaylen Nowlin struck out 35.9% of hitters in 2022. His command was dreadful enough to omit from this paragraph—his walk rate could scare the less courageous among us—but that punch-out rate will keep him around, maybe translating to major league playing time.
Austin Schulfer

The nearly 27-year-old Austin Schulfer is knocking loud enough on the Twins' door that the neighbors are starting to get irritated. His strikeout and walk rates moved in the wrong direction in 2022, but his groundball rate jumped from average to 58.3%, good for tops in the system amongst all pitchers with 50 innings. Only seven qualified MLB relievers could claim a better penchant for grounders in 2022.
Noah Miller

19-year-olds aren't supposed to walk 16.2% of the time in their first full season in professional baseball, especially when they play in an offensively stunted environment. Noah Miller's extra-base authority lagged, but his feel for the zone is already elite.