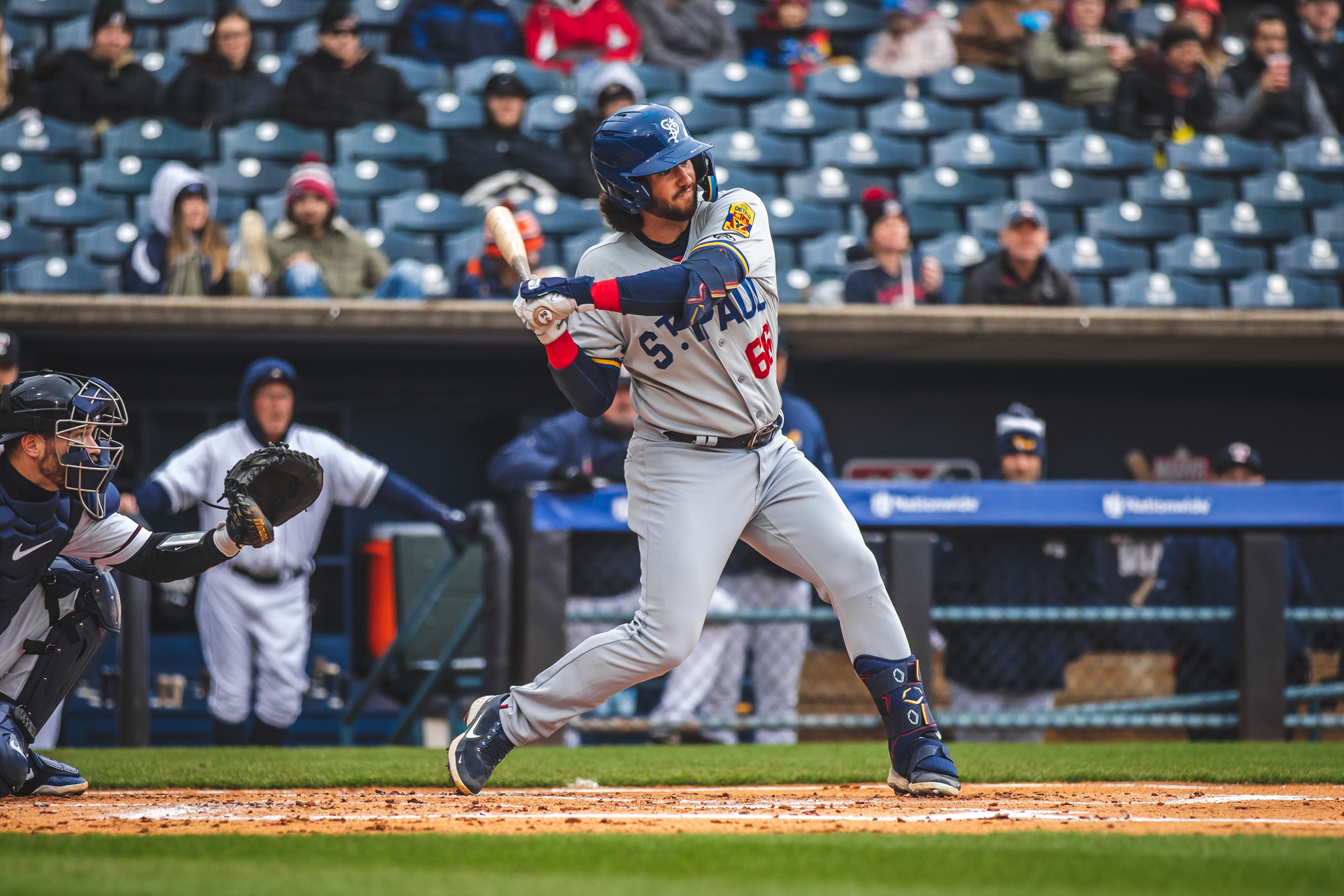 Image courtesy of Rob Thompson
TRANSACTIONS
None
Saints Sentinel 
St. Paul 6, Toledo 1
Box Score
Aaron Sanchez: 3 1/3 IP, 3 H, 1 ER, 3 BB, 4 K
HR: Chris Williams (1), Tony Wolters (1), Ryan LaMarre (1), Matt Wallner (1)
Multi-hit games: Kyle Garlick (2-for-4), Chris Williams (2-for-5, HR, 2 R, RBI)
It was a day of homers. Despite Toledo's best efforts to keep the ball in the park—and they tried nearly everything—the Saints darkened the sky with baseballs, swatting four home runs on their way to besting the Mud Hens. 
The sources varied from the predictable—Chris Williams and Matt Wallner—to the downright shocking: Tony Wolters' solo shot was his first homer since August 30th, 2021. Ryan LaMarre's bomb exited his bat at 110.1 MPH.
Truly absurd power from Wallner; he appeared to fall over himself while swinging and still hit the ball nearly 400 feet.
Between the animal hide rain lived a deeply appreciative Aaron Sanchez. The Saints' starter worked inefficiently, walking a trio of batters on his path towards 10 netted outs. Dereck Rodriguez was summoned to bridge the gap between the early and late frames. Rodriguez suffered from a similar affliction, allowing a pair of free passes over 2 2/3 innings, but he performed well enough to pass the lead to the late-inning specialists. 
Trevor Megill continued the shutout and did so with overpowering success, striking out five over two shutout frames with a lone walk serving as his only blemish. Brock Stewart closed the game with a scoreless inning and three strikeouts. 
Old friends Akil Baddoo and Matt Wisler played for Toledo. Baddoo walked once in four plate appearances while Wisler pitched a scoreless inning.
Justyn-Henry Malloy is the best prospect on the Mud Hens. He walked and singled in four plate appearances. 
TWINS DAILY PLAYERS OF THE DAY
Twins Daily Minor League Pitcher of the Day – Trevor Megill
Twins Daily Minor League Hitter of the Day – Chris Williams
PROSPECT SUMMARY
Here's a look at how the Twins Daily Top 20 Twins Prospects performed:
 #5 - Edouard Julien (St. Paul) - 0-5, 4 K
#11 - Matt Wallner (St. Paul) - 1-4, HR, R, RBI, BB, 2 K
SUNDAY'S PROBABLE STARTERS
Toledo @ St. Paul (1:05 PM) - RHP Randy Dobnak