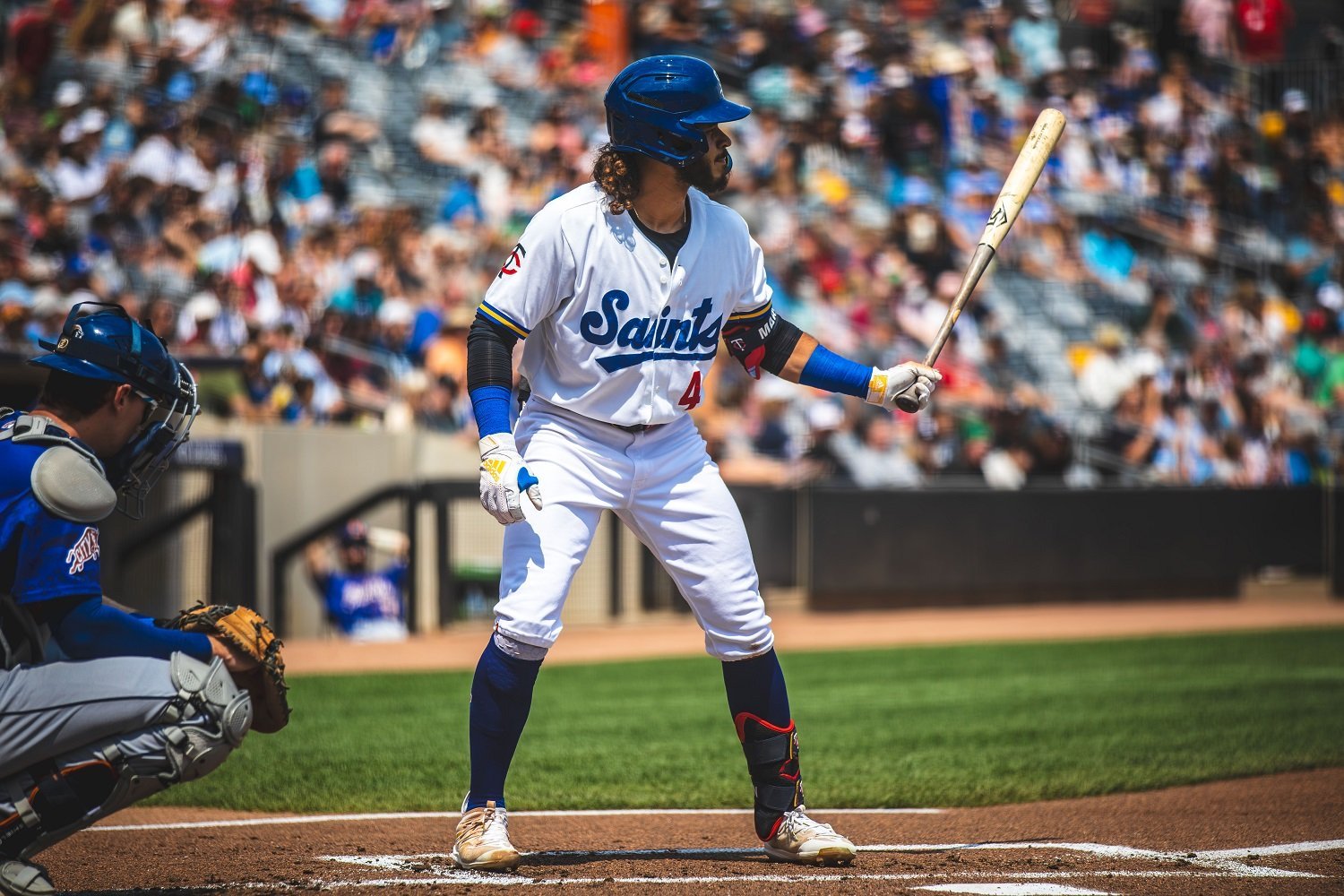 Image courtesy of Rob Thompson, St. Paul Saints (photo of Austin Martin)
Baseball player development is a non-linear path, with players facing different obstacles on their way to the big-league level. Organizations can be aggressive with some top prospects and move them through the farm system quicker than expected. Other prospects might suffer injuries or poor play and be forced to repeat a level for multiple years. Every prospect follows a different journey, making it intriguing for fans to follow. 
Below is a look at the top 10 prospects in the Twins organization according to Twins Daily's end-of-the-season voting. Not every outlet updates its ranking multiple times per year, but Twins Daily updates the player rankings and scouting reports monthly so there is a live view of each prospect's progress. Multiple names below are on pace to impact the Twins roster next season. 
1. Walker Jenkins, OF
ETA: 2026
The Twins took Jenkins with the fifth overall pick in the 2023 draft. He was promoted relatively aggressively during his professional debut by ending the year at Low-A. In 26 games, he hit .362/.417/.571 (.989) with five doubles, four triples, and three home runs. It's expected that he will start the year in Fort Myers with a chance to play in Cedar Rapids at the end of 2024. That should put him on pace to reach the big leagues in the second half of 2026, at which point he'll be 21 years old. 
2. Brooks Lee, SS/3B
ETA: 2024
The 2023 campaign was Lee's first full season as a professional after the Twins took him with the eighth overall pick in the 2022 MLB Draft. He started the year at Double-A, posting an .841 OPS in 87 games. Minnesota promoted him to St. Paul in the season's second half, and his OPS dipped to .731 at a level where he was over four years younger than the average age of the competition. Lee will start the year in St. Paul and be one injury away from making his big-league debut. 
3. Emmanuel Rodriguez, OF
ETA: 2025
Rodriguez will have an advantage over other names on this list due to being added to the 40-man roster this winter. These roster spots are valuable, and it gives him a better chance at making his debut because the team might need to dig into their depth if there are multiple big-league injuries. Rodriguez played the 2023 season at High-A, hitting .240/.400/.463 (.863) with 38 extra-base hits in 99 games. The Twins will plan for him to spend the 2024 campaign at Double-A, which puts him on pace to debut in 2025. 
4. Marco Raya, SP
ETA: 2025
The Twins have taken a unique development path with Raya by aggressively promoting him while limiting his innings pitched. He ended last season at Double-A in his age-20 season. Between two levels, Raya posted a 4.02 ERA with a 1.07 WHIP in 62 2/3 innings spread across 22 starts. He never pitched more than four innings in an appearance and never threw more than 54 pitches. It seems likely for Raya to spend all of 2024 at Double-A unless the team continues to be aggressive with him.  
5. David Festa, SP
ETA: 2024
Festa emerged as one of the organization's top pitching prospects last season after being taken in the 13th round of the 2021 MLB Draft. He pitched at Double-A and Triple-A with a 4.19 ERA and a 1.39 WHIP. He posted an 11.6 K/9 in 92 1/3 innings across 24 appearances (22 starts). Minnesota faces a self-imposed payroll crunch next season, which may leave the team relying on internal options for added depth. Festa will be at Triple-A, waiting for his opportunity to join the Twins' rotation at some point next season. 
6. Charlee Soto, SP
ETA: 2027
Soto has yet to make his professional debut after being drafted by the Twins with the 34th overall selection last June. He didn't turn 18 until after the draft, so he has a lot of time to develop in the organization's farm system. He will likely be the last player on this list to debut, but he has an exciting future with his pitching profile. 
7. Austin Martin, 2B/OF
ETA: 2024
Martin was the top-ranked prospect included in the Jose Berrios trade with Toronto, and he's seen some ups and downs during his time with the Twins organization. He struggled during the 2022 season with a .683 OPS at Double-A before heading to the AFL and being one of the league's best hitters. Last season, he injured his elbow during spring training, and there was some discussion that he'd need surgery. Martin rehabbed the elbow and posted a .791 OPS in 59 Triple-A games. The Twins have an opening in center field, and Martin might be able to take over that role at some point in 2024. 
8. Brandon Winokur, OF
ETA: 2027
Minnesota went well over-slot to sign Winokur for $1.5 million as a third-round pick. Winokur played 17 games during his professional debut and hit .288/.338/.546 (.884) with five doubles and four home runs. He has shown flashes of being a potential five-tool outfielder, but he is far from Target Field. Like Soto, he won't debut for multiple seasons, and many things can go wrong with development along the way.  
9. Luke Keaschall, 2B
ETA: 2026
The Twins love to draft college bats, so the club targeted Keaschall with their second-round pick in the 2023 MLB Draft. Minnesota was aggressive after signing him by having him play at three different levels and finishing the year with Cedar Rapids. In 31 games, he hit .288/.414/.478 (.892) with 14 extra-base hits. The Twins will likely have him return to High-A to begin 2024, which puts him on pace to debut during his age-23 season. 
10. Tanner Schobel, 2B/3B
ETA: 2025
Schobel was selected in the second round of the 2022 MLB Draft, so his development path shows what the Twins might follow with Keaschall. He split time in 2023 between High- and Double-A while posting a .776 OPS in 126 games. Minnesota continues to play him at second and third base, and this defensive flexibility might help him reach the big leagues even sooner. 
Do you agree with the ETAs listed for each prospect? Which player will have the most significant impact on the Twins next season? Leave a COMMENT and start the discussion.