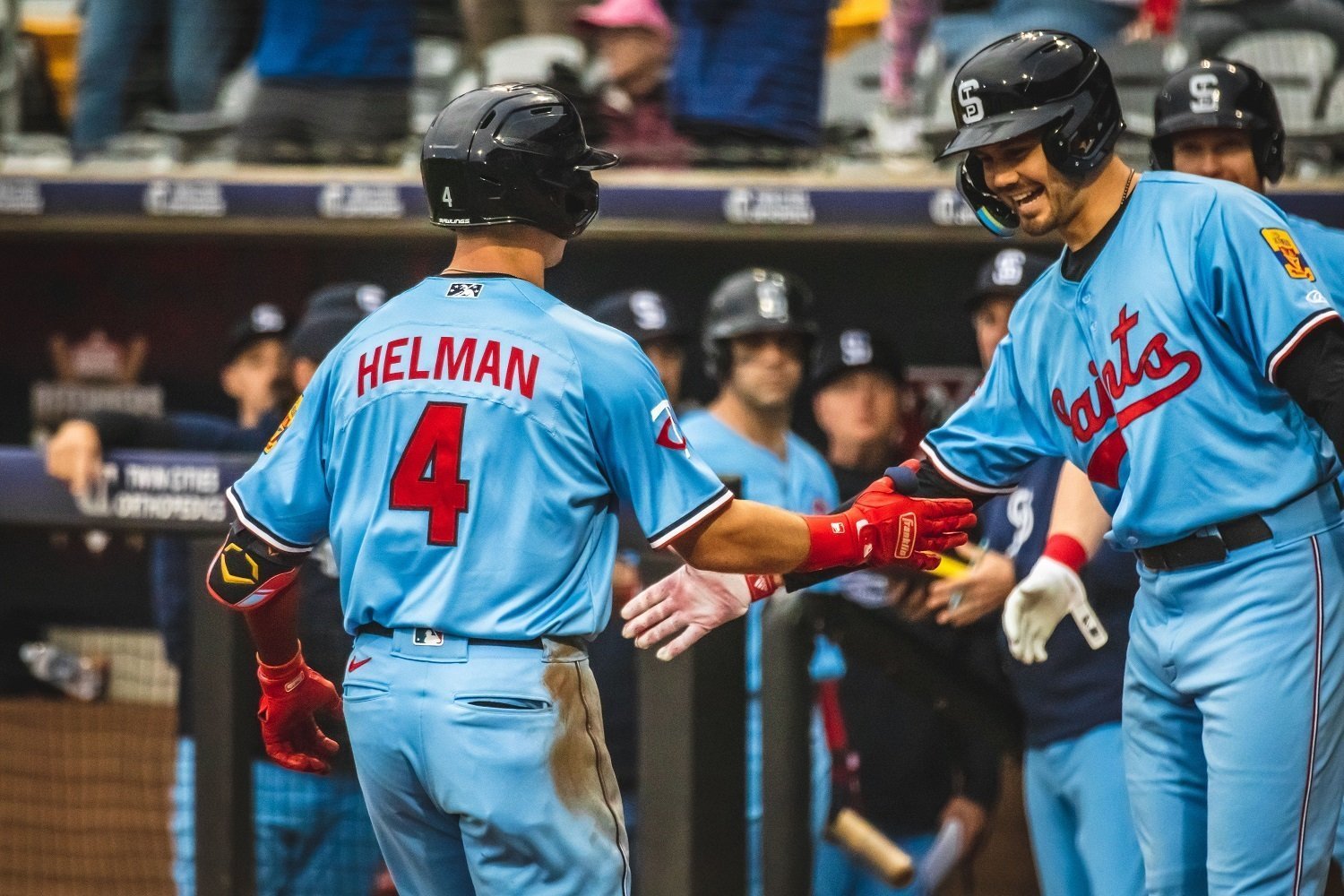 Image courtesy of Rob Thompson, St. Paul Saints (photo of Michael Helman)
Just because a player isn't on top 100 prospect lists doesn't mean they have no chance to impact their Major League roster. In addition to several global top prospects who are sure to have a future with the Twins, a trio of less-known names will be pushing for a shot in 2024. It should be interesting to see how things play out.
Anthony Prato
The former 7th-round pick Anthony Prato looked like a success story throughout his professional career through 2022, but what he did in 2023 was different. After a disappointing start with a .553 OPS in Double-A, Prato was promoted to St. Paul and never looked back.
He wound up finishing the season slashing .302/.452/.539 with 10 homers and 10 steals with the Saints. He walked nearly 20% of the time while bouncing around the infield and outfield. Between his plate skills and defensive versatility, Prato looks like a legitimate option for a super-utility role.
The issue, of course, is finding room for him. With several top prospects on the verge of debuts and some such as Royce Lewis and Edouard Julien already having arrived, the opportunity is slim before even mentioning the assumed return of Willi Castro in 2024. Prato is Rule 5 eligible this winter, and it's very possible a team will take a shot on him if the Twins don't have 40 man space. Prato deserves a shot somewhere.
Michael Helman
Helman had a very unfortunate season from an injury standpoint, as his right-handed bat almost surely would've been called upon by the Twins had he been available. After a 20-homer, 40-steal season between Wichita and St. Paul in 2022, Helman showed more of the same when healthy in 2023.
Between three levels, Helman hit seven homers and stole eight bags in just over 150 plate appearances. A shoulder injury caused him to miss significant time, but he hit .296/.356/.546 with the Saints. There's no way the Twins couldn't have found him a spot during their offensive outage of the first half, especially when they were so in need of right-handed options.
Like Prato, Helman can play just about anywhere, including shortstop in a pinch. Turning 28 next year, it's time he gets a shot somewhere, and he's Rule 5 eligible as well. Perhaps his lack of volume this year keeps him from getting snagged, and the hope is that a healthy 2024 gives him an opportunity to make his debut if he sticks around in the Twins system.
Jair Camargo
It was pretty surprising that Camargo didn't debut this season, but the Twins were incredibly fortunate with the health of their catching duo of Christian Vázquez and Ryan Jeffers. Camargo held up his end of deserving a promotion, socking 21 homers and posting an .826 OPS from behind the plate in 2023. He has the profile of a solid backup catcher at the major-league level with his passable defense, strikeout concerns, and thunderous bat when he gets his pitch to hit.
The question in 2024 will be whether the Twins trust Ryan Jeffers to take over the lion's share of appearances behind the plate. Both defensively and offensively, Jeffers has blown Christian Vázquez out of the water, and he's the younger option. Some have suggested that the Twins should shop Vázquez and see how much they'd have to pay to unload the remaining two years, $20 million elsewhere since it's possible Jeffers playing time increases to a point where that dollar amount isn't justified.
If the Twins trust Jeffers to catch 60-70% of the innings behind the plate, The bar to clear for the other half of the tandem becomes lower, and Camargo is deserving of an opportunity to fill a modest role in the big leagues. A lot would have to change, but hopefully, Camargo can find a way onto the big league roster at some point in 2024.
The Saints had an incredible season. Hopefully, several future pieces emerge as part of the Twins' future from the 2023 Saints roster. We know plenty of top prospects such as Brooks Lee, David Festa etc. Some of the underrated prospects deserve a lot of attention too.