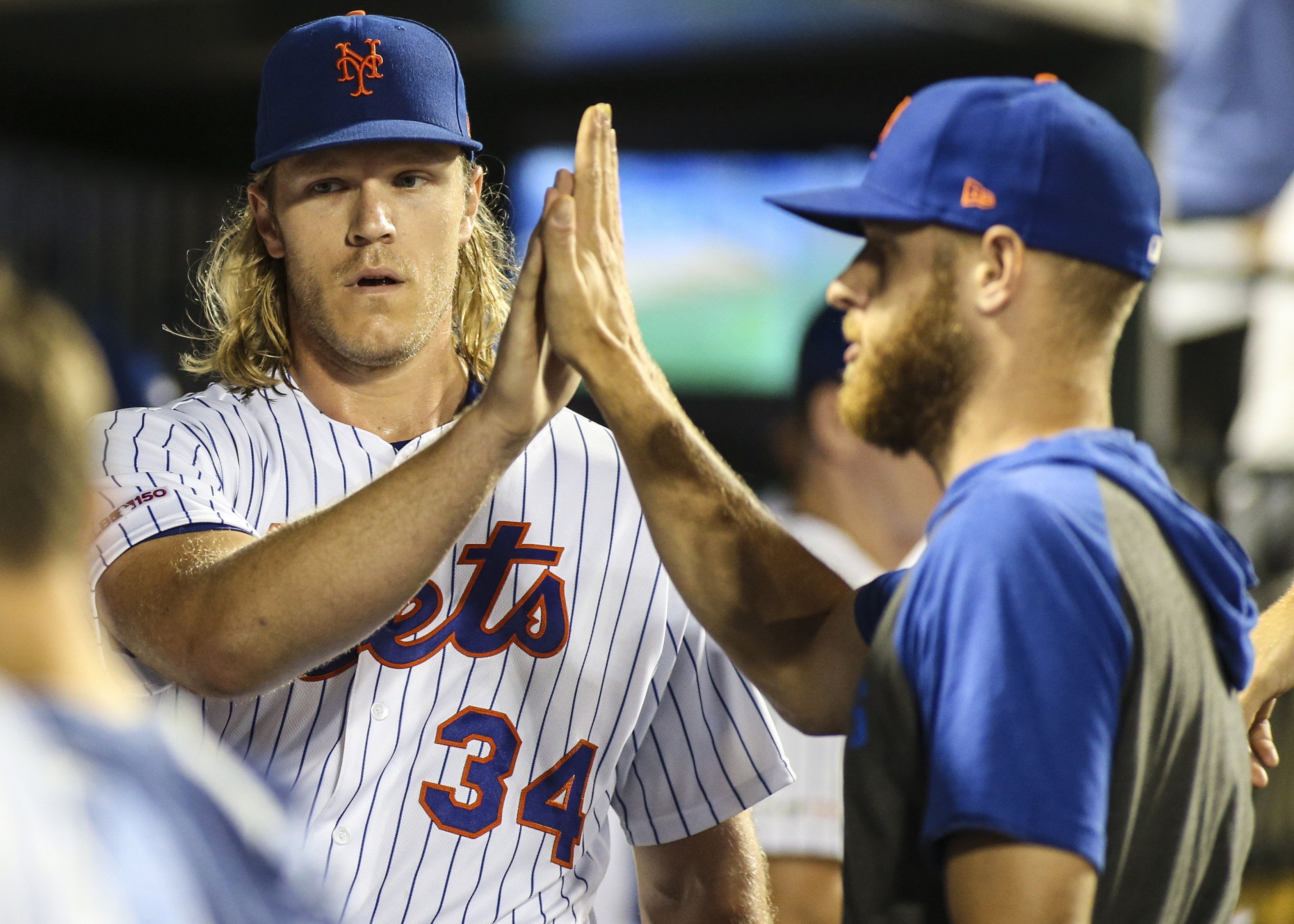 Image courtesy of Wendell Cruz, USA TODAY Sports
Injuries are certainly part of baseball's landscape, and pitchers seem more prone to injuries. That being said, teams can find players looking to rebuild value because of their previous injury history. In recent Twins history, Michael Pineda comes to mind as a player the team signed, knowing he would miss an entire season as he recovered from Tommy John surgery. Flash forward a couple of seasons, and some key free-agent pitchers are looking to return from injury. 

Noah Syndergaard has spent his entire career in the Mets organization, and he has been on the injured list multiple times throughout his career. Back in 2017, he missed time with a torn lateral muscle. In 2018, he had a torn ligament in his finger, and he contracted hand, foot, and mouth disease. In May 2020, Syndergaard underwent Tommy John surgery, and he had setbacks along the way. He was finally able to make two appearances as a reliever at the end of the 2021 campaign. 
For his career, Syndergaard has posted a 3.32 ERA with 1.16 WHIP and a 119 ERA+. He gets some of the highest velocity of any starting pitcher since the implementation of StatCast. In each of his first three seasons, he averaged over 10 strikeouts per nine innings, and he has struck out more than 150 batters in four different seasons. When healthy, he is among baseball's best pitchers. 

Carlos Rodón is in a slightly different position than Syndergaard. He was non-tendered last winter by the White Sox after dealing with various injuries throughout his career. Some of those injuries included shoulder surgery in 2017 and Tommy John surgery in 2019. Chicago re-signed him last winter, and he earned his first All-Star selection after a tremendous start to the year. However, shoulder soreness knocked him out of the rotation near the season's end. 

The 2021 season marked only the third time Rodón has pitched more than 125 innings in a season, and it was his fourth season where he made more than 20 starts. For his career, he has posted a 3.79 ERA with a 1.30 WHIP and a 110 ERA+. His 5.1 WAR from 2021 nearly doubled his career WAR entering last season. Injuries have impacted his entire career, but he has provided value when healthy.
Besides their current health, there are other unknowns with both of these players entering the offseason. MLB and the Player's Union are working on a new collective bargaining agreement. Under the old CBA, teams can make a qualifying offer to players for a one-year contract worth north of $18 million. Players like Syndergaard or Rodón may be willing to accept a deal like that in hopes that they can receive an even bigger free-agent contract following the 2022 season. 

If Syndergaard wants to sign a multi-year deal this winter, he will likely be getting more than $100 million. In the 2022 Twins Daily Offseason Handbook, he is projected to make $20 million per season. Rodon is projected to earn slightly less per year at $18 million. Syndergaard seems like the safer bet when comparing the two players, but he may also want to sign a one-year deal so he can hit the open market next winter in search of a $200 million contract. 

Which player do you think the Twins are more likely to target, or do you think the Twins should shy away from the risk? Leave a COMMENT and start the discussion. 

MORE FROM TWINS DAILY
— Latest Twins coverage from our writers
— Recent Twins discussion in our forums
— Follow Twins Daily via Twitter, Facebook or email