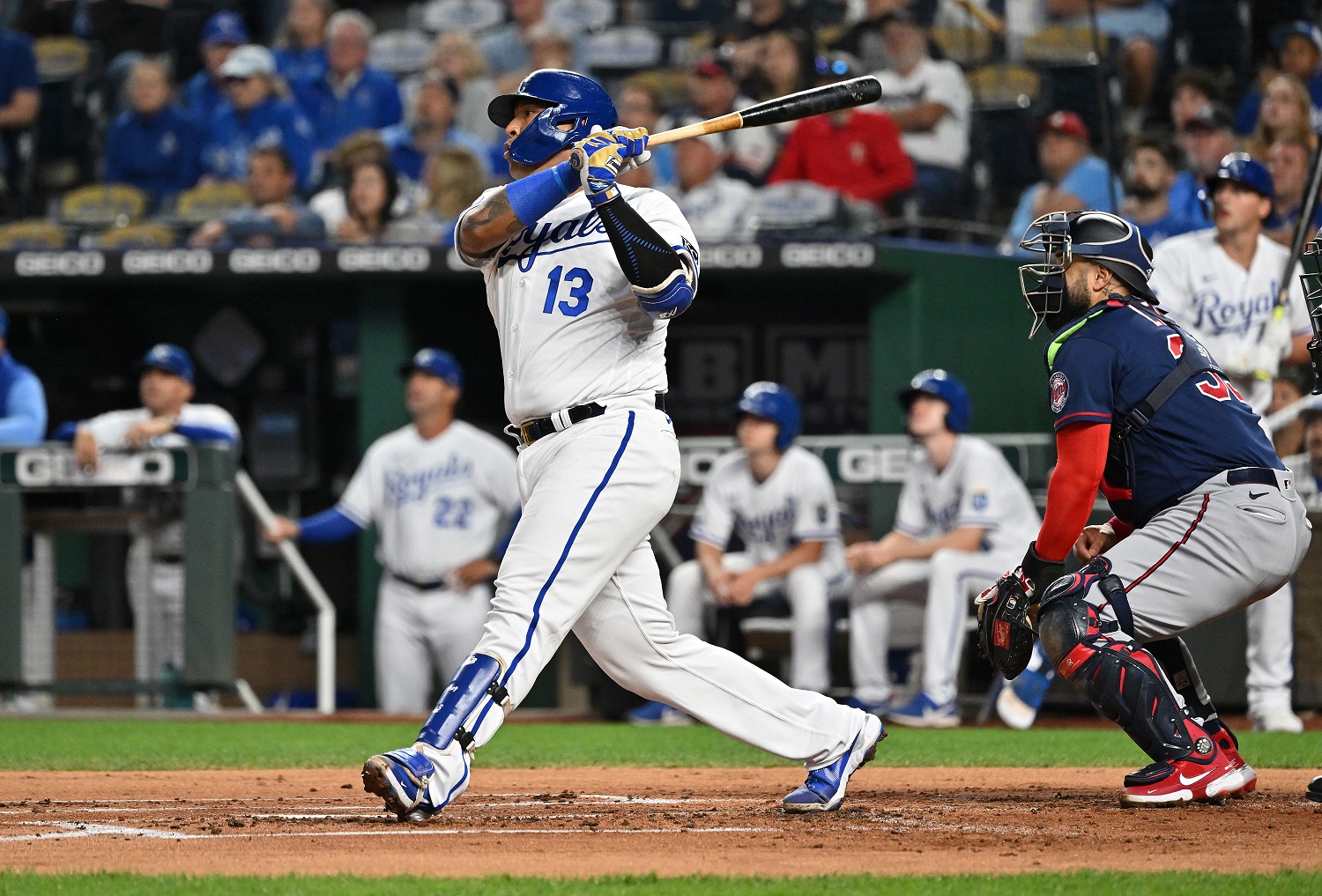 Image courtesy of Peter Aiken-USA TODAY Sports
Catcher: Salvador Perez, KCR
ZiPS projection: .267/.310/.499, 28 HR, 84 RBI, 3.2 fWAR

After a dominant season in 2021, Salvador Perez struggled with a thumb injury in 2022 and saw his OPS drop by over 100 points. Even still, Perez enjoyed a 110 OPS+ season with 23 bombs. Now fully healthy heading into 2023 there's no reason not to think that Salvy will maintain his reign as the best catcher in the American League Central.
Honorable mention: Yasmani Grandal, CWS
First Base: Vinnie Pasquantino, KCR
ZiPS projection: .275/.352/.474, 21 HR, 77 RBI, 2.4 fWAR

Although he wasn't a highly touted prospect coming out of Old Dominion, Pasquantino mashed his way through the Minor Leagues and earned a call up to the Royals last season and his play didn't skip a beat. In 72 games in Kansas City in 2022, Vinnie posted an .832 OPS thanks to his average exit velocity of 91.2 MPH. The projections systems don't think that Pasquantino's 2022 was a fluke and he figures to be the top first baseman in the Central in 2023.

Honorable mention: Josh Bell, CLE
Second Base: Andrés Giménez, CLE
ZiPS projection: .266/.336/.416, 15 HR, 73 RBI, 4.7 fWAR

If it weren't for the unknown extent of his injury, this spot would likely belong to Jorge Polanco. Polanco is starting the season on the injured list, though, and details of the severity have been pretty vague. In his spot is Andrés Giménez who is one of the more underrated players in the American League Central. The Venezuelan earned his first all-star birth in 2022 and finished top-10 in MVP voting. At 24-years-old, Giménez could occupy the spot as best second baseman in the division for a while.

Honorable mention: Jorge Polanco, MIN
Third Base: Jose Ramírez, CLE
ZiPS projection: .272/.353/.516, 30 HR, 108 RBI, 6.1 fWAR

One of the few true superstars in all of baseball, Ramírez was an easy selection for the third base spot on the All-AL Central team. The switch hitter has posted a >.800 OPS in each of the past seven seasons. J-Ram is the straw that stirs the Guardians' drink and if the Guardians want to make a deep playoff run in 2023, he will be the one leading the charge.

Honorable mention: Jose Miranda, MIN
Shortstop: Carlos Correa, MIN
ZiPS projection: .276/.355/.472, 24 HR, 79 RBI, 5.9 fWAR

The first Minnesota Twin to make an appearance on the All-AL Central list is Carlos Correa. The star shortstop and biggest free agent in Minnesota Twins history is not only the best shortstop in the AL Central, but in the running for best shortstop in Major League Baseball. On top of being a perennial Gold Glove candidate, Correa is an on-base master with 25 homer power. Correa finished 2022 as a 4.4 fWAR player, and if all goes well he'll exceed that in 2023.

Honorable mention: Bobby Witt Jr., KCR
Outfield: Byron Buxton, MINZiPS projection:
.256/.323/.544, 22 HR, 51 RBI, 4.1 fWAR

When healthy, Byron Buxton has the upside to be an MVP winner. 2022 was another difficult health season for the center fielder as he failed to eclipse 100 games played for the fifth consecutive season. Even playing in just 92 games, Buxton chipped in 4 fWAR for the Minnesota Twins and is the top outfielder in the American League Central.
Outfield: Luis Robert, CWS
ZiPS projection: .273/.319/.464, 18 HR, 68 RBI, 3.4 fWAR

Similar to Byron Buxton, Luis Robert has MVP-type upside but also has been bit majorly by the injury bug in his short Major League career. Lou Bob is your prototypical 5-tool player who does it all on both sides of the ball. Should he stay healthy in 2023, Robert will affirm this spot on the All-AL Central team and the White Sox should find themselves in the mix for the division.
Outfield: Steven Kwan, CLE
ZiPS projection: .274/.350/.377, 7 HR, 53 RBI, 3.5 fWAR

Coming out of nowhere in 2022, Steven Kwan burst onto the scene for the Guardians in 2022 and nearly grabbed the American League Rookie of the Year award, thanks to his .772 OPS and his incredible glove in the outfield. At the young age of 25, Kwan's arrow is pointing up and figures to improve in 2023.

Honorable mention: Riley Greene, DET
Total appearances on All-AL Central Team: Hitters

Guardians: 3
Twins: 2
Royals: 2
White Sox: 1
Tigers: 0

Do you agree with the All-AL Central team? Who was the biggest snub? Leave a comment and start the conversation!