Alrighty, folks. 
Mrs. IT thinks I spend too much time on TD, but I tell her it's a community worth trusting. I could use your help in proving me right. 
Here's the deal. When Tony O got elected to the Hall of Fame last year, I took it upon myself to collect each of his baseball cards, including the All-Stars, League Leaders and other special cards, from Topps, Hostess, Kellogg and a couple more. There's a total of 38 cards, including two which are oversized. 
Then I decided they need to be on display in my home office. I called it a man cave in the title, because that sounds sexier, but it's really just a bedroom that got opened out when my younger son got married, so we've converted it into a space with a couple desk. 
I started by purchasing this Fathead that will serve as the background for this shrine: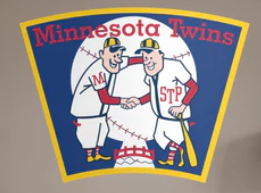 It's 44 x 33 inches if you're keeping score at home. (And if you are, that's even more lame than what I'm doing!)
Next, I got a piece of 5/8-inch MDF (kinda like plywood, but better) and ripped it into 5/8-inch strips. With a table saw, I put an eighth-inch groove in each strip so slide the cards into. Then I created a pattern for these strips to nail these strips on top of the Fathead, allowing Minnie and Paul to be seen. Though I've got 36 Oliva cards, I decided to display my Killebrews and Carews (about a dozen each), along with miscellaneous guys I've liked over the years (Hrbek, Puckett, Gaetti, and I might have to grab some of the current guys as well. Since I've room, I'll also stick in a few HOFers I like, such as Brock, Gibson, Aaron, Clemente, etc. The whole thing ends up being 78 inches by about 40 inches or so. 
Here comes the part where I need your help -- deciding what color to paint the strips. Take a look at the following options and give me your vote in the comments.
Now, if any of you are graphic designers, you're going to say, "What an idiot. He created these in Microsoft Word." Unfortunately, yeah. I don't have a real graphic design package. And I know Word reasonably well, well enough to make some simulations. 
In each of these, the cream color is pretty close to the color of the existing wall. I couldn't match colors perfectly, but what you see as blue, red or white matches the respective colors in the logo. What you see as a cream would be to paint the boards Similarly, the red and white match, and I could also go with having boards match the color of the wall, The wall color will show up a little darker on the designs. 
First we'll show some options where all the boards are the same color: 


Then I went artsy-fartsy and mocked up some with some variety in the boards:


Again, please consider giving me a vote in the comments, along with other ideas or suggestions.
And yeah, I'll show the finished product when it's done.