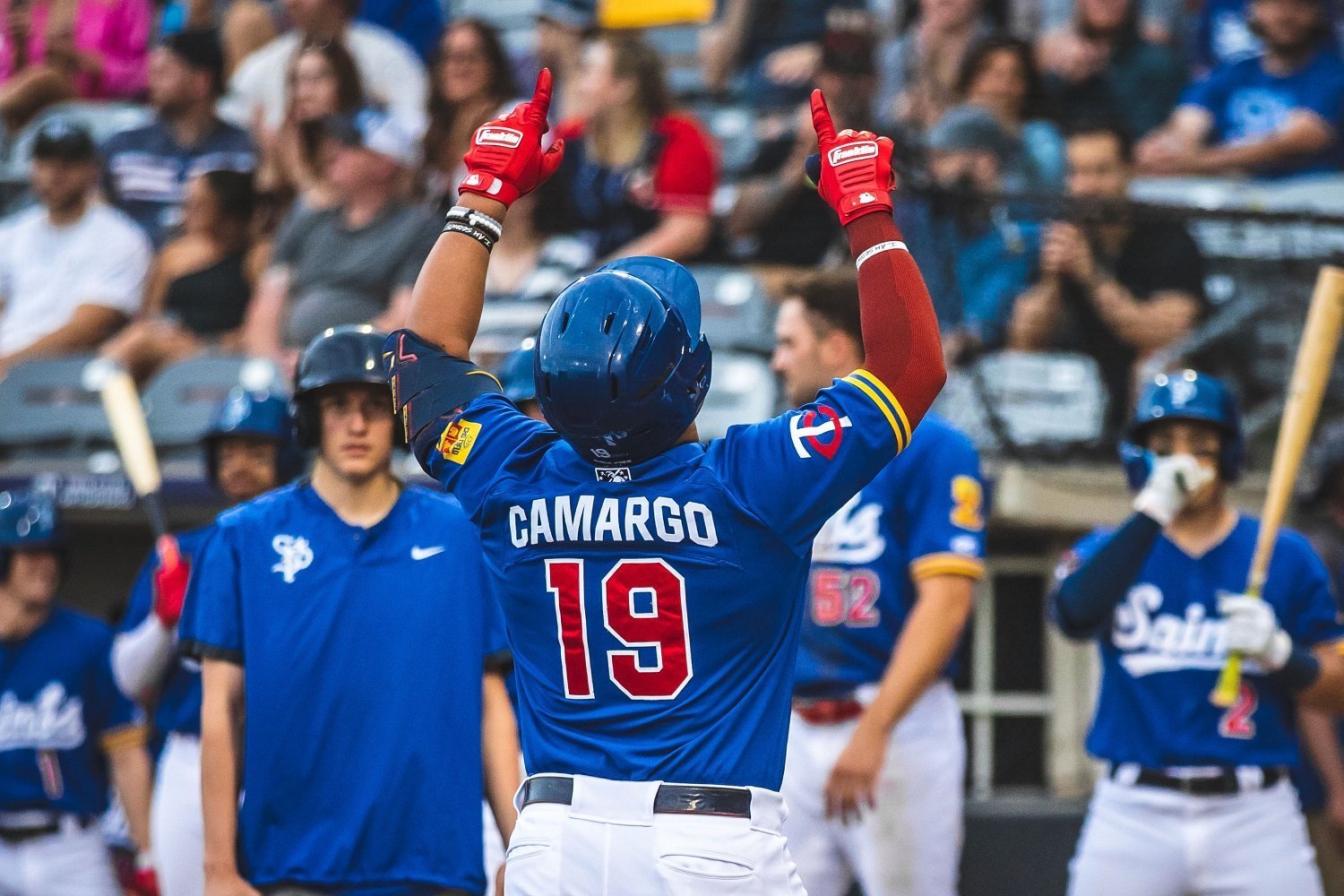 Image courtesy of Rob Thompson, St. Paul Saints
TRANSACTIONS
SAINTS SENTINEL 
Toledo 3, St. Paul 2
Box Score
After a rainout on Saturday evening, the St. Paul Saints took the field Sunday afternoon for their final game of the 2023 season. Although Chris Paddack was activated by the Twins, Byron Buxton, Joey Gallo, Nick Gordon, Brock Stewart, and Jorge Alcala all continued their rehab assignments.
Patrick Murphy took the ball for Toby Gardenhire on Sunday and worked four innings. Murphy allowed seven hits and three runs while giving up a walk and striking out four. Brent Headrick then took over in relief for St. Paul.
The Mud Hens took the lead with a run in the second inning, and then tacked on another pair in the third inning.
St. Paul got on the board in the fifth inning, and it was because of Michael Helman's hustle that they got two. Beating out an infield single, Helman was on when Jair Camargo stepped in and launched his 21st homer of the season. The two-run blast made it a 3-2 game with the Saints drawing closer.
Taking over for the seventh inning, and looking to keep things close for St. Paul, was Ronny Henriquez . He worked a scoreless inning of relief while striking out one. Hunter McMahon got the eighth inning with the Saints still needing a run to tie things up. McMahon followed Henriquez's lead and worked a scoreless inning of his own.
Unable to score in the eighth inning, Cole Sands was on to hold the deficit in the ninth, and give the Saints a chance. He did his job working a scoreless inning, and St. Paul was down to their final three outs. Yunior Severino struck out for the fourth time on the afternoon to kick off the inning, and DaShawn Keirsey Jr. was a strikeout victim as well. Buxton stepped in with just one out left and worked a 3-2 count. His fly out to centerfield ended the game
Gordon finished the day going 0-for-2 with a strikeout and a walk. Buxton finished 0-for-4 with a strikeout, and Gallo was 0-for-3 with a strikeout. The Saints finish their season with an 84-64 record.
TWINS DAILY MINOR LEAGUE PLAYERS OF THE DAY
Pitcher of the Day –Brent Headrick (St. Paul) - 2.0 IP, 1 H, 0 R, 0 ER, 2 BB, 2 K
Hitter of the Day – Jair Camargo (St. Paul) - 1-3, R, 2 RBI, HR(21)
PROSPECT SUMMARY
Here's a look at how the current Twins Daily Top 20 performed:
#1 - Brooks Lee (St. Paul) - 0-3
#7 - Austin Martin (St. Paul) - 0-2
#14 - Yunior Severino (St. Paul) - 0-3, 3 K
#20 - Brent Headrick (St. Paul) - 2.0 IP, 1 H, 0 R, 0 ER, 2 BB, 2 K
Please feel free to ask questions and discuss Sunday's game!