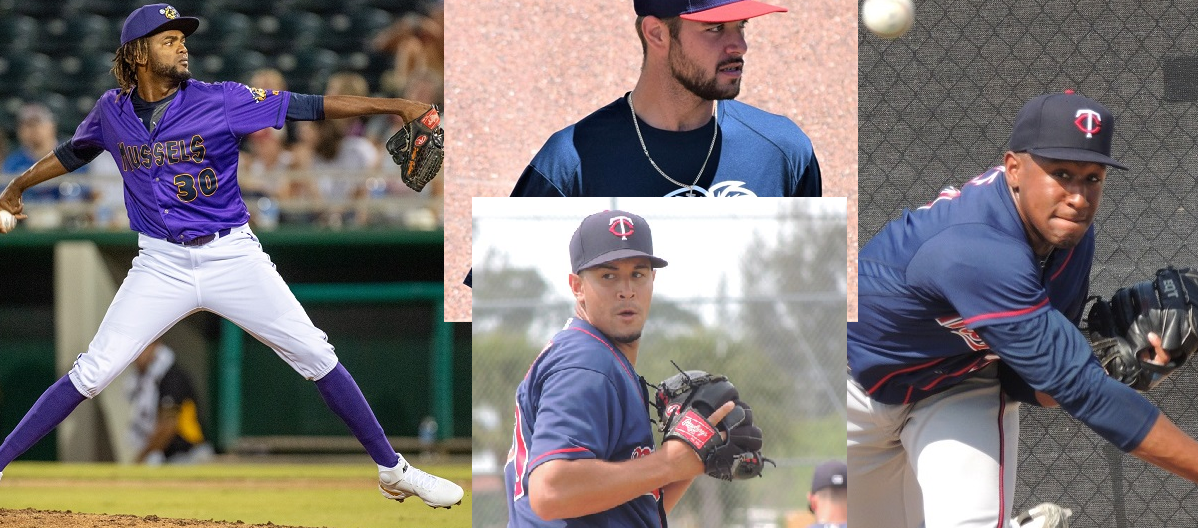 Image courtesy of William Parmeter (Osiris German), Steve Buhr (Chris Vallimont), Seth Stohs (Regi Grace, Osiris German)
How do you compare starting pitchers to relievers? It's certainly not easy. For this series, we have separated hitters from pitchers, and yet, maybe in future years we will want the starters and relievers separated too. Who should rank higher? A potential #3 starting pitchers, or a potential late-inning reliever?
On a real baseball team, both roles are important and complement each other. In prospect rankings, relievers often get overlooked. Why? Because over the past couple of decades, relievers may work 70-80 innings in a season whereas a #4 starter could pitch 150-180 innings. 
That may change over time as we see the roles a little less defined. Starters are often asked to go through an order twice, which generally will be less than five innings. As we move forward, there may be a few guys that reach 150 innings, but many starters may top out at 130 innings while many relievers could jump closer to 100 innings. We shall see. 
Today's five prospects include two relievers. Going behind the curtain a bit, this is the range the lefty Charlie Barnes would have fit into. As you know by now, he has signed to play in Korea in 2022. 
Remember, this is a prospect rankings, and it is significantly different than Nick's Twins Top Assets series that is running now too. 
Let's get to Twins pitching prospects that I have ranked 16th through 20th. 
#20 - RHP Osiris German   
2021 STATS: 2-2, 4 saves, 3.34 ERA, 38/0 G/GS, 1.20 WHIP, 90/24 K/BB, 59.1 IP

The Twins signed Osiris German from the Dominican Republic in July of 2016. He has slowly worked his way up the Twins' organizational ladder. He had not pitched for a full-season affiliate before the 2021 season. He split the year between Low-A Ft. Myers and High-A Cedar Rapids. He has good control. While the 23-year-old sits in the low 90s with his fastball, he has a plus-plus changeup. That is the pitch that is intriguing and could keep him moving up the system, hopefully to the big leagues. He will need to continue to improve and gain confidence in all of his pitches, but there is a lot to work with. 
#19 - RHP Regi Grace 
2021 STATS: 1-0, 2.59 ERA, 9/8 G/GS, 0.99 WHIP, 35/11 K/BB, 31.1 IP

He had a scholarship offer to Mississippi State, but when the Twins made him their 10th round pick in the 2018 draft, Regi Grace signed quickly. A terrific athlete, Grace is very strong. While his velocity sat in the upper-80s and topped out around 90-91 in 2019, he was able to increase his fastball velocity, even touching 95 at times. The main thing holding him back to this point has been health. He missed time in 2021 with a shoulder impingement. However, after he came back, he gave up just three hits and struck out 12 batters over nine scoreless innings. He tossed the first three innings of a combined no hitter in his final start. 
#18 - RHP Chris Vallimont 
2021 STATS: 5-7, 5.84 ERA, 22/22 G/GS, 1.64 WHIP, 136/61 K/BB, 94.0 IP

After coming to the Twins from the Marlins in the July 2019 Lewin Diaz trade, Chris Vallimont made four starts for the Miracle. The former fifth-round pick from Mercyhurst didn't pitch at all in 2020. He began the 2021 season with a few weeks on the Injured List but still made 21 starts. He certainly had his ups and downs. He had one stretch in which he gave up five or more earned runs in five of six starts. He also had 11 starts in which he gave up two runs or less. He was added to the 40-man roster in November because he has really good stuff. Vallimont sits in the mid-90s, and he's got good (though inconsistent) secondary stuff. In the past, he has shown good control, but he struggled with that part of the game in 2021. That said, he was consistently able to miss bats. That is why he's on the 40-man roster. 
#17 - RHP Casey Legumina 
2021 STATS: 4-2, 3.28 ERA, 15/9 G/GS 1.07 WHIP, 63/16 K/BB, 49.1 IP

Casey Legumina was drafted out of high school in Arizona but chose to go to Gonzaga instead. As a sophomore, he became a top closer in college baseball. He was set to be a starter for the 'Zags in 2019, but after four starts, he needed Tommy John surgery. Still, the Twins had seen enough and selected him in the eighth round of the draft that year. He rehabbed the rest of that summer and into the 2020 season. That means 2021 was his professional debut. He worked 44 2/3 innings for Ft. Myers before ending the season with one start in Cedar Rapids before the playoffs. He throws his fastball in the low-to-mid 90s and has a really good slider. He's also continuing to work on his changeup. The Twins want to use him as a starter, but obviously they had to be careful with his innings in 2021. He could be a sleeper in 2022.  
#16 - LHP Jovani Moran 
2021 MiLB STATS: 4-2, 2.41 ERA, 35/0 G/GS, 0.89 WHIP, 109/32 K/BB, 67.1 IP
2021 MLB STATS: 0-0, 7.88 ERA, 5/0 G/GS, 2.00 WHIP, 10/7 K/BB, 8.0 IP 

It took some time, but lefty Jovani Moran finally reached the big leagues in September of 2021. The southpaw had been the Twins seventh-round pick back in 2015 out of the Carlos Beltran Baseball Academy in Puerto Rico. When healthy, Moran has been quite successful in the minor leagues. He's got a low-to-mid 90s fastball that touches 95, but it is his changeup that gets people talking. It is a plus-plus pitch and he gets a lot of swings and misses with it. Maybe sacrilege, but many compare it to Johan Santana's changeup. He also has a slider that can be plus-plus at times. It was wise to get Moran some innings late in the 2021 season to help the nerves which can get to him at times. If he can throw strikes, Moran has a chance to be a long-term, late-inning, dominant relief option.  
This is another interesting group. There are a couple of relievers with plus-plus changeups, one of whom is ready to shine with the Twins. The other three have development to do, but the potential to be really good if they can stay healthy. 
Previous Rankings
Hitters Part 1: 26-30
Hitters Part 2: 21-25

Pitchers Part 1: 26-30  
Pitchers Part 2: 21-25