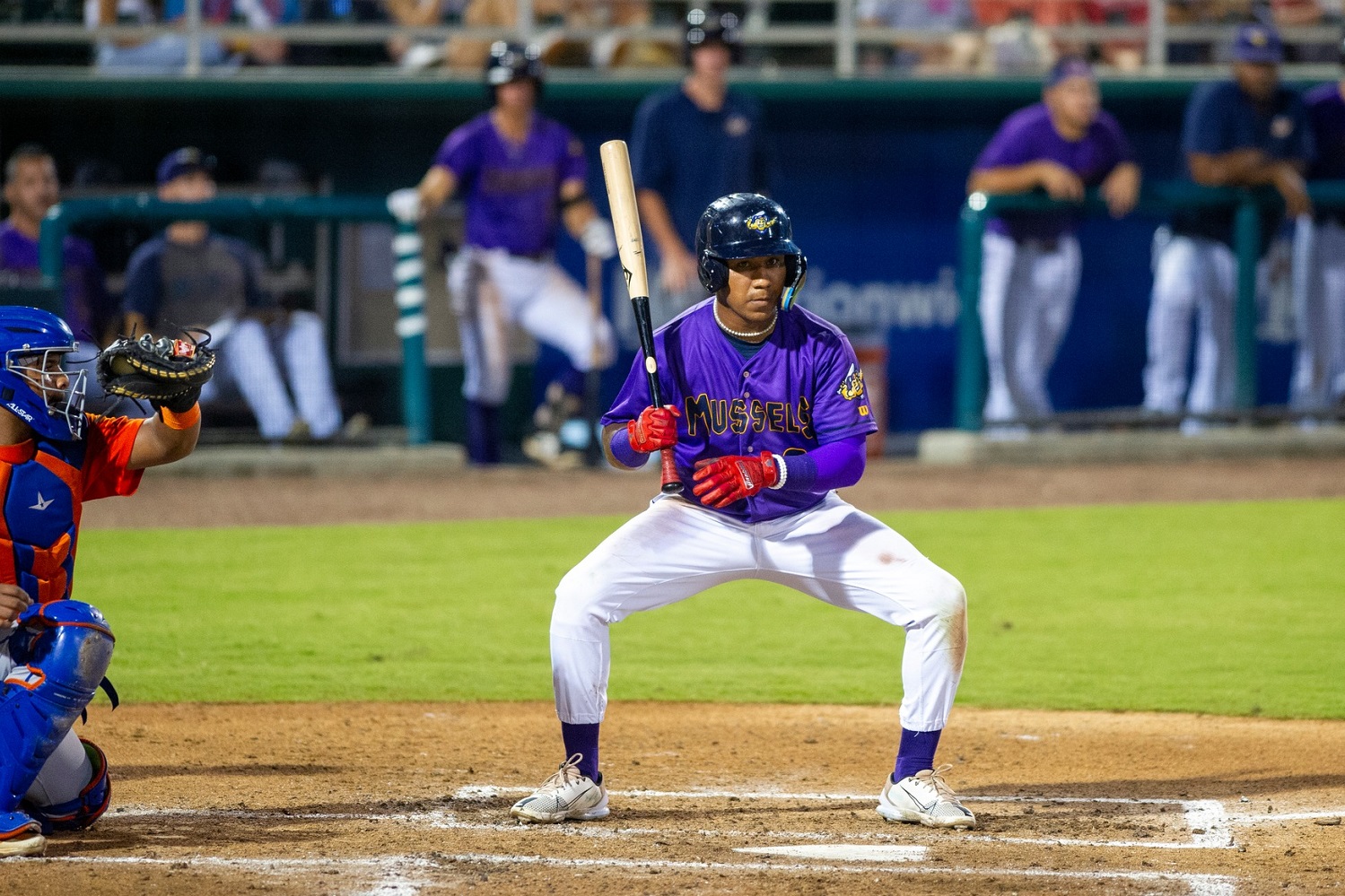 Image courtesy of William Parmeter / Mighty Mussels
Some teams are better than others when it comes to evaluating and signing players from the international market. These players can be as young as 16 years old when they sign, and it takes a long-term development approach for them to reach their full potential. On the Twins' current 40-man roster, there are multiple players the Twins signed from the international market, including Luis Arraez, Jorge Polanco, and Max Kepler. One prospect attempts to follow those players' footsteps to the big-league level. 

The Twins signed Misael Urbina on July 2, 2018. At the time, he was considered one of the best prospects in the signing class, and Minnesota gave him a $2.75 million signing bonus. At the time, scouts called him an advanced hitter with an above-average hit tool and plus speed. MLB.com ranked him as the third overall prospect in his international class, and they have plenty of positive things to say about him. He is a "line-drive hitter with a high baseball IQ." They said, "he's already an advanced defender for his age." They praised his instincts and makeup.

Urbina showcased many tools during his professional debut in the Dominican Summer League. In 50 games, he hit .279/.383/.443 (.825) with 14 doubles, five triples, and two home runs. He went 19-for-27 in stolen base attempts and had more walks (23) than strikeouts (14). He was showcasing all of the tools the Twins saw in him as an amateur. It was a tremendous start to his career, but things have not gone as smoothly since that point. 

Coming out of the pandemic, the Twins were aggressive with Urbina by sending him to Fort Myers. The 19-year-old struggled in his first taste of full-season ball by hitting .191/.299/.286 (.585) with 82 strikeouts in 101 games. All but four of his plate appearances came against older pitchers, so Minnesota was attempting to see if he could play up to the competition level.  

It seemed likely for Urbina to start the 2022 season at Fort Myers before hopefully being promoted later in the season. Unfortunately, visa issues delayed his debut until late June. There were some positive signs, even though his season started late. Reports are that his offseason regimen added more weight to his frame, resulting in a .730 OPS, which was 145 points higher than the previous season. He dropped his strikeout rate to 18.7% and collected 26 extra-base hits in 60 games. 

Two-thirds of his defensive innings have come in center field, but he has played over 500 innings in left field. If he bulks up and loses a step in the outfield, he might be destined for a corner outfield spot. Urbina's offensive improvements last year make it exciting to project what he might be able to accomplish in Cedar Rapids this year, especially since he is still only 21 years old. 

There was some question about whether or not the Twins would add Urbina to the 40-man roster leading into the 2022 Rule 5 Draft. Minnesota left him unprotected, but no other teams selected him because he was unlikely to stick on a big-league roster for an entire season. MLB Pipeline is still high on Urbina by ranking him the 8th-best prospect in the Twins organization. Twins Daily currently has Urbina ranked 17th. His two seasons in Fort Myers could have been better, but he still has a ton of upside, and he may be destined for a breakout campaign. 

What are your thoughts on Urbina? Can he take the next step in 2023? Leave a COMMENT and start the discussion.