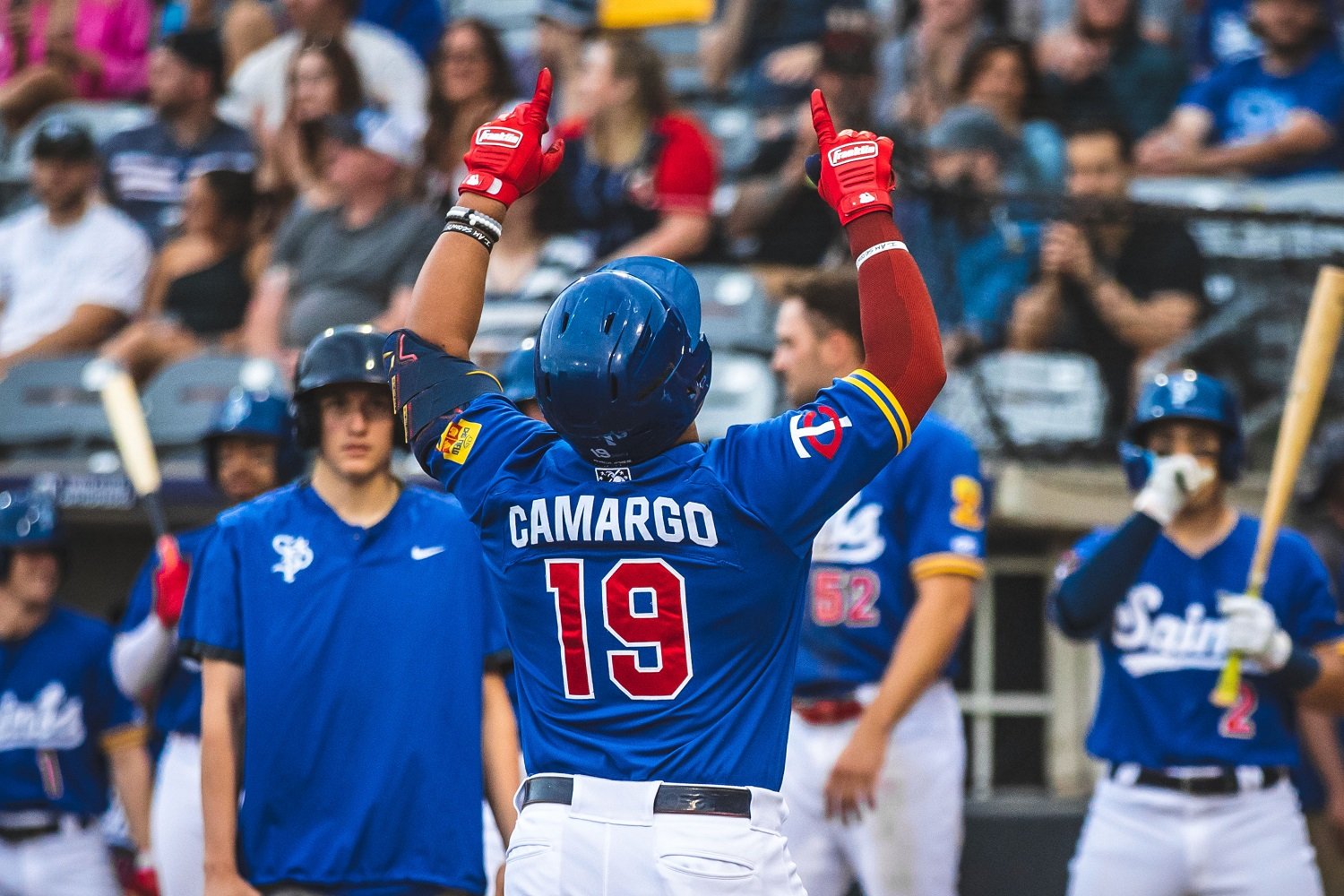 Image courtesy of Courtesy: Rob Thompson
SAINTS SENTINEL 
St. Paul 11, Iowa 6
Box Score
Toby Gardenhire had Aaron Sanchez on the mound and he was cruising until running into trouble during the fourth inning. He wound up working 3 2/3 innings giving up four runs on four hits and three walks. Sanchez also struck out five.
After the Cubs put a run on the board in the first inning, St. Paul answered with two of their own. Edouard Julien clubbed his 12th double of the season and drove in Jose Miranda. Chris Williams then kept up with his hot hitting and singled to bring Julien across the plate.
Homering for the second night in a row, Jair Camargo blasted his seventh of the season for a third inning, three-run shot that scored Matt Wallner and Williams. Iowa clawed back with three in the fourth inning, but St. Paul's lead remained intact.
After Iowa took a 6-5 lead in the top of the sixth inning, St. Paul got right back to work. Miranda drew a bases loaded walk to bring home Tony Wolters, and Matt Wallner took a hit by pitch to plate Alex De Goti. The Saints had regained the lead without putting a ball in play. On a fly ball double-play from Julien, Stevenson raced home and made it an 8-6 lead.
For the second time on the evening Camargo went deep, another solo shot, this one putting St. Paul up 9-6 in the seventh inning. Then Miranda continued his solid night with a two-run single that scored both Wolters and De Goti.
WIND SURGE WISDOM
San Antonio 10, Wichita 3
Box Score
Aaron Rozek started tonight's game for the Wind Surge but he was chased early after a tough outing lasting just 2 2/3 innings. Giving up eight hits led to seven runs (six earned). Command was a bit of an issue as well with three walks and just a single strikeout.
San Antonio got on the board first with two runs in the second inning, and then they exploded for a five-spot in the third inning. Adding another in the fourth inning, Wichita was down eight before putting anything up for themselves.
Finally in the eighth inning the Wind Surge broke through. Will Holland singled in Yoyner Fajardo, and although it was just one run, baby steps were taken. Quickly washed away in the bottom half, Wichita saw San Antonio add another pair to create a larger divide. They did answer with a ninth inning rally and it was nice to see them go down fighting.
First Aaron Sabato singled to bring Brooks Lee home, then Fajardo plated Jake Rucker with a single of his own. Down to their final out, Alex Isola reached on a throwing error that gave Sabato a chance to come home and make it a 10-4 game. Holland popped out in the next at bat though, and that was all she wrote for the good guys.
Holland did have a pair of hits on the night, and his two were almost half of the five total for Wichita. It was a tough showing going up against 10 runs on 14 hits for San Antonio.
KERNELS NUGGETS
Dayton 2, Cedar Rapids 1
Box Score
The Kernels went with Mike Paredes on the bump tonight. He worked four innings while allowing two runs on three hits and a walk. The Cedar Rapids pitcher did strike out three on the evening.
Paredes saw Dayton jump out to a first inning lead when Edwin Arroyo clubbed a two-run shot. That's where he'd strand Dayton during his outing however, and it was up to Cedar Rapids looking for an answer.
Andrew Cossetti got the Kernels on the board with a ground out in the second inning. Misael Urbina came across the plate to halve the lead and bring Cedar Rapids back within one. Unfortunately the offense then stalled out and despite Jordan Carr keeping Dayton scoreless in relief, it wasn't enough to secure the victory. Carr was amazing however, allowing no baserunners and punching out seven.
Noah Miller was the lone batter to record a pair of hits on the day.
MUSSEL MATTERS
Clearwater 7, Fort Myers 2
Box Score
C.J. Culpepper was the starter tonight for Fort Myers, and he worked four solid innings. Dancing around six hits, Culpepper gave up two runs (only one earned), while striking out six and walking just one.
Clearwater put a run on the board during the second inning before adding another in the third inning on a wild pitch. Then in the fifth inning they answered again, this time with a pair, and it was a 4-0 game.
Before the Mighty Mussels could find a way to push anything across, Clearwater struck again. With two more runs coming home during the sixth inning, clawing back was getting more unlikely. The second wild pitch of the game made it a 7-0 deficit and it wasn't until the seventh inning that Fort Myers got on the board.
With Jorel Ortega on base, Danny De Andrade hit an inside-the-park homer for his third dinger of the season. Clearwater still led by five but the Mighty Mussels had finally shown signs of life. They couldn't do anything to keep it rolling though and ultimately fell for the second night in a row.
De Andrade put up a three-hit effort, but was the lone player with multiple in that category.
TWINS DAILY MINOR LEAGUE PLAYERS OF THE DAY
Pitcher of the Day – Jordan Carr (Cedar Rapids) - 4.0 IP, 0 H, 0 R, 0 ER, 0 BB, 7 K
Hitter of the Day – Jair Camargo (St. Paul) - 2-5, 2 R, 4 RBI, 2 HR(8), K
PROSPECT SUMMARY
We will again keep tabs on the Twins top prospects. You'll probably read about them in the team sections, but if they aren't there, you'll see how they did here. Here's a look at how the current Twins Daily Top 20 performed:
#1 - Brooks Lee (Wichita) - 0-3, R, BB, 2 K
#2 - Royce Lewis (Minnesota) - 1-4, RBI, K
#4 - Edouard Julien (St. Paul) - 2-4, R, 2 RBI, 2B(12), K
#9 - Matt Wallner (St. Paul) - 2-4, R, RBI, 2 K
#12 - Jose Salas (Cedar Rapids) - 0-2, 2 BB, K
#13 - Noah Miller (Cedar Rapids) - 2-4
#19 - Yunior Severino (Wichita) - 0-4, K
THURSDAY'S PROBABLE STARTERS
Iowa @ St. Paul (5:37PM CST) - RHP Randy Dobnak
Wichita @ San Antonio (7:05PM CST) - RHP Travis Adams  
Cedar Rapids @ Dayton (6:05PM CST) - RHP Cory Lewis
Clearwater @ Fort Myers (6:00PM CST) - TBD
Please feel free to ask questions and discuss Wednesday's games!