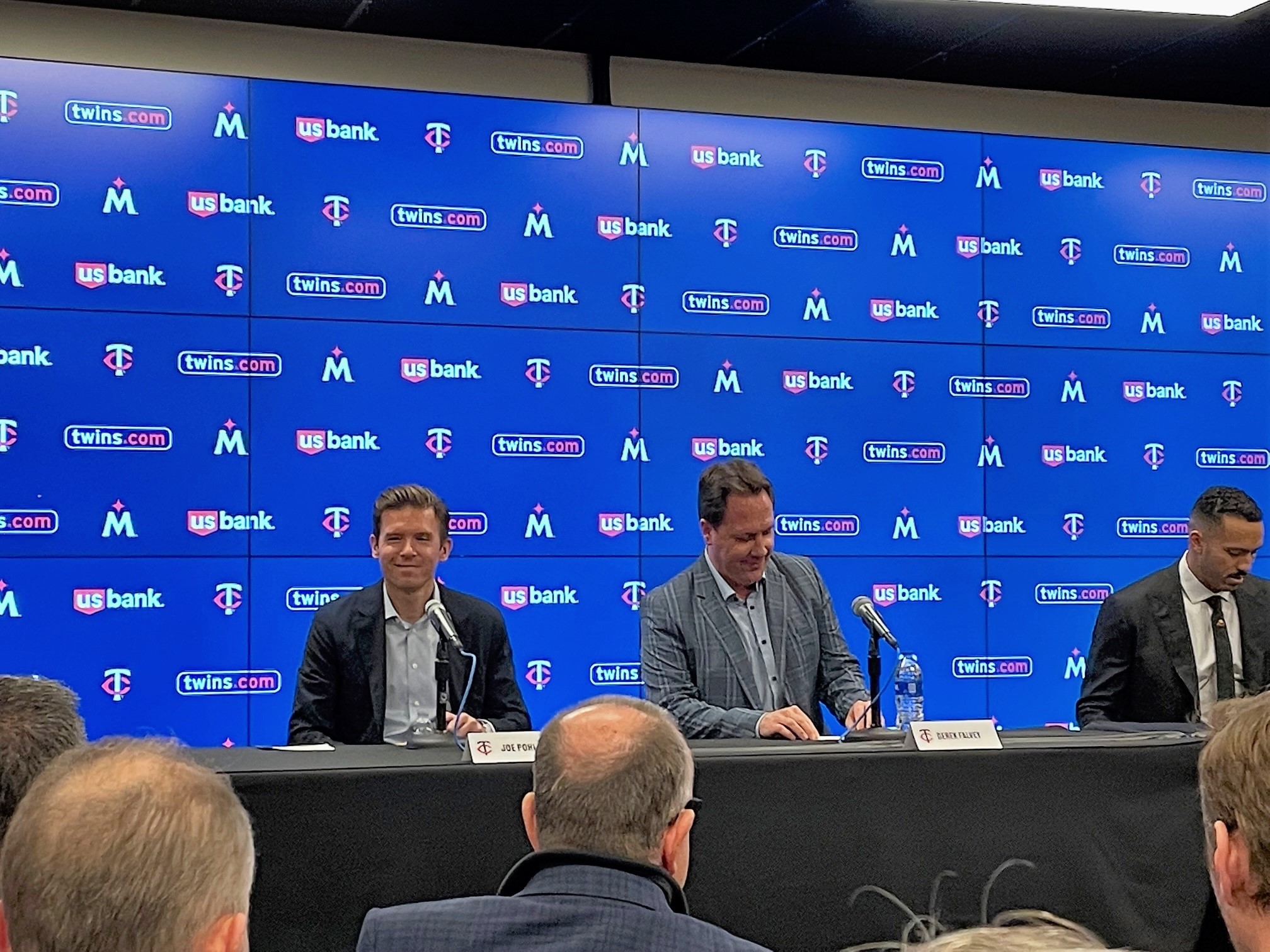 Image courtesy of Theo Tollefson
Jim Pohlad will still be involved with the Twins to a degree but as his 70th birthday approaches next month, he decided it was time for him to pass his day-to-day roles to Joe Pohlad. Jim Pohlad will still be the team's representative in ownership for any league matters. 
Many Twins fans ponder what will be different with Joe Pohlad compared to Jim Pohlad. From the first three months on the job, it's already apparent to some fans that Joe is more public-facing and involved with the front office.
For starters, Dan Hayes of the Athletic wrote in his piece on Joe Pohlad (published February 14) that, unlike his uncle and grandfather's time as the Twins chairman, he will be keeping an office at Target Field. 
On top of that, Joe Pohlad was heavily involved in making sure the Twins brought back superstar shortstop Carlos Correa and gave him the largest contract in team history. 
"I can think of no better way to articulate the seamless transition from Jim, his uncle to Joe than what we just went through," said Derek Falvey during Correa's press conference on January 11. "Ultimately going back to March and the contract we came up with, and then this offseason. Joe's been a part of those conversations for the last five plus years, at least that I've been here. So I expected that but Joe's patience was matched in a similar way, what Scott [Boras] and Carlos were showing, but also that persistence and that desire to find a way to get to this outcome." 
Later during the press conference, Twins Daily co-owner John Bonnes followed up on this quote from Falvey asking Joe Pohlad if the large contract for Correa was a sign of things to come with future free agent deals.
Joe Pohlad responded saying, "We'll take that on a case-by-case basis. Like Derek said earlier, we're in constant communication, and we're always looking at ways to make our team better. So if those opportunities come forward, then we'll evaluate that [them] then."
While Joe Pohlad has had a more active role in team transactions than his uncle in the last five years according to Falvey, he still does not want to become or be seen as an owner "who's always meddling," as Hayes wrote in the same article on February 14. 
Joe Pohlad's interaction in the team's baseball operations since returning to the front office in 2018 has not come without experience. He spent time as an assistant in the baseball operations department beginning in 2007. His experience there, which not many owners in Major League Baseball have had, sheds light that he is willing to shed the common trope Twins fans attribute to his family; the "Cheap Pohlads."
When asked individually at the January 11 press conference if Correa's re-signing shows critical fans that ownership is committed to building the team for a championship, Joe Pohlad responded, "I hope so. I think how we view it, or at least how I view it, is this the best route for us in order to get to where we want to be, which is a competitive team that can compete for a World Series?. Ultimately, the goal is to win and is every move we make going to add to that and achieve that goal? And this [signing] is gonna do that."
Joe Pohlad was built up in the Twins organization to be fitted for this role. He's worked in a variety of roles within the Twins in anticipation of the day when this role was  bestowed on him. 
In an era of Major League Baseball where the reputations of team owners usually bring negative connotations to their franchises, Joe Pohlad may be the outlier. Especially when compared to the ownership of teams such as the Houston Astros' Jim Crane, the Cincinnati Reds' Phil Castellini, and the Baltimore Orioles' John Angelos. 
Joe Pohlad is in a similar boat as Castellini and Angelos with other family members (specifically the fathers of Castellini and Angelos), who are still living and have the ownership of the team in their name. Unlike the two though, Joe Pohlad has not made any comments that have had fanbases question their commitments to their franchises or the game of baseball. 
As the first full season with Joe Pohlad at the helm warms up in Ft. Myers for spring training, he has demonstrated many reasons for Twins fans to hope things are changing for the better. Maybe even enough to made the phrase, "Cheap Pohlads" be heard less often as fans return to Target Field for the 2023 season.