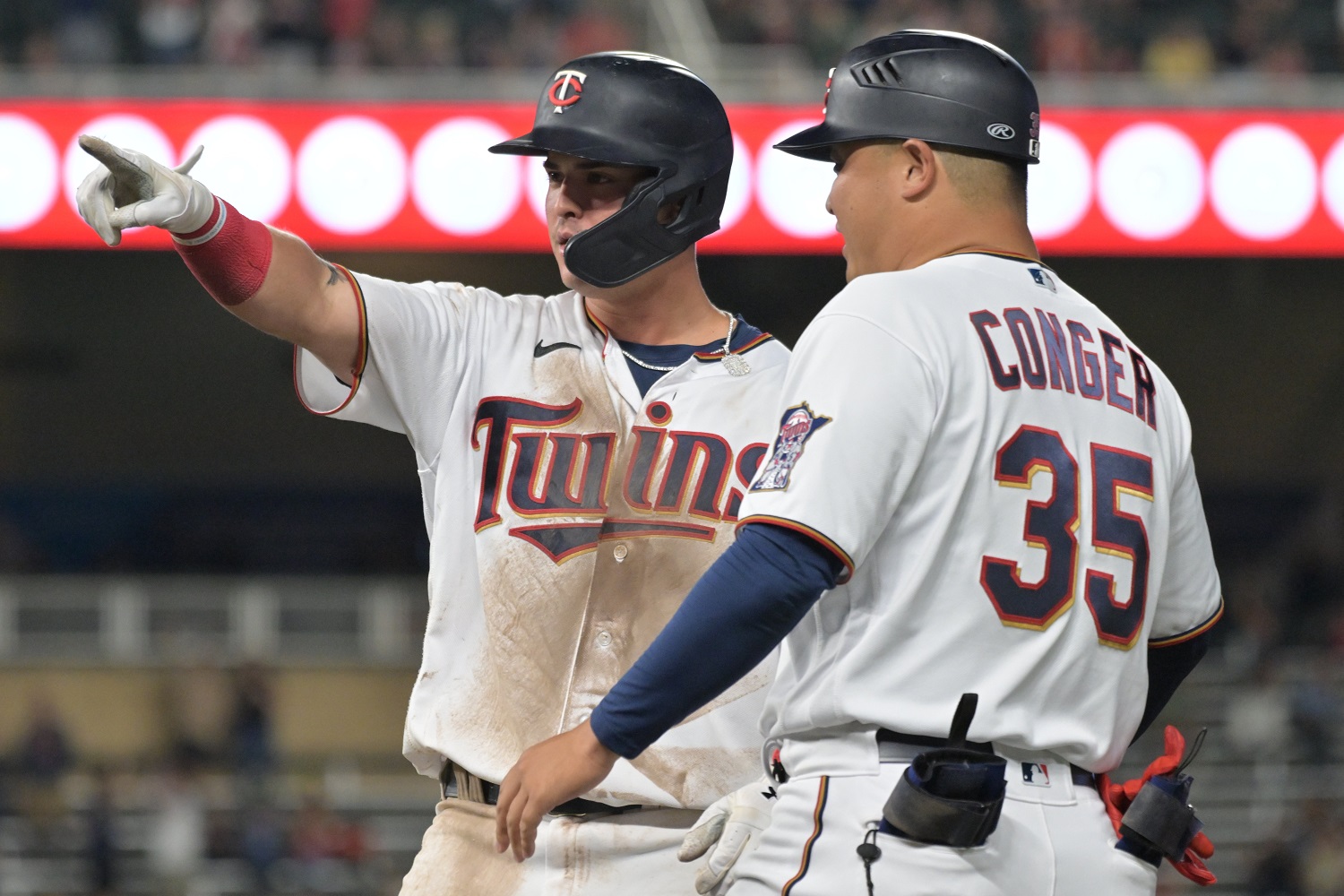 Image courtesy of Jeffrey Becker-USA TODAY Sports
Hank Conger has seen more than enough baseball in his lifetime. With nearly 400 major-league games under his belt, the bulk of which came behind the plate, the former first-round pick knows what he's doing when it comes to assessing the game. Conger joined Rocco Baldelli's staff before the 2022 season. He oversaw a team that raced out to a lead and then succumbed to injury. He also has seen a roster revamped by the front office and ready to go.
I caught up with the Minnesota first base coach prior to Opening Day and picked his brain on what lies ahead for this squad. Here's what he had to say:
Twins Daily: As a former catcher, and being of the belief that catcher's make great coaches, what has translated best from your playing career to coaching?
Hank Conger: I think the biggest thing as a catcher was understanding the personalities of the position players and the pitchers at that time, and being able to pick both sides' brains, really helped with constantly seeing different perspectives.
TD: Although you're the Twins first base coach, how involved are you with catchers at the big league level and throughout the organization?
HC: Right now, alongside being the first base coach, I do work with both catchers at the big league level. It's really fun getting to see how the position at catcher has really progressed over the years.  Being able to work with Ryan Jeffers and Christian Vazquez has been really fun as they both bring such unique skill sets to the position while, both players continue to challenge themselves to get better everyday.
TD: What challenges are there having turnover behind the plate this year? What is the most exciting thing Christian Vazquez brings to the table?
HC: I think with any new player that joins a team it's about being comfortable and being able to continue with what's been successful for them, and to create that environment for that player. At the catching position, I think the biggest challenge is always being able to get familiar with your pitching staff, and being able to process data and reports, then being able to translate that onto the field for a pitching staff.  I think the most exciting part about Vazquez is his enthusiasm to accomplish that, which has gotten everyone excited during the spring and into the season.
TD: Now in year two with this team, what is the biggest difference heading into this season from 2022?
HC: I think it's no secret that the one thing that has a lot of people excited is really the versatility of our roster and the flexibility it creates for certain players to get at-bats and matchups.
TD: Injuries are a part of the game and sank a good start last year, but why is the 2023 team built to win and what has you most excited about this squad?
HC: I think the thing that got most people excited during spring was the intensity that all the players had brought to the field day one.  And with the great leadership on the team ,the expectations and confidence that the players have shown has been phenomenal.
TD: Lastly, regardless of record or finish, what is something you want to be able to say about this team when the year ends?
HC: Baseball aside, being my second year here, the players here have all worked really hard to get to this point to start the season, and I think when you look around, the one common thing you can say about everyone is that it's a great group of guys top to bottom. They're gonna play hard and they're gonna have fun doing it.
This Twins team has a good chance to finish what they started last year. The front office did a good job providing security behind their starting lineup, and there are plenty of prospects close to providing help. If Baldelli, Conger, and the Minnesota coaching staff can get everything working together fluidly, we may see one of the better Twins teams in recent history.