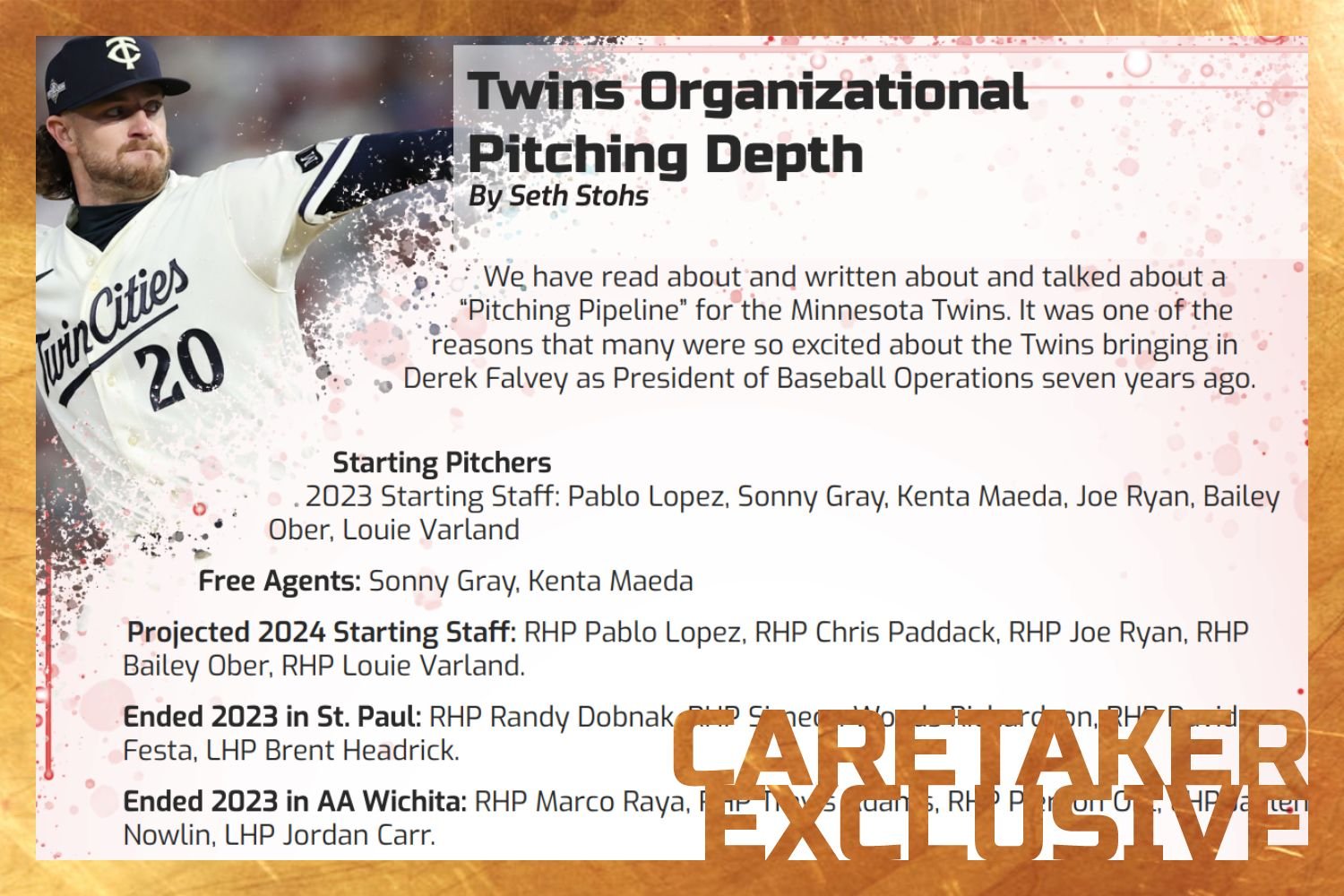 We have read about and written about and talked about a "Pitching Pipeline" for the Minnesota Twins. It was one of the reasons that many were so excited about the Twins bringing in Derek Falvey as President of Baseball Operations seven years ago.
Starting Pitchers
2023 Starting Staff: Pablo Lopez, Sonny Gray, Kenta Maeda, Joe Ryan, Bailey Ober, Louie Varland
Free Agents: Sonny Gray, Kenta Maeda
Projected 2024 Starting Staff: RHP Pablo Lopez, RHP Chris Paddack, RHP Joe Ryan, RHP Bailey Ober, RHP Louie Varland.
Ended 2023 in St. Paul: RHP Randy Dobnak, RHP Simeon Woods Richardson, RHP David Festa, LHP Brent Headrick.
Ended 2023 in AA Wichita: RHP Marco Raya, RHP Travis Adams, RHP Pierson Ohl, LHP Jaylen Nowlin, LHP Jordan Carr.
The six starting pitchers mentioned above made 149 of the team's 162 starts (92.0%). Add Dallas Keuchel's six starts and Tyler Mahle's five starts, and you cover 160 starts. That is not normal, and the Twins can't make any sort of assumption that it will happen again.
Chris Paddack returned late in the season in the bullpen and showed that he is strong. The Twins are still likely to add a pitcher or two in free agency or via trade, but which minor leaguers have a chance to contribute in 2024? Also, who are the exciting prospects to follow through the pitching pipeline?
We saw some of the candidates make their debuts in 2022 and 2023. Josh Winder and Cole Sands moved to the bullpen full-time in 2023. In addition, former top starting pitcher prospect Jordan Balazovic debuted in the bullpen. He had one strong month with the Twins and was getting opportunities in key spots before struggling late and being optioned. Brent Headrick came up a few times and worked in relief, both long and short. However, when he was in St. Paul, he was used as a starter.
Louie Varland made 10 starts for the Twins, but in September, he was used out of the bullpen and showed dominance. However, he should remain a starter, at least for the foreseeable future. And, finally healthy, Randy Dobnak should be considered for a spot just like others who reach St. Paul.