Kyle Garlick Is Outslugging MVPs
---
Aaron Judge, Yordan Alvarez, Mike Trout. What do these names all have in common? They have worse expected statistics than Kyle Garlick. But...so does the entire league, so they shouldn't feel too bad. 
To level-set, Kyle Garlick has amassed a standard slashline of .250/.359/.625 (.984 OPS). That's amazing, and 90% above average in a year like 2022. But his underlying Statcast data is even more impressive, due to the type of contact he's been making. 
I do want to warn that this post will be a bit of Fun With Small Sample Sizes™, but it's a lot of fun. For much of the expected statistics I'll be looking at, the minimum amount of balls in play (BIP) needed to qualify for the official Baseball Savant leaderboard is 33. Garlick has amassed 26 BIP through 39 plate appearances due to injuries, and being sheltered from right-handed pitching -- the latter of which is certainly contributing to his eye-popping stats. 
Starting off with the most impressive clove of Garlick's loaded bulb of batting stats is his Expected Weighted On-Base Average (xwOBA). This stat blends a lot of Statcast data such as exit velocity, launch angel, expected batting average. It's then assigns value to each batted ball and walks like wOBA, but removes defense from the equation. 
When filtering to 25 Balls In Play, Kyle Garlick ranks 1st in xwOBA with .492, which is outpacing his standard wOBA (.415). Being first in this stat places him in the 100th Percentile, and it's quite the impressive list below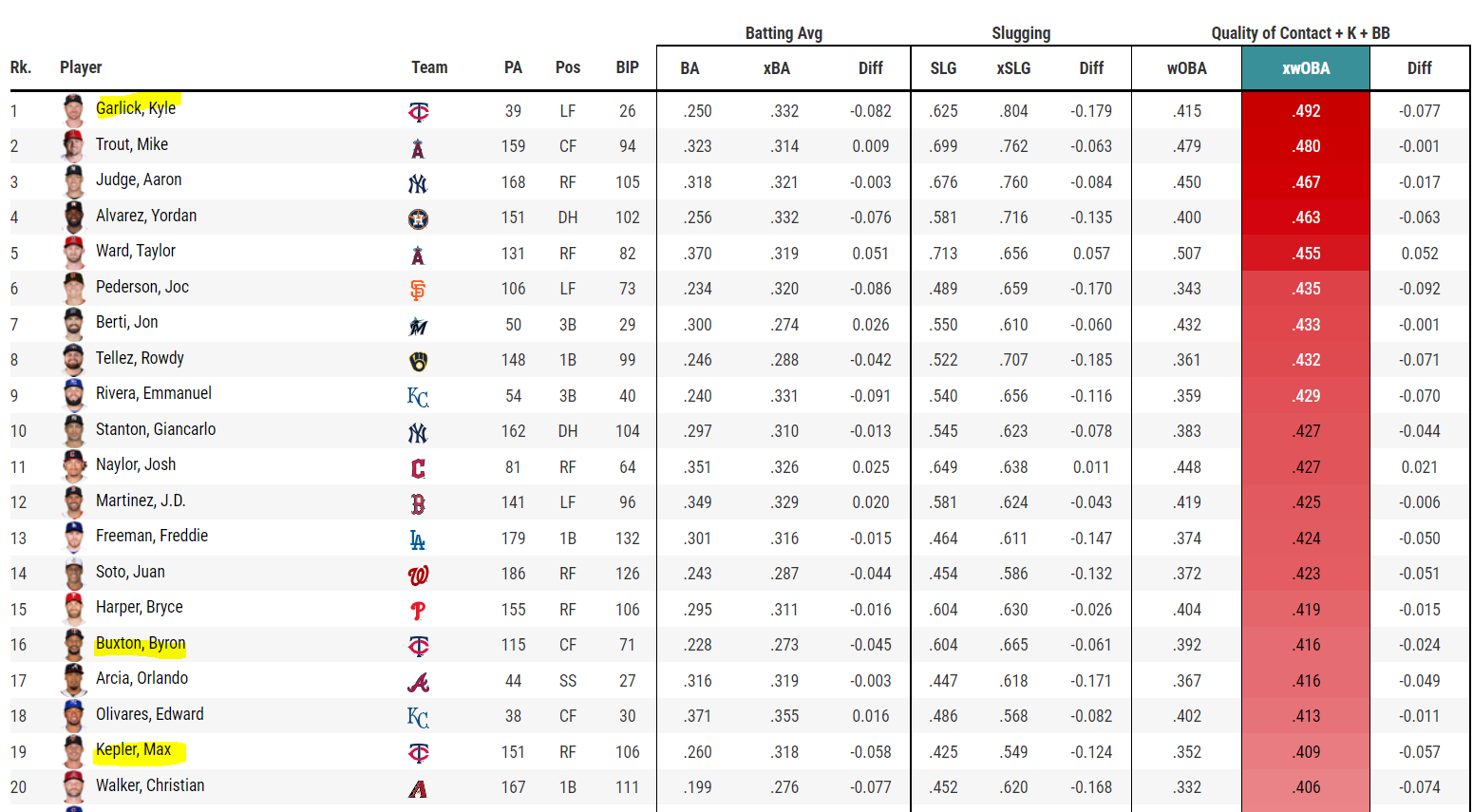 Kyle Garlick's xwOBA is outpacing multiple former MVPs, and two Twins players in the Top 20. How is he doing this?! 
Garlick is outperforming his batting average of .250, by having an expected batting average (xBA) of .332. That's the 19th largest swing in batting average to expected batting average. He's been great AND unlucky, as that xBA ranks 6th among MLB players filtering to 25 balls in play. 
His slugging is an even greater disparity between actual and expected results. A slugging percentage of .625 is great, but Garlick has the highest expected slugging percentage (xSLG) of .804, for a nearly 18% difference in actual vs expected. 
Garlick is causing a stink among left-handed pitchers, because he's patient and hits the ball with extreme authority. His walk rate is 15.4%, nearly twice as the MLB average in 2022 (8.4%), and the highest of his career.. Pitchers are likely scared to come in the zone to Garlick, because when he makes contact, the ball is hit among the hardest in the league. 
Hard Hit Rate: 61.5% (4th)
Hard Hit Swing %: 22.6% (6th)
Average Exit Velocity: 94.7 MPH (7th)
Barrels Per Plate Appearance: 10.3% (22nd)
Barrels Per Batted Ball Event: 15.4% (27th). 
These are all expected statistics of a upper-echelon slugger and MVP candidate. To pour some cold water on this, I'm overanalyzing a whooping four barrels that Garlick has hit across 26 times he's put the ball into play. However, that doesn't mean that Garlick hasn't been a potent weapon in Baldelli's lineup against left-handed pitching. Just like how the Twins are in first as we enter late May, we should all savor what we are seeing. 

And Garlick should keep savoring those bananas. Don't change a thing.