Melissa's non-spring-training Spring Training trip guide
---
Let's say earlier this winter, as you shivered at home and headed out into the dark night of 4:30 p.m. in Minnesota to rev up the snowblower, your mind drifted to baseball and spring training. Sure, there was some CBA uncertainty at the time, but that was a mere specter miles and months off in the distance. You haven't been able to go to spring training for the last two years, so Spring Training 2022 sounds extra enticing. And Rob Manfred- that confident, seasoned, labor industry-tested lawyer, is unequivocally confident that he will find a way to get the season underway on time. After all, he's found a way every time! What could possibly go wrong?
Fast forward to *checks watch* right about now, and you find yourself with Fort Myers airfare, lodging, and lots of time on your hands. What are you going to do with it?
Never fear, Melissa the Fort Myers vet is here!
Go to the Spring Training Complex Anyway
You traveled all the way down there, you might as well pay a visit to the scene of the crime at this point. The Lee County Sports Complex is home to Hammond Stadium, where both the Twins and the Ft. Myers Mighty Mussels of the Single-A Southeast League play, and a number of practice fields. The complex is beautiful and impressive- both Hammond Stadium and the grounds. With the constant hive of activity in the complex, you should be able to to just drive right in and grab parking. The parking lot lanes are all labeled with street signs named after different legendary Twins, so grab your picture by your favorite one. There is some cool artwork on the complex's buildings and backstops including my favorite, commemorating Kirby Puckett's walk off homerun in game 6 of the 1991 World Series.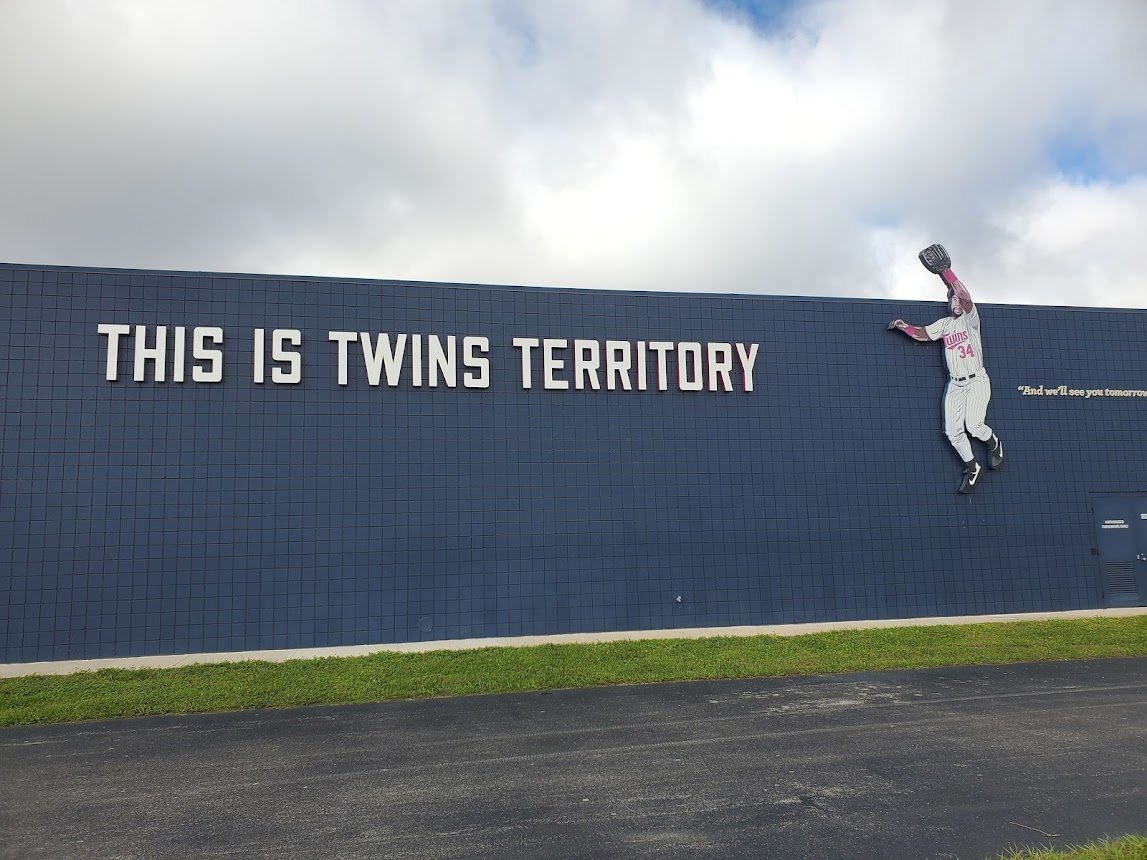 You can also catch some minor league action with some batting practice or bullpens on the adjoining practice fields as well- as we well know, the lockout doesn't apply to *them*. There's also a Twins Pro Shop located in the front of the stadium. During the off-season when I have visited, I've been able to walk into stadium and grab some pictures of the field as well. Everyone I have interacted at the complex have been unbelievably friendly and accommodating. JetBlue Park, the Boston Red Sox's spring training facility, is located just across town and is also cool to see. It is essentially a mini Fenway Park- green monster and all (but Hammond Stadium is better, for obvious reasons). As a fun fact- Hammond Stadium was modeled after Churchill Downs!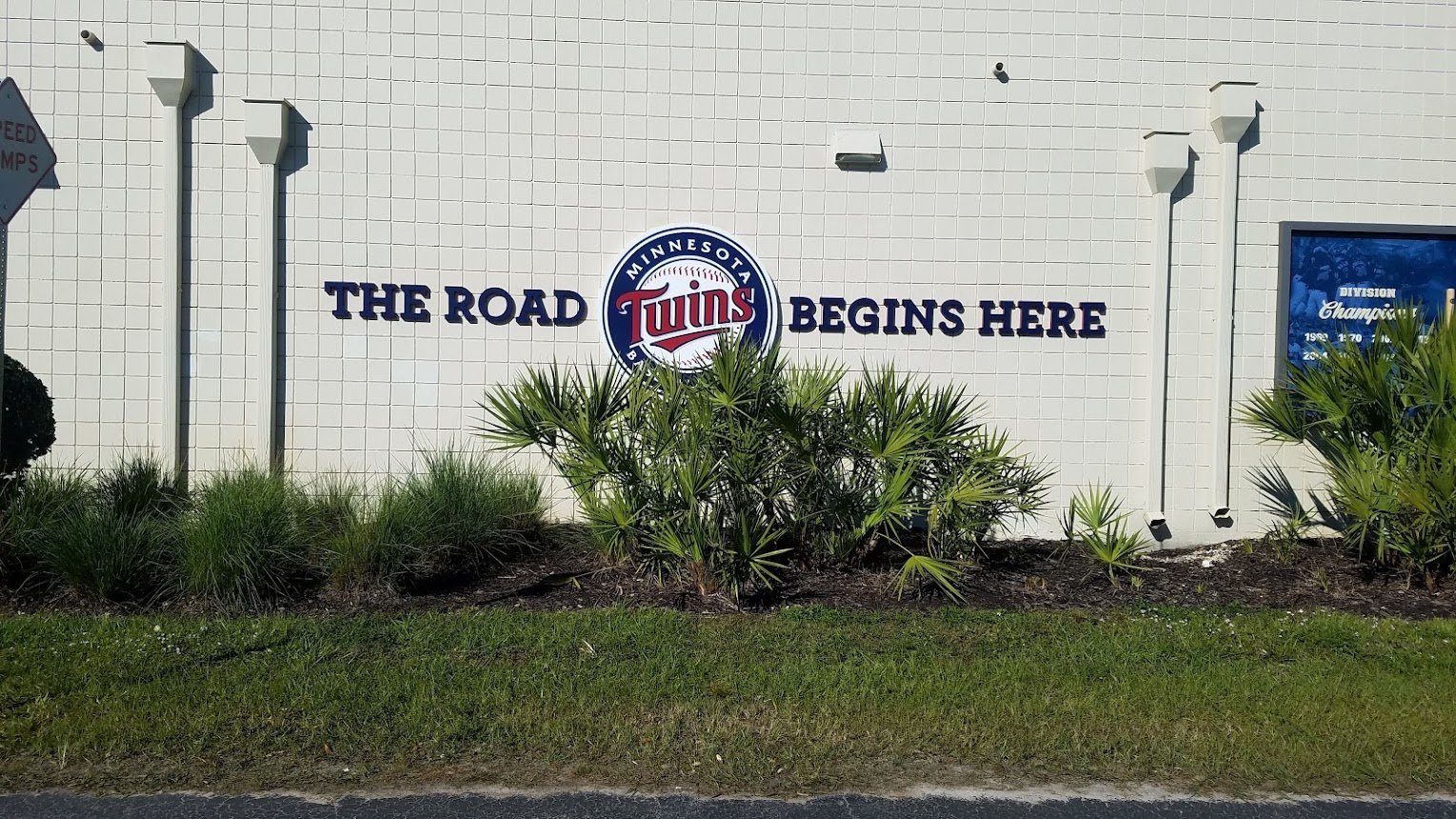 Chug a bunch of juice samples at Sun Harvest Citrus
After you stroll around the Twins' spring training facility, hop over to one of my every trip must-visit places- Sun Harvest Citrus. It is only one mile away from the stadium and thus unsurprisingly a favorite amongst Twins players, according to the employees I've talked to there. My favorite part of Sun Harvest is the six kinds of free juice samples. The Strawberry Orange juice is my personal favorite, but of course I have to sample each one. I visited here last in November 2021 and can confirm the juice samples are up and running in their usual non-covid times glory.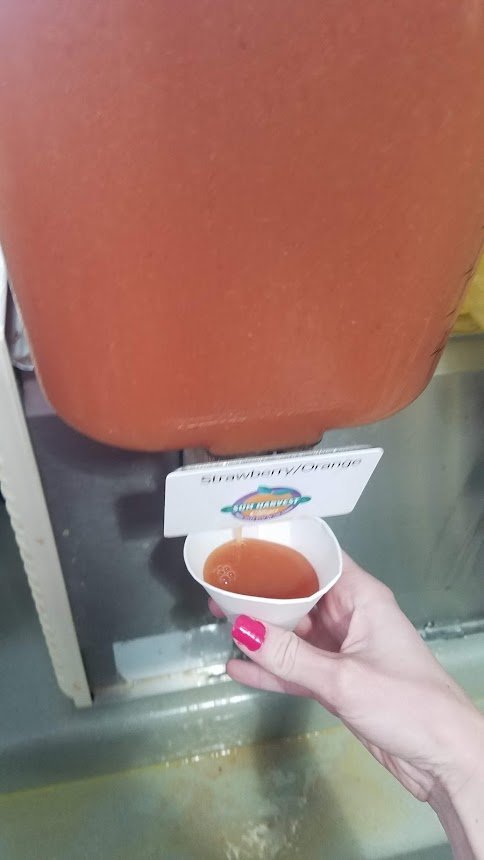 I usually always get an ice cream cone here too- I get chocolate, but they have festive Florida flavors like Key Lime and Orange as well. There's a nice gift shop, areas to sit outside, a small play area, and I always get my picture with the giant orange outside.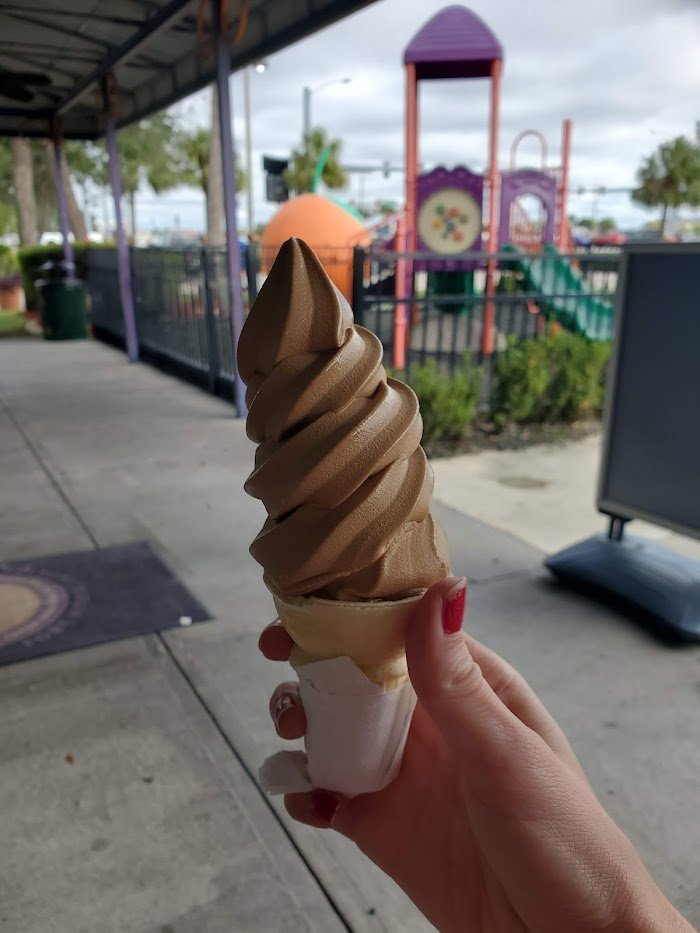 My usual chocolate ice cream cone at Sun Harvest Citrus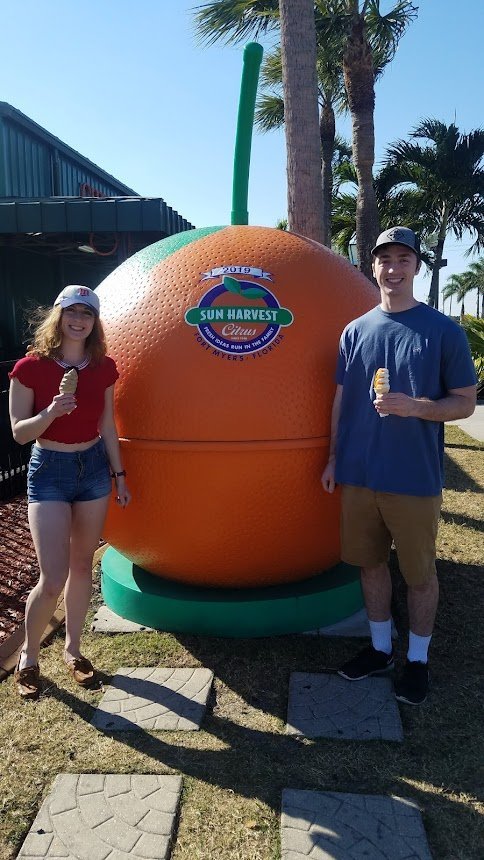 Me and my brother with the giant orange!
Frolic around the town of Fort Myers Beach (and avoid the spring breakers)
The town of Fort Myers Beach is a hopping home to a myriad of resorts, shops, restaurants, bars, and of course its namesake beach. Whenever in Fort Myers Beach, I love walking out on the fishing pier, checking out the shops surrounding the times Square area (named after a prominently placed clock in the middle of downtown Fort Myers Beach), and of course spending time on the beach itself. For some beach reading, I'd recommend "One Tough Out" by Rod Carew and "Game Used" by Dick Bremer.
Last time I stayed on Fort Myers Beach, I in particular enjoyed eating at a restaurant called the Salty Crab because we got to eat directly out on the sand on a table illuminated by a single light the waitress clipped onto our umbrella stand. The Island-themed Yucatan Beach Stand was also memorable for me because its bar chairs were all swings! One night we also got some really good Mexican food at Mr. Tequila, located a little off the main strip.
Various companies on the island offer dolphin cruises, during which hopefully some happy, non-captive ocean dolphins will come ride the waves of your boat. There are also deep sea fishing excursions to be had, though this is not my personal cup of tea. My family loves playing Jungle Golf every time we visit the Fort Myers Beach area as well. Beware that spring training time is also spring break time, so Fort Myers Beach will be extra busy. Fort Myers Beach tends to draw a ton of college kids, but also families as well. However, I have always been able to find beach parking on the street or in parking lots no problem. If not, however, you could try parking at Bowditch Point Park, which is a nature preserve at the northern end of Fort Myers Beach.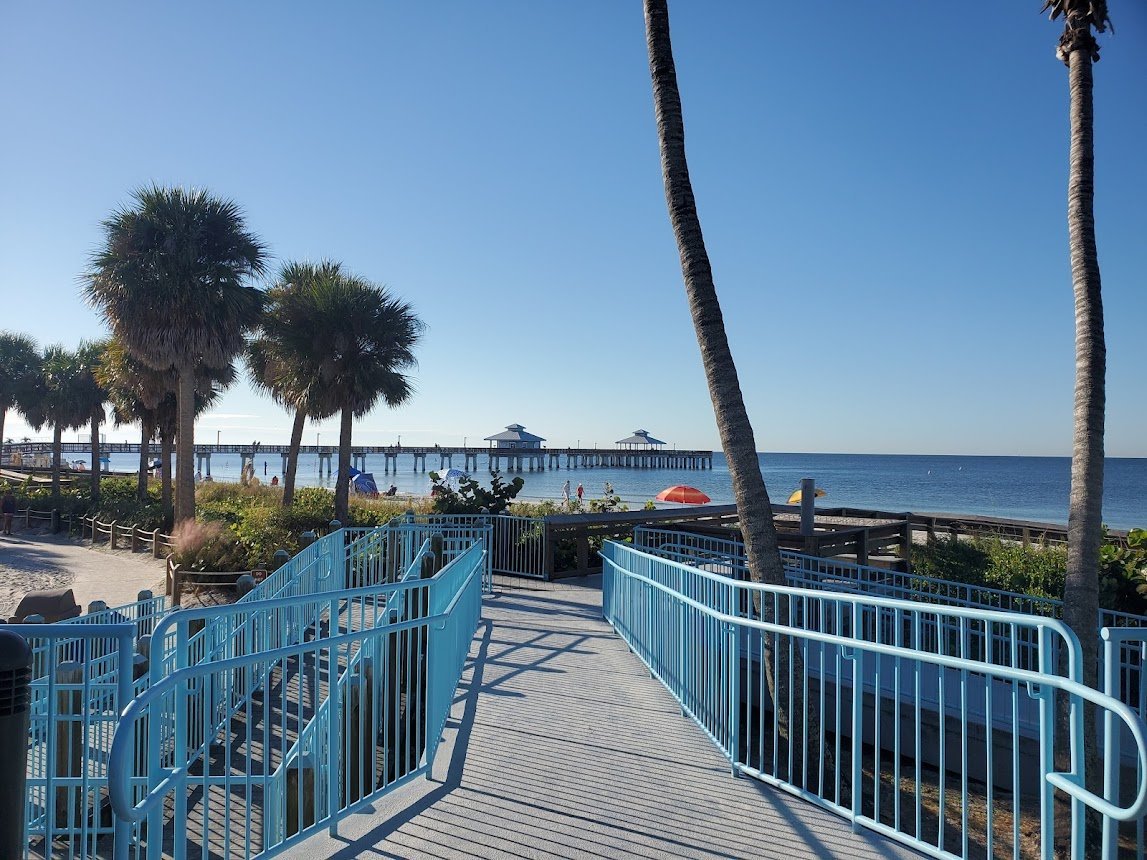 Fort Myers Beach Pier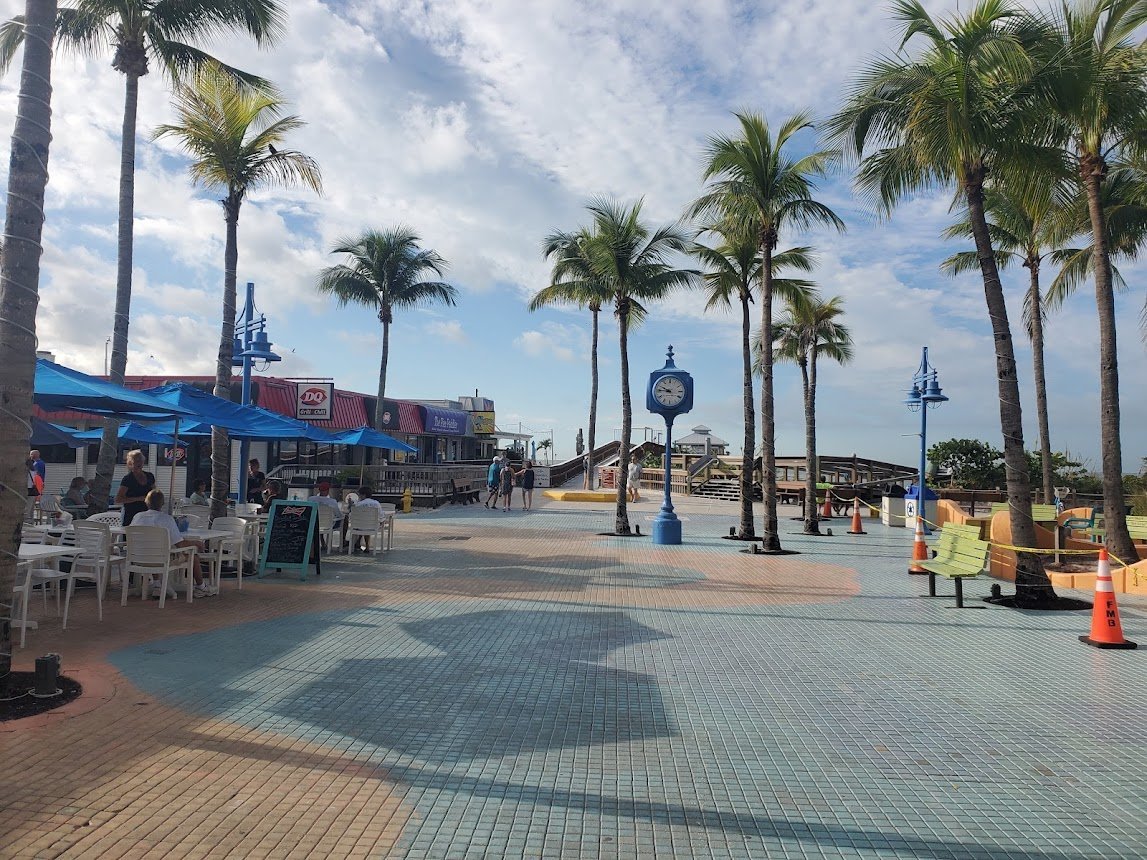 Times Square, Fort Myers Beach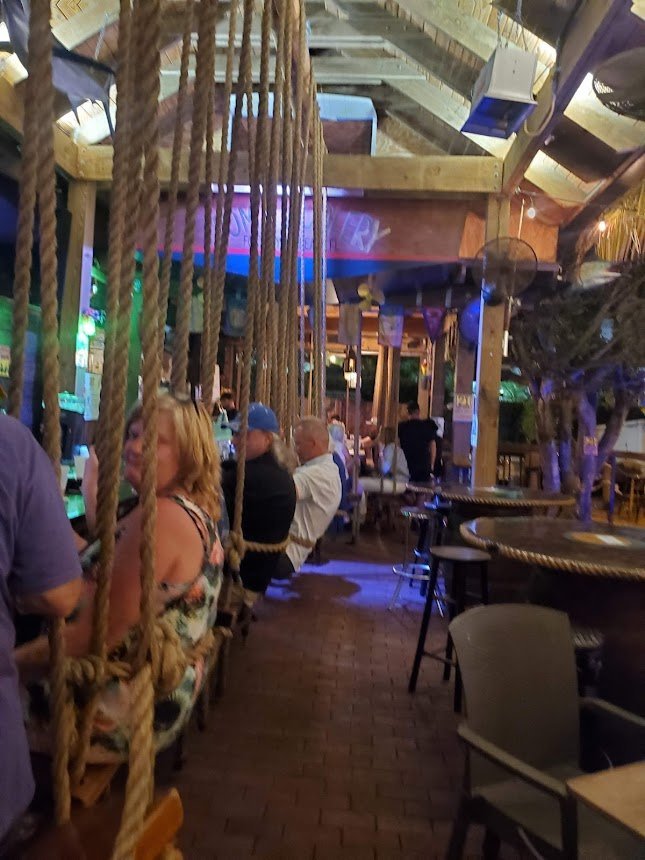 Bar swings at Yucatan Beach Stand 
Go for a stroll at the Six Mile Cyprus Slough Reserve 
Located less than three miles from Hammond Stadium, the Six Mile Cyprus Slough Reserve is one of my favorite places to go walking in the area. It features a 1.2 mile boardwalk over a beautiful, wooded wetland. Keep your eyes out for alligators, turtles, otters, and wading birds. Lakes Park is another pretty albeit more developed walking option that I've enjoyed visiting too- it features walking and biking trails and a boardwalk over the lake.
Catch some college baseball
Fort Myers is home to the Division I Florida Gulf Coast University Eagles. If you have a fever and the only prescription is more baseball, the Eagles play a number of home games during the month of March. The Eagles recently hosted the Gophers on February 23 and unfortunately that resulted in a 13-5 loss for my beloved alma mater. Though not the Twins, sitting outside in the Florida sunshine to watch any sort of baseball sounds pretty dang lovely.
Visit Manatee Park Naples (not right now though)
The caveat is that currently, now in early March, the manatees have mostly departed for greener pastures aka the warm water in the gulf. However, if you visit the area during the winter or on the early end of spring training in February, it's likely manatees will be present in the park. Manatees are warm blooded, docile critters that flock to this park during the winter months of late December, January, and February because the water in the nearby gulf is below 68F- the coldest temperature manatees can be to maintain a safe internal body temperature. A nearby power plant warms the water as a byproduct of its operation, and manatees have figured this out and come to this park as a warm and cozy place of refuge. The park also rents kayaks. Check out the park's website for recent news regarding sightings before venturing out to see these beautiful, peaceful creatures.
Bop around Sanibel and Captiva Islands
Nearby Sanibel and Captiva Islands are well worth a day's excursion and have some pristine beaches, unique restaurants, and some beautiful houses. My beach takes: The easiest beach parking is at Bowman's Beach- which has a giant surface lot. The beach itself is lovely white sand and undeveloped. Lighthouse Beach Park has pretty scenery and a lovely, historic lighthouse, but I have found that this beach is crowded and not as nice and sandy as the other ones on the island- lots of sharp shells. Most of the people visiting this beach last time appeared to be here shelling, so it's worth a stop if you'd like to see the lighthouse or seek out some sea shells (say that five times fast). Captiva Beach is at the very end of Captiva Island. It has a very small parking lot, but I've always had luck finding a spot here. Even if you drive to the end of the island and are unable to find a beach parking spot here, it's still worth the drive to see all the beautiful houses along the way, each of which has its own unique name and sign out front proclaiming it. I've eaten at a bright pink restaurant called the Lazy Flamingo a couple of times- they have two locations on the islands.
 There will likely be long lines of traffic to exit the island if you want to stay for the the sunset, but if you want to get a jump on traffic, you can pull off onto the Sanibel Causeway Beaches and watch the sunset there.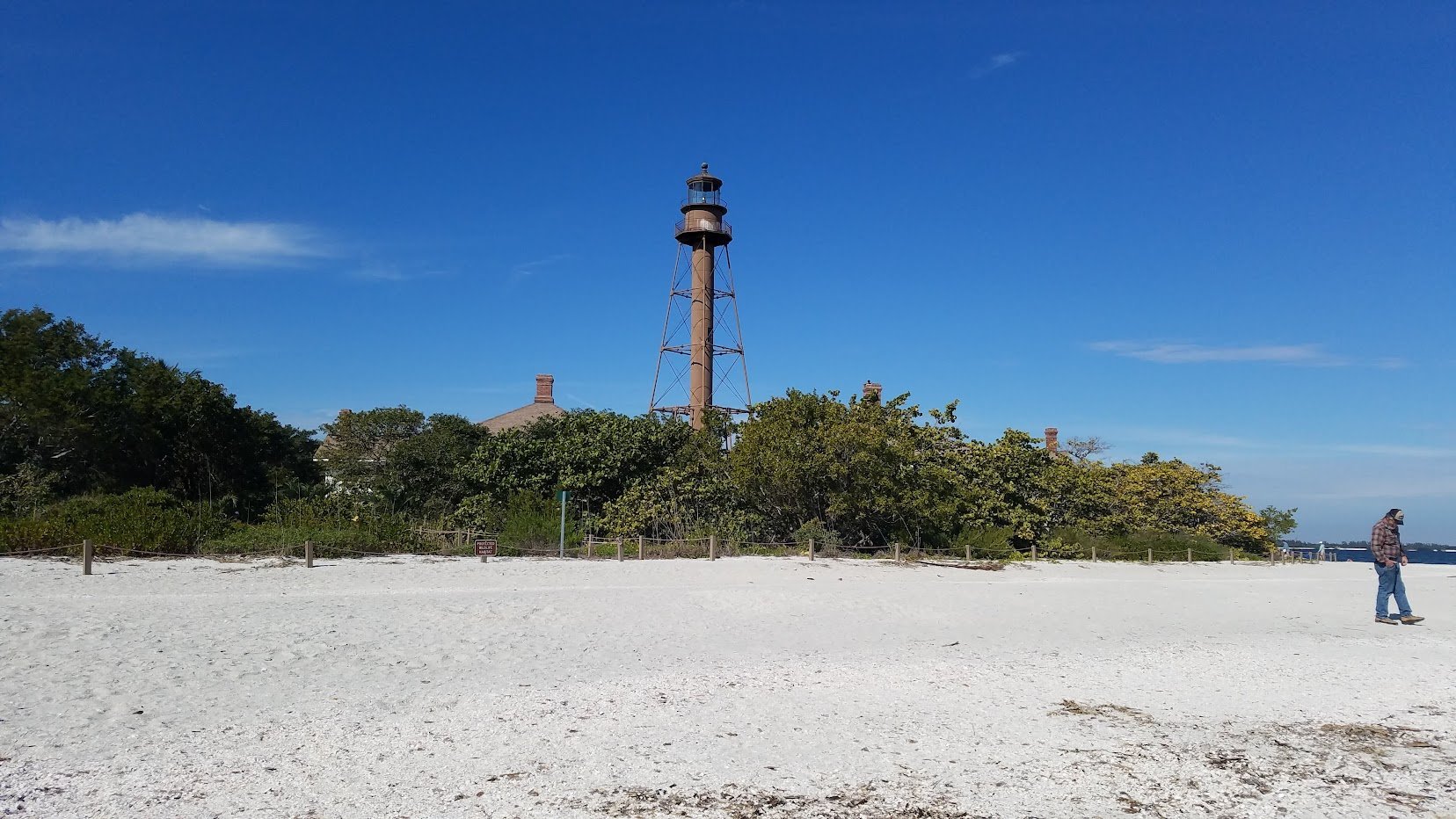 Lighthouse Beach Park, Sanibel
Do some Twins reading or pondering at Lover's Key State Park
If the hustle and bustle of Fort Myer's Beach isn't your scene (or even if it is), Lover's Key State Park is a 15 minute drive to the end of Estero Island from the Times Square area of Fort Myers Beach. It has two miles of untarnished, undeveloped, and beautiful white sand beaches and is surrounded by Florida's famous mangrove trees. This would be a great place to get away and think about life's great questions, such as the impact of modern baseball analytics on managerial decisions and the decline of bunting in the MLB.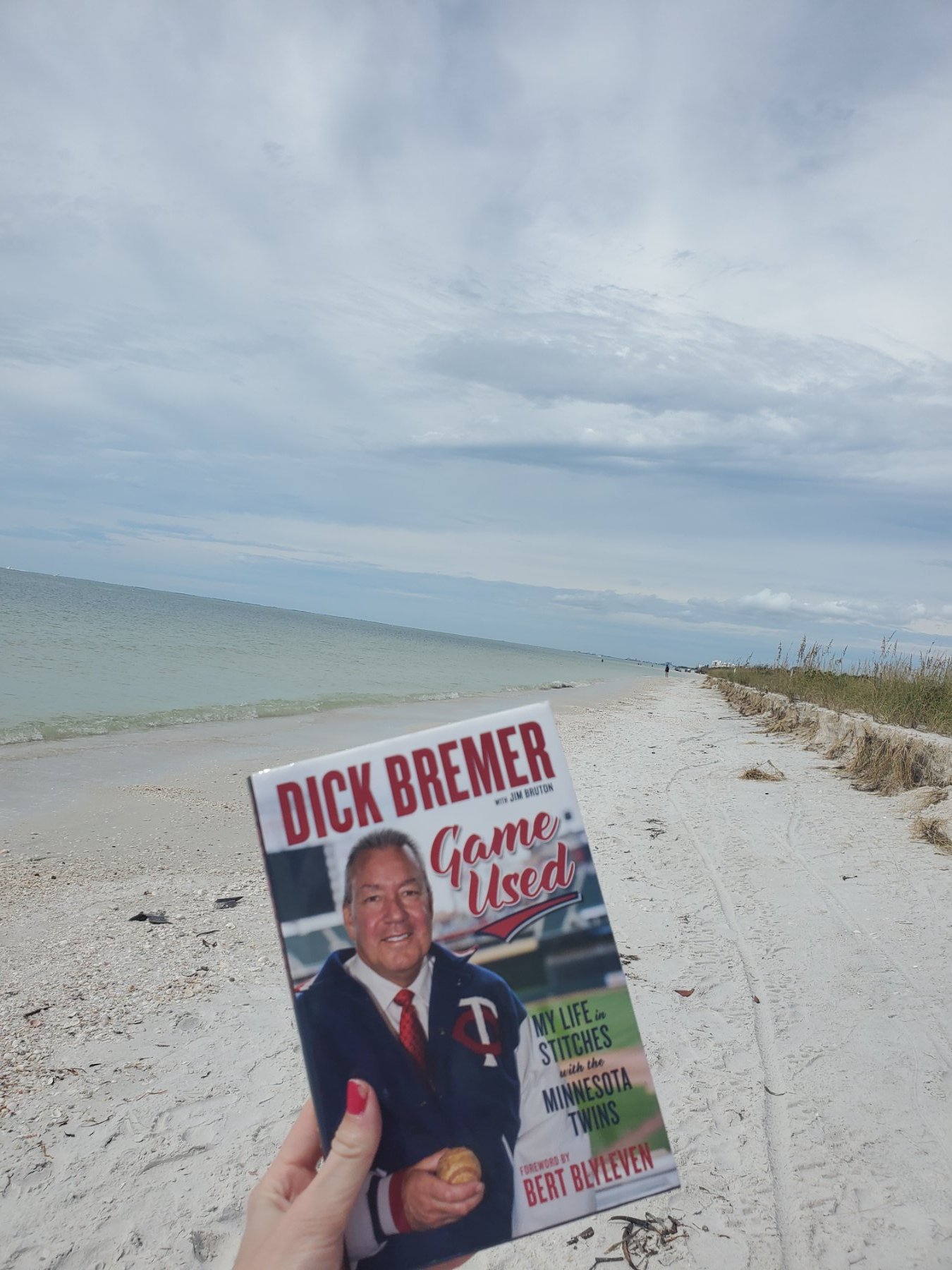 Reading Dick Bremer's book at Lover's Key!
9. Get a history lesson at Edison Ford Winter Estates
If you're a fan of history like I am, you might like The Edison and Ford Winter Estates in Fort Myers.  it has a historical museum and 21 acre botanical garden alongside the winter homes of Thomas Edison and Henry Ford beside the Caloosahatchee River. I haven't visited the museum since I was a kid, but I remember loving seeing Edison's winter workshop in particular. 
10. Visit Naples (No, not Italy)
Naples is a gorgeous city about 55 minutes or so from Fort Myers. There's a super fancy shopping area called Fifth Avenue South that will be lined with Maseratis and Lamborghinis, the Naples Pier, and some incredible mansions. My family grew up going to nearby Vanderbilt Beach as well. When I visited Naples a few months ago, my best friend and I had a lot of fun driving around town and looking at the houses and walking out on Naples Pier.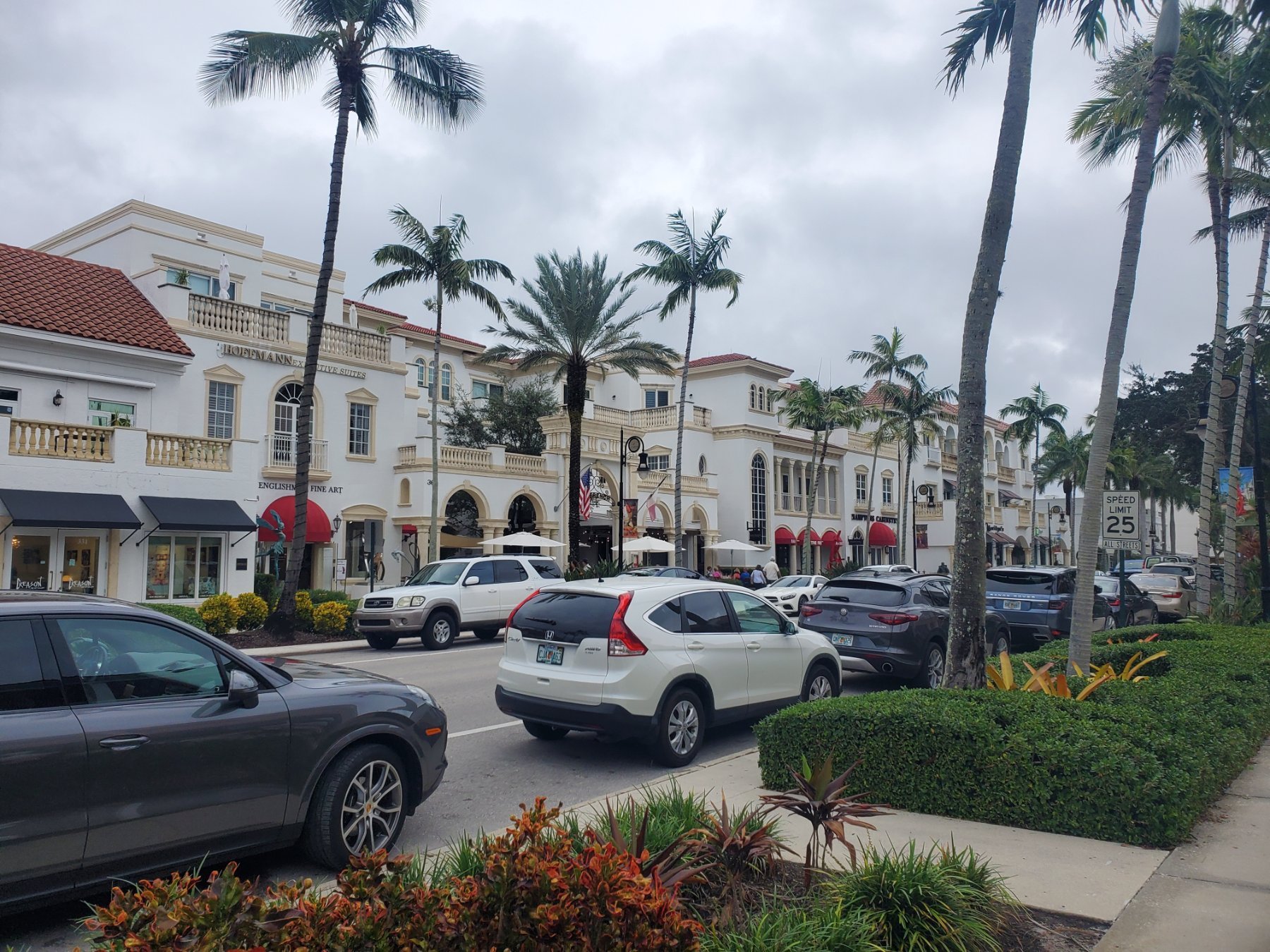 Fifth Avenue South in Naples