A line of defense for the future
---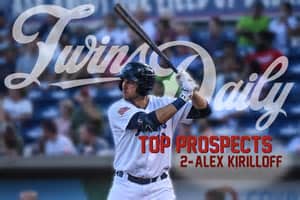 With all the talk about FA and DFAs I got thinking about who the prospects behind each position are – not the top prospects in the system – but the ones that are there for each position on the club. Call it the next line of defense:
C – Jeffers is obvious, but he might be the starting C so who is next – Ben Rortvedt would be the next in line. He is age 23 which surprised me, because it seems like we have been looking at him for the last decade (I exaggerate). He has four minor league seasons and a line of 240/315/347 which is not very exciting, but he is a catcher.
1B – Of course Sano is still young and Rooker is too, but who next? Aaron Sabato is 1B – he can't go anywhere else. His two year college line is .332/..459/.698. I think Larnach, and Rooker have this covered. Or Matt Wallner with one impressive Minor league year.
2B – Arraez is young, but his injury record got really cloudy this year. Sure Polanco can slide in here, and Lewis can be a 2B but Nick Gordon who is quickly becoming a trivia answer is listed as a 2B option (I think Utility is better, but for this exercise he is at 2B. Six years in the minors, still 25. His line is .276/.329/.385 which is not very exciting. Maybe Blankenhorn will fill in, but in reality this is a failed draft pick.
SS – Polanco is young, he has been an all-star, but he is still an erratic fielder and people have been dreaming of Royce Lewis for years. Always in the top ten prospects Lewis had not exactly been the highest performing prospect. Still just 21, he also seems like someone who has been in the system forever, but he hasn't and his line is .266/.331/.409 which does not jump off the page for me, but the projections say he is more than the next in line, he is a star in the making.
3B – Donaldson came in with the press clippings and a bad leg. He got a lot of money and four years and already 1/4th of the years has been a bust. So who can jump in now that Ehire and Marwin do not seem to be in line? Travis Blankenhorn is the only 3B prospect. 24 years old, his minor league line after five years and one game in MLB in 2020 is .257/.325/.431 which makes him another meh replacement. For Marwin I am fine, but long term 3B needs help.
LF – Well at this point Eddie is gone and not coming back and I am going to assume Kiriloff is next in line and I really hope they do not play the game of holding him back for more control. If he is as good as we all hope he will be extended before his arbitration years are over anyway. So who is next – Larnach is the logical and he looks almost as ready as Kiriloff, but it might be Rooker first since he is older and team control is less of an issue. Larnach in two years in the minors has a line of .307/.385/.468. Rooker in three years in the minors is .267 /.357/.505. Larnach is 23 and Rooker is 26.
CF – Buxton for a whole year we all hope. If not who? I know we can shuffle other players into CF, but it is a shuffle not a true CF replacement. Who is in the wings? We know now that it will not be Baddoo. It is hard to find a CF in the prospects so I will go with Maciel, 21, with four years as a true Centerfielder .288/.357/.361 or Celestino. At age 21 he has three years in the minors .274/.346/.400. These young players are the way to go if Buxton has another injury/accident.
RF – Kepler is already extended. Analytics like him more than I do, but that does not matter here – he is the RF starter and will continue to be. His replacement? Probably Larnach who I put as a LF above.
DH – I look at the 1B options and Rooker is first in line for DH for me. Sabato down the road.
SP – Berrios, Maeda, Pineda, ??? with Dobnak fifth. Berrios and Dobnak are relatively young, but they are pitchers and pitchers breakdown. Who is next? Most Twins fans know Balazovic and Duran, by name anyway. Balazovic in four years in the minors is 18 - 12 3.32 1.15 Whip and 252K – 68BB. Duran in five years in the minors is 23 – 26 3.94, 1.28 Whip, 366 – 131 K/BB. Both are 22. The third would be Dakota Chalmers, 24 years old, and with five years in the minors – 9 – 8 with a Whip of 1.42 and 185/114 K/BB. Chalmers seemed like he had a lot of support last year. His stats do not get me excited, but I think he is in line.
Searching for starters 4/5 in this minor league only replacement scenario Blaine Enlow, 21, with three years in the minors would be next with a 14 – 12 3.36, 1.26 Whip, 185K/77BB. Matt Caterino played only one year, not enough to look at his stats so I will just go with his position on the prospect list. He is 22 and a second-round draft choice in 2019.
Relief pitching is already filled with prospects – Alcala, Stashak and last year for one regrettable inning, Edwar Colina, 23, who has pitched for six teams in 4 minor league years. 19-15 2.96 1.22WHIP, 316K/140BB. He is probably ready right now.
If I just look at the rest of the pitchers on the prospect list I can fill the BP that way, but realize that one of the SP I have for the future rotation can end of being BP and one of these RP could be a rotation guy. Hopefully, someone like the next pitcher on the list – Cole Sands, or Bailey Ober or Chris Vallimont or Josh Winder. That is a seven-man BP.
Then there is Lewis Thorpe and Devin Smeltzer still listed as a prospects age age 24. Let's put them in to give us nine. Griffen Jax makes the ten-man BP on this list – just barely. Luis Rijo will pass some of these and he will join Charlie Barnes to make the future 12-man BP.
The question is – are we prepared. And actually, it looks like a good minor league backup plan. Not all of these players will fill the roles, but we have something to start with