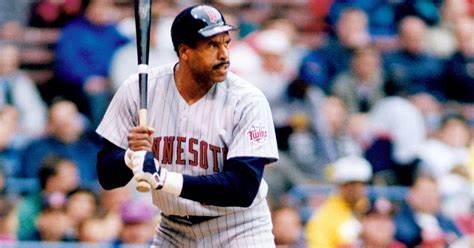 The question is – should we sign Cruz or just let a number of players DH? I thought I would look back at the Twins DH history. I ignore any DWAR since I am only interested in the DH.
Tony Oliva was the first DH. In 1973 he was in 146 games. He hit 291/345/410 and his WAR was 0.7. The next year he was in 127 games with a line of 285/326/414 and 0.4 WAR. 1975 he played 131 games with a line of 270/344/378 and WAR of 0.5.
1976 saw Craig Kusick as the DH – 259/344/432 – 1.5 WAR. In 77 his line was 254/370/433 0.9 WAR.
Glen Adams became the DH in 1978 with a line of 258/297/390 and a WAR of -0.3.
In 1979 Jose Morales became the DH - 267/319/335 – WAR -0.9 and despite this negative WAR he was still DH in 1980, 303/361/490 and positive 1 WAR.
Then in 1981 Glen Adams was once again the primary DH with a line of 209/273/282 and a -1.6 WAR which was the worst on the team.
Randy (who?) Johnson became the main DH in 1982 248/325/419 and a WAR of zero.
After a few questionable years of – anybody can DH we came to Randy Bush in 1983. His line was 249/.323/.418 with 0.4 WAR. In 1984 he was still the main DH .222/.292/.389 and WAR -0.3. We have good memories of Randy, but maybe he is not as good as we remember.
In 1985 Roy Smalley took over DH. .258 /.357/.402 WAR 1.2. For the first time since 1976 we had a DH with a WAR over 1.In 1986 Roy was still DH .246/.342/.438 and a WAR of 1.0. 1987 Roy had a line of .275/.352/.411 and WAR OF ONLY 0.5. After tying Oliva with three years as DH he was replaced.
Gene Larkin was 1988 DH .267/.368/.382 and 1.8 WAR. Despite that outstanding year Jim Dwyer was the primary DH in 1989 with .316/.390/.404 and 0.8 WAR. In 1990 Larkin was the main DH again with a line of .269/.343/.392 and a WAR of 1.1.
In 1991 Chili Davis became the first DH with a slugging PCT over 500 and a line of .277/.385/.507. His 3.3 WAR also set a new high for the team. In 1992 he was not quite as good with a line of .288/.386/.439 and WAR of 2.1. That was the end of Chili.
Dave Winfield was DH in 1993 with .271/.325/.442 and WAR of 0.9. In 1994 he hit .252/.321/.425 with 0.2 WAR.
In 1995 Winfield was retired and Pedro Munoz took over with an outstanding year .301/.338/.489 and still only a 0.9WAR.
The next hometown HOF batter came in 1996 when Paul Molitor became the principal DH and hit .341/.390/.468. It would be the top BA for any Twins DH. His WAR was 3.5 which was the best WAR so far. In 1997 Molitor his .305/.351/.435 for a WAR of 1.5. In 1998 Paul hit .281/.335/.382 and a WAR of 0.2. Having tied Oliva and Smalley for the most years at DH – 3, he was replaced.
In 1999 Marty Cordova was the primary DH. He hit 285/365/464 with a WAR of 1.2.
David Ortiz was our primary DH in 2000. No I do not want to speculate on what it could have meant if Tom (overrated) Kelly had not had his head up his… Ortiz was .282/.364/.446 with a WAR of 0.8. In 2001 Kelly had messed with Ortiz so much that he hit .234/.324/.475 and WAR fell to 0.3. His third year as DH he hit .272/.339/.500 which made him only the second Twin DH with a 500 slugging his WAR was 1.5. Having tied the longest DH service with three years we replaced him with Matt LeCroy. Yes, that is the truth and it still hurts and still stinks.
Matt LeCroy had a good 2003 season - .287.342/.490 with 1.3 WAR. Then 35-year-old Jose Offerman took over in 2004 with .256/.363/.395 and -0.2 WAR. Matt LeCroy came back in 2005 .260/.354/.444. 0.9 WAR. Then it was 34-year-old Rondell White, .246/.276/.365 and -0.9 WAR, the worst on the team.
This led to Jason Tyner .286/.331/.355. Are you paying attention to these slugging percentages? 0.2 WAR. Which led to Jason Kubel, .272/.335/.471 in 2008 with a 1.8 WAR. Kubel came back with one of the all-time DH lines in 2009 - .300/.369/.539, 3.3 WAR. Kubel then moved to the field and Jim Thome came to Minnesota.
Thome in 2010 had a line of .283/.412/.627 giving the team their first 400 OPS and first 600 slugging DH! 3.6 WAR. 2011 did not reach the heights of 2010, .243/.351/.476 and 1 WAR.
Then we turned to another veteran – Ryan Doumit for 2012 - .275/.320/.461, 2.3 WAR. Doumit in 2013 hit .247/.314/.396, 1.4 WAR. After two years he was done
Then rookie Kennys Vargas, 23 years old, took over DH .274/.316/.456, 0.7 WAR. Miguel Sano replaced him the next year (2015) and in 80 games had a line of .269/.385/.530 bringing back the 500 slugging and he had a WAR OF 2.4 (why isn't he replacing Cruz?).
2016 we went international and Byung Ho Park hit .191/.275/.409, -0.1. That international experiment ended quickly and in 2017 Robbie Grossman was primary DH, .246/.361/.380, 1.1 WAR. And, yes, for some reason many on TD want to bring him back?????? In 2018 he was also the primary DH, 273/.367/.384 moderately good OBP, but is that what you want in the DH? 1.8 WAR IN 2018.
Then in 2019 Nelson Cruz arrived. .311/.392/.639 – a record 41 DH Hrs, our second 600+ slugging. 4.2 WAR – our highest for a DH. In 2020 Cruz was still DH and hit .303/.397/ .595 with a 1.6 WAR in an abbreviated (1/3) season.
Who was the best – Cruz, who was mismanaged – Ortiz, who was a star at DH for us? Molitor, Thome. We have had some very good and some real duds – Rondell White. And some real question marks like what happened to Vargas?
Three years seems to be the lifespan of the DH on the Twins. So would I resign Cruz? For one year – yes. Beyond that no – what you pay for year two needs to be added to year one because you are probably only getting one year of real production.