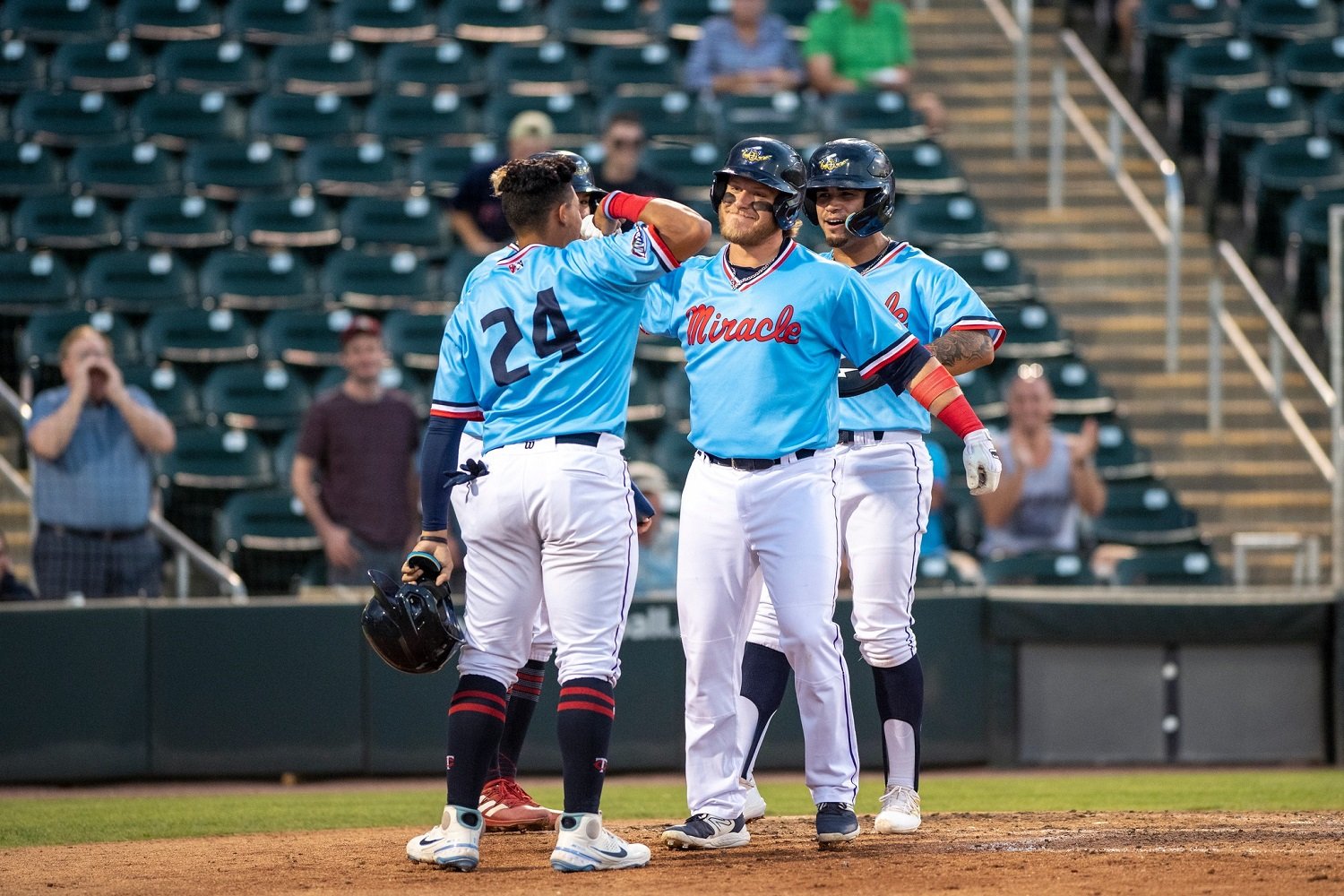 Image courtesy of William Parmeter (Andrew Cossetti pictured)
If you missed it, read Nick's Twins Week in Review after you've read about the minor leagues.
TRANSACTIONS 
Michael Helman's rehab with Fort Myers is over and he'll be re-joining the Saints.
RESULTS
MORE TWINS DAILY MINOR LEAGUE CONTENT 
TUESDAY'S PROBABLE STARTERS
St. Paul @ Rochester (5:05PM CST) - RHP Aaron Sanchez (0-1, 3.12 ERA)

Springfield @ Wichita (7:05PM CST) - RHP David Festa (1-1, 3.07 ERA)

West Michigan @ Cedar Rapids (6:35PM CST) - RHP Kyle Jones (0-2, 5.65 ERA)

Fort Myers @ Daytona (5:35PM CST) - LHP Develson Aria (0-0, 2.25 ERA)
WEEK IN REVIEW 
Triple-A: St. Paul Saints (Week: 5-1)
Overall: 13-7, 1.5 games back in the International League West. 
Overview: The Saints had an excellent week, but didn't make up any ground on Memphis who lost yesterday to snap a 12-game winning streak. 

🔥

: Jordan Balazovic has been good in his short appearances so far this year. He allowed one hit and struck out three in two innings this week. Could he eventually represent himself as a bullpen option for the Twins?

🔥

: It's going to be Alex Kirilloff time sooner or later. Kirilloff played in only four games, but had six hits including a double and two home runs. He drove in nine and also walked more times (3) than he struck out (2). Hard not to like a .462/.588/1.000 (1.588) slashline for the week. Kirilloff will begin the week with the Saints, but if he ends the week there remains to be seen.

 

🔥

: It wasn't a great cameo for the Twins, but Matt Wallner is hitting (1.126 OPS for the week) for the Saints. He also took 9 walks compared to 5 strikeouts. 

🥶

: After a spot start with the Twins, Louie Varland was back with the Saints and struggled in his only start. He allowed five runs on seven hits and a walk. He did strike out eight over his 4 2/3 innings.

🥶

: Trevor Megill was a nice contributor for the Twins down the stretch last year, but failed to make the team after a rough spring training. In two appearances this week, Megill allowed five runs on three hits, including two home runs, and walked three.  
What's Next: The Saints will head to Rochester to face the former Twins affiliate. The Red Wings (6-14) are currently in last place in the IL East and have the worst winning percentage in the whole league. It should be a good week for the Saints to continue to their hot play.
Double-A: Wichita Wind Surge (Week: 2-4)
Overall: 7-8, 3.0 games back in the Texas League North. 
Overview:

 Wichita's two wins ended two- three-game losing streaks.  The bats just weren't up to the task getting shut out in consecutive games. But after allowing 27 runs in the last two games against NW Arkansas, the pitching staff performed better. 

🔥

: Blayne Enlow completed six innings in his start this week. He allowed two runs on four hits and two walks. He struck out five and held opponents to a .100 batting average.

🔥

: Michael Boyle had a clunker last week, but put together two hitless outings this week. In three innings total, Boyle struck out four and only allowed one baserunner via walk.

🤔

:

 

Carlos Luna

 

gets the same emoji for the second straight week. He doesn't put runners on base (0.64 WHIP)... but both hits he allowed were home runs. He remains a curious case. 

🥶

: Yunior Severino struggled to make contact this week, striking out a team-high (and tied for organizational-high) 10 times. 
What's Next: Wichita will be hosting last-place Springfield (5-10) as they look to make up ground on Arkansas and Tulsa.
High-A: Cedar Rapids Kernels (Week: 1-5)
Overall: 6-8, 3.5 games back and in last place in the Midwest League West. 
Overview: Only able to avoid a sweep against Beloit by winning Sunday, the Kernels found themselves in an eight-game losing streak. Luckily, the bats finally came alive and produced 11 runs.

🥶

: Most of the Kernels. Of the many names that could be listed, no lowlights will be highlighted... cause it's not pretty.

🔥

: Aside from Pierson Ohl, the starting rotation really struggled. Ohl struck out five in five innings and allowed only one run on four hits. 

🔥

: Charlie Neuweiler was a starting pitcher in the Royals system for part of last season, but struggled in his brief glimpses out of the AA and AAA bullpen. It's possible he's found a home in the bullpen with the Twins organization. He got eight outs this week and all the other team had to show for it was a walk and three strikeouts.

🔥

:

 

Kala'i Rosario

 

broke out of his cold streak by getting six hits in 19 at-bats. He had three doubles and a triple, drove in three runs and walked three times. 

🔥

: Noah Miller

and

Noah Cardenas

also had six-hit weeks.

What's Next: A home series against West Michigan (9-6) who sits in a half game out of first place in the East Division.
Low-A: Ft. Myers Mighty Mussels (Week: 3-3)
Overall: 8-7, 2.0 games behind Bradenton in the Florida State League West. 
Overview: Lots of runs scored by both teams over the course of the last week, but a .500 week dropped the Mighty Mussels from a first-place tie into third place.

🔥

: Cory Lewis

 

is doing it. He's throwing the knuckleball (among his other pitches) and low-A hitters don't know what to do with it. He struck out six and walked two in five innings of one-hit, one-run (it was a home run) ball

🔥

: Develson Aria is an intriguing left-hander who is getting results. The runner-up for pitcher of the week, Aria struck out four in five innings of near-perfect ball (he walked two). 

🔥

: Jose Olivares is the youngest pitcher on the roster and the 20-year-old is impressive. He threw 5 2/3 innings of one-run, one-walk, three-hit ball and struck out four. The strikeout numbers (7 in 10 2/3 innings) aren't overly impressive, but the lack of walks and hits (0.66 WHIP) are.

 

🔥

: 

The trio of Michael Helman, Dalton Shuffield and Jorel Ortega was overshadowed by Andrew Cossetti, but they all had excellent weeks. Helmen (.421/.542/.684 (1.226 OPS)) is headed back to the Saints. Shuffield (.375/.412/.750 (1.162 OPS))) shouldn't be in Fort Myers to begin with. Ortega's pro debut was derailed by an injury but his 8:1 BB:K ratio was quite impressive.

🥶

: Rubel Cespedes didn't offer much power, but batted nearly .290 in low-A in 2022. It hasn't been a great encore for the young infielder. This week, Cespedes went 2-18 with a double, two RBIs, a run, two walks and six strikeouts. His current .584 OPS is significantly lower than last year's .737.

What's Next: Heading to Daytona (6-9) in hopes of making up some ground on Bradenton.
PROSPECT SUMMARY
This Prospect Summary shows our current Twins Top 20 Prospect Rankings and how they performed last week. The Prospect Tracker will be updated on the first of each month throughout the season. Notice that these pages now include stats and splits, as well as past article links, video and more. (Season-long stats will be in parenthesis.)
20.

 

Misael Urbina, OF, Cedar Rapids: 1-17, 2B, 3 BB, 5 K, SB, CS. (.114/.235/.205. .440 OPS) 
19.

 

Jose Rodriguez, OF: Extended Spring Training
18.

 

Tanner Schobel, 2B, Cedar Rapids: 2-20, 3 RBI, R, 2 BB, 10 K, SB. (.200/.245/.320. .565 OPS), played four games at second base (eight total) and committed no errors in 9 chances (one in 32 chances total); has not committed any errors (four chances) at third base this season (three games). 
17.

 

Ronny Henriquez, RHP: On Minnesota's injured list with elbow inflammation.
16.

 

Jordan Balazovic, RHP, St. Paul: 0-0 (0.00 ERA), 2 IP, H, 3 K. (1.41 WHIP, .167 BAA)
15.

 

Matt Canterino, RHP: Still recovering from

 

Tommy John

 

surgery.
14.

 

Noah Miller, SS, Cedar Rapids: 6-21, 4 RBI, 2B, HR, 6 R, 2 BB, 5 K, SB. (.306/.397/.408. .805 OPS), played shortstop in four games (ten total) and committed one error in 13 chances (one error in 38 total chances); played one game (two total) at second base and committed no errors in six chances (nine total).
13.

 

David Festa, RHP, Wichita: 0-1, 4.15 ERA, 4.1 IP, 3 H, 2 ER, 3 BB, 6 K. (0.89 WHIP, .180 BAA)
12.

 

Yasser Mercedes, OF: Extended Spring Training
11.

 

Matt Wallner, OF, St. Paul: 5-17, 2 2B, HR, 4 RBI, 9 BB, 5 K, 5 R. (.295/.466/.591. 1.057 OPS); Minnesota: (.000/.273/.000. .273 OPS)
10.

 

Austin Martin, SS: Martin is still recovering from an arm injury.
9.

 

Louie Varland, RHP, St. Paul: 0-0, 9.64 ERA, 4.2 IP, 7 H, 5 ER, HR, BB, 8 K. (1.34 WHIP, .297 BAA); Minnesota: (1.17 WHIP, .250 BAA)
8.

 

Jose Salas, INF: 2-17, 2 R, 2 BB, 5 K, 2 SB, CS (.122/.200/.122. .322 OPS), played two games at shortstop and had one error in 11 chances (one error in 15 chances in four games total) and two games (four total) at third base with no errors (one total) in two chances (nine total). He played two games (three total) at second base with no errors in five chances (no errors in nine total chances).
7.

 

Connor Prielipp, LHP, Cedar Rapids: Prielipp was placed on the injured list last week. (1.75 WHIP, .294 BAA)
6.

 

Simeon Woods Richardson, RHP, St. Paul: (2.43 WHIP, .412 BAA); Minnesota: 0-0, 4.2 IP, 7 H, 5 ER, HR, 3 BB. (2.14 WHIP, .350 BAA)
5.

 

Edouard Julien, 2B, St. Paul: 1-10, 2B, 3 R, 5 BB 3 K, HBP. (.244/.426/.463. .889 OPS); Minnesota: 4-13, HR, 3 RBI, R, 6 K (.222/.276/.444. .720 OPS)
4.

 

Marco Raya, RHP, Cedar Rapids: 0-0, 6.75 ERA, 2.2 IP, H, 2 ER, 3 BB, 4 K. (1.50 WHIP, .125 BAA)
3.

 

Emmanuel Rodriguez, OF, Cedar Rapids: Rodriguez was placed on the injured list with an abdomen strain.
2.

 

Royce Lewis, SS: Lewis is still recovering from his second ACL surgery. 
1.

 

Brooks Lee, SS, Wichita: 5-26, 2B, HR, RBI, 2 R, 2 BB, 8 K, SB. (.263/.323/.439. .762 OPS), played all six games (14 total) at shortstop and committed two errors in 27 chances (64 total). 
PLAYERS OF THE WEEK (as voted on by fans on Twitter)
PITCHER - Randy Dobnak, St. Paul. Dobnak gets a 4.99 out of 5 rating for his performance in St. Paul this week. In a six-inning start, Dobnak struck out four and allowed only one run on three hits and a walk. It's been a long and windy road for Dobnak since bursting onto the big-league scene in 2019, but hopefully the next twists and turns will lead back to Target Field.
(Dobnak 56%, Aria 28%, Ohl 11%, Luna 5%)
HITTER - Andrew Cossetti, Fort Myers.  There wasn't a lot of competition for this award, but even if there was Cossetti would have won. Cossetti had organizational-highs in hits (10), total bases (21), home runs (3), average (.556), sluggling (1.167) and OPS (1.792) and tied in runs (7) and OBP (.625). Coming into this week, Cossetti was batting .200 with a .696 OPS but if he hits even half as well as he did this past week, the 11th round pick from last year can put himself on the prospect radar.
(Cossetti 75%, Wallner 13%, Rosario 10%, Jake Rucker 2%)
Who would have been your picks? Any early season surprises or disappointments? Ask questions and discuss the Twins prospects in the COMMENTS below.