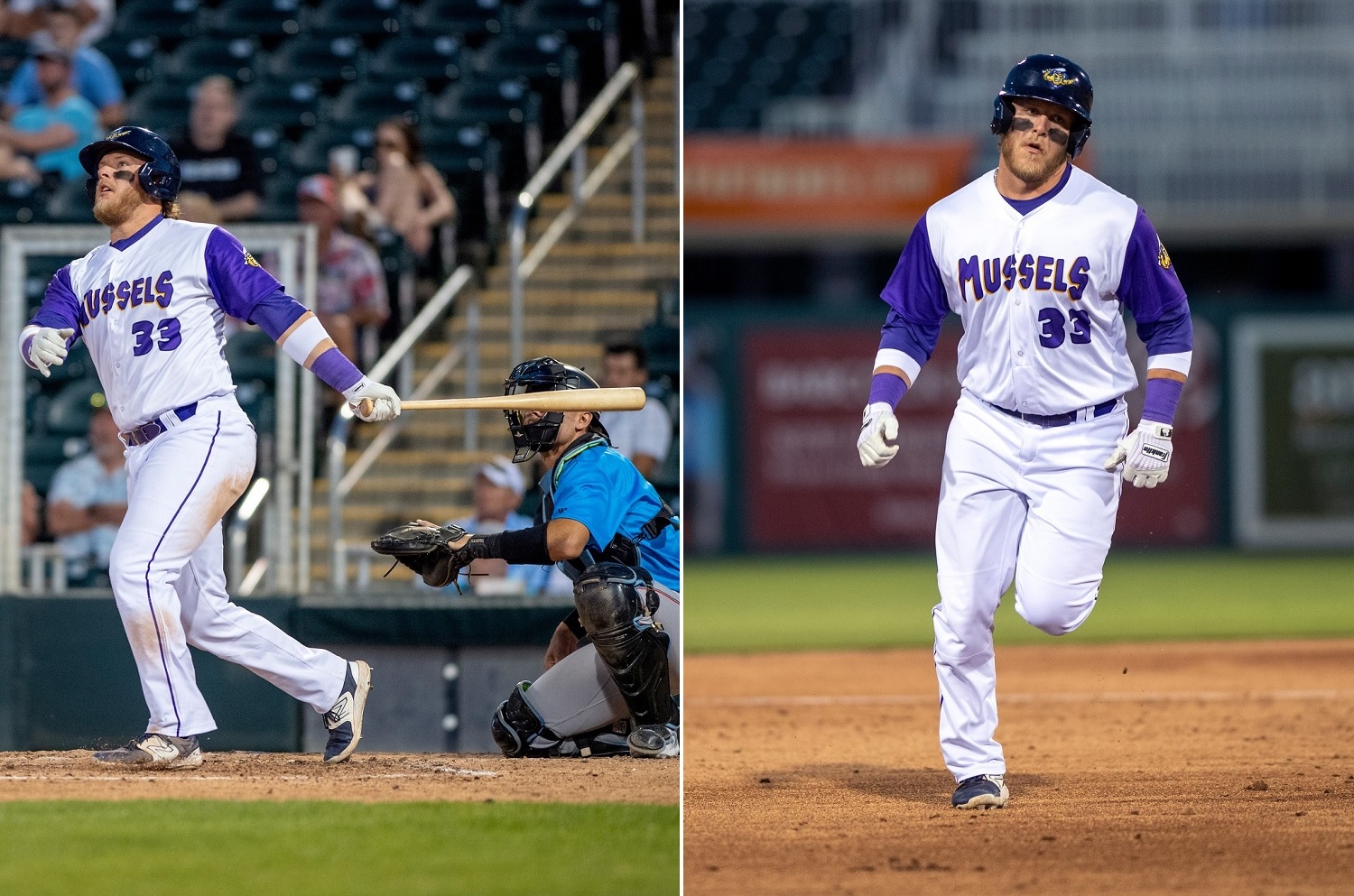 Image courtesy of William Parmeter (photos of Andrew Cossetti)
The Twins offense exploded for 10 runs on Wednesday night at Fenway Park. However, the Saints, Wind Surge, and Kernels offenses really struggled to put things together. The Mighty Mussels had an interesting game. Their bats showed up early, and they took a no-hitter to the seventh inning. Find out how it ended. 
And while it's Twins news, minor-league report readers have to be thrilled for Edouard Julien's play in Boston. And, MLB debuts are always fun. Lefty Brent Headrick was called up on Sunday and made his debut on Wednesday. Joe Ryan pitched the first six innings. Headrick pitched the final three innings to become the 19th player in MLB history to record a three-inning Save in his MLB debut (Saves became a stat in 1969). 
Let's get to today's Minnesota Twins Minor League Report. As always, please feel free to discuss and ask questions. 
TRANSACTIONS
     The Twins activated OF/1B Joey Gallo and optioned OF Kyle Garlick to St. Paul. 
     Cedar Rapids announced that IF Ernie Yake has been transferred back to the Kernels from the Saints.  
SAINTS SENTINEL 
St. Paul 1, Scranton/Wilkes Barre 3 (game called in 8th inning due to weather)
Box Score

The weather isn't expected to be good the rest of the week, but the Saints were able to get through seven innings on Wednesday night. 
Aaron Sanchez started and gave up one run on six hits. In five innings, he walked three and struck out five batters. Josh Winder came on and gave up two runs on one hit in the sixth inning, the big hit being a home run by Billy McKinney. Winder got one out in the seventh inning before Jordan Balazovic came on to get the final two outs of the inning. He got one out in the eighth as well, so two of the three batters he faced, he struck out. He threw 22 pitches, and 16 of them were strikes. 
The Saints were unable to put any sort of rally together. They had six hits and two walks, but they managed just one run. Matt Wallner was the only Saints player to get on more than once. He walked twice (and had an outfield assist). Jorge Polanco went 1-for-4 with a strikeout in his second rehab game in St. Paul. Polanco scored the Saints run on a single by Andrew Bechtold. 
WIND SURGE WISDOM
Wichita 0, Tulsa 4   
Box Score 

Like you see so often at minor-league locations around the country, the Wind Surge played a weekday morning game in Tulsa, allowing kids from local elementary schools to attend a game. While the players all woke up in plenty of time for the game, their bats just didn't. Wichita had five hits in the game and walked three additional times, but they were unable to come up with a needed hit. They were just 0-for-4 with runners in scoring position and left nine on base.  Seth Gray went 1-for-2 and walked twice. 
David Festa made his third start of the season. He gave up two runs on three hits and three walks in 4 1/3 innings. He recorded six strikeouts. In 14 2/3 innings this season, he has 20 strikeouts and a WHIP of just 0.89. 
Osiris German came on and got five outs, only allowing a walk. Hunter McMahon also got five outs, but he gave up two runs on a walk, a hit batter, and a home run. Jordan Brink came on to get the final out. 
In the fourth inning, Alerick Soularie was hit in the hand by a Nick Brasso fastball. He left the game for a pinch runner. It definitely looked painful. 
KERNELS NUGGETS
Cedar Rapids 2, Beloit 5 
Box Score
For Kyle Jones, two of the three innings that he pitched were scoreless innings. Unfortunately, he gave up five runs in the second inning. In three innings, he gave up those five runs on six hits and two walks. 
The bullpen did very well though. Malik Barrington came on and struck out five batters over two scoreless innings. Berlin's Niklas Rimmel gave up three hits, but no runs, over two scoreless innings. Matthew Swain pitched a scoreless frame. 
It was just not a good night for the Kernels hitters. They had seven walks, but they managed just three hits in the game. Jose Salas led the way. He went 1-for-2 with two walks. Kala'i Rosario had a walk and a double. He also had an outfield assist. 
On Tuesday morning, the Kernels had an open house for The Annex, an addition to the stadium that includes more room for batting tunnels, workout equipment and more.  
MUSSEL MATTERS
Fort Myers 7, Jupiter 8  
Box Score 

In his first start of the year, left Develson Aria gave up two runs in three innings, but along with four walks, he also struck out seven batters. On Wednesday night, Aria threw five scoreless, no-hit innings for the Mighty Mussels. The 22-year-old only had four strikeouts, but most important, he had just two walks. 
Aria left the game with a 6-0 lead. Juan Mendez worked a scoreless sixth inning and kept the no-hit bid alive. However, the seventh was not a good inning for the Mussels. Mendez was charged with two runs, and Jhonathan Lavallee came on and before getting the final two outs was charged with three runs over his own. He got one more out in the eighth inning, but in his one inning of work was charged with four runs on three hits and a walk. Zach Veen got the final five outs. He was charged with two runs on three hits. He struck out two batters without walking any hitters. 
On Tuesday night, catcher Andrew Cossetti hit a 108-mph home run. On Wednesday night, he went 3-for-4 with a walk, two runs scored and four RBI. He hit a two-run homer in the fifth inning, his third of the season. It had an exit velocity of 110.9 mph. Cossetti was the Twins 11th round pick in 2022 out of St. Joseph's University in Philadelphia. 
Ricardo Olivar, another catcher, played center field in this game. He is hitting .306 after going 3-for-5 with his third double of the season in this game. Jorel Ortega was 2-for-3 with two walks. Michael Helman played in his second rehab game. He DHd and went 0-for-4 with two strikeouts. He also stole a base which is probably the best indicator that his hamstring is ready to go. 
Aria's fastball early in the game was 93-94. By his third inning, he was sitting 91-92 most of the time. Throws a breaking ball upper-70s to 80 mph.
Mendez's fastball sat between 95 and 98.6 mph. He throws really hard. Also throws a cutter/slider in the low-to-mid 80s. 
TWINS DAILY MINOR LEAGUE PLAYERS OF THE DAY
Pitcher of the Day – Develson Aria (Fort Myers) - 5 IP, 0 H, 0 R, 2 BB, 4 K
Hitter of the Day – Andrew Cossetti (Fort Myers) - 3-for-4, BB, HR(3), 2 R, 4 RBI
PROSPECT SUMMARY
Check out the Prospect Tracker for much more on the new Twins Top 20 prospects after seeing how they did on Wednesday. 

#1 - Brooks Lee (Wichita) - 1-for-4, K, E(1) 
#5 - Edouard Julien (Minnesota) - 3-for-4, HBP, HR(2),  2 R, 2 RBI.
#6 - Simeon Woods Richardson (St. Paul) - Did Not Pitch 
#8 - Jose Salas (Cedar Rapids) - 1-for-2, 2 BB
#11 - Matt Wallner (St. Paul) - 0-for-1, 2 BB
#13 - David Festa (Wichita) - 4.1 IP, 3 H, 2 ER, 3 BB, 6 K (83 pitches, 51 strikes, 61.5%) 
#14 - Noah Miller (Cedar Rapids) - 0-for-4, BB, K 
#16 - Jordan Balazovic (St. Paul) - 1.0 IP, 1 H, 0 R, 0 BB, 2 K.
#18 - Tanner Schobel (Cedar Rapids) - 0-for-4, 3 K.
#20 - Misael Urbina (Cedar Rapids) - 0-for-4, K 
Thursday's Twins Minor League Pitching Probables 
Scranton/Wilkes Barre @ St. Paul (7:05 PM CST) - RHP Jose De Leon (0-0, 4.35 ERA)  
Wichita @ Tulsa (7:05 PM CST) - RHP Travis Adams (1-1, 12.71 ERA)
Cedar Rapids @ Beloit (6:35 PM CST) - RHP Jordan Carr (0-0, 2.25 ERA) 
Jupiter @ Fort Myers (6:00 PM CST) - Cory Lewis (1-1, 4.82) 

Please feel free to ask questions and discuss Wednesday's games!