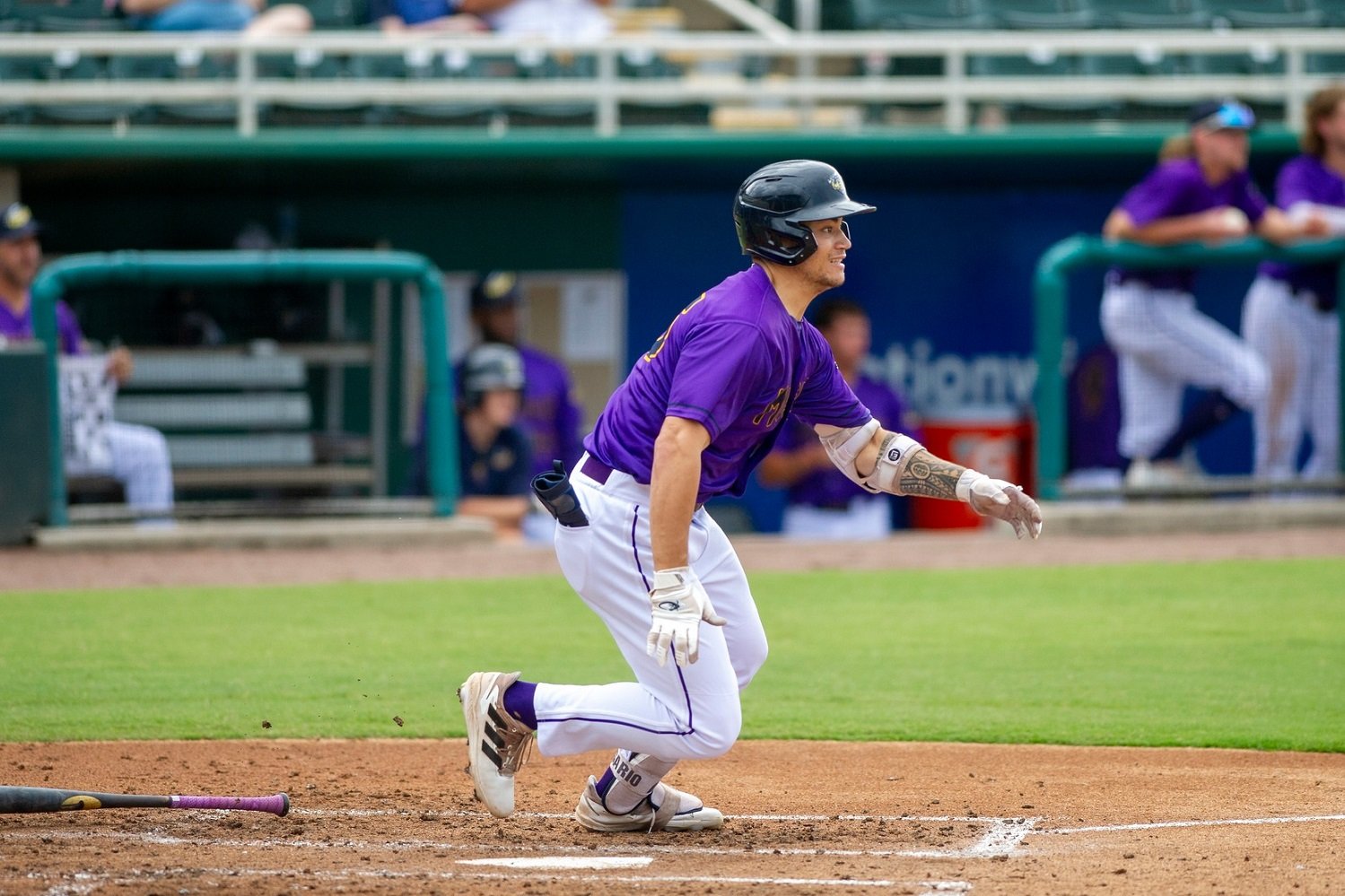 Image courtesy of William Parmeter
Game Results:
Monday, 10/30 | Salt River 4, Glendale 5
Wednesday, 11/1 | Glendale 11, Surprise 2
Thursday, 11/2 | Peoria 5, Glendale 9
Friday, 11/3 | Scottsdale 4, Glendale 2
Sunday, 11/5 | NL Fall Stars 3, AL Fall Stars 6
The Glendale Desert Dogs had a strong week five after hitting a blip the week before, finishing 3-1 in their four games and improving to 12-15 overall. They currently sit fifth in the AFL standings, a game-and-a-half behind Peoria for the final playoff spot, so they'll need some help to continue their season into the Championship weekend.
The Dogs play Peoria on Wednesday, which could give them a big swing in that regard. Two power prospects ended this week tied atop the home run leaderboard with seven, and a pitching prospect showing out in the AFL thus far did so again. Keep reading to see how all your Minnesota Twins prospects performed in the latest week of action!
C Andrew Cossetti
Week: 0-for-3, 3 K (1 game)
Overall: .080/.281/.200 (.481 OPS)
Cossetti only saw action in one game on the week, and it came at the expense of one of his Twins teammates. He replaced Aaron Sabato at first base in the third inning, and finished the game with three strikeouts in his three at-bats. Cossetti continues to have the short end of the stick in the catcher rotation, and with just four games on the week for the Desert Dogs did not get a start.
OF Kala'i Rosario
Week: 5-for-14, 2 R, 2 2B, HR (7), 5 RBI, 3 BB, 4 K (4 games)
Overall: .215/.319/.519 (.838 OPS)
Rosario had a solid week, increasing his batting average by 30 points and OPS by 77 on the season. He collected multiple hits in two of the four games, clubbed a pair of doubles, and launched his league-leading seventh home run (tied with Sabato).
Rosario played right field twice, left field once, and served as the DH in another, batting in the bottom of the Desert Dogs lineup. 
In Wednesday's win he finished 2-for-4 with a double and two RBI. In Thursday's win his two-run homer tied the game at two in the second inning. Then on Friday his two-hit effort included another double, his second stolen base, and another RBI.
His biggest moment of the week, however, came in Saturday's AFL Home Run Derby, where he took the crown by blasting 25 total homers, and winning a swing-off to advance to the final round. He got some pretty sweet new bling for his efforts, too! Congrats Kala'i!
Rosario also got one at-bat in the Fall Stars game, striking out in the seventh inning in the game the AL squad beat the NL one 6-3.
1B Aaron Sabato
Week: 2-for-5, 2 R, 2 HR (7), 2 RBI, 1 BB, 2 K (2 games)
Overall: .215/.320/.585 (.905 OPS)
Sabato started the week with a bang, going 2-for-3 with a pair of home runs in Monday's 5-4 win over Salt River. His first blast gave Glendale a 1-0 lead in the second inning, and his second closed the Rafters lead to 4-3 in the fourth.
Unfortunately, that's about where Sabato's week ended. In Wednesday's game he was removed from the lineup in the fourth inning, and would not appear in a game the rest of the week. He also did not participate in the Home Run Derby, after being named a competitor for it leading up to the Fall Star weekend. 
There has not been any update on his status that I've been able to find, so we'll see if he is able to get back on the field before the end of the AFL season.
LHP Jordan Carr
Week: 3 IP, 2 H, 0 R, 2 BB, 1 K (1 appearance)
Overall: 1-0, 1.50 ERA, 0.89 WHIP, .210 BAA, 3 BB, 9 K (18 IP)
Carr did not get a starting nod for the second week in a row, but was the piggy-backer in Friday's loss to Scottsdale. With the score 3-0 Scorpions to start the fourth inning, Carr had some initial trouble but recovered to finish strong. 
A pair of singles against him led off the frame, before he picked up a big strikeout to gain some momentum. He then got a lineout for the second out, issued a walk to load the bases before a pop-out allowed him to escape the jam. In his final two innings he faced the minimum thanks to a pair of double-play balls after hitting a batter in the fifth, and walking one in the sixth.
Carr continues to appear at the top of the AFL leaderboards in several categories with his strong pitching thus far.
RHP Malik Barrington
Week: 1 IP, 1 H, 1 ER, 2 BB, 1 K (1 appearance)
Overall: 0-0, 10.13 ERA, 1.69 WHIP, .158 BAA, 6 BB, 8 K (5 1/3 IP)
Barrington was the first reliever summoned from the bullpen in Thursday's win over Peoria, pitching the fourth inning with his team in front 3-2. He'd get hit with a blown save as the leadoff man tied it with a home run. He then walked the next two batters before getting the next three to keep the game tied, including a strikeout.
Barrington will look to get back to some clean innings in the final weeks to close out his AFL season.
RHP A.J. Labas
Week: Did not pitch
Overall: 0-0, 0.00 ERA, 1.75 WHIP, .214 BAA, 4 BB, 5 K (4 IP)
For the second week in a row, Labas did not step foot on the rubber for any games. Like Sabato, there has been no reporting on his status, so we'll cross our fingers he is able to return to the mound in the next few weeks!
RHP Ben Ethridge
Week: 1 IP, 1 H, 0 R (1 appearance)
Overall: 1-0, 9.53 ERA, 1.41 WHIP, .280 BAA, 1 BB, 2 K (5 2/3 IP)
Ethridge came into Wednesday's win for the eighth inning, with the score 9-2 in his team's favor. He allowed a leadoff single and then his defense committed an error to make it interesting, but he was able to retire the final three hitters for a scoreless frame.
LHP Zach Veen
Week: 1 IP, 0 H, 0 R (1 appearance)
Overall: 0-0, 5.14 ERA, 1.29 WHIP, .276 BAA, 1 BB, 5 K (7 IP)
Veen preceded Ethridge in Wednesday's win by pitching the seventh inning. He retired all three hitters he faced on just nine pitches, getting a groundout, flyout, and pop-out for the scoreless outing.
Please feel free to ask questions and discuss the prospects playing in the AFL this week!