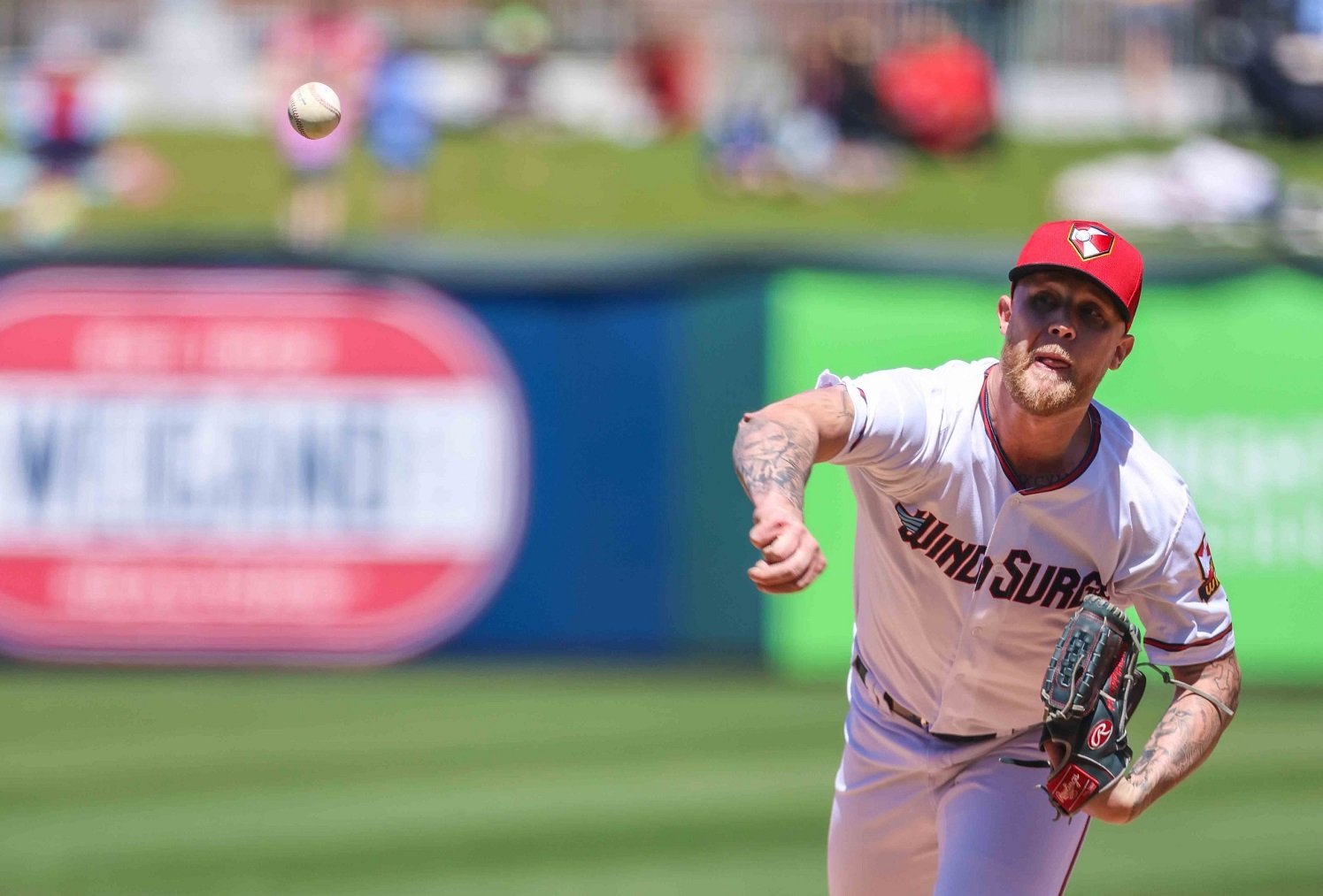 Image courtesy of Ed Bailey, Wichita Wind Surge
Even though we're less than two months into the minor league season, we're getting to the point where sample sizes for prospects start to require more serious discussion in terms of what comes next. Whether the organization decides to reward them with a promotion to the game's next level is very much up in the air. But at the very least, the players are getting the attention of the Twins' top-brass. Here are three players that should be in the conversation when the time comes to adjust the competition level. 
Pierson Ohl (High-A Cedar Rapids Kernels)
After being drafted in the 14th-round of the 2021 draft, Ohl made only one appearance for the Florida complex league. But before that, he was a three-year starter for Grand Canyon University, where he started a total of 35 games. He had a career ERA of 2.99 in college, and while he didn't get the fanfare of some other college arms in that draft class, he showed some strengths that led him to a professional career. In his final collegiate season, Ohl threw just over 100 innings of 2.60 ERA ball and averaged just over a strikeout per inning. Baseball America liked his plus-changeup and usable curveball, saying he was "the textbook example of a pitcher thriving on pitchability to compensate for a below-average fastball."
Without the comfort of a big heater, Ohl had to develop his off-speed as a swing-and-miss offering. He's always been a pitcher with strong control, averaging just 1.3 walks per nine innings at GCU. That has carried over to professional ball, and has even reached new heights in his second year with the Twins Organization (0.69 BB/9). 
All in all, Ohl has a 2.77 ERA with a 25% strikeout rate and just two walks in the season's first month. Yes, that's a small sample, but players with three or more seasons at the collegiate level under their belts tend to progress quickly – or not at all. If Ohl keeps pitching like he has thus far, a promotion to Double-A Wichita is a reasonable jump since he's going to turn 24-years-old later this summer. 
Blayne Enlow (Double-A Wichita Wind Surge)
There was much ballyhoo in January when the Twins placed Enlow on outright waivers. He was the odd man out when the club needed to make room on the 40-man roster for the newly-acquired Oliver Ortega. The logic behind the decision was sound, as the team needed to bring in some competition for their bullpen spots, and Enlow was still easing back into his development after undergoing Tommy John surgery in 2021. 
He had become somewhat of an afterthought on the depth chart, but many were still disappointed to see him cut from the roster. After all, he was drafted in the third round of the 2017 draft and was touted as a first-round talent that only slipped due to signability concerns. The Twins were able to give him an over-slot offer after saving some funds by taking Royce Lewis first overall. They liked Enlow for his lethal curveball and his big-league starter upside coming out of high school.
Now in 2023, he's starting to show flashes of that potential in the upper-minors. Through seven starts with Double-A Wichita, the 24-year-old right-hander has a solid 3.28 ERA, but he's striking out 31.8% of opponents and limiting his walks back to the levels he was showing pre-surgery. He had a rough go results-wise upon returning to the hill last season, especially when it came to control (11.6% walk rate), so it's nice to see him button this up so far in 2023 with just a 6.8% walk rate. 
Now that more time has passed since his procedure, he's showing why fans were worried about another team claiming him when he was outrighted. He's benefitted from adding a pitch to his repertoire – something he has in common with a handful of arms on the Twins' staff.
"Like several other Twins pitchers, he's added a sweeper to the mix this year, giving him five usable offerings and some potential for untapped upside as he gets more comfortable with it," Aaron Gleeman said in a recent piece for The Athletic. "Durability and consistency will be key, but Enlow is still young enough to get back on the prospect map."
Jordan Balazovic (Triple-A St. Paul Saints)
The former fifth-round pick in the 2016 draft has lost some of his luster since being a back-end Top 100 prospect a few years ago. He battled various injuries, most notably a left knee injury that affected his delivery for much of last season. He was then sidelined for the first few weeks of spring training after breaking his jaw in an off-field incident. It was a real punch to the face for the 24-year-old, both figuratively and literally. 
But Balazovic has found a way to put the past behind him, and has had an impressive first month at Triple-A with the Saints. On the year, he has a 2.89 ERA across 18 ⅔ innings pitched. He has made eight appearances (three starts), and seems to be the ideal candidate for the Twins' desire to find a crop of arms to be bulk relievers. If all goes well, he'll get a promotion to the major league club as a low-leverage reliever that can sop up innings if a starter departs early, or if the score gets out of reach for either team. 
And by all accounts, all is going well so far for Balazovic. His strikeout numbers are strong (12.5 K/9) thanks to a very strong 14.6% swinging-strike rate, and he's only allowed one home run, which was his biggest crux in 2022 when he allowed 20 bombs. Scouts praise his curveball as his best offering, and his splitter draws solid marks, as well. If he can limit the damage done against his fastball, he'll take the next step as an MLB-ready arm entering the prime seasons of his career. 
What do you think? Are we going to see any of these three at the next level in 2023? Who else has impressed you enough to deserve a promotion? Let us know what you think in the comment section below.