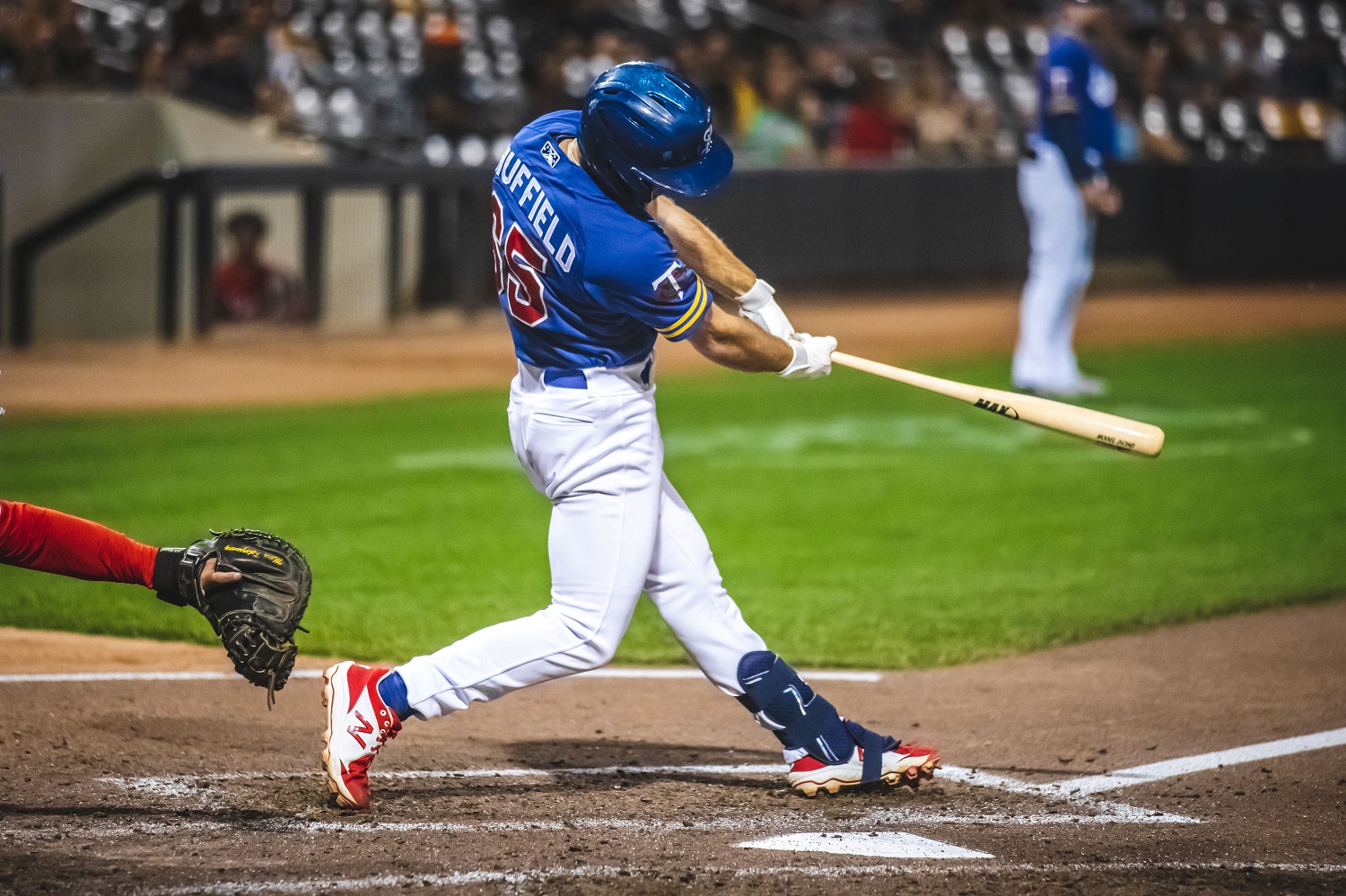 Image courtesy of Rob Thompson, St. Paul Saints
The Twins selected Dalton Shuffield with their tenth-round pick in the 2022 MLB Draft. Because of the shortened COVID year, Shuffield spent five seasons in college, which is likely one reason the Twins were able to sign him for $20,000 and use the savings ($105K) on other draftees. At Texas State University, he hit .327/.395/.501 (.896), but his senior season was his best. 

During the 2022 season, Shuffield played 61 games and posted a 1.113 OPS with 20 doubles, five triples, and 13 home runs. He was named the Sun Belt Conference Player of the Year after leading the conference in hits, runs scored, doubles, and triples. Defensively, he played shortstop over his final four seasons, but he also saw time at third base and in the outfield earlier in his career. He was also picked as a Collegiate Baseball All-American at the season's end. As a 23-year-old, he had the college experience that would make it easier to move through the professional ranks. 
Shuffield comes from a baseball family. His father, Jack, was drafted by Kansas City in the fourth round in 1982. He played three seasons in the Royals organization and topped out at High-A. In over 320 games, he hit .256/.313/.342 (.654) while averaging 12 doubles per season. 

Minnesota assigned the younger Shuffield to the FCL Twins shortly after he signed with the organization. His time in the FCL was limited as he played three games and went 5-for-10 with a home run, four runs, and three walks. As an organization, the Twins needed depth at other levels in the minors, so he moved to High-A. In eight games, he went 7-for-24 (.292 BA) with a home run and two steals. Even with an aggressive promotion, his time in Cedar Rapids was limited because the organization needed him at another level. 

On September 9th, Shuffield made his Triple-A debut, collecting hits in his first two games. Since joining the Saints, he's played in 11 games and posted a six-game hitting streak. In a small sample size, he has hit .297/.350/.595 (.945) with three doubles, a triple, and two home runs. At Triple-A, he was over three years younger than the average age of the competition, making his numbers even more impressive. 
The Twins followed an uncharacteristic development path with some of the club's 2022 draft picks. Brooks Lee, the team's first round pick, was promoted to Double-A before the season's end. He's already been impacting the Wind Surge during the playoffs. This also isn't the first time this regime has been aggressive with a college prospect. Last season, the Twins drafted Ernie Yake in the tenth-round and he finished the season at Triple-A. Minnesota has also done well with senior signs like Brian Dozier, Mitch Garver, and Trevor Hildenberger.

Shuffield likely isn't going to appear on any top prospect lists, but he is already providing above-average value for a tenth-round pick. Players like Shuffield can provide organizational depth, primarily if he can provide defensive flexibility. Since joining the Twins, he has spent defensive time at both middle infield positions, with most of his time coming at second base. 

Even with his strong performance, there isn't a guarantee that he starts the 2023 season in the high minors. Shuffield skipped Low-A Ft. Myers, and it might be best for his development to start next season in the lower minors or wherever the organization needs a utility player. His ceiling might be a utility player at the big league level, but Shuffield has value moving forward.

What impresses you about Shuffield's first professional season? Leave a COMMENT and start the discussion.