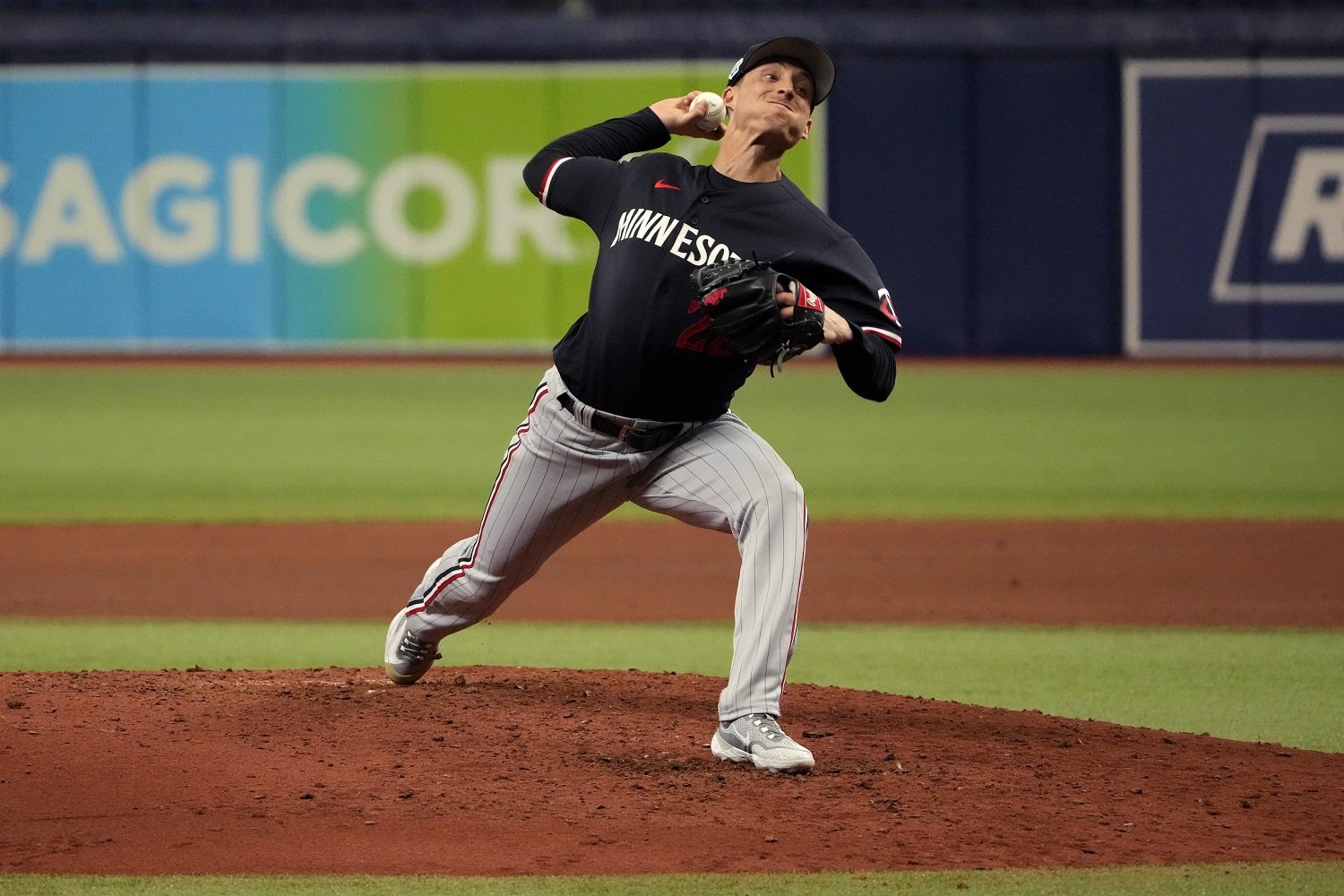 Image courtesy of Dave Nelson-USA TODAY Sports
The Twins drafted Griffin Jax in the third round of the 2016 MLB Draft from the United States Air Force Academy. He spent his first five professional seasons as a starter in the organization and made his way to the big-league level in that role. Entering last season, Minnesota shifted him to a bullpen role, and he had a breakout campaign. In 65 appearances (72 1/3 innings), he posted a 3.36 ERA with a 1.05 WHIP and a 78-to-20 strikeout-to-walk ratio. Outside of Jhoan Duran, he was the team's most reliable reliever, and the Twins were hoping for a similar performance in 2023. 
Unfortunately, his 2023 season is not off to an optimal start. In his first 23 appearances (21 1/3 innings), he has allowed 12 earned runs on 25 hits with a 25-to-9 strikeout-to-walk ratio. His numbers don't tell the whole story of how he has impacted the Twins this season. His -0.83 WPA is more than double any other reliever on the Twins, including Emilio Pagan. There is a small sample size involved with any relievers this early in the season, but Jax has the 11th-lowest WPA among AL relievers. So, what is wrong with Jax?
Lacking Swings and Misses
Relievers must miss bats to be effective, and Jax hasn't been effective at avoiding contact in 2023. His Whiff% ranked in the 77th percentile during 2022, and he's seen a drop to a 54 Whiff%. His strikeout rate has stayed the same (9.7 K/9), but batters continue to make consistent contact resulting in 10.5 H/9. Last season, Jax's sweeper and changeup resulted in Whiff% greater than 30%. In 2023, his only pitch to have a Whiff% higher than 30 is his sinker, but he's only thrown it nine times. Jax will have to increase his ability to miss bats to stop his struggles.  
Change in Pitch Mix
One way Jax can increase his Whiff % is by reexamining his pitch mix. During spring training, Jax told reporters he was looking for ways to improve the numbers he compiled in the 2022 season. He was one of multiple Twins pitchers to go to Driveline and work on his pitching repertoire. His most noticeable change is using his sweeper as a primary pitch. Last season, he threw his sweeper 31.1% of the time, and batters posted a .260 SLG when facing that pitch. In 2023, he has thrown his sweeper over 60% of the time, and opponent's slugging percentage has dropped by over 30 points. That is a solid improvement, but his other pitches are where the damage is done. 
Batters have pounded his fastball in 2023 with a .417 BA and a .583 SLG. Those numbers might seem extreme, but he's decreased his fastball usage by over 22%, allowing a similar slugging percentage to 2022. His changeup is getting hit significantly harder this season, even though he has cut its usage in half. Last season, batters posted a .250 SLG versus his changeup, which has ballooned to .700 in 2023. It will be interesting to monitor the changes in his pitch mix as he tries to get back on track. 
Bad Luck
Some of Jax's poor performance might be tied to bad luck and a small sample size. His .391 BABIP is over 100 points higher than his career average. Only eight AL relievers have a higher BABIP, so bad luck might be associated with the balls put in play against Jax. FIP is another area that can be tied to pitchers underperforming. Jax has a 5.06 ERA in his first 23 appearances in 2023, but his 2.20 FIP points to a potential rebound. There have been games where Jax hasn't done himself any favors when it comes to falling behind, but signs point to bad luck. 
Overall, the Twins need Jax to get back on track to add another layer to the bullpen. Minnesota's lack of offensive production has resulted in many close games where relievers have no margin for error. Relievers can have ups and downs in any season, and the Twins need to see Jax take a step in the right direction. 
What do you think about Jax's performance in 2023? Leave a COMMENT and start the discussion.