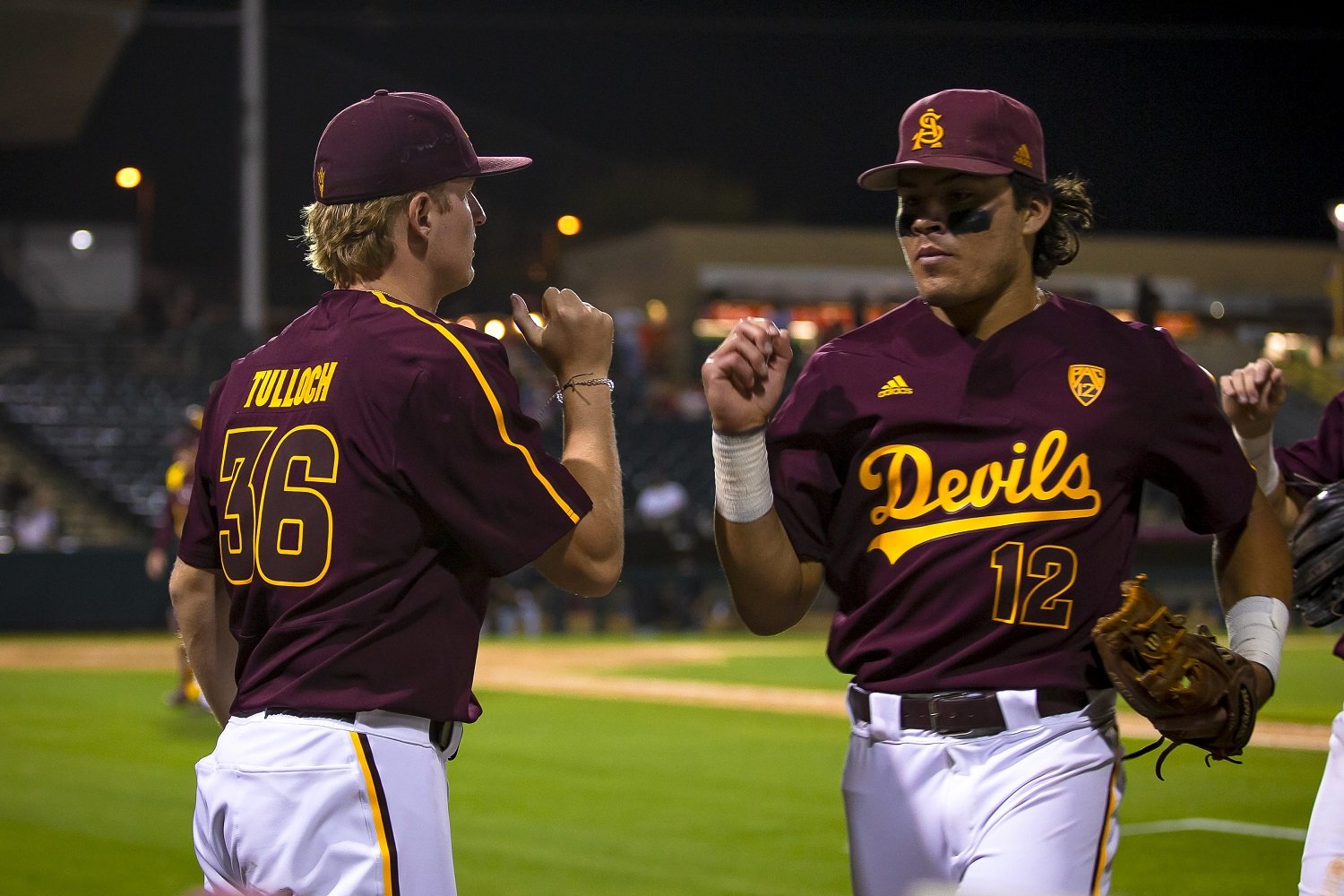 Image courtesy of Monica D. Spencer/The Republic / USA TODAY NETWORK
Nate Baez began starting in 2021 for the Sun Devils, and then drew starts in 55 of 57 games last season. He slashed .319/.403/.562 last season, and while the home run total jumped just from eight to ten, Baez pushed his doubles total from three to 21 last season. He's seen as a decent receiver, and he has played some second base as well. Minnesota would certainly love to see him stick behind the dish, and catcher depth is something the system can use.
Baez took the time to answer a few questions following his selection by the Twins.
Twins Daily: Having worked a little on the infield and corner outfield, the Twins drafted you as a catcher and that's probably where you'd like to stick. What is your process and game behind the plate? What are some of your biggest strengths?
Nate Baez: My game behind the plate is to do everything I can to help my pitchers succeed. Their success is my success. My biggest strengths behind the plate are my presence and toughness. Whatever I do I like to go all out and catching is no different. 
TD: With electronic strike zones still at least a few years away, what would you say about your game as a framer and receiver? Minnesota has been influential when it comes to a knee-down stance, is there something that makes you most comfortable behind the dish?
NB: Framing and receiving are the better part of my game. Coming from the infield, the quickness of my hands has helped me to transition and have success early. I like doing a little of everything when it comes to what stance I'm in. The situation will dictate it but there are times when one knee is best and times when it's not. I am open to everything. 
TD: At the plate, it seems like you tapped into more power this season. Was that intentional? How did you go about tweaking your swing?
NB: I am always looking to add more power to my swing. I just need to do it with less swing and miss. I worked a lot on pitch selection and plate discipline which helped me to hit better overall, and in turn, added to my power. I didn't really tweak my swing. I tweak my mentality and game plan when I hit.
TD: What has been your process in the box? You've done a great job limiting swing and miss issues. Are you a big video or analytics guy?
NB: This past year I worked completely off of feel. I never really looked at video or analytics. I know how my swing works and what it needs to feel like to be good. I do like watching video, It just wasn't really something I did this past year. 
TD: What do you know about the Minnesota Twins? Have you ever been to Target Field?
NB: I do not know much about the Twins, but I do know that they have a very good organization with great development and I'm honored to be a part of it. Never been to Target Field, or even Minnesota.
TD: If there's something you want Twins Territory to know about you as a person or player, what would it be?
NB: I'm just a kid from Tucson, Arizona, having fun, playing the game I love.