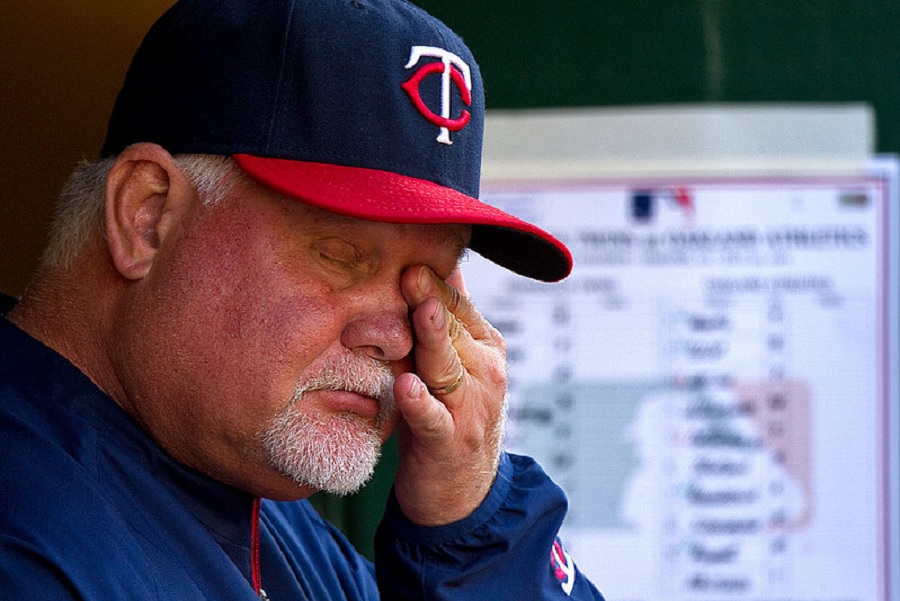 How do you measure attitude and how does attitude prevent a team from winning, and what is that "attitude" thing anyway. Isn't that the thing that your parents and teachers talked about when you were growing up, or something else. Well, as far as baseball goes, I will let former Twins' player and Texas Rangers' manager Ron Washington describe it in this 30 second video. To borrow Washington's words, a winning attitude is when you "expect to win" and "do everything you need to do to win". Arguably, the Minnesota Twins in the last couple of decades have had as a motto (at their best,) do all you can do (aka bust your tail) and you win some, you lose some. Those were exactly the words of a smiling Michael Cudduyer at the Twins' dugout, on September 30, 2008, after the Twins lost game 163 to the White Sox. Part of the reason they lost was that Cuddyer did not do what he needed to do to win, colliding with and forcing the ball out of AJ Pierzynski's glove to score.
And giving it your all and being "good enough" has been the Twins' motto. And the majority of fans were OK with "good enough" during the '00s, winning the title of the weakest division in baseball about half of the time and then going belly up during the postseason when they played the AL East. And if the fans are happy with "good enough", and that is more than "good enough" as far as revenue goes, and you get a brand new ballpark and brand new season ticket sales, why even bother to think about fixing it? That was the Twins' past decade of "glory", in half a paragraph. And then the glory went south.
What happened? Well, the Twins did not even do all they could do on the field and add that to a culture of favoritism in the clubhouse, where it did not matter to some whether the veterans did all they could do or not. But when people outside the inner circle opened their mouths, they were thrown under the proverbial bus. Add that to not expecting to win as a starting point, and you get 99 + 96 + 96 + 92. And most importantly, there has been no reason for even the most fervent Twins fans to believe that this team could win. Thus a drop in ticket sales, thus a drop in revenue, thus...
To win, a team needs a leader who expects to win and make sure that his players and coaches do everything they need to do to win. Here was the most common expression of the previous Twins' leader during games the last several seasons (hanging on to the dugout railing optional) :
Is this the expression someone who is doing all he needed to do to win and lead by example. Is this the expression of someone who expects his team to win? Or is this the expression of someone who looks defeated and solemn? Rhetorical question.
There was not a more obvious time for me to see that the Twins players were not only not doing what they needed to do, but not even all they could do, and that this was OK with the manager and the coaches, than this particular game last spring training. Before I went down there last season, I did have hopes that with the changes they made in the rotation, plus some players improving, they had a chance to break even and have an 81-81 record. But after what I saw, I predicted that the Twins would end the 2014 season with a 70-92 record.
That is the past, and tomorrow I am landing at Fort Myers, for a week-long stay and I'll be able to see how things are this year, but I have a feeling that they are heading in the right direction.Getting rid of their manager and pitching coach and replacing them with good baseball people and a Hall-of-Famer as manager will add about 10 wins this year. They also brought back Torii Hunter. It did not make much sense at the time, and I think that the guy is a p---k, plus he left the Twins' in free agency just for money and he added insult to the injury by signing with the Twins biggest division rival in his second free agency, but there might yet be something positive. As I indicated here, Hunter can help the young players (who were tainted by the Twins' clubhouse attitude, it is no secret) realize that they have to at least give it their all and lead by example.
I have seen signs from Molitor that he is leading his players toward doing what they need to do. First example was the no-cell phone policy during game days, which was awful last season. Players need to focus in the game and not on their social media during game day. Second, he benched Aaron Hicks during a game for losing track of outs, a gesture that had not happened during a Twins' spring training since 1965, when Sam Mele, the Twins' manager, took Zoilo Versalles(the eventual 1965 MVP) out of the lineup because of lack of effort. And you know what the Twins did in 1965. Also, after a couple of mishaps on short fly balls and lack of communication between infielders and outfielders, Molitor had extra drills with the whole team for those circumstances. In previous years, veterans and the inner circle would be excluded and only few would participate in similar drills.
There are a lot of positive signs that a realization has occurred that the team's attitude needs to change to win, and actual steps are being taken in this direction. I will know more about how things will play out in this department in ten days or so, after I return from Fort Myers, having seen the team play this spring. Last year I predicted that 70-92, based on what I saw, I hope that this year, it is the reverse...