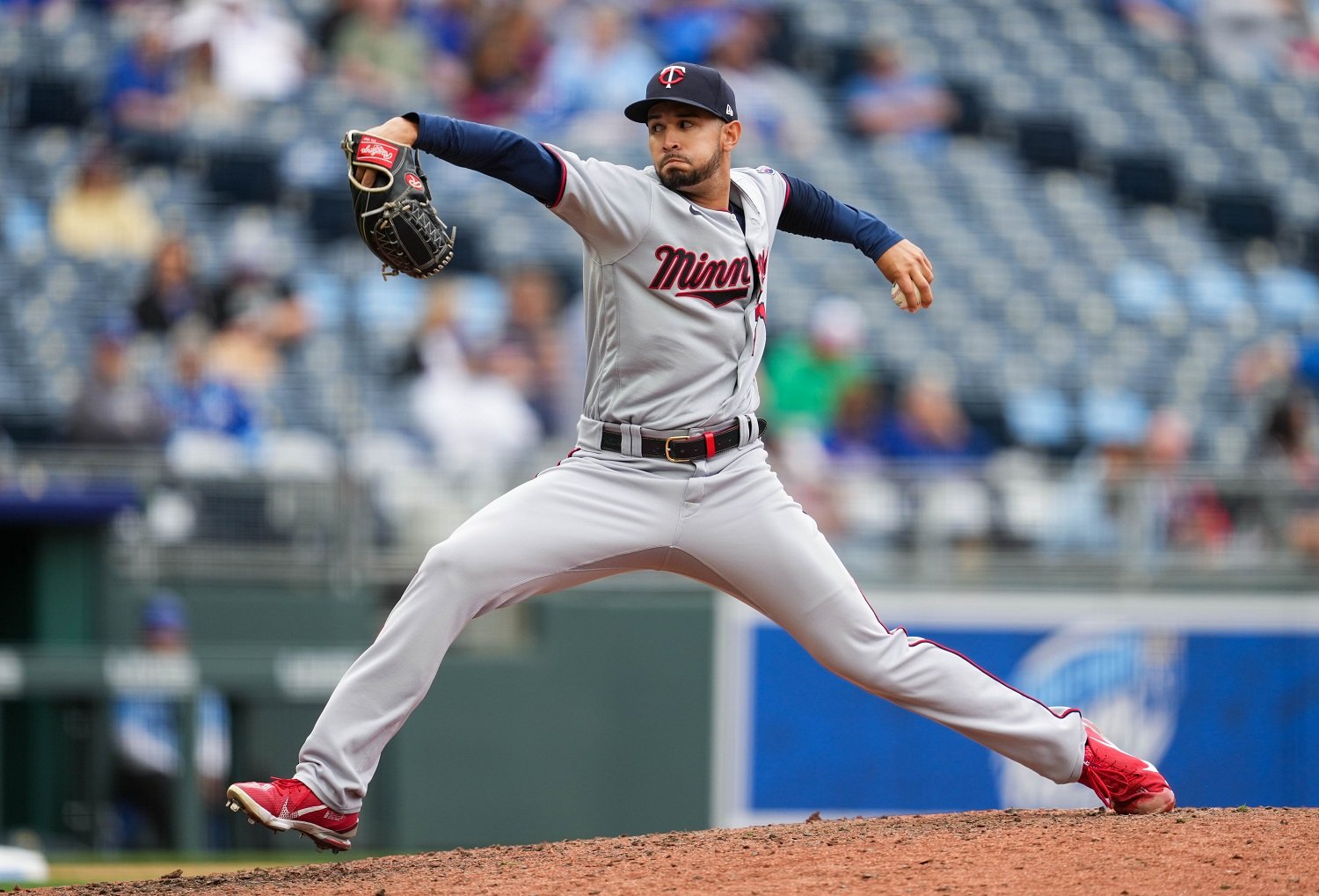 Image courtesy of Jay Biggerstaff-USA TODAY Sports
The Twins have a mess of established players not answering the bell from Carlos Correa in the lineup to Griffin Jax out of the bullpen. This has shifted some of the pressure onto the less established members of the team to pick up the slack. Luckily, a few of them have.
Jovani Morán
Morán has been serving as the bullpen's sole lefty since Caleb Thielbar hit the IL, and it appears we have a ways to go until he's ready to return. Morán got off to a dreadful start to the season, with his patented walk issues on display and allowing a few uncharacteristic home runs. When the Twins have needed him most, he's stepped up in what has been a leaky bullpen.
The most encouraging piece here is his walk rate in May being about a third of his career rate in the MLB. It's likely wishful thinking to believe this is some new norm for the inaccurate left-hander, but any reduction would be a welcome development. His command issues reared their head in Tuesday's game when he walked a hitter with bases loaded, but also flashed the stuff to nearly escape after entering the situation with no outs. The same goes for Thursday when he walked the first hitter of the inning and promptly struck out the side. Morán's rocky start wiped many fans' memories of his 2022 season in which he posted a 2.21 ERA in 40+ innings. If he can limit the walks just a bit, he has the ability to help fortify the bullpen during the summer months. 
Willi Castro
Willi's bar isn't set very high, but he's definitely flashing the skills that the Twins saw when they named him the super-utility man coming out of spring training. Bouncing around the outfield and occasionally filling in at third base, Castro has posted a plenty respectable 89 wRC+. He's posted a .711 OPS in May and more recently a .757 OPS since May 12. His .674 OPS on the season is just a touch behind Carlos Correa, and his 0.3 Wins Above Replacement is tied despite appearing in 8 fewer games.
Castro's recent success has largely been the result of a batting average on balls in play that would make the Cleveland Guardians blush. The fact of the matter is he's doing more than enough offensively relative to where he's at in the order regardless of how. There aren't many other hitters across the Twins lineup that this can be said about. A continued hot streak may just keep Castro around deep into the summer.
De León sports an unsightly 5.79 ERA, but the bad news stops there. De León was added to the roster to fill a long relief role but in a very small sample, looks like he should get a chance to develop into more. Averaging near 95 mph on the fastball so far, De León has struck out nearly 47% of the hitters he's faced. His fastball has allowed a .226 xWOBA, and the changeup and slider have generated whiff rates above 40% apiece. This explains why every existing underlying stat says he should be dominating.
De León isn't a young up-and-comer at 30 years old, but as we've seen with Brock Stewart, relievers can find a switch to flip even into their 30s. The Twins will likely be a bit less inclined to send him down based on the raw stuff he's flashed, as doing so would expose him to waivers, and even in a small sample size, he's shown enough to catch the eyes of other teams across the league. We'll likely see De León get a chance to play himself into or out of a legitimate bullpen role, though for now, we can expect him to pitch in low leverage.
Hopefully, some of the big dogs get going, but some of these names continuing to do what they've done and possibly even taking it a step further can help. Are there any other Twins trending up under the radar? Let us know below!