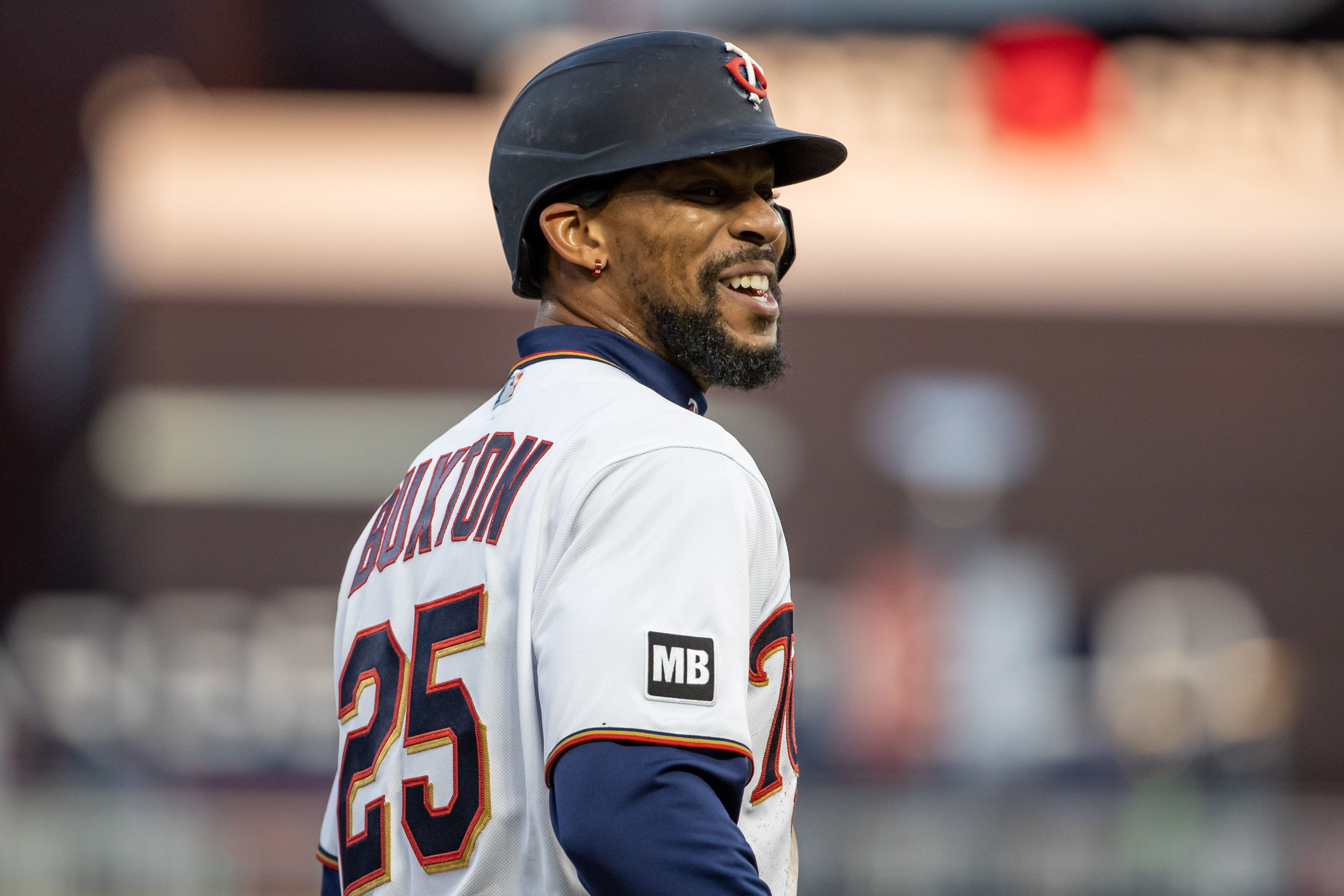 Image courtesy of Jordan Johnson, USA TODAY Sports
Considerations: 
Expectations
Projections
Results
Injury 
Leverage/Value
*MINIMUM 200 PLATE APPEARANCES TO QUALIFY*
ALEX KIRILLOFF
2021: 59 games, .251/.299/.423 (98 OPS+), 8 HR, 11 2B, 3B, 34 RBI, 22% K, 6% BB
Kirilloff went 0-for-15 to start his MLB career, with hard-hit outs dominating his results. Once a few dropped in, they didn't stop. The rookie had an excellent 15-game stretch where he hit .306/.343/.581 (.924) with four homers and five doubles, separated by an IL stint. 
Even with a torn wrist ligament, Kirilloff posted some of the gaudiest Statcast numbers in the league. He slugged just .423 on the season, but that number should've been over 100 points higher based on the quality of contact. His season ultimately ended in July when he chose to undergo surgery. 
It was a disappointing finish to a promising debut. Assuming his wrist heals, Kirilloff figures to man a spot in the heart of the Twins' order in 2022 and beyond. He also looked strong at first base and held his own in the outfield. 
GRADE: B
BYRON BUXTON
2021: 61 G, .306/.358/.647 (171 OPS+), 19 HR, 23 2B, 32 RBI, 9/10 SB, 24% K, 5% BB
Buxton's season was nothing short of incredible. It was also incredibly short. Buxton appeared in 61 games, missing extended time with a hip injury and a broken hand. It was his brightest flash of upside, maintaining massive power and blazing speed and adding it to the best centerfield defense in the world. 
Buxton had one of the best months in Twins history in an MVP April and looked on his way to the season-long award. The complete package of a superstar was on display. Buxton recorded 42 extra-base hits and 4.5 bWAR in just 254 plate appearances. 
Therein lies the excellence and frustration with Buxton, whose future could depend on what the Twins decide to do this offseason. Will they extend, hold, or trade their most talented (and arguably best) young star since Joe Mauer?
GRADE: A-
MAX KEPLER
2021: 121 G, .211/.306/.413 (98 OPS+), 19 HR, 21 2B, 3B, 54 RBI, 10/10 SB, 20% K, 11% BB
Kepler reverted to his offensive profile from the first three years of his career, which is a less-than-solid, low-OBP, low-AVG contributor. Then and now, Kepler is a borderline asset because of his superb defense in right field. Kepler ranked second to only Manuel Margot in Outs Above Average (8) among right-fielders. 
But how much is that defense worth? It's a tricky question. This version of Kepler is a below-average hitter and especially below-average for a right-fielder. He limits a lineup that carried more potential than results over the last two years. 
Kepler was 19% better than the league in his last 182 games heading into the season, so maybe 2021 was just a down year. Or perhaps it was Kepler coming back to earth. The Twins have a decision to make on him this winter, with a potential $25.25 million owed through 2024. 
GRADE: C-
LUIS ARRAEZ
2021: 121 G, .294/.357/.376 (105 OPS+), 2 HR, 17 2B, 6 3B, 42 RBI, 10% K, 9% BB
Arraez worked through a knee issue and hit his customary .317 with a .380 On-Base Percentage over his first 326 plate appearances. Rumblings of a potential batting title loomed until Arraez hit a snag at the end. 
The 24-year-old throwback hit just .241/.291/.302 (.593) over his final 33 games. This stretch sapped his last line, making year three look more mediocre than anything. Arraez may have been hurting, worn down, or a mixture of both, but his streakiness is a significant development. 
When he's not roping singles or walking, it's hard to justify keeping Arraez in the lineup. He can be a liability defensively with very little power. Arraez is under contract through 2025 but could be surprising trade bait this winter. 
GRADE: B-
TREVOR LARNACH
2021: 79 games, .223/.322/.350 (88 OPS+), 7 HR, 12 2B, 28 RBI, 35% K, 10% BB
It was a tale of two seasons for Larnach, who the Twins called up to provide left-handed spank when Kirilloff went down. Larnach immediately went 2-for-15 out of the gate and looked understandably over his skis. 
Not so fast: a 3-for-5 game against Oakland kicked off an excellent stretch for the rookie. From mid-May to early July, Larnach slashed .274/.365/.452 (.817) with seven homers and seven doubles. He was controlling the strike zone like a veteran while hitting for power. 
But this game can be cruel. Pitchers responded and started dicing Larnach up, beating him regularly with offspeed before gradually blowing fastballs by him. Larnach's season turned. He went 13-for-88 (.148) with 43 strikeouts and 11 walks over his final 27 games. 
The future remains bright for Larnach, but he may need some extended time in St. Paul to get things together at the plate. 
GRADE: C+
BRENT ROOKER
2021: 58 games, .201/.291/.397 (89 OPS+), 9 HR, 10 2B, 16 RBI, 33% K, 7% BB
The primary beneficiary of the Nelson Cruz trade, Rooker was recalled on July 23rd and looked to be taking advantage of a new opportunity. He hit .281/.361/.625 (.986) with three homers in 32 at-bats after the promotion. 
Rooker started 37 of the Twins' next 55 games but hit just .203/.306/.375 with 50 strikeouts and 11 walks in 147 plate appearances. Rooker hit the ball hard and consistently found the barrel but struggled to make contact at times and didn't walk much to make up for it.
With an open DH spot on the 2022 team, the Twins may benefit from giving Rooker more chances to tap into his immense power profile. For now, it's still potential. 
GRADE: D+
NELSON CRUZ
2021: 85 G, .294/.370/.537 (148 OPS+), 19 HR, 13 2B, 3B, 50 RBI, 18% K, 10% BB
Cruz capped off his unbelievable tenure in Minnesota with another terrific 85 games. He was once again the Twins' best hitter and remained a terrifying power bat until he was traded before the deadline. 
On top of his production, Cruz allowed the Twins to acquire Joe Ryan and Drew Strotman from Tampa Bay, with Ryan looking like a staple in the rotation for years to come. 
Cruz hit .304/.386/.598 with 76 home runs in 258 games as a Twin, solidifying himself as one of the great signings in team history. The impact he had on the organization will be felt for much longer than he spent playing for them. 
GRADE: A
WILLIANS ASTUDILLO
2021: 72 games, .236/.259/.375, 7 HR, 8 2B, 21 RBI, 6% K, 1% BB
Astudillo entered 2021 as basically a career league-average hitter in 95 games. He hit .295 with a 99 OPS+ in three seasons, with the ability to catch, play first and third base, and even pitch. 
The beloved utilityman crashed at the plate in 2021. Astudillo's .634 OPS placed him more than 25% below MLB average. He appeared as a catcher in only nine games, illustrating the Twins' faith in him behind the plate. 
Astudillo added some value with four electric innings out of the bullpen (2.25 ERA), but it seems his time in Minnesota could be over. He's owed an estimated $1.2 million in his first year of arbitration.
GRADE: D-
OTHER GRADES:
INFIELD
STARTING PITCHERS
RELIEF PITCHERS... COMING SOON!
MORE FROM TWINS DAILY
— Order the Offseason Handbook
— Latest Twins coverage from our writers
— Recent Twins discussion in our forums
— Follow Twins Daily via Twitter, Facebook or email