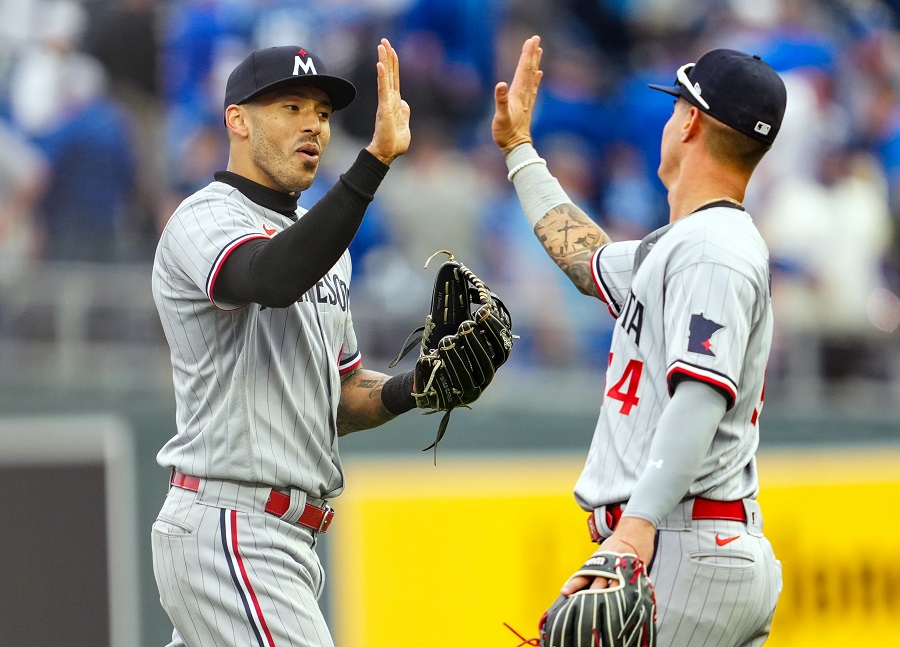 Image courtesy of Jay Biggerstaff-USA TODAY Sports
A taut, well-played road win can make any baseball fan feel good about their team. For Twins fan and chronic overreactor Shane Holman, it made him feel bulletproof.
"162-0. Mark it," said the 51-year-old idiot.
Holman, who vowed to never watch another Twins game when the 1991 team started 2-9, claims he's not overestimating a small sample size.
"This team is special. Pitchers picked up the offense today. Hitters will pick them up next time. Let's play," said the starry-eyed dope, who works as a healthcare administrator in Eden Prairie.
The Twins won Thursday's opener 2-0 over Kansas City. They play again on Saturday.
"This is the best baseball team America, and the world, has ever seen," said the foolish man. "If I could fly to Las Vegas tonight I'd bet the farm on a title." Holman does not own a farm, and his wife Katherine would oppose any such financial risk, per multiple sources close to the marriage.
Holman was asked if he'd be similarly distraught if the Twins had been on the losing end of Thursday's tilt.
"I like to think I'm a little more level-headed than that," said Holman, who has punched a hole in the basement drywall after the last seven Twins opening game losses. "We've got a good thing going here, and I know I'm not the only one who thinks so."
With an entire day before game two on Saturday, Holman says the extra 24 hours won't cause him to reassess his unreasonable, childlike stance.
"Undefeated. Repeat after me: U-N-D-E-F-E-A-T-E-D," said the beautiful clown. "Today it's Kansas City. Tomorrow it's the world. The Yankees? Trash. Houston. Double trash. The Dodgers? Garbage trash. Sucks to suck. Go Twins."