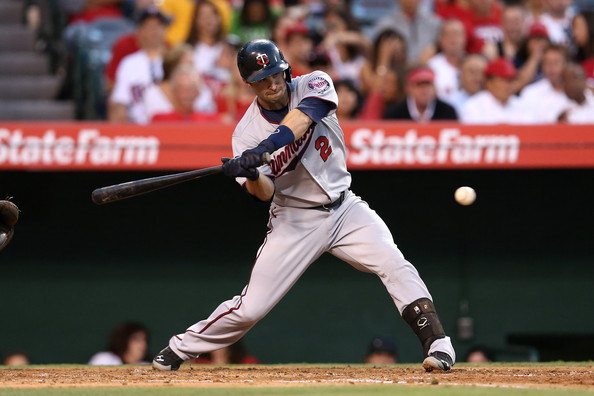 The 2014 season was a breakout year for Brian Dozier. He seemed to be maturing as a hitter right before the eyes of Twins fans. He combined power and speed to be the first Twins player in a decade to record a 20 HR-20 steal season. However, there was more behind his season than the numbers that will appear on the back of next year's trading card.
Dozier finished third in all of baseball in the amount of pitches seen in 2014. The only American League player to finish ahead of him was the presumed MVP Mike Trout. He saw 115 more pitches than the next closest man on the list and Dozier was the only member of the Twins to finish in the top 40 in the entire American League.
Only one other Twins player has finished in the top 10 in pitches seen since 2002. Joe Mauer barely squeaked into the 10th spot in the 2012 season by finishing seven pitches ahead of the Brewers Rickie Weeks. Mauer actually saw more pitches per plate appearance that season (4.32 P/PA) than Dozier did in 2014 (4.18 P/PA).
So what was Dozier able to accomplish with all of these extra pitches?
By seasons end, Dozier had accumulated the third most in walks (89 base on balls) in the American League. He recorded six more walks than Trout who finished ahead of him in pitches seen. Carlos Santana finished one spot behind Dozier in the pitches seen standings but he was able to draw 24 more walks. Jose Bautista finished in 10th place in pitches seen and he drew 104 walks.
All of these extra pitches seen resulted in more walks and Dozier ended up scoring the second most runs in the American League. He was only three runs scored behind Trout and he was 11 ahead of a third place tie between Bautista and Miguel Cabrera.
Many of the extra at-bats Dozier was able to accumulate in 2014 were because of his placement near the top of the Twins batting order. In only five of his 155 games started, he didn't bat out of the lead-off or number two spot in the batting order. It will be interesting to see if new manager Paul Molitor continues to utilize Dozier near the top of the line-up.
It would be great to see Dozier make some strides to increase some of his other offense numbers. He's a career .241 hitter but he got on base over 34% of the time last year. If he can continue to see a ton of pitches, drawing walks and scoring runs, there is no reason to think Dozier won't continue to master the art of seeing pitches.
For more from Cody Christie make sure to follow him on Twitter @NoDakTwinsFan and to read his other work at http://www.NoDakTwinsFan.com