"We've got to take some pressure off our starters"
---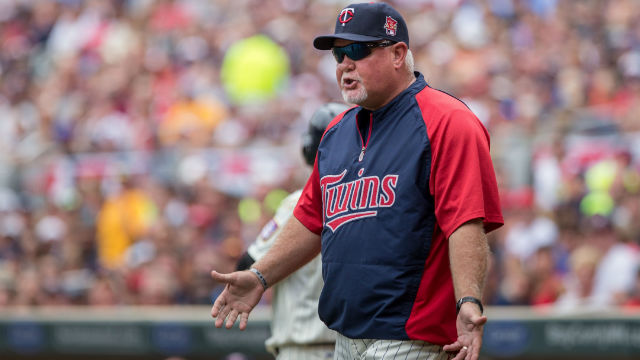 As reported by Jackson Alexander of MLB.com, Ron Gardenhire was quoted Thursday as stating that "we've got to take some pressure off our starters." While it's clear that the Twins' 28th ranked rotation (dead last in August) could use some help, it seems shortsighted to call out the offense, which despite two quiet nights at the plate has led baseball in most major categories this month.
The Twins' offense has been a force in August, leading baseball in runs scored, batting average, OBP, wOBA and wRC+. Using a relatively consistent lineup for the majority of the month, the Twins seem to have found their identity on offense; and even more promising is the fact that they did it using mainly players that most would consider key pieces of the next Twins playoff team.
Ultimately, fans across Twins territory demand more from a team 15 games out of first and flirting with its fourth straight 90-loss season, and rightfully so. But the question should be asked, why is the manager placing blame on the offense and not on his struggling rotation and a suddenly spotty bullpen?
Most would agree that the rotation is in a difficult position, with Phil Hughes and Kyle Gibson being the only points of reliability. Trevor May hasn't been able to translate the improved command he showed at AAA into major league success, and Tommy Milone has seen an expected dropoff in his early inflated numbers after moving from the A's 17th-ranked defense to the Twins' 26th-ranked squad. Nolasco remains an enigma, as the team needing a few more starts to truly feel out whether he is healthy or whether he may simply be struggling with AL offenses.
The Twins will likely have to ride out the rotation in its current form for the remainder of the season to gauge where it stands going into 2015, but Gardenhire isn't doing the team any favors misrepresenting them as merely needing run support to be successful. Baseball is a game plagued by small sample sizes, and it feels as if the skipper was quick to jump on two games of quiet bats rather than challenge his struggling arms to step up against the division leaders.