Sunday Walk-Off Win Reaction
---
Wow, what a game yesterday! There is nothing better than seeing a walk-off win in absolute monster fashion. Winning is pretty fun, eh? Here are some of my thoughts on Sunday April 24's walk-off win vs the White Sox:
After that sweep, we're back on top of the Central where we belong. I have no doubt that the White Sox will end up being fine, but it is important that we pounce and gain as much ground as possible while they're banged up and committing a circus of errors in the field. I of course don't wish to see anyone injured, but unfortunately that's part of the game and we're already facing a host of injuries too. Now that our offense has really woken up, it's time to go on a tear here and put some space between us and the White Sox. A long season awaits, but it's great being the frontrunner.
It's incredible how entirely different of a team the Twins are when Byron Buxton is in the lineup. Everyone else starts hitting and he makes unbelievable, clutch plays like Sunday's walk-off launch into orbit. He's also a huge clubhouse leader/ veteran presence. Jeff Passan had a great tweet illustrating his on-field impact:
I was at the game with some friends, including a loyal White Sox fan, and he called the Buxton home run. Once he saw the Sox weren't going to walk Buxton, he laughed, pointed up to the Home Run Porch and said, "He's going to hit it right up there." And sure enough next pitch, out into outer space that ball went. I was really surprised that they decided to pitch to Buxton considering the streak he's been on (4-4 with a walk the day before Saturday and a home run in the 7th inning earlier on Sunday's game). Chicagoans were not impressed with that decision either. Boy, is it great to have Buxton back. If this keeps up, he very legitimately will be in talks for MVP. And going further- might we even have the best player in baseball?
It was a COLD day for a Gatorade bath at home plate, but something tells be Buxton didn't mind too much...
We got our first look at everyone's favorite rule- the "runner on second in extra innings" or Ghost Runner rule! I wrote a piece on it in March when the return of the rule was announced. It worked out well for us this time, but I'm still not a big fan of the rule. Because it is so effective on ending the game in the inning in which it is implemented, it seems to me it should maybe take effect in the 11th or 12 inning- give a little extra time for the game to end naturally, and if not, the Buck stops here (pun intended). However, yesterday's game was a bit cold and unpleasant with some scattered sprinkles, so my friends and I were just fine with the rule yesterday.
I'm glad we started out with an extra innings win so we don't have an "0-8 in extras" monkey on our back like we did last year. And I'm kind of surprised we made it 16 games into the season before we had an extra innings duel.
How about that diving stop by Gio Urshela followed by an incredible, right on the money throw to first from the seat of his pants?! That has to be the best 3rd baseman play I've ever seen at Target Field. What a great addition to the team he is. 
There were a few times there where I was wondering why in the world we did not pinch hit Carlos Correa for Gilberto Celestino, Nick Gordon, or Miguel Sanó. I understood that we could not pinch hit for José Godoy because we did not have another catcher to go in, but for the others I was a little puzzled. To Rocco, if a player is off, he must be off. 
Every time Sanó gets a hit, I breathe a sigh of relief. He had a nice single in yesterday's game and no strikeouts- so progress, right? He has played in 15/16 games. so they are really trying to just make him work through what he's been going through. Hopefully things are turning around now. 
I noticed Target Field is still doing the pitch sequence that I talked about in my last blog, but it is very irregularly shown on the right field screen and only for opposing pitchers,
Everyone in the stadium got a huge kick out of the junior PA announcer, who was extremely enthusiastic and sounded like he was announcing a goal at a Wild game when announcing each Twin up to bat. Cute moment from Gleeman here describing how the junior PA announcer got a tour of the press box after his half inning!
I wore snow pants to the game, brought big, thick Twins mittens, and wore a full winter coat. I'm not messing around. It looks like it won't be at least until a week into May when it will hit 60 degrees. The Tigers series this week will be cold (a shock, I know). It's been so bad that at this point I'm wondering if Correa knew how cold it was here (albeit, unseasonably so) if he would've come here. We sure are earning that spring this year, and those warm summer nights at Target Field will feel even better after all this, right? Maybe? 
See you at the Ballpark and Win Twins!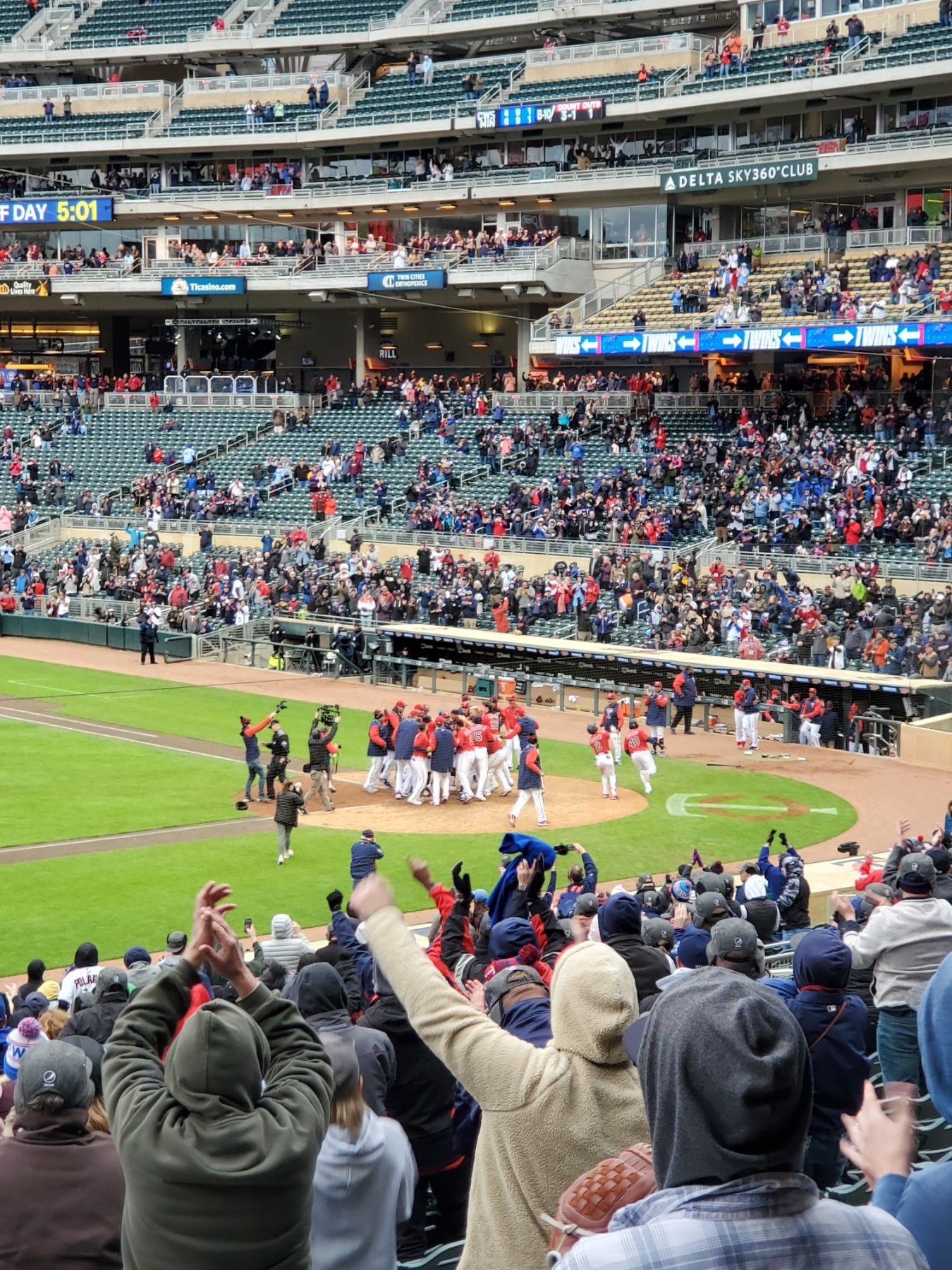 Walk-off home run!
Edited by Melissa Berman