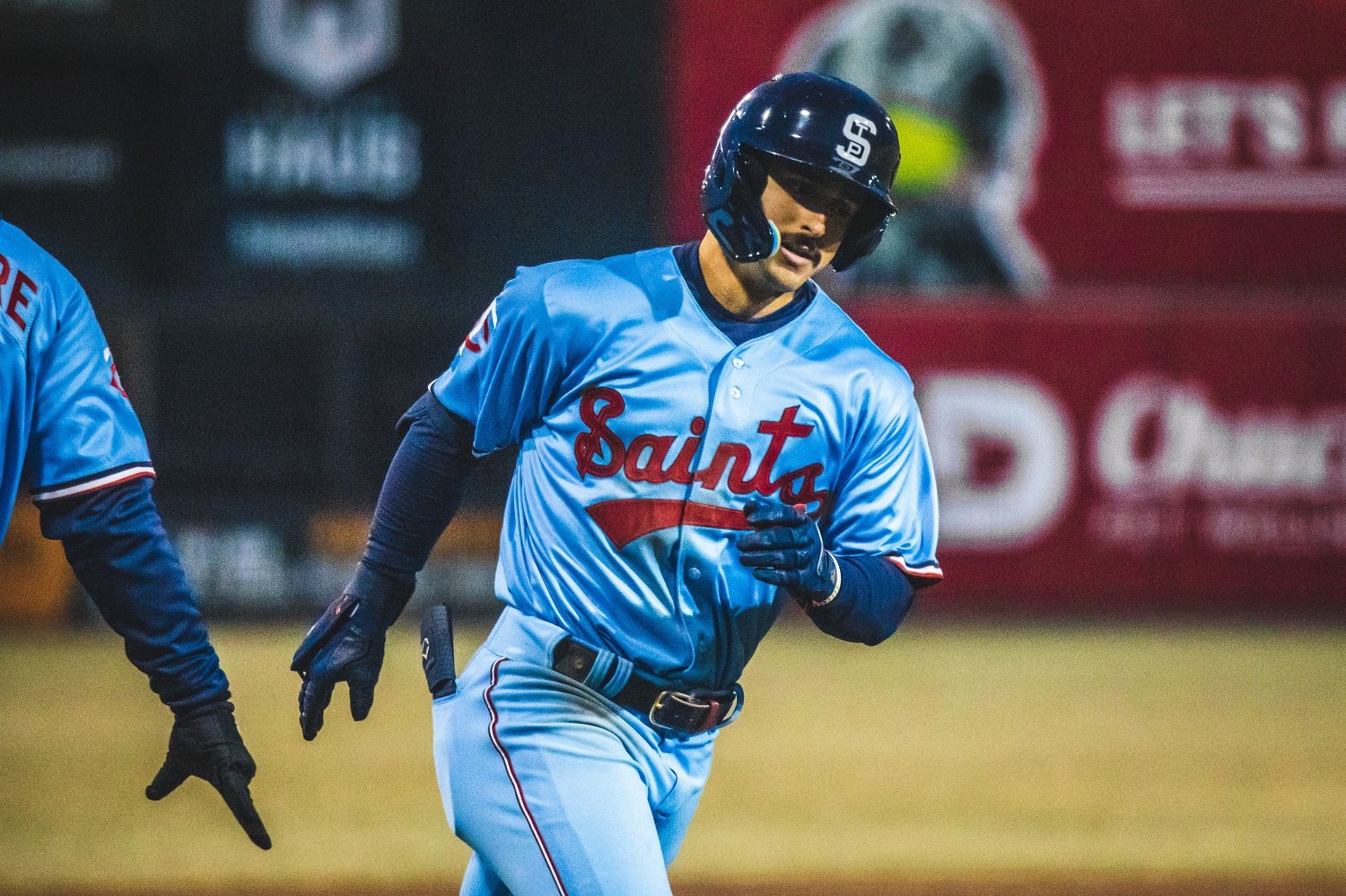 If you missed it, read Nick's Twins Week in Review after you've read about the minor leagues.
TRANSACTIONS 
Alex Kirilloff was activated from the Twins injured list and optioned to Triple-A.
Trevor Megill was traded to the Brewers for a PTBN and cash considerations.
RESULTS
MORE TWINS DAILY MINOR LEAGUE CONTENT 
TUESDAY'S PROBABLE STARTERS
Nashville @ St. Paul (11:07 PM CST) - RHP Aaron Sanchez (1-1, 2.42 ERA) 
Wichita @ Northwest Arkansas (11:05 PM CST) - RHP Travis Adams (1-3, 7.71 ERA)
Cedar Rapids @ South Bend (5:05 PM CST) - LHP Jordan Carr (0-1, 3.38 ERA)
Dunedin @ Fort Myers (6:00 PM CST) - RHP Cory Lewis (2-1, 3.32 ERA)
WEEK IN REVIEW 
Triple-A: St. Paul Saints (Week: 2-3)
Overall: 15-10, 2.0 games back in the International League West. 
Overview: After a convincing series win against Rochester, the Saints lost three of their final four games before the finale was rained out on Sunday. 

🔥

: Michael Helman returned to the Saints and had two home runs (among four hits) and six runs batted in. 

🔥

: Mark Contreras was the only Saint who batted better than .300 (8-22, .421) and supplied a nice power supply with three doubles and a home run.

🔥

:  Louie Varland and Simeon Woods Richardson are both jockeying to join the Twins rotation and did well in their starts. (You can see entire stat lines for them in the Top 20 roundup below.)

🥶

: Dereck Rodriguez allowed four runs on five hits in his lone inning of work.

🥶

: Andrew Stevenson had been very good for the Saints, but was 3-15 this week with six strikeouts.
What's Next: The Saints will host Nashville (14-12) in the front half of a two-week homestand.
Double-A: Wichita Wind Surge (Week: 2-4)
Overall: 9-12, 5.0 games back in the Texas League North and currently tied for last place. 
Overview: Lots of scoring for both Wichita and Springfield this past week (all games had 10 or more combined runs), but the Wind Surge had two games where they combined for one run. They also lost while scoring 10 and now have a three-game losing streak.

🔥

: Yoyner Fajardo tied for the organizational lead with 9 hits on the week. He scored six runs, walked twice and stole a base. He only had one strikeout in 23 at-bats.

🔥

: Yunior Severino has continued to provide power and a load of strikeouts for Wichita. Three more home runs this week, ten runs batted in and also ten strikeouts. You can take the swing-and-miss when you have a .373 OBP with a .958 OPS on the season.

🥶

: The pitching staff, as a whole, struggled mightily. Five different pitchers who pitched three or more inning had ERAs of 12.00 or greater. All but two pitchers on the entire staff allowed two or more earned runs. Five pitchers issued three or more walks. 
What's Next: Wichita will look to get back on track as they travel to Northwest Arkansas (10-11).
High-A: Cedar Rapids Kernels (Week: 3-3)
Overall: 9-11, 5.0 games back and in last place in the Midwest League West. 
Overview: The Kernels took three of the first four in the series, but lost the final two games to settle for a split.

🔥

: Ben Ross was the lone hitter with a batting average over .300 (6-19, .316). Ross had two doubles, two walks and stole a base.

🔥

: Regi Grace pitched well at the back of the Kernels bullpen. He earned a win and picked up a save by pitching three near-perfect innings over two games. He struck out three in three innings and only allowed a walk.

🔥

: Kyle Jones has been inconsistent through four starts, but when he's good, he's really good. In five shutout innings this week, he allowed three hits and a walk while striking out five.

🥶

: Keoni Cavaco has had a bumpy go since being drafted. In four games this past week, he was hitless in 11 at-bats, striking out seven times. He did walk four times though, if you're looking for a silver lining.
What's Next: Cedar Rapids hits the road for a two-week road trip, starting in South Bend (13-8). 
Low-A: Ft. Myers Mighty Mussels (Week: 4-2)
Overall: 12-9, 3.0 games behind Bradenton in the Florida State League West. 
Overview: Fort Myers took three of the first four before a Saturday rainout forced a Sunday double-header, which they split. 

🔥

: Carlos Aguiar had five extra base hits (two doubles, three triples) among his eight hits. He scored six runs and drove in four. He did strike out 10 times, though, in 26 plate appearances.

🔥

: Andrew Cossetti keeps raking. He had six hits this week and five of them were doubles. 

🔥

: CJ Culpepper threw five shutout innings and struck out seven. He only allowed three hits. 

🥶

: Mikey Perez had 24 hits in 10 games after being drafted in 2021. He really struggled in 2022 and 2023 hasn't been much better. A 2-16 week drops him to .118/.211/.206 on the season.

🥶

: Develson Aria, who's been highlighted before, struggle in his start this week, allowing five hits, three walks and four runs in the 3 ⅔ innings. He did strike out five. 
What's Next: Fort Myers will host Dunedin (10-11) this week and get to stay at home again the following week. 
PROSPECT SUMMARY
This Prospect Summary shows our current Twins Top 20 Prospect Rankings and how they performed last week. The Prospect Tracker will be updated on the first of each month throughout the season. Notice that these pages now include stats and splits, as well as past article links, video and more. (Season-long stats will be in parenthesis.)
20. Misael Urbina, OF, Cedar Rapids: 4-21, HR, 3 RBI, 2 R, BB, 11 K. (.138/.230/.246. .476 OPS) 
19. Jose Rodriguez, OF: Extended Spring Training
18. Tanner Schobel, 2B, Cedar Rapids: 4-19, 2B, HR, 5 RBI, 2 R, 2 BB, 2 K. (.203/.260/.348. .608 OPS), played two games at second base (ten total) and committed one error chances (two in 42 chances total); played two games at third base and was perfect in seven chances (has not committed any errors in 11 total chances in six games). 
17. Ronny Henriquez, RHP: On Minnesota's injured list with elbow inflammation.
16. Jordan Balazovic, RHP, St. Paul: 0-0, 4.50 ERA, 2 IP, 2 H, ER, HRA, 4 K. (1.30 WHIP, .192 BAA)
15. Matt Canterino, RHP: Still recovering from Tommy John surgery.
14. Noah Miller, SS, Cedar Rapids: 3-24, 3 RBI, R, 2 BB, 5 K. (.247/.333/.315. .648 OPS), played shortstop in five games (15 total) and committed no errors in 20 chances (one error in 58 total chances); played one game (three total) at second base and committed no errors in six chances (15 total).
13. David Festa, RHP, Wichita: 0-0, 6.23 ERA, 4.1 IP, 7 H, 3 ER, 2 HRA, 1 BB, 7 K. (1.11 WHIP, .229 BAA)
12. Yasser Mercedes, OF: Extended Spring Training
11. Matt Wallner, OF, St. Paul: 2-12, 2 R, 3 BB, 6 K. (.268/.453/.500. 953 OPS); Minnesota: (.000/.273/.000. .273 OPS)
10. Austin Martin, SS: Martin is still recovering from an arm injury.
9. Louie Varland, RHP, St. Paul: 1-0, 1.69 ERA, 5.1 IP, 4 H, 2 BB, 8 K. (1.27 WHIP, .263 BAA); Minnesota: (1.17 WHIP, .250 BAA)
8. Jose Salas, INF: 3-15, 2B, 2 BB, 4 K, 1 SB (.143/.226/.161. .387 OPS), played one game at shortstop and had no errors in two chances (one error in 17 chances in five games total) and two games (six total) at third base with no errors (one total) in three chances (12 total). He played two games (five total) at second base with no errors in five chances (no errors in 14 total chances).
7. Connor Prielipp, LHP, Cedar Rapids: Prielipp is expected to resume throwing this week, though it's unclear when he will return to game action. (1.75 WHIP, .294 BAA)
6. Simeon Woods Richardson, RHP, St. Paul: 0-1, 2.57 ERA, 7.0 IP, 3 H, 2 ER, 2 BB, 4 K (1.57 WHIP, .298 BAA); Minnesota: (2.14 WHIP, .350 BAA)
5. Edouard Julien, 2B, St. Paul: 3-13, 2B, RBI, 2 R, 3 BB, 6 K, SB. (.241/.414/.426. .840 OPS); Minnesota: (.222/.276/.444. .720 OPS)
4. Marco Raya, RHP, Cedar Rapids: 0-0, 9.00 ERA, 3.0 IP, 4 H, 3 ER, BB, 2 K. (1.41 WHIP, .211 BAA)
3. Emmanuel Rodriguez, OF, Cedar Rapids: Rodriguez is still recovering from an abdomen strain.
2. Royce Lewis, SS: Lewis is still recovering from his second ACL surgery, but is getting back into action in extended spring games. 
1. Brooks Lee, SS, Wichita: 7-22, 3 2B, 4 RBI, 6 R, 2 BB, 3 K. (.263/.323/.439. .762 OPS), played all five games (19 total) at shortstop and committed no errors in 20 chances (two errors in 84 total chances). 
PLAYERS OF THE WEEK (as voted on by fans on Twitter)
PITCHER - Simeon Woods Richardson, St. Paul.  
(Woods Richardson 36%, Enlow 27%, Culpepper 25%, Grace 12%)
HITTER - Mark Contreras, St. Paul.
(Contreras 49%, Severino 40%, Aguiar 6%, Ross 5%)  
Who would have been your picks? Any early season surprises or disappointments? Ask questions and discuss the Twins prospects in the COMMENTS below.