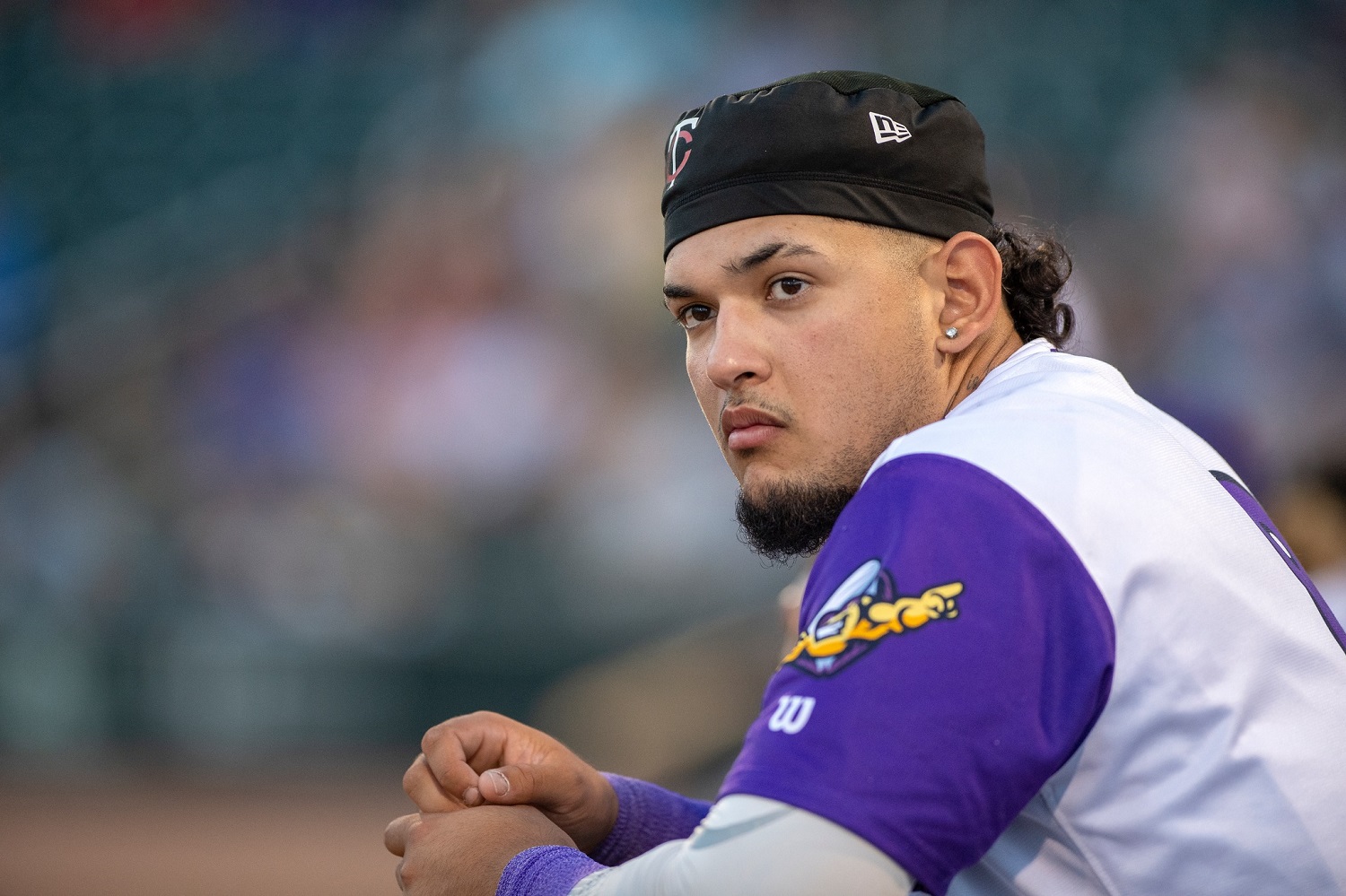 Image courtesy of William Parmeter (photo of Danny De Andrade)
It's days like this where it's important to remember that the minor leagues are primarily about player development. And then we can continue by saying that sometimes people can learn the most from their adversity and bad days. That is an absolute truth. But when the big-league club gets blown out, and two affiliates not only give up double-digit runs but also get shut out, and another affiliate mounted a comeback only to lose it right away, it can be tough. That said, there's good in everything and there are highlights or players from each level that need to be discussed. Also, learn more about a Minnesota pitcher who appears destined for a big-league debut in 2023. And, we even added a little fun trivia for you to think about and discuss. 
So, how about we get to the report. As always, please feel free to discuss and ask questions. 
TRANSACTIONS
After tossing five long-relief innings against the Yankees on Wednesday afternoon, Brent Headrick was optioned to the Saints. Corresponding move(s) coming before the Twins four-game series against the Royals starts on Thursday. 
SAINTS SENTINEL 
St. Paul 2, Rochester 7
Box Score

As you saw above, there was only a single transactions in the Twins organization on Wednesday. However, we have to assume that there are going to be at least a couple on Thursday as the Twins pitching depth is again being tested. Because of that, the Saints pitching depth has been tested as well. 
On Wednesday night, Jose De Leon made the start for the Red Wings. The righty from Puerto Rico gave up three runs (1 earned) on four hits in four innings. He walked three and struck out four batters. 
Connor Sadzeck came on in relief and threw two scoreless innings against a team he once played for. He gave up one hit, walked none and struck out three. 
Trivia: Ten members of the St. Paul Saints have been a part of the Rochester Red Wings in the past. I'll give you one. Saints Manager Toby Gardenhire played for the Red Wings in 2010 and 2011. He was set to be the Red Wings manager for the 2020 season. He also spent half of a season as Mike Quade's third base coach after the former Cubs manager (and current Twins minor-league outfield coordinator) had an arm surgery. In the comments below, let's see if we can come up with the other nine?
Anyway… Dereck Rodriguez came on for the seventh inning. He was charged with four runs on five hits. Patrick Murphy then struck out two batters in a scoreless eighth inning. 
The Saints actually got on the scoreboard first. Jair Camargo hit his first Triple-A home run, a solo shot in the third inning. The other Saints run came in the sixth inning when former Red Wings outfielder Andrew Stevenson singled in a run. The outfielder went 1-for-4 against his old teammates and stole his ninth base of the season. 
The Saints had base runners. They had seven hits and four walks. Edouard Julien had a double and a walk. Matt Wallner had a double, a walk, and was hit by a pitch in the game. 
Alex Kirilloff did not play in this game. Ryan LaMarre spent the game at first base. It was just the third time that he played at first base in his 14 seasons as a professional baseball player. He played two games there in 2021 for Scranton/Wilkes Barre.  
The loss ended the Saints five-game winning streak. The Saints also lost to the Red Wings for the first time since joining the International League in 2021 (7-1). 
Former Twin Travis Blankenhorn got the night off. The night before he hit a double to extend his on-base streak to 10 games. 
Finally, the winning pitcher for Rochester on Wednesday night was Bloomington Jefferson graduate Jake Irvin. The 6'-6" right-hander gave up two runs on five hits and three walks over 5 1/3 innings. He struck out six batters. Irvin graduated from Jefferson in 2015. That year, he was drafted in the 37th round by the Twins. However, he went to the University of Oklahoma and three years later, he was the Nationals' fourth-round pick. He pitched quite well his first two pro seasons and was part of the Nationals' player pool in 2020. He didn't pitch in the big leagues, and then he got hurt. He had surgery in October of 2020 and missed the entire 2021 season. He returned in 2022 and made 24 starts between High-A and Double-A. After the season, he was added to the Nationals' 40-man roster. He had a solid showing this spring and it's very possible he will make his big-league debut this season. His velocity has actually improved post-surgery which is always encouraging. 
WIND SURGE WISDOM
Wichita 0, Springfield 10
Box Score 

With one out in the top of the fifth inning, the game was scoreless. Travis Adams was dealing with 4 1/3 scoreless innings. And then things turned. He gave up a single before Matt Koperniak hit a two-run homer. The next batter reached on an error, and Adams' day was done. Tyler Beck, making his return after missing the 2022 season after Tommy John surgery, came in and struggled for the first time this season. He walked the first two batters he faced to load the bases. Then a bloop single scored two runs (one charged to Adams). Beck issued another walk to reload the bases. He got a ground out for the second out, but a run did score. Another walk loaded the bases and Ramon Borrego came out and brought Hunter McMahon in. A line out to left ended the five-fun innings. 
McMahon pitched a scoreless sixth frame. He came back out of the seventh and gave up two runs on three two hits and a walk before Seth Nordlin came on with one out. Whereas McMahon stranded the three base runners he inherited, McMahon left with two runners on base, and both scored. Nordlin gave up three hits and two runs of his own too. He gave up a third run on two more hits in the eighth frame. Michael Boyle pitched a scoreless ninth inning. 
The Wind Surge offense struggled throughout the only Yoyner Fajardo had the lone hit of the day, a single, and he also had one of the four walks the team had. 
Not-So-Fun Fact: The Wind Surge have now played in five afternoon/morning games. In those games, they are 0-5 and have been outscored 45-11. 
KERNELS NUGGETS
Cedar Rapids 0, West Michigan 10  
Box Score

On Tuesday night, the Kernels shutout West Michigan. On this night, they scored 10 runs on 16 hits and shut down the Kernels offense. Something about Turnabout being fair play, or something? 
Jordan Carr started, and he did a decent job of limiting damage. He went five innings and gave up three runs on eight hits. He walked one and struck out seven batters. Matt Mullenbach gave up a one over two innings, and Matt Swain gave up a run in the eighth inning. Charlie Neuweiler got two outs in the ninth inning but gave up five runs on four hits and a walk. John Wilson came on and needed one pitch to end the inning.  
The Kernels were shutout for the first time this year, and three hits is tied for their fewest on the season. Ben Ross had two of the three hits, both doubles. 
Check out this Jeff Johnson article from The Gazette in Cedar Rapids on Kernels pitcher Regi Grace .  
MUSSEL MATTERS
Fort Myers 5, Daytona 7
Box Score 

Down 5-1 through seven innings, the Mussels rallied with four runs in the top of the eighth to tie the game. However, Daytona scored two in the bottom of that inning and held on for the win. 
Cory Lewis was back on the mound to start. In 4 2/3 innings, he gave up three runs (1 earned) on five hits. He walked just one and struck out nine batters. The two runs he gave up in the third inning were a bit of bad luck. After striking out the first batter, he struck out the next batter, but the ball got by the catcher and the batter reached base. After a second out, Lewis had a throwing error that allowed runners to reach first and third. With two outs, he struck out the next batter, but again, it rolled by the catcher and allowed everyone to advance. Another run scored on a single up the middle. 
AJ Labas got the final out of the fifth inning and then pitched a perfect sixth inning as well. Hard-throwing Juan Mendez gave up two runs in the seventh inning and then after the game was tied, he gave up two more in the eighth. Combined, he gave up four runs on two hits and three walks in two innings. 
In the four-run eighth inning for the Mussels, Andrew Cossetti scored on a bases-loaded wild pitch. The bases filled again, but Jorel Ortega emptied them with a double to tie the game… temporarily.  
Danny De Andrade, who played hero the night before, was the lone Mussel with two hits in the game, and both of them were triples. Cossetti went 1-for-2 with a walk, and he was hit by a pitch twice. Fort Myers had seven hits and six walks, but they went 1-for-10 with Runners in Scoring Position and left 11 on base. Mussel batters struck out 17 times in the game. 
TWINS DAILY MINOR LEAGUE PLAYERS OF THE DAY
Pitcher of the Day – Cory Lewis (Fort Myers) - 4.2 IP, 5 H, 3 R, 1ER, 1 BB, 9 K
Hitter of the Day – Danny De Andrade (Fort Myers) - 2-for-4, BB, 2-3B, BB, 1 R, 1 RBI
PROSPECT SUMMARY
Check out the Prospect Tracker for much more on the new Twins Top 20 prospects after seeing how they did on Wednesday. 

#1 - Brooks Lee (Wichita) - 0-for-4, K 
#5 - Edouard Julien (St. Paul) - 1-for-4, BB, 2B, 2 K. SB.
#8 - Jose Salas (Cedar Rapids) - 0-for-2, BB, K
#11 - Matt Wallner (St. Paul) - 1-for-2, BB, 2B, HBP, K. 
#14 - Noah Miller (Cedar Rapids) - 0-for-4, 3 K 
#18 - Tanner Schobel (Cedar Rapids) - 0-for-4, K.
#20 - Misael Urbina (Cedar Rapids) - 1-for-3, K
THURSDAY'S SCHEDULE AND PITCHING PROBABLES 
St. Paul @ Rochester (10:05 AM CST) - RHP Louie Varland (1-0, 5.59 ERA) 
Springfield @ Wichita (7:05 PM CST) - LHP Aaron Rozek (0-1, 14.21 ERA) 
West Michigan @ Cedar Rapids (6:35 PM CST) - RHP Alejandro Hidalgo (0-1, 1.59 ERA) 
Fort Myers @ Daytona (5:35 PM CST) - TBD 
Please feel free to ask questions and discuss Wednesday's games!