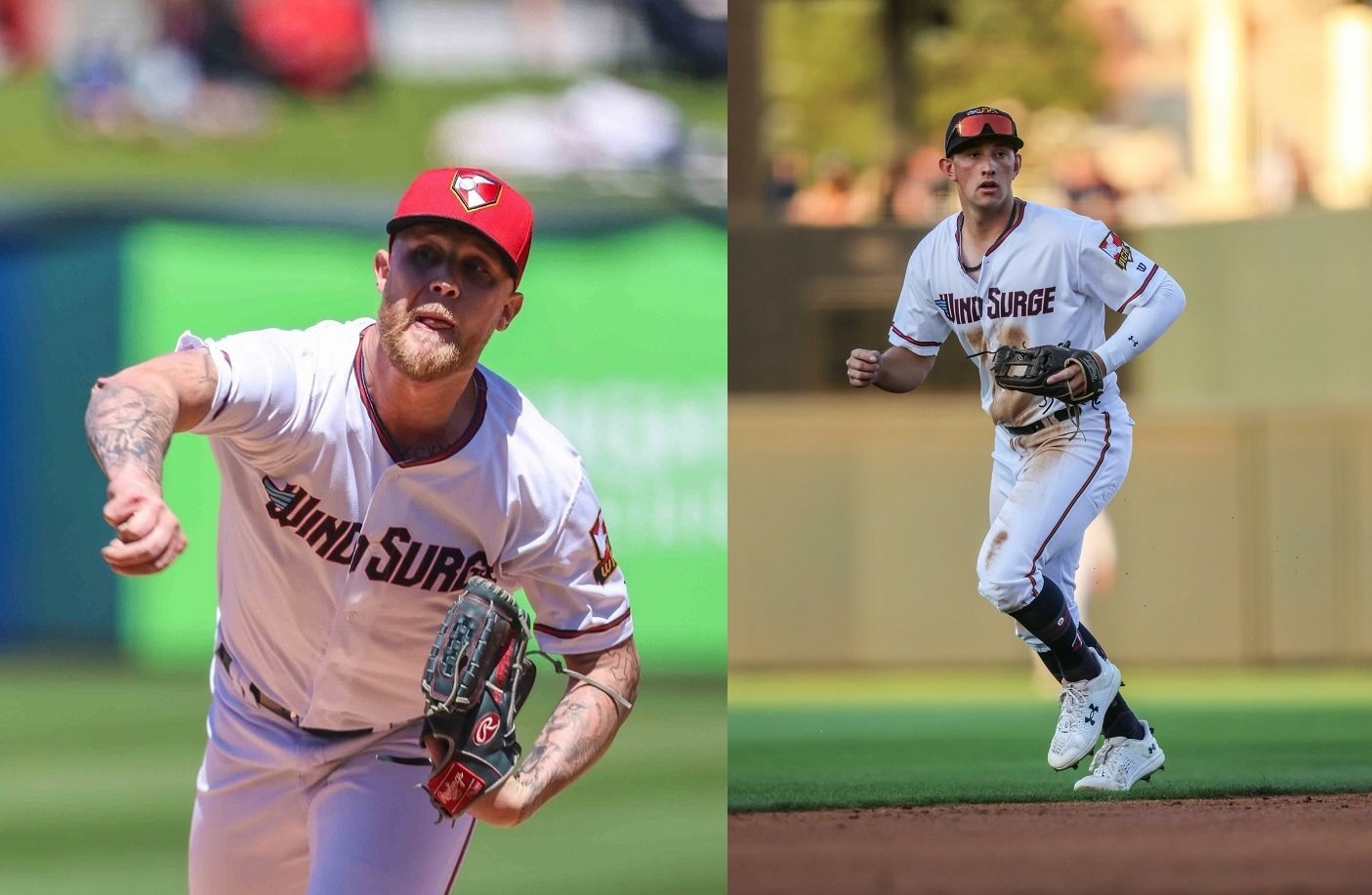 Image courtesy of Ed Bailey, Wichita Wind Surge (photos of Blayne Enlow, Brooks Lee)
On Wednesday afternoon, the Minnesota Twins salvaged the third game of their three-game series against the San Francisco Giants. They got another solid start from Joe Ryan, and Edouard Julien and Matt Wallner both contributed mightily to the Twins win. 
Fort Myers was rained out on Wednesday, but the three other affiliates played. There were some big innings. There were comebacks. There was a walkoff. There was a Quality Start. There were homers, and lots of multi-hit games. Continue on to find out what all happened. 
St. Paul Saints: 24-21
Wichita Wind Surge: 19-21
Cedar Rapids Kernels: 22-19
Fort Myers Mighty Mussels: 23-17 
Let's get to the report. As always, please feel free to discuss and ask questions. 
TRANSACTIONS
No transactions on Wednesday. 
SAINTS SENTINEL
St. Paul 6, Omaha 5
Box Score
In the bottom of the second inning, the Saints put up a big five spot. Were they able to hang on to that lead? Well, Omaha scored three runs in the top of the third and another in the fourth. But as the game went into the ninth inning, the Saints still held a 5-4 lead. 
Before we get to that, let's talk about that five-run second frame. Hernan Perez got the team on the board with a double to score Ryan LaMarre. Jair Camargo followed with a single that drove in Perez with the second run. Royce Lewis, who batted second and played third base, then lined a double to left field that drove in Camargo and Andrew Stevenson. Finally, Jose Miranda singled to score Lewis with the fifth run of the inning. 
Lefty Brent Headrick was the Saints starter. In the third inning, he gave up a three-run homer to Royals middle infield prospect Nick Loftin. He also was charged with an unearned run in the fourth inning. In all, Headrick needed 82 pitches to work through four innings. He gave up four runs (3 earned) on seven hits and two walks. He recorded three strikeouts. 
Josh Winder had a nice outing. He tossed 2 1/3 scoreless innings. He gave up one hit, walked three and struck out four batters. Connor Sadzeck got the next four outs, three on strikeouts while maintaining the 5-4 lead. Oliver Ortega came on and walked a batter before getting a strikeout to get the eighth inning. 
In the top of the ninth inning, Ortega remained on the mound. He got the first batter to line out. Then he recorded a strikeout. With two outs, Logan Porter hit a soft single. Ortega then got a ground ball, but a throwing error put runners on first and third. Unfortunately, Dairon lined an 88 mph single that tied the score at five. Ortega got the final out on a fly out. 
So the Saints had to take their at-bats in the bottom of the ninth. Andrew Stevenson got things started with an opposite-field single. With Andrew Bechtold batting, Stevenson stole second base, his 16th of the season. Then on a 3-2 count, Bechtold hit a ground ball that the pitcher deflected toward second base, but he beat the throw to first. With runners on first and third and nobody out, Jose Miranda stepped to the plate. Bechtold took second on Defensive Indifference before Miranda walked it off with a single to left field to give the Saints a 6-5 win. 
Jose Miranda went 2-for- 5 with two RBI in the game. Lewis played the first seven innings before being replaced by Bechtold. Lewis went 2-for-4 with a double and two RBI. Stevenson went 2-for-5. 
WIND SURGE WISDOM
Wichita 13, Springfield 1
Box Score
It was a big day for the Wind Surge offense. They had a four-run third inning. In the seventh, they had a five-run inning to increase their lead to 10-1. They added three more in the eighth inning to provide the final score. Wichita had 18 hits and four walks in the game. Eight of nine starters had at least one hit. Seven of nine had multi-hit games. Three players had three hits in the game. 
We will get into the specifics for the hitters, but it's always important to highlight strong pitching. Blayne Enlow was the beneficiary of the offensive explosion, but he again did his job and kept the Cardinals' prospects at bay. Enlow started with five shutout innings. He then gave up one run in the sixth inning. He was very efficient as well. He had just one out (the final batter he faced), but he also walked no one. He needed just 76 pitches to get through six innings. When the offense had their long, five-run seventh inning, his night was over. It was his third Quality Start of the season. 
Following the game, Blayne Enlow told Twins Daily, "It felt great. Complete opposite of last outing with the Ks (he had 10 strikeouts in 5 ⅓ innings), but I made the right pitches when I needed to and got weak contact that the defense just vacuumed up today." 
Lefty Denny Bentley is back. He got five outs in this game, two on strikeouts. Alex Scherff gave up three hits and a walk over the final 1 1/3 innings, but also did not allow a run. 
Back to the offense. Let's start with the big hits. In the four-run third, Anthony Prato got things started with a solo home run, his second of the season. Soon after, Yoyner Fajardo doubled in a run, and that was followed by Brooks Lee's fourth homer of the year. Fajardo drove in Prato with a single in the fourth inning to make it 5-0. 
Yunior Severino got things going in the five-run seventh frame. His sixth double scored Brooks Lee. Next, Jake Rucker scored on a passed ball. DaShawn Keirsey's seventh double (you need to see this one!) drove in two runs and the scoring for the inning was complete when Pat Winkel singled in Keirsey. 
Yoyner Fajardo has been incredible with the Wind Surge this season. In the eighth inning, he singled in another run. Lee followed with his 13th double. Finally, Severino hit into a double play that scored the team's 13th and final run of the night. 
Fajardo, who came to the Twins organization as a minor-league Rule 5 pick this offseason, is speedy. But after his 3-for-5 night pushes his batting average to .316. The 24-year-old outfielder's on-base percentage is up to .377. Following the game, Fajardo noted, "My thoughts for tonight were to hit (the ball to) the middle since the opposing team threw me a lot of breaking pitches the night before. I tried to think for the middle, and thank God, the results turned out well." 
Jake Rucker went 3-for-5. Seth Gray went 3-for-4 with a triple in the game. Brooks Lee went 2-for-4 with a walk, a double, and a home run. His  batting average is now .252 with an OPS of .753. Severino went 2-for-5. Keirsey went 2-for-5.  Winkel went 2-for-4 with a walk. 
We seem to always highlight when the Twins and their affiliates don't do well with runners in scoring position. Well, in this game, the Wind Surge went 7-for-9 in those situations. 
KERNELS NUGGETS
Cedar Rapids 2, Wisconsin 4 (10 innings)
Box Score
The Kernels hosted an afternoon game on Wednesday. It was quite a pitchers duel and needed an extra inning to decide it. 
Jaylen Nowlin made the start. The southpaw was charged with one run on seven hits over five innings. He walked two and struck out five batters. Regi Grace came on and worked two scoreless innings. He gave up one hit, walked two and struck one out. Miguel Rodriguez worked two perfect innings and struck out one batter. 
Niklas Rimmel came on for the top of the 10th inning. As you know, the Rattlers started the inning with a runner on second base. Rimmel got a strikeout of Robert Moore. However, Matthew Wood singled to left which advanced the runner, Eric Brown Jr., to third base. However, Rimmel got Ben Metzinger to line out for the second out of the inning. Unfortunately, Joe Gray Jr drilled a three-run homer to put Wisconsin in front 4-1. 
With one out in the bottom of the 10th inning, Jeferson Morales singled to drive in the "Manfred Man" Andrew Cossetti to deficit to 4-2. But that was it for the Kernels and they fall to 22-19. 
In the game, the Kernels managed just three hits. Misael Urbina hit a solo homer leading off the second inning. Along with his 10th inning single, Morales had one of the team's four walks. In his first High-A game, Cossetti went 0-for-4. 
Bonus Brewers Content
(If you are a friend of the Brewers, or know people who are, be sure to send them to Brewer Fanatic.)
For the Brewer Fanatic readers checking out today's report, here are a few notes. OF Joe Gray was the Brewers second-round pick in 2018 out of high school in Hattiesburg, Mississippi. In high school, he played with and against Kernels RHP Regi Grace and OF Willie Joe Garry. Alexander Cornielle gave up one run on two hits and two walks over 5 1/3 innings. Alex Hall went 2-for-3 with a walk. Matthew Wood was the Brewers fourth round pick out of Penn State last year. He had two hits in this game and is now hitting .344 with an .806 OPS in eight games since his promotion. 
Finally, 2022 top pick, shortstop Eric Brown Jr. was hit in the face by a pitch in late April. At the time, he was hitting .137/.267/.157 (.424) with one double in 14 games. After missing about 10 days, he returned to the lineup in early May. In 18 games since his return, he has hit .329/.429/.471 (.900) with four doubles and two homers. Overall, he has 17 walks with 22 strikeouts in 144 plate appearances. He also has 20 stolen bases and has only been caught twice. Definitely one to watch, including in this two-part Brewers Spotlight interview.  
MUSSEL MATTERS
Fort Myers, Dunedin (PPD-Rain)  
Box Score
The game was postponed due to weather and field conditions in Dunedin. The teams will make up the game as part of a doubleheader on Saturday. . 
TWINS DAILY MINOR LEAGUE PLAYERS OF THE DAY
Pitcher of the Day – Blayne Enlow (Wichita Wind Surge) - 6 IP, 1 R, 6 H, 0 BB, 1 K. 76 pitches, 49 strikes (62.2%).
Hitter of the Day – Brooks Lee (Wichita Wind Surge) - 2-for-4, BB, 2B(13), HR(4), 3 R, 3 RBI, K. 
PROSPECT SUMMARY
Check out the Prospect Tracker for much more on the new Twins Top 20 prospects after seeing how they did on Wednesday.

#1 - Brooks Lee (Wichita) - 2-for-4, BB, 2B(13), HR(4), 3 R, 3 RBI, K,
#2 - Royce Lewis (St. Paul-Rehab) - 2-for-4, 2B(1), R, 2 RBI, 2 K, E. (played 3B).
#3 - Emmanuel Rodriguez (Cedar Rapids) - 0-for-4, BB, K. 
#4 - Edouard Julien (Minnesota) - 1-for-3, BB, HR(3), 2 R, 2 RBI, SF, K, E
#9 - Matt Wallner (Minnesota) - 1-for-4, 2B(1), R, RBI, SB,
#12 - Jose Salas (Cedar Rapids) - 0-for-3, BB, 2 K.
#13 - Noah Miller (Cedar Rapids) - 1-for-4.
#15 - Brent Headrick (St. Paul) - 4 IP, 7 H, 4 R, 3 ER, 2 BB, 3 K, 82 pitches, 51 strikes (62.2%)
#17 - Blayne Enlow (Wichita) - 6 IP, 6 H, 1 ER, 0 BB, 1 K, 76 pitches, 49 strikes (64.5%)
#19 - Yunior Severino (Wichita) - 2-for-5, 2B(6), R, RBI, K .
THURSDAY'S SCHEDULE AND PITCHING PROBABLES
Omaha @ St. Paul (7:07 PM CST) - RHP Aaron Sanchez (2-4, 4.89 ERA)
Wichita @ Springfield (7:05 PM CST) - RHP David Festa (2-2, 5.58 ERA)
Wisconsin @ Cedar Rapids (6:35 PM CST) - RHP Kyle Jones (2-2, 3.62 ERA)
Fort Myers @ Dunedin (5:30 PM CST) - TBD 
Please feel free to ask questions and discuss Wednesday's games!