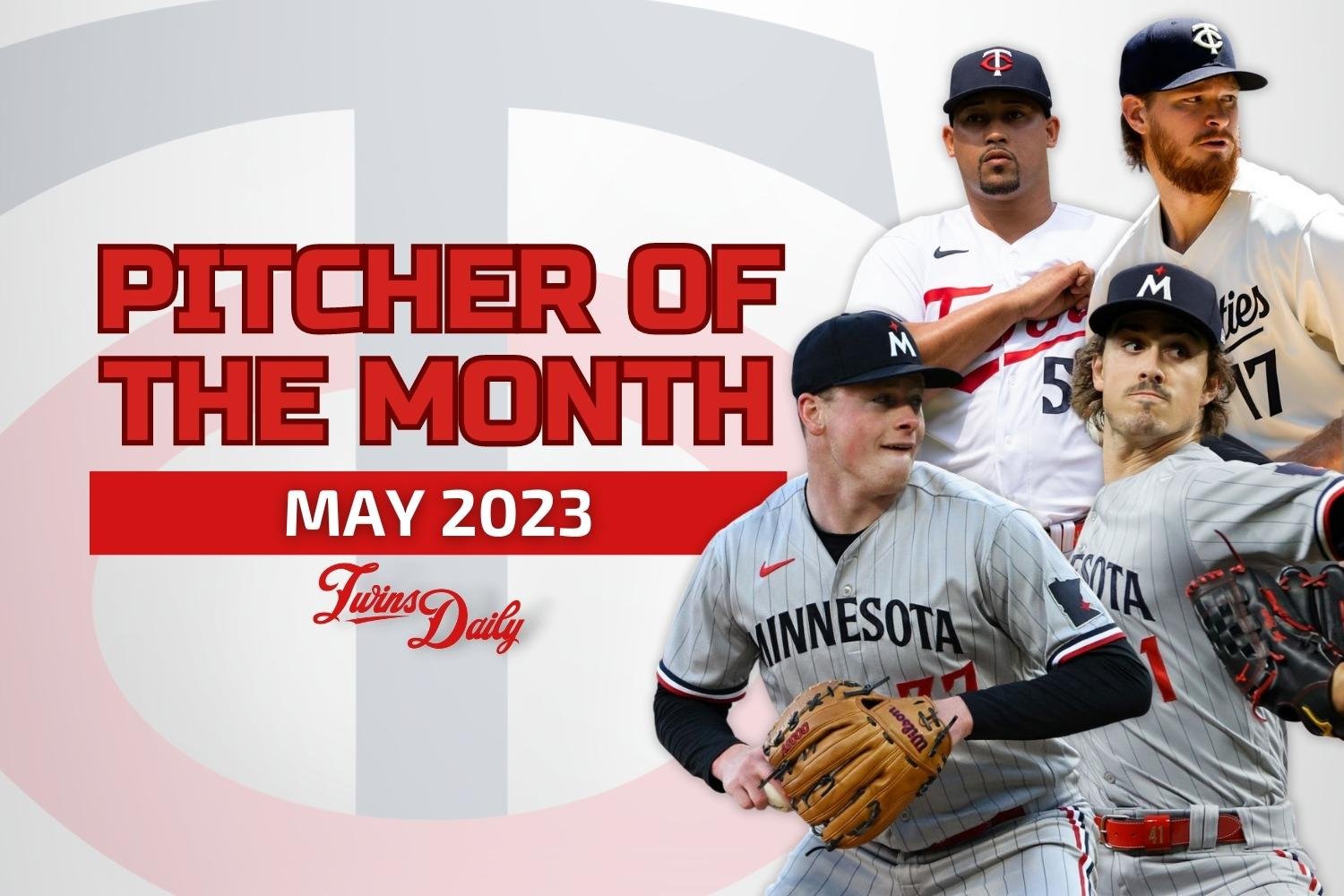 Image courtesy of Thieres Rabelo, Twins Daily
The Minnesota Twins built on a strong April of pitching and put together another strong month on the mound, finishing fourth in all of baseball in pitching ERA in May. The Twins got strong performances from a handful of starting pitchers as well as a certain reliever who can apparently throw 105 MPH now.
Let's dive into the Pitcher of the Month honorable mentions and find out who ultimately was named Twins Daily's Pitcher of the Month.
Honorable Mention 3: Jhoan Duran 10 2/3 IP, 0.00 ERA, 0.75 WHIP, 15 K, 3 BB
Jhoan Duran continues to be an absolute godsend for the Minnesota Twins' bullpen. In a month when the Twins ranked 23rd in all of baseball in win probability added and faced saw meltdown after meltdown, Duran posted one of the best months of his young career with 10 2/3 shut out innings and gave the Twins someone they could consistently trust at the back end of the bullpen.
Duran led all Twins pitchers in WPA in the month of May and raised his K% from where it was in the month of April. Oh yeah, and he threw a 105 MPH pitch.
Honorable Mention 2: Louie Varland 35 IP, 3.34 ERA, 1.14 WHIP, 31 K, 7 BB
In his first full month in the starting rotation for the Minnesota Twins this season, Louie Varland showed everyone that he is here to stay. Mixing high velocity with tremendous control, Varland is making a case to be the first big-time success story from the Derek Falvey pitching pipeline.
In the month of May, Varland led Twins pitchers with 35 innings pitched and a team low BB% of 4.9%.
Varland started six games in the month of May, with four of them coming in wins. No start was bigger, though, than the one that came on Wednesday night, the final day of the month, when he threw seven shutout innings on the road against the Houston Astros, allowing just four hits while striking out five. Not bad from your "number five" starter.
Honorable Mention 1: Bailey Ober 29 IP, 3.10 ERA, 1.00 WHIP, 27 K, 6 BB
The continuously underrated Bailey Ober quietly put together the second best month from any Twins pitcher in May. Ober started five games, with three of them being quality starts and only one of them allowing more than three earned runs. Ober never allowed more than six hits in any of his starts this month and started producing more strikeouts than we are used to seeing from the right-hander.
Ober started out the year in the Minors, but since joining the Twins at the end of April, Ober has a 2.68 ERA with a 37/11 K/BB ratio. Safe to say that Ober will be contributing to the Twins' starting rotation for a long time.
Pitcher of the Month: Joe Ryan 33 IP, 2.73 ERA, 1.18 WHIP, 40 K, 9 BB
After a stellar month of April in which he posted a 2.81 ERA across 32 innings, Joe Ryan improved upon those numbers in the month of May with a 2.73 ERA in 33 innings. Joe Ryan finished second amongst Twins pitchers in innings pitched and led all pitchers in strikeouts and wins above replacement. The young right hander also continued to show elite pitch control as the team-leader with a K/BB ratio of 5.85 on the season.
Ryan's best pitching performance last month came on May 2 against the Chicago White Sox when he pitched six shutout innings, allowing just one hit and striking out seven. Unfortunately the performance came in a loss, but Ryan did all he could do to lead the Twins over their division rivals that night.
In six starts in the month of May, Joe Ryan produced four quality starts and only allowed more than two earned runs in one of those starts.
After another stellar month from the prized right hander, Joe Ryan is more than deserving of being Twins Daily's Pitcher of the Month in May, and as long as Joe Ryan continues to make improvements every month, he'll continue to find himself in the Cy Young conversation.
Do you agree with our choice for Pitcher of the Month? Do you think Joe Ryan has a chance at winning the Cy Young Award? Leave a comment below and start the conversation!