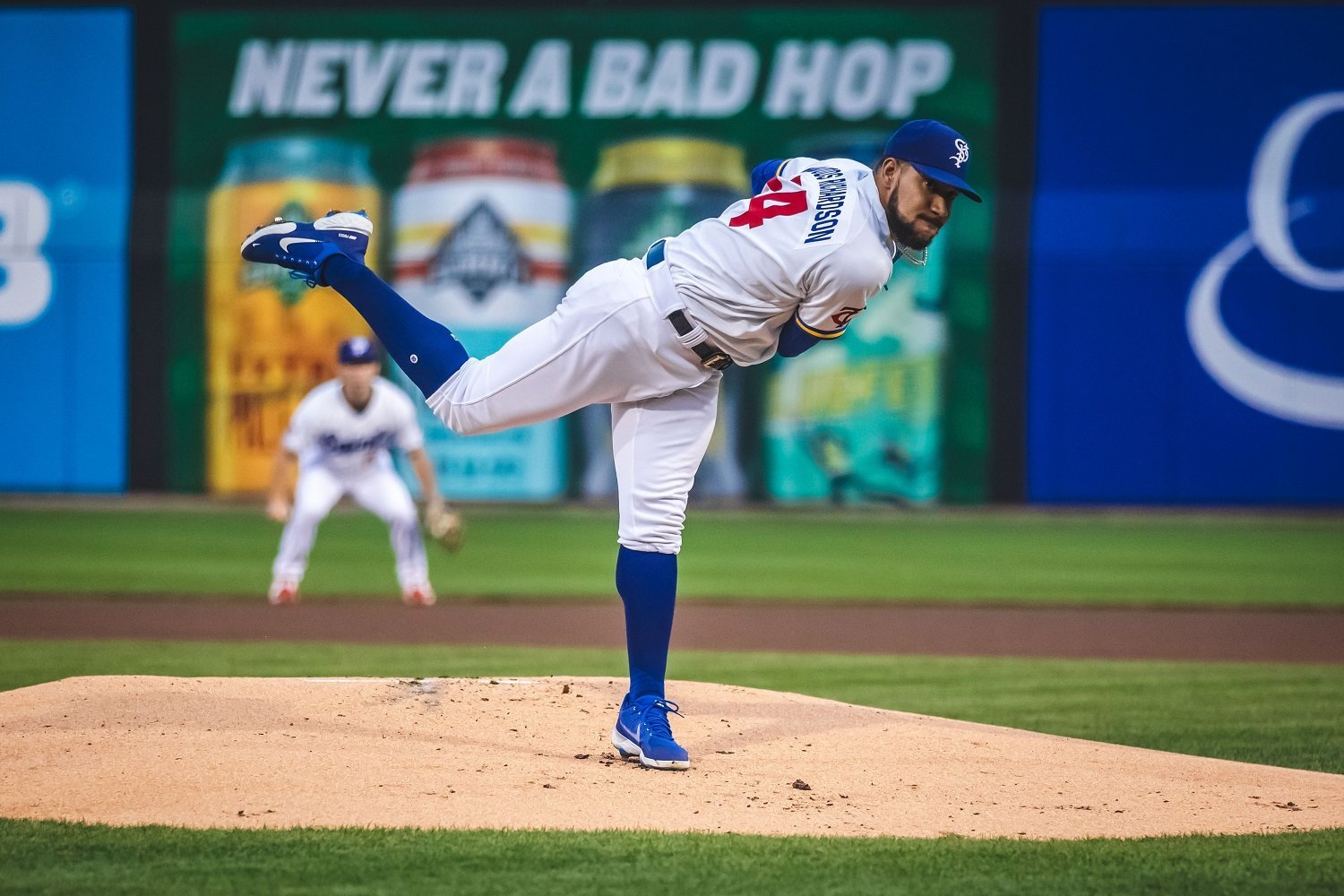 Image courtesy of Rob Thompson, St. Paul Saints
Baseball prospects can be some of the most volatile players to follow in all of sports. As young players moving up through various levels of competition in a short period of time, it can be expected to see extreme peaks and valleys, even for some of the most highly-touted prospects.
While the Twins have certainly seen some promising starts for some of their top prospects (article coming soon…), there have been some disappointing starts as well.
These three prospects have been off to the most disappointing starts of the 2023 season:
Jose Salas, Cedar Rapids Kernels (A+)
.154/.229/.214, 1 HR, 11 RBI, 36 K, 8 BB
Twins Daily Prospect Rank: 12
Jose Salas was a borderline top-100 prospect that the Minnesota Twins picked up this offseason in the Pablo López/Luis Arraez swap after posting a .723 OPS across Low-A and High-A last in 2022 as a 19-year-old. 
While many were optimistic about the infielders bat, and his potential to turn into a top-notch prospect, the start to the 2023 season has been disastrous for the switch-hitter. In 135 plate appearances to start the season, Salas has posted an OPS of just .438 with just five extra base hits and a lowly 36/8 K/BB ratio. For these reasons, Twins Daily has dropped Salas from the eighth ranked prospect coming into the season down to 12.
Salas has always excelled at getting on base throughout his young career as a prospect, but this season he has done anything but get on base with just a .230 on-base percentage through his first 34 games.
Salas is still just 20 years old and has plenty of time to adjust to the pitching at the High-A level, but it's been a disappointing start to the season to say the least.
Simeon Woods Richardson, St. Paul Saints (AAA)
30 1/3 IP, 7.12 ERA, 1.78 WHIP, 8.0 K/9
Twins Daily Prospect Rank: 7
Simeon Woods Richardson came into the season as one of the likeliest prospects to join the Minnesota Twins rotation with an injury and, depending on his performance, stay up with the rotation as a key piece moving forward. After posting a 2.21 ERA in seven starts with the Saints in 2022, SWR appeared ready to take the next step in 2023.
Things haven't quite gone according to plan for Woods Richardson this season, though. Other than a spot start with the Twins in April (it didn't go well), SWR has spent his entire season in St. Paul where he has posted a 7.12 ERA in seven starts with a 1.93 K/BB ratio.
One big reason for the poor performance for SWR this season has been a lack of control. After walking just three batters per nine innings across multiple levels of the minor leagues in 2022, he has been walking 4.2 batters per nine innings this season. If Woods Richardson can get his control back in order and start throwing like he did last season, he could still get another chance up with the Twins later this season. If not, the Twins might be looking at a bullpen role for the right hander down the road.
Emmanuel Rodriguez, Cedar Rapids Kernels (A+)
.171/.326/.408, 5 HR, 15 RBI, 40 K, 17 BB
Twins Daily Prospect Rank: 3
Coming into the season, some considered Emmanuel Rodriguez to be the Minnesota Twins prospect with the highest ceiling and that he might just be the Twins' top prospect by the end of the 2023 season. While both of those statements might still be true, it hasn't been an awesome start to the 2023 season for the left-handed prospect.
After posting a .870 and 1.044 OPS in 2021 and 2022, respectively, Rodriguez has posted just a .734 OPS through his first 21 games with the Cedar Rapids Kernels this season. While Rodriguez still has shown similar power numbers to each of the last two seasons (five home runs in 95 plate appearances after posting nine home runs in 199 plate appearances in 2022), his eye at the plate has been extremely discouraging thus far. This season, Rodriguez has 41 strikeouts compared to just 18 walks. By comparison, last year the left hander struck out 52 times compared to 57 walks. 
It's possible that injury has something to do with E-Rod's struggles in 2023. Since coming off of the injured list with an abdominal strain on May 6, Rodriguez has just a .582 OPS with 24 strikeouts and 13 walks.
Do you have confidence that the players listed above will turn things around? What other prospects have been off to disappointing starts? Leave a comment below and start the conversation!