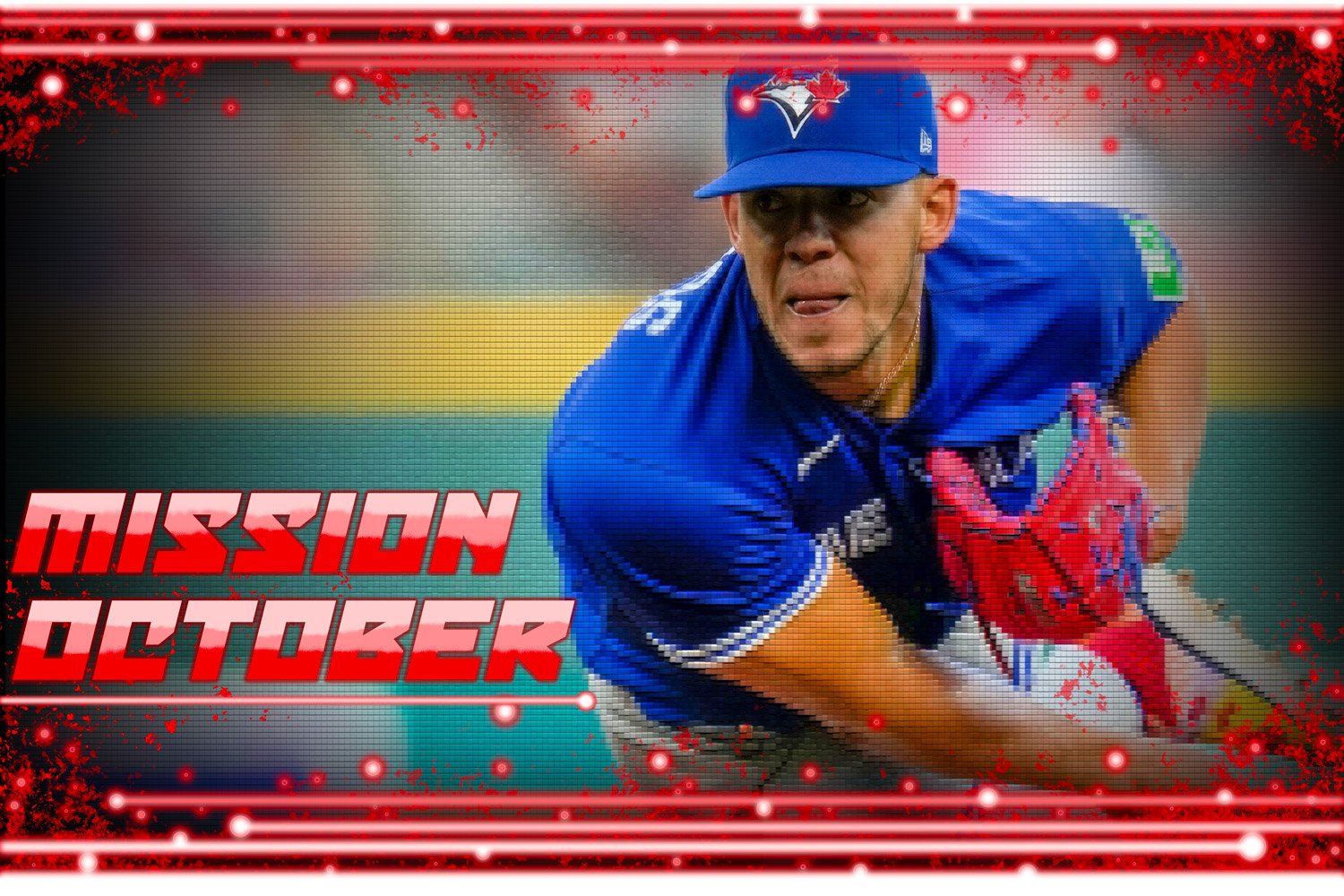 Image courtesy of Brock Beauchamp & Twins Daily
As the Twins near their first postseason appearance since 2020, they may find themselves in a border battle with their Ontario-based neighbors in Toronto.
Coming into the 2023 season, expectations for the Blue Jays were CN Tower high. After getting heartbreakingly swept by the Mariners during the 2022 American League Wild Card round, the Blue Jays supplemented their already strong core by signing free agents in center fielder Kevin Kiermaier, starting pitcher Chris Bassitt, first baseman Brandon Belt, relief pitcher Chad Green and trading for relief pitcher Erik Swanson from the Mariners and outfielder Daulton Varsho from the Arizona Diamondbacks. 
Adding these prized acquisitions to an already formidable core solidified the Blue Jays as both American League East and World Series contenders.
During the 2023 MLB Trade Deadline, the Blue Jays traded for relief pitchers Jordan Hicks and Genesis Cabrera from the St. Louis Cardinals in an attempt to further fortify their World Series-hopeful roster.
Unfortunately, the Blue Jays have yet to meet their lofty expectations. They are battling for an American League Wild Card spot with the Texas Rangers, Houston Astros, and Seattle Mariners while owning an 84-67 record.
An 84-67 record is good nonetheless, and the Blue Jays will likely finish with a better record than the Twins. If the Blue Jays can make it into the playoffs, they will be a daunting opponent with above-average pitching and offense.
Blue Jays Position Players
Here are the position players who headline the ninth-best offense in baseball by fWAR:
*Offensive statistics are up to date as of 9/20
Matt Chapman, 3B - 

.246/.335/.430 (.765), 538 PA, 15 home runs, 112 wRC+, 3.2 fWAR

Bo Bichette, SS - 

.304/.336/.474 (.810), 550 PA, 19 home runs, 123 wRC+, 3.2 fWAR

Kevin Kiermaier, OF - 

.265/.323/.425 (.748), 373 PA, eight home runs, 106 wRC+, 2.1 fWAR

George Springer, OF/DH -

 .257/.330/.406 (.736), 635 PA, 20 home runs, 105 wRC+, 2.0 fWAR

Brandon Belt, 1B/DH - 

.251/.369/.470 (.839), 382 PA, 16 home runs, 134 wRC+, 2.0 fWAR

Danny Jansen, C - 

.228/.312/.474 (.786), 301 PA, 17 home runs, 115 wRC+, 2.0 fWAR

Whit Merrifield, UTL - 

.278/.321/.390 (.711), 563 PA, 11 home runs, 96 wRC+, 1.9 fWAR

Davis Schneider, 2B - 

.288/.417/.635 (1.052), 127 PA, eight home runs, 187 wRC+, 1.9 fWAR

Daulton Varsho, OF - 

.220/.286/.376 (.662), 544 PA, 17 home runs, 82 wRC+, 1.7 fWAR

Alejandro Kirk, C - 

.251/.339/.358 (.697), 386 PA, seven home runs, 98 wRC+, 1.5 fWAR

Cavan Biggio, UTL - 

.236/.332/.384 (.716), 289 PA, nine home runs, 102 wRC+, 0.8 fWAR

Vladimir Guerrero Jr., 1B - 

.264/.342/.440 (.782), 644 PA, 24 home runs, 115 wRC+, 0.8 fWAR
The Blue Jays lineup is a unique amalgamation of star players in Chapman, Bichette, Springer, and Guerrero Jr., savvy veterans in Kiermaier, Belt, and Merrifield, and talented young pieces in Schneider, Varsho, and Biggio. 
Players not listed above who could be used off the bench in the playoffs are utility player Santiago Espinal, backup catcher Tyler Heineman (Jansen is currently on the IL), first baseman/outfielder Spencer Horwitz (Belt is currently on the IL), and outfielder Cam Eden. 
The Blue Jays lineup is predominantly right-handed, with eight of the twelve hitters listed above right-handed, so the Twins right-handed dominant pitching rotation and bullpen should match up well with the Blue Jays lineup in theory. 
Now that we have familiarized ourselves with the Blue Jays offense, let's transition to their pitching.
Blue Jays Pitching Staff
Here are the pitchers who headline the fifth-best pitching staff in baseball by fWAR:
*Pitching statistics are up to date as of 9/20
Kevin Gausman, SP - 

172 IP, 3.40 ERA, 3.04 FIP, 31.1% K%, 7% BB%, 4.8 fWAR

Jose Berríos, SP - 

178 IP, 3.49 ERA, 4.03 FIP, 22.9% K%, 6.7% BB%, 2.8 fWAR

Yusei Kikuchi, SP - 

158 2/3 IP, 3.74 ERA, 3.81 FIP, 25.7% K%, 7% BB%, 2.4 fWAR

Chris Bassitt, SP - 

185 2/3 IP, 3.78 ERA, 4.49 FIP, 21.5% K%, 7.5% BB%, 2.1 fWAR

Hyun-Jin Ryu, SP - 

44 2/3 IP, 2.62 ERA, 4.18 FIP, 19% K%, 6% BB%, 0.7 fWAR

Tim Mayza, RP - 

50 2/3 IP, 1.24 ERA, 2.41 FIP, 24.3% K%, 6.9% BB%, 1.4 fWAR

Jordan Romano, RP - 

55 IP, 2.45 ERA, 3.33 FIP, 29.8% K%, 10.1% BB%, 1.2 fWAR

Yimi Garcia, RP - 

61 2/3 IP, 4.09 ERA, 3.35 FIP, 27.7% K%, 5.6% BB%, 1 fWAR

Erik Swanson, RP - 

61 2/3 IP, 3.06 ERA, 3.39 FIP, 29% K%, 7.9% BB%, 0.9 fWAR

Jordan Hicks, RP - 

19 IP (w/TOR), 2.37 ERA, 3.89 FIP, 21.9% K%, 6.8% BB%, 0.2 fWAR

Genesis Cabrera, RP - 

21 IP (w/TOR), 2.57 ERA, 4.02 FIP, 20% K%, 7.1% K%, 0.2 fWAR
The Blue Jays' pitching staff is a relatively equal mix, with seven of the pitchers listed above throwing right-handed and four throwing left-handed. 
If the Twins were to face the Blue Jays in the three-game Wild Card Series, they would likely face Gausman in Game 1 and former Twins ace Berrīos in Game 2. If the series were to go to Game 3, it is unknown whether Kikuchi, Bassitt, or Ryu would get the start, but Kikuchi has been the best performer of the three throughout the season. Of course, that is only if the Blue Jays have an opportunity to set their playoff rotation. They may have to throw Gausman or Berrios on the final game of the season just to grab that #6 spot.
According to FanGraphs, the Blue Jays have the 11th-best defense in baseball, so the Twins will likely have little opportunity to capitalize on defensive miscues if they face the Blue Jays in the Wild Card Series. 
The Blue Jays, managed by John Schneider, are 3-3 against the Twins this season, winning two out of three against the Twins at Target Field in late May and losing two out of three against the Twins in early June at Rogers Centre. 
Although the 2023 regular season did not go as expected for the Blue Jays, they are still a formidable team with a daunting lineup and exceptional pitching staff. The Twins and Blue Jays are two teams with similar strengths and weaknesses, and if they were to match up in the three-game Wild Card round, expect two or three evenly-matched and entertaining games. 
What do you think of the Toronto Blue Jays? Would you prefer the Twins face them in the three-game Wild Card Series over the Astros, Rangers, or Mariners? Comment below.