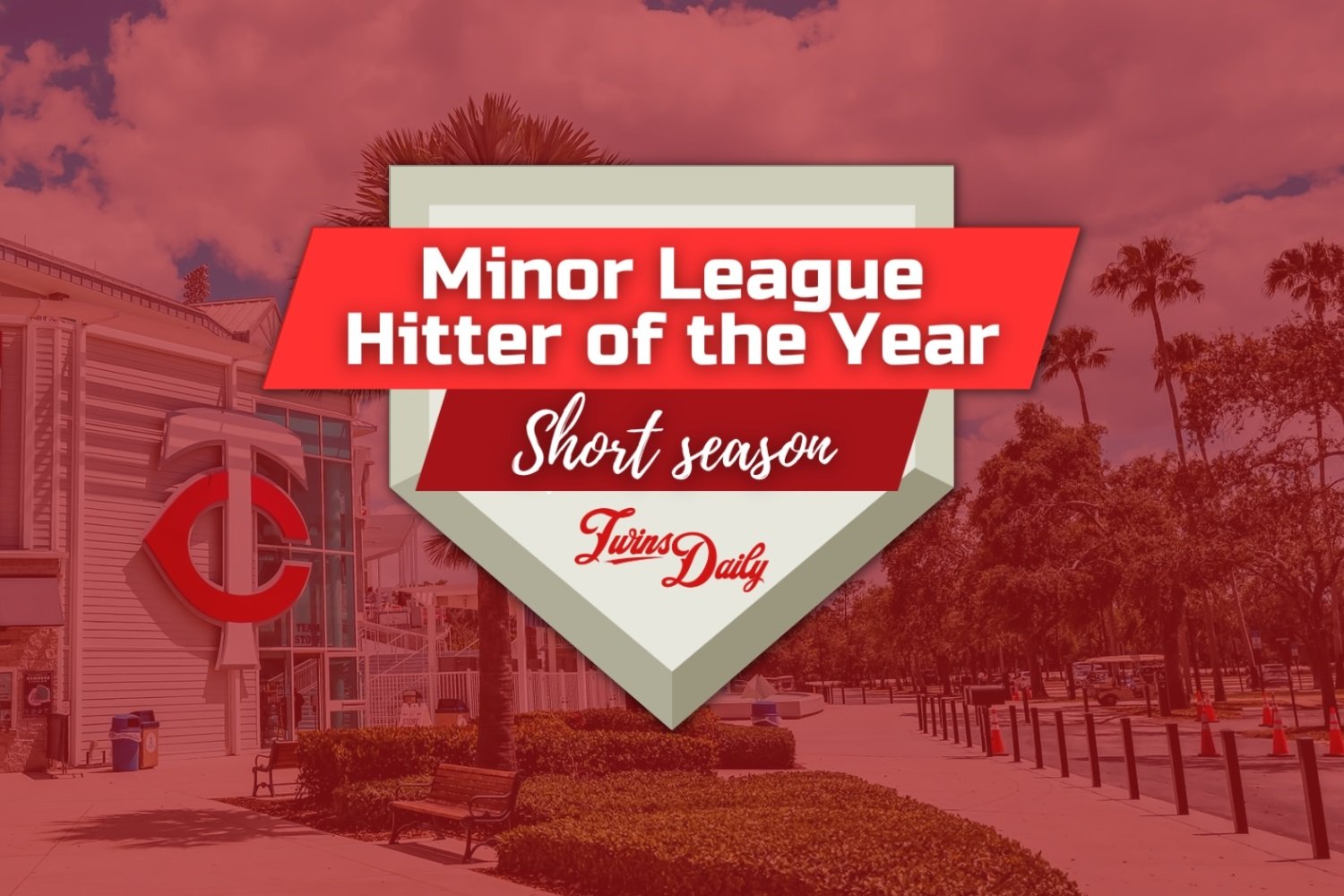 The Twins' regular season is coming to a successful end with a division title. The Cedar Rapids Kernels won the Midwest League championship. It's been a good year throughout the Twins minor league system, from St. Paul to the Dominican Summer League. 
Today, we begin our 2023 Awards series by looking at the top hitters from the two Twins short-season affiliates. We considered stats from the two Complex leagues, the Florida Complex League and the Dominican Summer League. These leagues are for the players just beginning their journey in professional baseball. Regarding prospect status, the stats are less meaningful than they are as players move up. But we want to celebrate those players who did put up substantial numbers. 
Before we get into the hitters that impressed this season, here are the previous winners of this award:
2016: Lewin Diaz
2017: Akil Baddoo
2018: Chris Williams
2019: Matt Wallner
2021: Kala'i Rosario
2022: Jose Rodriguez
The Twins Daily minor league writers and videographers were asked to vote for these awards. Below, we will share information on the Top 6 hitters, but first, here are some Honorable Mention hitters that received votes.
Others Receiving Votes
Short Season Hitter of the Year
Here are the top six players for the Twins Daily Hitter of the Year, leading up to the choice for Short-Season Minor-League Hitter of the Year. 
T5. OF Jose Rodriguez, 18, FCL Twins
49 G, 49-187, .262/.325/.412 (.737), 10-2B, 6-HR, 23 RBI, 18 BB, 41 K.
The Twins signed Rodriguez in January 2021 from Nizao in the Dominican Republic. He debuted last year in the DSL and was the choice for Twins Daily Short-Season Minor League Hitter of the Year in 2022. In 55 games, he hit .290/.361/.605 (.966) with 15 doubles, three triples, and 13 home runs. He was also 5-for-5 in stolen base attempts. He has been a consensus Top 20 Twins prospect throughout the 2023 season. As you can see, he didn't match those DSL numbers, but he did show power and even reduced his strikeout rate slightly. This season, he mostly played right field, but he also played left field and even nine games at first base. 
T5. OF Jayson Bass, 17, DSL Twins
46 G, 44-143, .308/.406/.378, 5-2B, 1-3B, 1-HR, 16 RBI, 22 BB, 24 K.
Bass signed this February as a 16-year-old from Los Mochis, Mexico. He was a DSL All-Star in his professional debut. He played in 46 games in the outfield. Thirty-seven of those were in right field. He played nine games in left field and one game in center field. Bass got a fast start, hitting .349 in 18 June games. While he didn't match that productivity, he stayed above .300 and did a nice job putting the ball in play. 
4. IF Isaac Pena, 19, FCL Twins 
44 G, 39-139, .281/.388/.381 (.769), 5-2B, 3-3B, 1-HR, 17 RBI, 24 BB, 28 K.
The Twins signed Pena in December of 2021 out of Monte Plata, in the Dominican Republic. He made his pro debut in the DSL in 2022 and was quite impressive. Pena played in 46 games and hit .341/.432/.434 (.866) with four doubles and four triples. While he didn't match his DSL batting average, he was solid at the higher level and maintained his walk rate and isolated power. One area he improved upon was base stealing. In 2022, he had four steals in 14 attempts. This season, he was a perfect 11-for-11. Pena played all four infield positions but made the most starts at third base, followed by shortstop. 
3. IF Moises Lopez, 17, DSL Twins 
46 G, 39-145, .269/.379/.462 (.841), 7-2B, 3-3B, 5-HR, 32 RBI, 22 BB, 52 K.
Lopez was another member of the Twins international signing class from January 2023. At 17, he stands 6-1 and 170 pounds, but he's got the frame to continue growing. The Twins signed him out of Santo Domingo, Dominican Republic. In his professional debut in the DSL, he solely played third base, and he has a lot of development to make to be adequate there. However, offensively, he showed the ability to take walks, and his 15 extra-base hits are impressive. Five home runs in the DSL is outstanding. In addition, he was 10-for-11 in stolen base attempts. While he will need to improve defensively and cut down on the strikeouts, there is a lot of talent for the Twins development staff to work with.  
2. C/IF Daniel Pena, 18, FCL Twins 
34 G, 27-97 .278/.376/.474, 4-2B, 5-HR, 23 RBI, 15 BB, 14 K.
Pena signed with the Twins in January of 2022 from Barquisimeto, Venezuela. He debuted in 2022 in the DSL and hit .304/.403/.378 (.781) with seven doubles and 22 RBI. He came to the States this season and proved he belonged. He played 21 games behind the plate and 13 at first base. He is a work-in-progress at both spots. Offensively, he hit for a decent average, walked more than he struck out, and showed off some home-run power. Will he continue to develop all of those aspects of his game? 
1. 2B Dameury Pena, 18, DSL Twins
39 G, 47-123, .382/.453/.496 (.949), 8-2B, 3-3B, 16 RBI, 14 BB, 9 K.
A couple of years ago, the start of the international signing period shifted from July 2nd to January 15th. Every year, we hear and read about big-name 16-year-old players from Venezuela, the Dominican Republic, and other countries. The Twins signed three players in January to seven-digit bonuses. However, the organization signed a couple dozen international free agents each year, many to bonuses below six figures. Remember, Luis Arraez didn't get a six-figure signing bonus when he signed. 
One of those players who signed this past January with few noticing is infielder Dameury Pena. For 2023, he stood out as the top performer in an exciting class. He hit well. He was a DSL All-Star. He has earned recognition as Twins Daily's choice for Short-Season Hitter of the Year. 
His .382 batting average was the best on the DSL Twins by .076. His .453 on-base percentage was .047 higher than any of his teammates. His .496 slugging percentage was .034 higher than others on the team. Finally, his .949 OPS was .108 higher than anyone else on the roster. He led the team with 47 hits in 139 plate appearances, and he had just nine strikeouts, the lowest on the team. The next five DSL Twins on the fewest strikeouts list all had under 90 plate appearances. 
To summarize, Dameury Pena really impressed in his first professional appearance. He stands at about 5-9 (listed at 5-10) and may or may not weigh over 150 pounds. However, he is really strong. He can put the ball in play, not just by slapping the ball. He does a nice job of getting a lot of barrels and hits the ball hard. 
Bryce Berg is finishing his second season as the organization's Minor League Hitting Coordinator. Regarding Pena, he said, "Dameury has an impressive contact ability and showed a good eye for the strike zone this year being aggressive on pitches in the heart of the plate and doing a solid job laying off pitches outside the zone. This helped DaMeury carry an average walk rate and a well better than average strikeout rate in addition to a good ability to collect hits and hit for a high average when he got good pitches to hit in the zone. I only had a chance to be around Dameury once at the beginning of the year and will see him again in about a month, but our staff raves about the way he plays the game, how hard he works, and his overall competitiveness."
Pena just turned 18 following the DSL season. Who knows? He may become the next Luis Arraez in the Twins organization. If you were wondering, a 17-year-old Arraez hit .348/.433/.400 (.833), with six doubles in 2014. Like Arraez, Pena's best defensive position might be DH, but there will be lots of development when it takes him to earn six more promotions. For now, we recognize a fantastic season for Dameury Pena. 
Drew MacPhail was named the Twins' Director of Player Development after the 2022 season. When asked about Pena, MacPhail noted that he did an "incredible job of controlling the zone this year at the DSL level. Dameury had the sixth lowest K% out of qualified batters in the DSL with at least 50 plate appearances. He paired that with an average exit velo three mph harder than the average exit velo in the league. He has a bright future in the organization!" 
There you have it. Congratulations to Dameury Pena and each of the players above on terrific 2023 seasons. 
For more Twins Daily content on these players, click on the following links: 
Dameury Pena, Daniel Pena, Moises Lopez, Isaac Pena, Jayson Bass, Jose Rodriguez, Ariel Castro, Byron Chourio, Walker Jenkins, Endy Rodriguez, Javier Roman, Brandon Winokur.