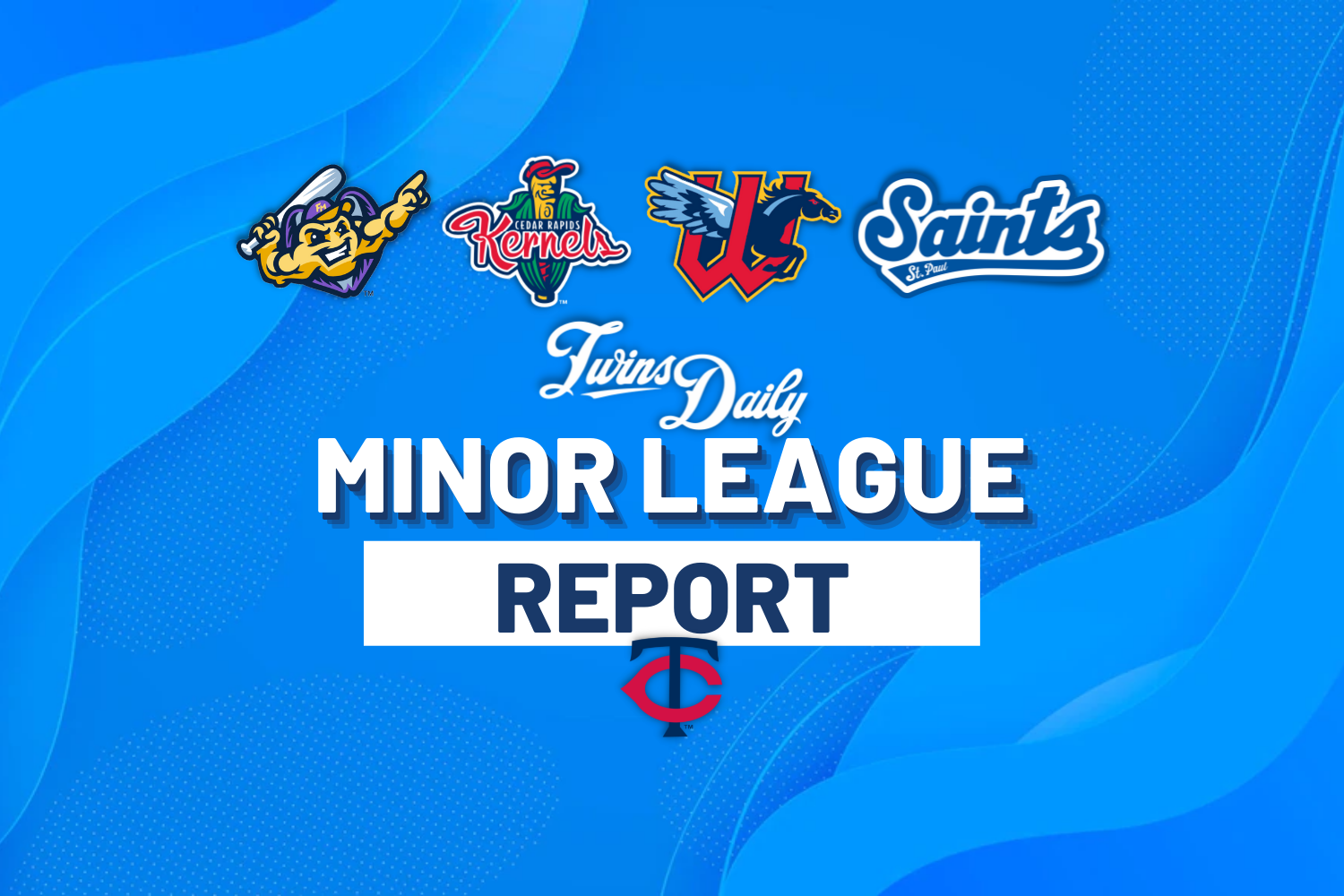 SAINTS SENTINEL 
St. Paul 4, Nashville 3 (Game 1)
Box Score
Looking to play a doubleheader yesterday, the weather decided not to cooperate. Instead, the Saints were able to reschedule a twin bill today and Randy Dobnak was on the bump for game one. Dobnak worked a solid 5 1/3 innings allowing three runs on six hits while striking out four.
Josh Winder took over for Dobnak in the 6th and allowed both the inherited runners to score before locking things down the rest of the way to earn the win after recently being optioned.
Nashville scored first, but Kyle Farmer continued his strong rehab assignment as he returns from his hit by pitch. Having doubled twice yesterday, he launched a solo shot in the 1st inning today to knot things up. It would seem likely that he returns to the big league roster on Tuesday.
Down 3-1 in the bottom of the 6th inning, Michael Helman stepped in and launched a three-run homer to put St. Paul in the lead 4-3. Farmer and Andrew Stevenson came in on the big fly. Helman's dinger came of the brother of Twins pitcher Louie Varland, Gus Varland.
Nashville 7, St. Paul 1 (Game 2)
Box Score
It was quick revenge for the Sounds as Aaron Sanchez recorded just two outs for the Saints in the second game. He allowed six runs on two hits. Four walks did him in as they came around on a pair of homers.
Nashville led 6-0 before St. Paul took their first at bats. Leading off the game for the Saints, Edouard Julien hit his fourth home run of the year to put them on the board. Despite generating five hits on the afternoon, the one run was all they could muster.
WIND SURGE WISDOM
NW Arkansas 12, Wichita 3
Box Score
David Festa took the mound today for Wichita and it wasn't his best start of the season. Lasting 4 1/3 innings, NW Arkansas touched him up for six runs on eight hits and three walks. He did record five strikeouts on the afternoon.
The Wind Surge jumped out to an early lead as they plated two in the 1st inning. Yunior Severino doubled to drive in Alex Isola before DaShawn Keirsey Jr. singled in Severino. They did give both runs back in the bottom half of the inning before Yoyner Fajardo tripled to score Will Holland in the top of the 2nd inning. Fajardo's triple extended his hitting streak to eleven games.
That was as far as Wichita would lead in this one however. Two runs in the 3rd inning were followed by three-spots in the 5th and 6th inning for NW Arkansas. The Naturals added two more in the 8th inning and the 12-3 tally stood as a final.
Fajardo racked up a pair of hits as did Keirsey Jr. The six hits for Wichita checked in 13 behind the Naturals 19 for the game. Twins prospect Royce Lewis will begin a rehab assignment this week starting out at Wichita.
KERNELS NUGGETS
Cedar Rapids 6, South Bend 1
Box Score
It was Kyle Jones on the mound today for Cedar Rapids, and he was very sharp for the afternoon. Working five innings of one-run ball, Jones allowed five hits and a single walk while striking out five. The bullpen then worked four scoreless innings while giving up just two hits to close it out.
Scoring got underway in the 2nd inning when Misael Urbina grounded out but plated Kala'i Rosario in the process. Ben Ross then doubled in the 3rd inning to score Emmanuel Rodriguez and make it 2-0.
After giving up a run back in the 3rd inning, the Kernels put the game away with a four-run 5th inning. Rosario walked with the bases loaded to score Rodriguez before Jose Salas singled in Ross. Urbina then took another bases loaded walk and brought in Noah Cardenas and Willie Joe Garry Jr. ended the inning on a sacrifice fly that allowed Rosario to score again.
Cedar Rapids only had six hits for the game, and only Ross recorded a pair of hits, but the Kernels had great plate discipline taking nine walks. 
MUSSEL MATTERS
Dunedin 8, Fort Myers 5
Box Score
Tomas Cleto was on the bump today for the Mighty Mussels, and his day got started a bit late after a brief delay. Working 3 2/3 innings, Cleto gave up five hits that turned into three runs. Cleto punched out four while walking three. Ronny Henriquez did get two innings of work in relief, and the Twins prospect will move up to St. Paul shortly.
After getting behind 4-0 through the top half of the 5th inning, Fort Myers began to answer. Danny De Andrade singled in Rubel Cespedes to put the Mighty Mussels on the board. It was De Andrade doing damage again in the 7th inning when he took a bases loaded walk to drive in Dalton Shuffield. Andrew Cossetti then followed his lead and walked to score Dylan Neuse and make it a one-run game.
Dunedin doubled their tally in the 8th inning and made it an 8-3 contest. While Alec Sayre was able to drive in Ricardo Olivar on a single in the bottom half, that's where this rally would end.
Carlos Aguiar was the only hitter to record multiple hits in the game.
TWINS DAILY MINOR LEAGUE PLAYERS OF THE DAY
Pitcher of the Day – Kyle Jones (Cedar Rapids) - 5.0 IP, 5 H, 1 R, 1 ER, 1 BB, 5 K
Hitter of the Day – Ben Ross (Cedar Rapids) - 2-4, R, RBI, 2B, BB, K
PROSPECT SUMMARY
We will again keep tabs on the Twins top prospects. You'll probably read about them in the team sections, but if they aren't there, you'll see how they did here. Here's a look at how the current Twins Daily Top 20 performed:
#1 - Brooks Lee (Wichita) - 0-5
#3 - Emmanuel Rodriguez (Cedar Rapids) -0-3, 2 R, 2 BB, K
#5 - Edouard Julien (St. Paul) - 2-7, R, RBI, 2B, HR(4) K
#8 - Jose Salas (Cedar Rapids) - 1-4, RBI, K
#14 - Noah Miller (Cedar Rapids) - 1-5, 3 K
#17 - Ronny Henriquez (St. Paul) - 2.0 IP, 3 H, 1 R, 1 ER, 1 BB, 4 K
#20 - Misael Urbina (Cedar Rapids) - 0-4, 2 RBI, BB, 2 K
TUESDAY'S PROBABLE STARTERS
Indianapolis @ St. Paul (6:37PM CST) - TBD
Wichita @ Frisco (6:05PM CST) - TBD
Cedar Rapids @ Quad Cities (6:30PM CST) - TBD
Tampa @ Fort Myers (6:00PM CST) - TBD
Please feel free to ask questions and discuss Sunday's games!