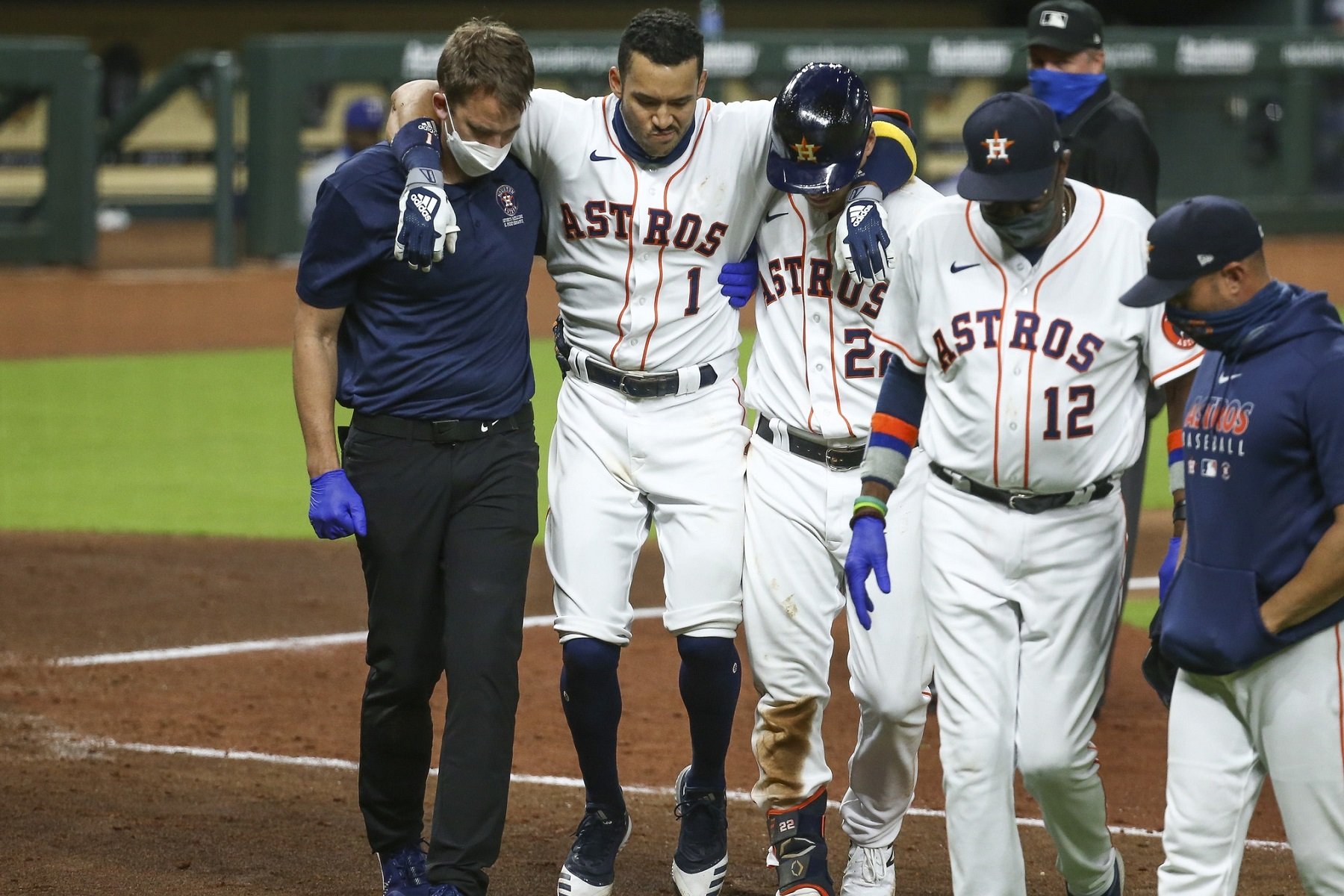 Image courtesy of Troy Taormina-USA TODAY Sports
Twins fans are familiar with injuries to star players as the team was able to sign oft-injured Byron Buxton to a team-friendly extension. Correa and Buxton were the first two picks in the 2012 MLB Draft, and Correa has played 259 more games than Buxton. However, Correa has missed time with injuries throughout his career.

2017: Correa injured a thumb ligament when he slid into a catcher's shin guard on a slide into home. While this may seem like a fluke injury, he missed 42 games, and he aggravated the injury in the postseason. Houston won the World Series that season and Correa was a crucial cog in that championship run. 

2018: During the 2018 campaign, Correa landed on the IL for 36 games due to a back injury. He returned from the injury, but it was one of his worst big-league seasons. In 110 games, he posted a .728 OPS with 20 doubles and 15 home runs. His back was still bothering him, but he tried to play through the injury as the Astros made another run to the ALCS. 
2019: Correa's back injury didn't completely go away as he missed time in August and September of 2019. His most considerable injury came in 2019 when he missed two months with a cracked rib. One might think this was caused by a diving play or a fastball to the rib cage, but those would be incorrect guesses. An in-home massage caused his rib injury, and he was limited to 75 games this season. 
2020: The shortened 2020 season impacted players differently, but it was Correa's worst at the big-league level. His .709 OPS was almost 20 points lower than his 2018 campaign when he tried to play through his back injury. Even with the poor performance, he played nearly every game of the shortened season. Correa's only missed time was in September when he fouled a ball off his ankle. He helped the Astros defeat the Twins during the playoffs. He went 3-for-6 with a home run. 

2021: Correa played 148 games last season, which is the second-highest total of his career. His only missed time was when he was placed on the IL due to health and safety protocols. He had one of his best offensive seasons, finishing fifth for the AL MVP and winning the Platinum Glove as the AL's best defender. 

When taking out the shortened 2020 season, Correa has averaged over 115 games per season since he debuted in 2015. He hasn't been Cal Ripken Jr. at the shortstop position, but few players are ironmen in today's game. Correa has dealt with back issues throughout his career, which can worsen as players age. 

Minnesota fans and Correa can hope he stays healthy this season and posts monster numbers. It will likely mean his Twins tenure is short, but he will undoubtedly be fun to watch in the season ahead. 

Are you concerned by Correa's injury history? Leave a COMMENT and start the discussion. 

MORE FROM TWINS DAILY
— Latest Twins coverage from our writers
— Recent Twins discussion in our forums
— Follow Twins Daily via Twitter, Facebook or email